If you even know where Old Soldiers Lane is in Frankfort you probably missed one of the best-kept military secrets in the city. Well, it's not quite hidden, nor a military secret, but the Civil Air Patrol (CAP), the official U.S Air Force auxiliary, is housed in a small brick building at 101 Old Soldiers Lane. Behind it sits Capital City Airport.
Begun in 1942 under the auspices of the U.S. Air Force, this volunteer organization provides air support and rescue during emergency situations. It has more than 60,000 members nationwide and is tasked by the Air Force to perform most of the U.S. inland search and rescue missions.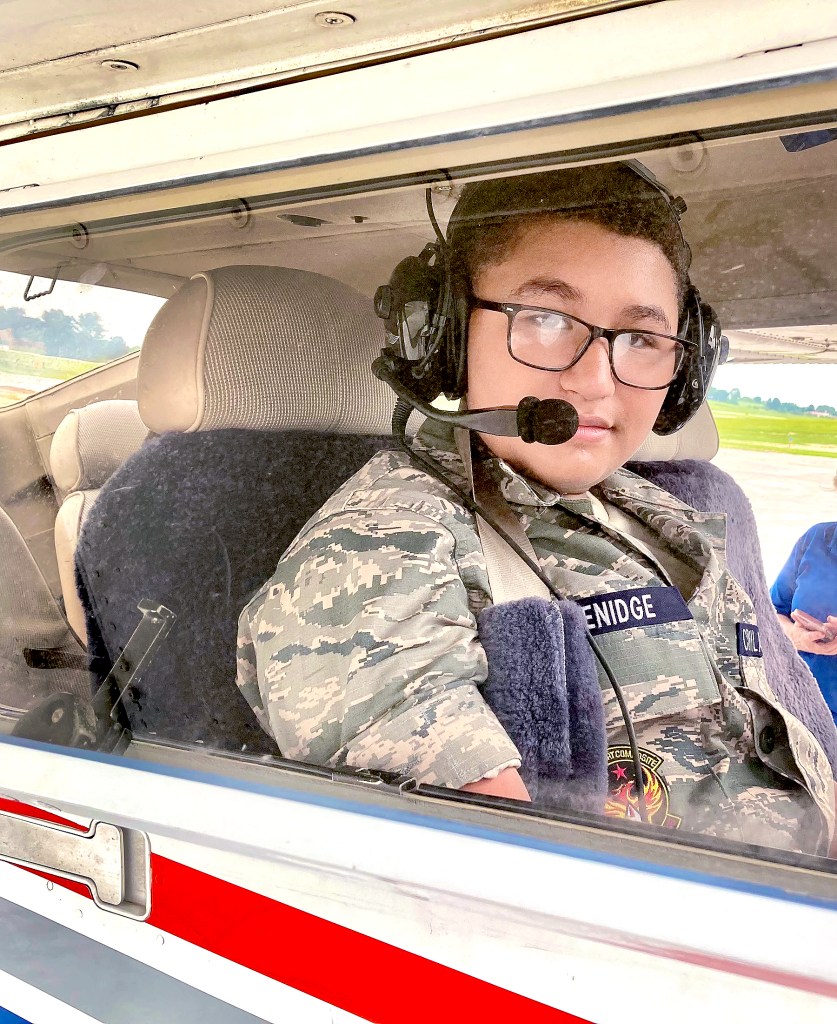 Adult volunteers, perform homeland security and disaster relief at the request of government agencies, such as FEMA. Youth volunteers, ages 12 to 18, have the opportunity to partake in aerospace education, train for and participate in on-ground searches. Adult pilots volunteer to fly planes provided by CAP, which owns the largest fleet of single-engine piston aircraft in the nation.
CAP aircraft are located in strategic locations throughout the nation. Frankfort does not have an assigned aircraft. It does, however, participate in other rescue operations led by Commander Col. Brian Schmuck. Major Kay Scheffler, a former Air Force officer, serves as the local contact. CAP is open to both youth and adults.
The cadet arm of the Civil Air Patrol seeks to transform youth into dynamic Americans and aerospace leaders. Open to ages 12 to 18, there are 27,000 total cadets nationwide focusing on areas of leadership, aerospace, fitness and character. There's a time commitment of two hours, weekly, and monthly events. Summer encampment cadets are not obligated to join the military, but a small percentage of U.S. Air Force cadets were CAP cadets.
Cadets have the opportunity to learn about flying through simulator demonstrations and actual flying time with adult volunteers who fly the planes. Cadets also have the opportunity to participate in actual emergency situations with training provided. One such opportunity here in Kentucky was during last year's eastern Kentucky floods. Several of the Frankfort unit cadets went to eastern Kentucky during the flooding and helped to mark flood lines.
Cadets wear uniforms and receive promotions every couple of months. Annual dues and uniform fees total about $100. The Frankfort unit meets weekly at the Frankfort office. There are currently 41 members, 14 of which are adults.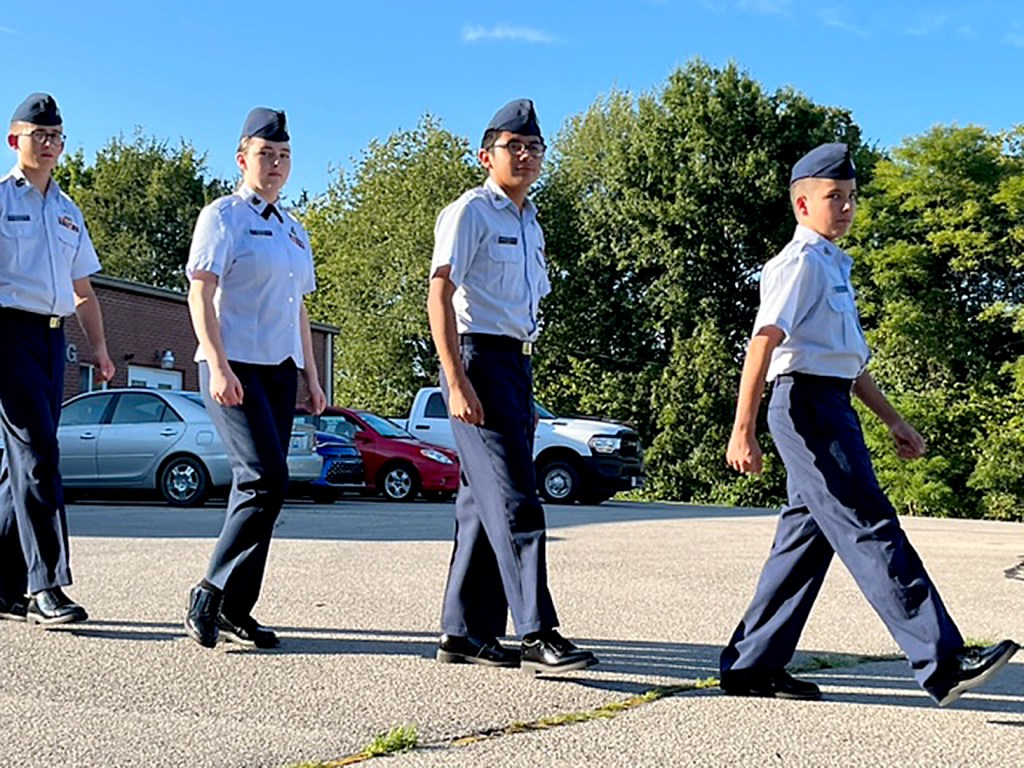 At a recent open house, cadets showed possible new cadets the kind of education offered. For those wanting to learn how to fly an airplane, a flight simulator provided some "hands-on" experience. Aerospace is a big component and large draw to CAP. Cadets have the possibility of flying in an airplane six times during their tenure as cadets, and as they climb in their seniority.
Aviation Days at the Capital City Airport offer an introduction to the aerospace industry. Search and rescue methods are taught, such as first aid and a field trip literally to a field, to search for mock plane wreckage. Cadets also perform community service, such as placing wreaths on the graves of veterans for Christmas.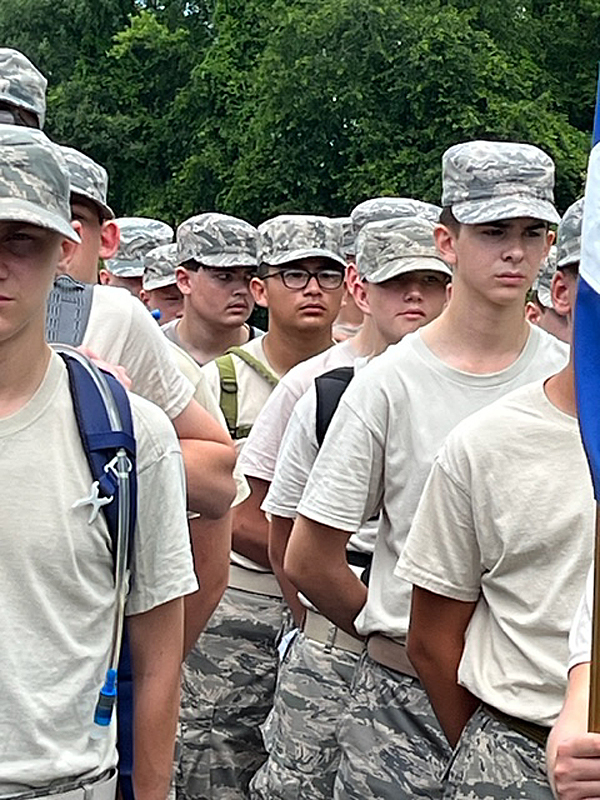 Adults volunteer in different ways. Stephanie Osterman, whose son is a cadet, helps out with some of the administrative work for CAP. Major Scheffler is a former Air Force officer and has volunteered at CAP for many years. She mentioned former astronaut, Frank Borman, who began his aeronautical career with CAP.
Susan Wind joined a couple of years ago and is now deputy commander and emergency services and safety officer. As to why she joined? "My dad was in the service," she said tearfully. "He'd be proud."
For more information, attend a Tuesday night meeting from 5:30-8 p.m., email Major Scheffler at kscheffler@kywg.cap.gov, call phone 502-418-1370, or visit www.gocivilairpatrol.com.