Ever wanted to pour your own drink (beer, wine, coffee, etc.) at a bar, deli or restaurant, instead of relying on a busy server, so you can make sure to get the exact drink you want (half-caf black coffee, for example), and get it when you want it (like now!)? Well, friends, POURter's may prove to be the very place you've been looking for.
Located at 601 Taylor Ave., in the old Bud's Detail Shop, POURter's is a self-serve tap house, as envisioned and lovingly crafted into reality by Jonathan and Tiffany Seppenfield. Both POURter's owners are native Kentuckians who graduated from University of Kentucky — Jonathan with a degree in environmental stability and Tiffany obtained a bachelor's in broadcast journalism, then went on to earn her masters in marketing.
Now, you might ask, as I did, what exactly is a self-serve tap house or tap room? Let me share with you what the Seppenfields shared with me.
They informed me that a tap room normally is a place serving alcoholic drinks — most often beer — from taps. Tap rooms, they informed me, are seldom separate entities. Instead, the Seppenfields noted, tap rooms frequently exist in conjunction with, or as part of, a bar. However, POURter's, by design, is one of those rare tap rooms/tap houses where you actually serve yourself.
And, the decision on exactly what beverage you most want, and what size beverage you want, is entirely up to you. A wide selection of both alcoholic and non-alcoholic beverages is available, including beer, bourbon, wine and coffee, and customers serve themselves, and pay by the ounce. For example, if coffee is priced at 15 cents per ounce, then a 12-ounce cup of coffee your way, on your schedule, would be $1.80, plus tax.
The genesis of owning and running a self-serve tap house originated for the Seppenfields when they happened across a similar establishment while on a family vacation in Gulf Shores, Alabama, a couple of years ago. Jon, who had worked in the bourbon industry for some time (Country Boy Brewing, Woodford Reserve, Castle & Key and Jim Beam), said he and Tiffany knew instantly that they wanted to launch their own self-serve tap house, one emphasizing a strong local flavor.
Over the next few years, they considered several properties before finally finding one in downtown Frankfort that gave them exactly what they wanted. As they began the remodeling process on the building that had housed a number of businesses over the years, they knew they wanted to both pay homage to the past and emphasize as many local connections and events as possible.
To help achieve these goals, they first painted the building the exact shade of mint green that it had been when it was Bud's Detail Shop in bygone days, then hung several historical photographs of Frankfort and Franklin County on the interior walls to acknowledge and reflect on our heritage and way of life.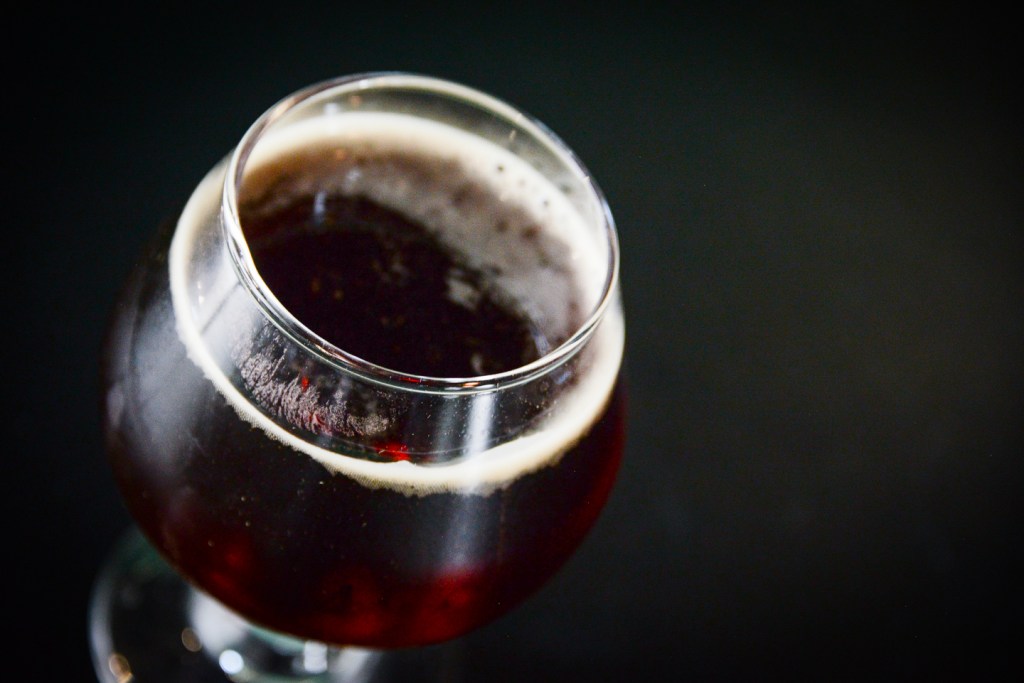 Once the remodeling was complete, the Seppenfields implemented an "Enjoy Here and Then There" approach, where once a patron has drunk their fill at POURter's and is ready to move on, staff will point out other downtown Frankfort establishments (think bars, restaurants, shops) the individual(s) might also enjoy visiting and patronizing.
Tiffany and Jonathan see their tap house as a casual, friendly, fun place where people from age 21 and up can visit and enjoy a tasty beverage, either with old friends, or with the new friends they make at POURter's. In addition to the vast array of beverages, deli-style food is always available, along with a nice variety of pre-packed snacks, such as beer cheese and pasta salad.
Open Tuesday through Sunday from 10 a.m. to 10 p.m., POURter's features five big-screen televisions, and, on the weekends offers live music, played and sung by local musicians, with food trucks to help customers assuage their appetites. Sundays are special open-for-fun days, with football, basketball and baseball games, as per the season, playing on the TVs, and a warm, welcoming, have-a-good-time and relax atmosphere. Both inside and outside seating are available at Frankfort's self-serve tap house, with ten parking spaces out front. Additional parking is available nearby.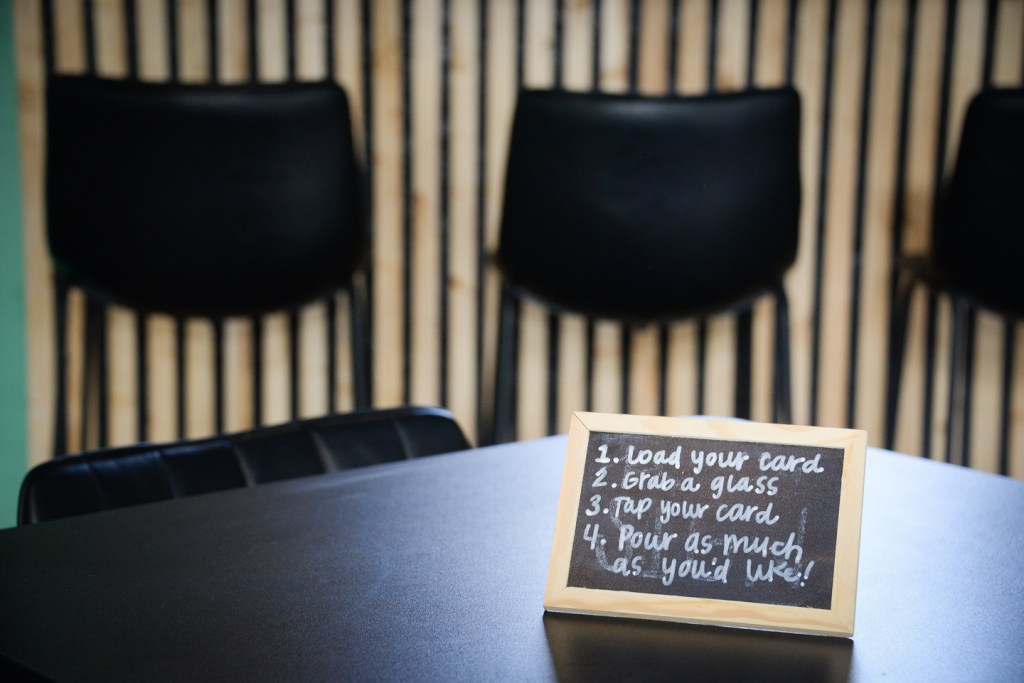 Both owners strongly emphasize their "Think Local" approach. They use as many local food and beverage products as possible and want all FRANK. Magazine readers to know that, as long as they have achieved the legal drinking age, they are always welcome to stop by whenever POURter's is open. Community means so much to the Seppenfields, after all they do live and work in South Frankfort, and they envision POURter's as a community gathering place.
In a viable demonstration of their community spirit, POURter's frequently hosts "non-profit weekends," when one or more 501 (c) 3 non-profit organizations set up a table and share their mission statements with customers, in hopes of attracting new members and receiving donations to support their work.
Jonathan noted that a lot of people he knows are often looking for something fun to do on a Sunday afternoon or evening, which is why he and Tiffany made the decision to not only open POURter's on Sundays, but to endeavor mightily to make every Sunday a Funday at one of Frankfort's most unique tap houses.
Tiffany and Jonathan love Frankfort, especially downtown, and how they both truly enjoy interacting with the wonderful mixture of people who live, work, shop and visit there.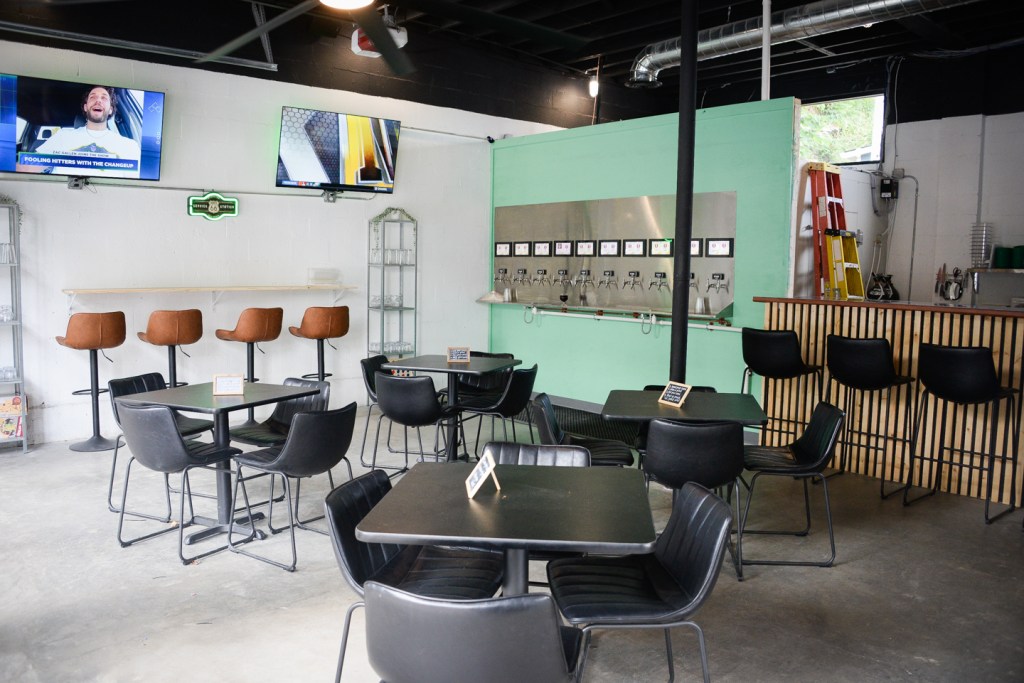 Speaking of family, the name POURter's is really a play on the old family name of Porter. Jonathan said that once they came up with the name it just stuck, proving both impossible for them to forget, and so appropriate. He closed our chat by remarking that, while they weren't originally from Frankfort, he and Tiffany both truly see Frankfort as their current and future home, with POURter's as their home away from home. The Seppenfields hope that, if you haven't already paid a visit, or two, to POURter's, you will in the very near future.
Chris Helvey is an award winning short-story writer, a poet and a novelist. The author of more than a dozen novels and multiple short-story collections, Chris' latest novel, "Bayou," was recently released by Wings ePress, and is available in both paperback and e-book formats on Amazon. A founding member of the Bluegrass Writers Coalition, he is also editor-in-chief and publisher of Trajectory Journal.