By Tisa Conway-Cunningham
Awe, food. It is an ingredient that brings people together. Whether it be celebrating, fundraising or fellowshipping, food adds that special touch to a place that may seem ordinary. People say no to a lot of things, but one thing we can all agree on is if there is food, we will be there.
Throughout the past year or so, Frankfort has experienced an influx of new businesses, bringing new experiences to the local community. The same goes for food. Food trucks in the Frankfort area have increased food variety from local flavors to international fairs.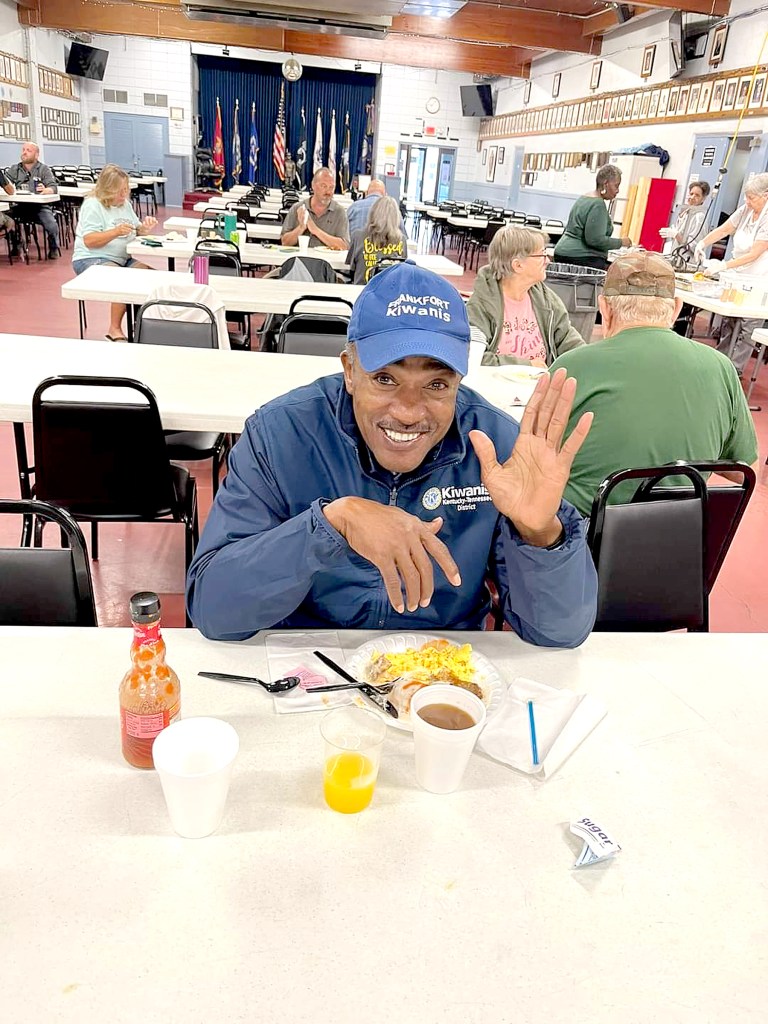 On any given day, where there is a food truck, Frankfort patrons can partake in burgers with fries, Korean BBQ, goulash, el pastor tacos, BBQ nacho, chicken with waffles, ramen and many more delicious indulgences. The addition of these mobile kitchens have offered a refreshing and eclectic take on dining out.
There has also been an addition of food menus at local establishments in the most unlikely places. Such goes the story of our local VFW Post 4075 Auxiliary located at 104 E. Second St. in Frankfort. Food at the VFW Post 4075 Auxiliary has been a long-standing tradition that welcomes Frankfort locals to celebrate and support our local veterans.
We all have our stories. I can remember in my youth attending pancake breakfasts with scrambled eggs, bacon, sausage, gravy and biscuits. I recall the spaghetti dinners that included spaghetti, garlic bread and a simple yet delicious side salad. These delicious meals all happened down the street from our family's home at VFW Post 4075 Auxiliary.
During that time I missed the connection between the VFW, our community and our local heroes. Over time, I have come to realize that the VFW is a special place where we can all go for fellowship and to support our local veterans.
These days, the VFW continues to sponsor celebratory events in the form of veteran appreciation dinners and breakfasts, spaghetti dinners, fish fries, gold star family appreciation dinners, first responders and fireworks crew appreciation lunches and dinners, and a plethora of other food-related events. The food is always delicious and the company is even better.
What has been upgraded though, is the increase of food options and snacks for patrons visiting the VFW. Monday nights at the VFW is wing night. On Monday nights, patrons can buy crispy battered wings at $.50 per wing. This means your bucks will go a long way to satisfy your wing craving. Patrons can also enjoy chicken tenders for $1.50 each or a basket of tenders for $6 and comes with fries. The wings, tenders and fries come out crispy, hot and ready to devour.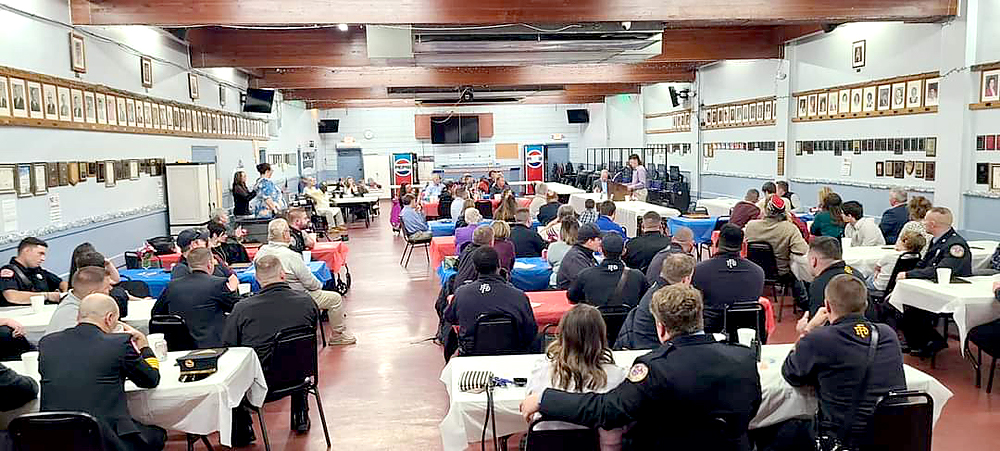 The newest food addition available to VFW patrons is a snack or appetizer menu. This idea came to fruition because of VFW Post 4075 Commander Darryl Casey. Casey wanted to be able to serve patrons with a variety of snacks — think bar snacks. The new appetizer menu includes spicy-cheesy jalapeño poppers for $6, cheese curds with a crunchy outer shell and a gooey cheese center, mozzarella cheese sticks for $5 and pimento cheese sandwiches and chicken salad sandwiches for $3. Other offers not mentioned are french fries (yes, they are crinkle cut) and onion rings.
Patrons are able to purchase these delicious appetizers on Wednesday, Friday, Saturday and Sunday. Interestingly enough, all of the money made from food sales is recycled back into the food spending account to purchase new items.
The response from patrons has been positive. The new variety of appetizers offered through the new menu gives patrons extended options to get a bite to eat while they enjoy fellowship, catch a game of pool and relax. They no longer have to leave to get a snack or a meal.
Everything you need for a good night out is right there under one roof, and I like many, could not be more happier.
To the dedicated members of VFW Post 4075 Auxiliary, thank you for being the most welcoming group. Thank you for taking the time to ask what would make the experience better for patrons. The atmosphere is upbeat, fun-loving and is always a good time had by all. Your service to the community of Frankfort is greatly appreciated. Thank you for your service as veterans of foreign wars and thank you for fighting for our freedom. Thank you for all that you do. You are all appreciated.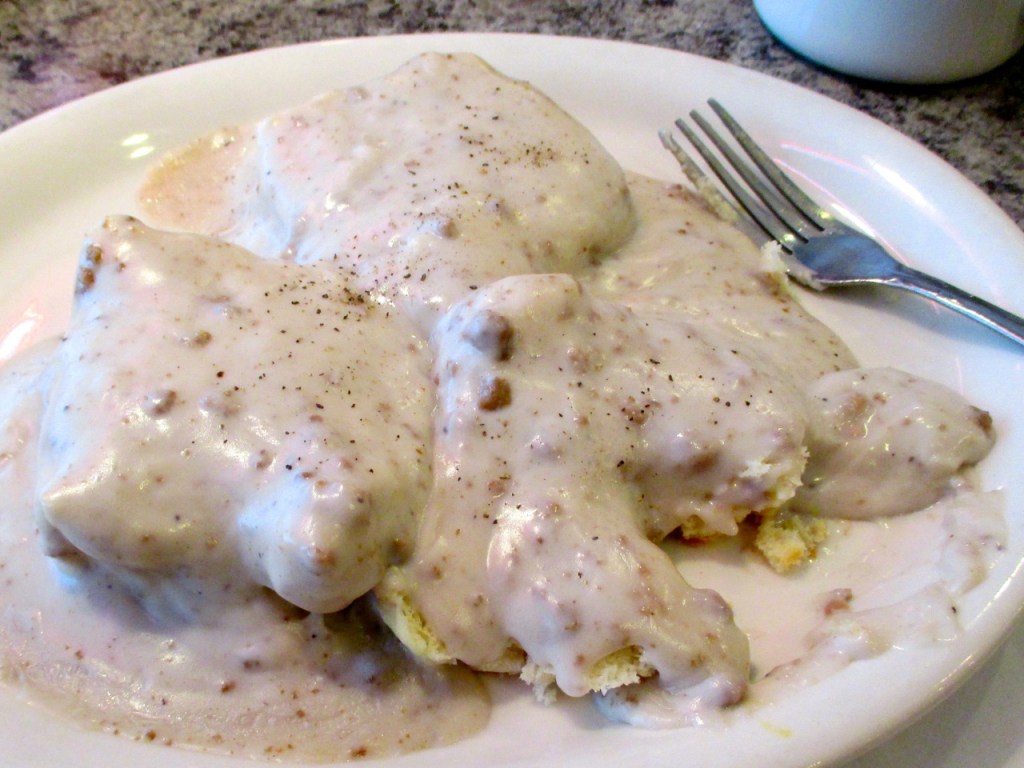 Sausage Gravy and Biscuits
(Recipe via tastesbetterfromscratch.com)
Ingredients:
8 flakey buttermilk biscuits
1 pound pork sausage
2 tablespoon + 1 teaspoon all-purpose flour
2 1/2 cups Half and Half
1 tablespoon butter
1/8 teaspoon dried thyme
1/8 teaspoon dried crushed rosemary
1/8 teaspoon crushed red pepper flakes
freshly ground black pepper, to taste
Direction:
Brown sausage in a large saucepan. Use a paper towel to blot out most of the grease from the pan. Add flour, butter and Half and Half.
Cook on medium-low, stirring often, for several minutes until thickened. Add thyme, rosemary, red pepper flakes and black pepper.
Serve over warm biscuits.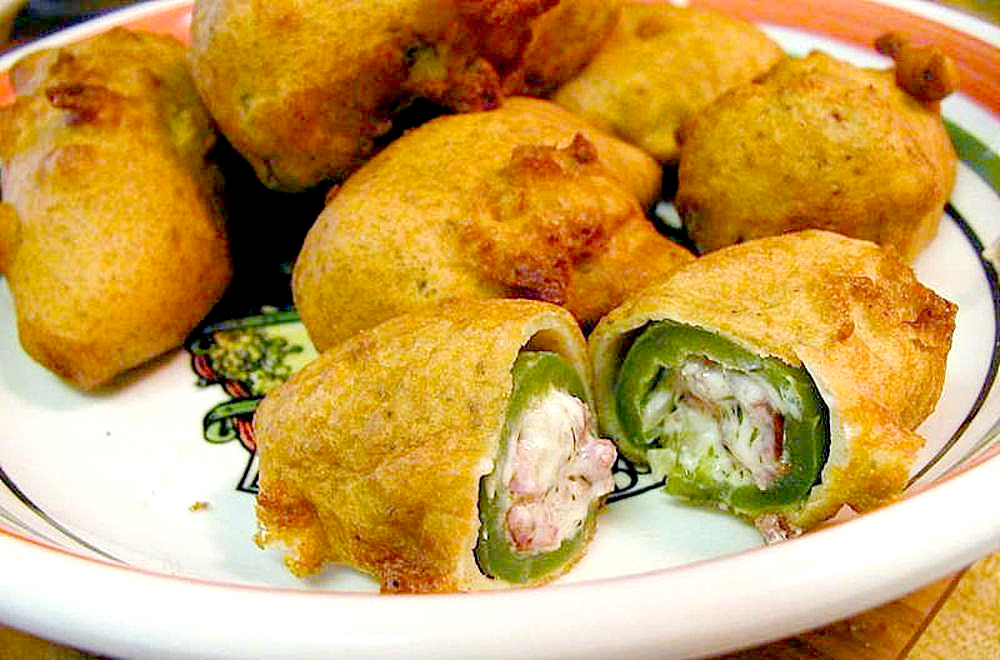 Jalapeño poppers
(Recipe via www.sugarspunrun.com)
Ingredients:
For dipping sauce:
1 tablespoon olive oil
1 tablespoon minced jalapeño
2 cloves minced garlic
2 cups frozen raspberries
⅓ cup granulated sugar
2 tablespoons white wine vinegar
¼ teaspoon salt
For poppers:
6-9 jalapeños
8 ounces cream cheese softened
¼ teaspoon garlic powder
¼ teaspoon onion powder
¼ teaspoon smoked paprika
¼ teaspoon ancho chili powder or chipotle powder, optional
¼ heaping teaspoon salt
¼ teaspoon ground black pepper

For breading:
1½ cups plain panko
½ cup all-purpose flour
½ teaspoon salt
2 large eggs
½ cup whole milk
Directions:
In a saucepan, heat the olive oil over medium heat until shimmering. Add jalapeno and cook until softened, then add garlic and cook until fragrant (about 30 seconds). Add raspberries, sugar, vinegar and salt. Cook until raspberries release their juices and mixture is slightly thickened. Strain well through a fine mesh strainer into a heatproof bowl and discard solids. Set aside to cool then cover and refrigerate until ready to serve. Makes about a ½ cup of sauce.
Cut each jalapeño in half lengthwise and scrape out the seeds (wear gloves). Bring a pot of water to a boil and blanch the jalapeños in boiling water for two minutes, then carefully remove and transfer to an ice bath to cool. Pat dry and set aside.
In a bowl, combine softened cream cheese, garlic powder, onion powder, chili powder, paprika, salt and pepper and mix well. Fill each jalapeño half with a heaping amount of cream cheese filling (about ½ ounce per jalapeno half). Set aside.
Place panko in a plastic baggie and use a rolling pin to crush until you have fine pieces. Pour this in a shallow dish. In another shallow dish, whisk together all purpose flour with ½ teaspoon salt. In a third dish, whisk together eggs and milk.
Dip each jalapeño half in the egg/milk mixture and allow excess to drip off. Dredge in the flour mixture and shake off excess. Place on a wax paper lined baking sheet and allow to dry at least 10 minutes. Dip again in the egg/milk mixture then coat all over with panko. Return to baking sheet and chill in the refrigerator for at least 25 minutes. Heat the oil.
While jalapeños are chilling, fill a medium-sized, heavy-bottomed saucepan at least 2-3 inches deep with oil. Heat oil to 375 degrees over medium or medium-low heat (don't use high heat). Fry. After jalapeno poppers have chilled, fry, 1-2 at a time, until golden brown. Carefully remove from the oil using tongs or a frying spider and place on a paper towel-lined plate to drain excess oil.
Allow to cool slightly before serving warm with raspberry dipping sauce on the side.
Tisa Conway-Cunningham is a Frankfort resident and daughter-in-law to a veteran. She can be reached at contact@tisacc.com.