The further north you drive on Bald Knob Road (U.S. 421) the deeper you get into the heartland of Central Kentucky, and as you turn onto Bark Branch Road, you start to really appreciate the peace and tranquility the area has to offer.
For many veterans, finding peace and tranquility is life changing, and that's why local veteran Steven Brown founded Camp Brown Bear on Bark Branch Road in August of 2014. The first veteran retreat took place in March 2015.
"We are building camaraderie and getting veterans back together," Brown said. "A lot of veterans hang out by themselves and we want to offer education on ways they can help themselves."
Brown is a veteran Navy SEAL. He was born in Germany where his father was stationed in the military. He grew up mainly in St. Joseph, Michigan, where he was a standout competitive swimmer in high school and received a scholarship to swim at a junior college in Ft. Lauderdale, Florida. He ended up transferring to Arizona State to swim, but eventually received an injury that caused him to give up swimming.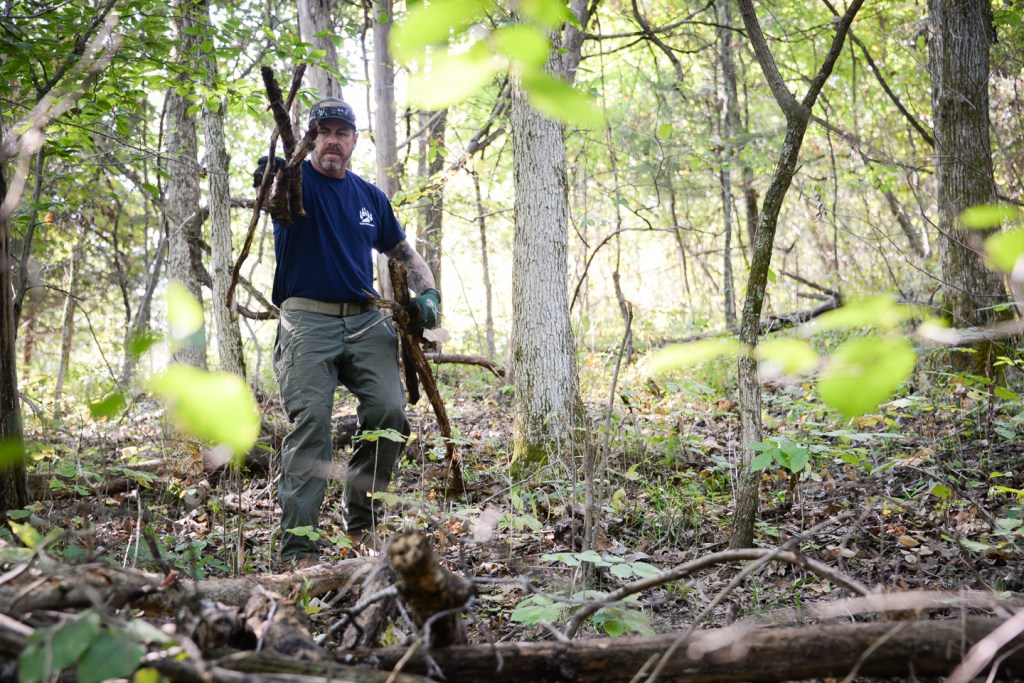 In 1994, Brown enlisted in the U.S. Navy to try to become a Navy SEAL. He graduated Basic Underwater Demolition/SEAL Training in October 1995. Before 9/11, he was deployed to the Middle East twice. Post 9/11, he served in Iraq and Afghanistan eight times, and Africa and former Yugoslavia one time each.
Brown was based out of Pearl Harbor, Hawaii, at SEAL Delivery Vehicle Team One (SDVT-1) the first five years in the Teams. Then he was at Virginia Beach at SEAL Team 6 for the next nine years. The following three years, he wa based out of Alaska at Naval Special Warfare Basic Training Command Detachment Kodiak, and then returned to Virginia Beach at SEAL Team 4 for the last two years of his military career.
During his military career, he was awarded the Silver Star and three Bronze Stars, two with Valor, and he completed more than 250 combat operations.
Brown retired from the Navy in June 2014 after serving 20 years and two months.
After retirement, he settled in Frankfort, after a former relationship led him to the area. He has a second home on Kodiak Island, which he visits when he needs to make money to support Camp Brown Bear.
In Alaska, he operates charter-fishing boats and works as a contractor for the military teaching mountaineering, primitive living, land navigation and driving boats back and forth to the training area.
He is also an avid hunter both in Kentucky and Alaska. He hopes to one-day offer a veterans retreat in Alaska where he will take them camping, hiking, fishing and ocean kayaking.
"In 2010, my mental health was at its worst," Brown said. "And, I finally realized that there was something better out there and I had to stop dwelling on the past.
"That year I killed the biggest brown bear in the State of Alaska on Kodiak Island and I realized that life can become way better."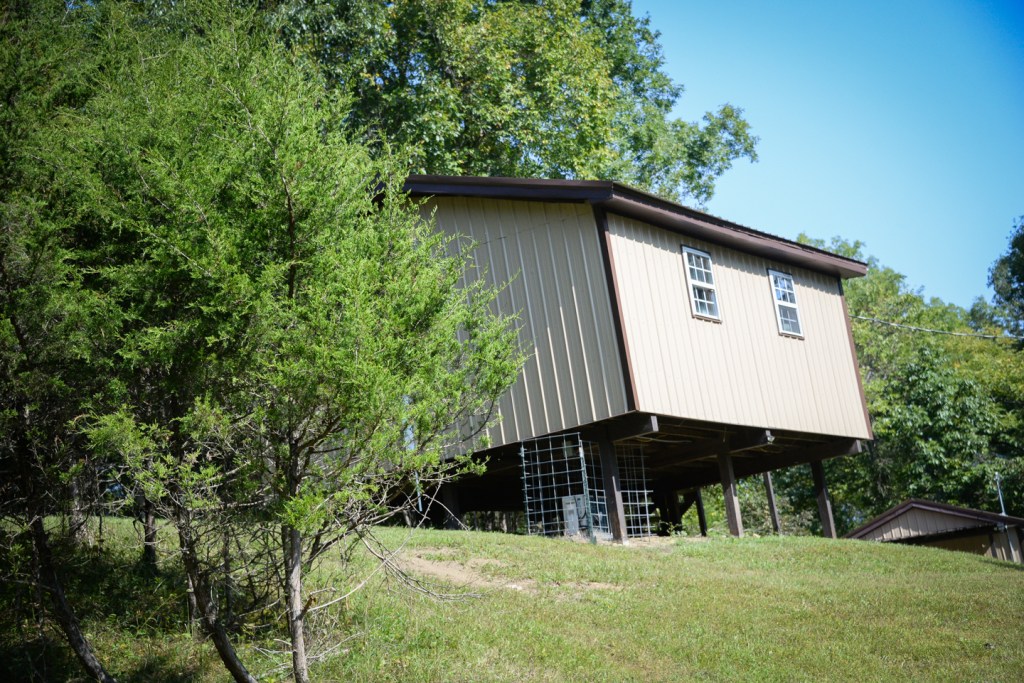 He received lots of accolades that year from the community and it was just the boost he needed.
Brown explained that on Kodiak Island, there are two bear hunting seasons — one in the fall and one in the spring.
"They (Alaska Department of Fish and Game) want to keep the bear population at 3,500 animals — one per square mile," he said.
When he's in Frankfort, it's full steam ahead for Brown as he works to upkeep the 120 acres at Camp Brown Bear. On the property are seven cabins that house the visiting veterans. One cabin is handicap accessible. He currently offers 12 weekend retreats per year. He's looking to increase to 15 retreats next year. He typically has 10 guests per retreat. He offers, male, female and couple retreats. There is no cost to the veterans.
Camp Brown Bear is a nonprofit 501(c)3, which is funded through Brown's earnings, donations and grants.
The retreats begin on Friday and end on Sunday. Typically on Friday, the veterans will experience live music, a campfire and dinner, which has been provided by VFW Post 4075 a few times. The first half of the day on Saturday is spent working on the property clearing dead trees and brush out of the woods, and building hiking trails. The second half is spent doing holistic activities.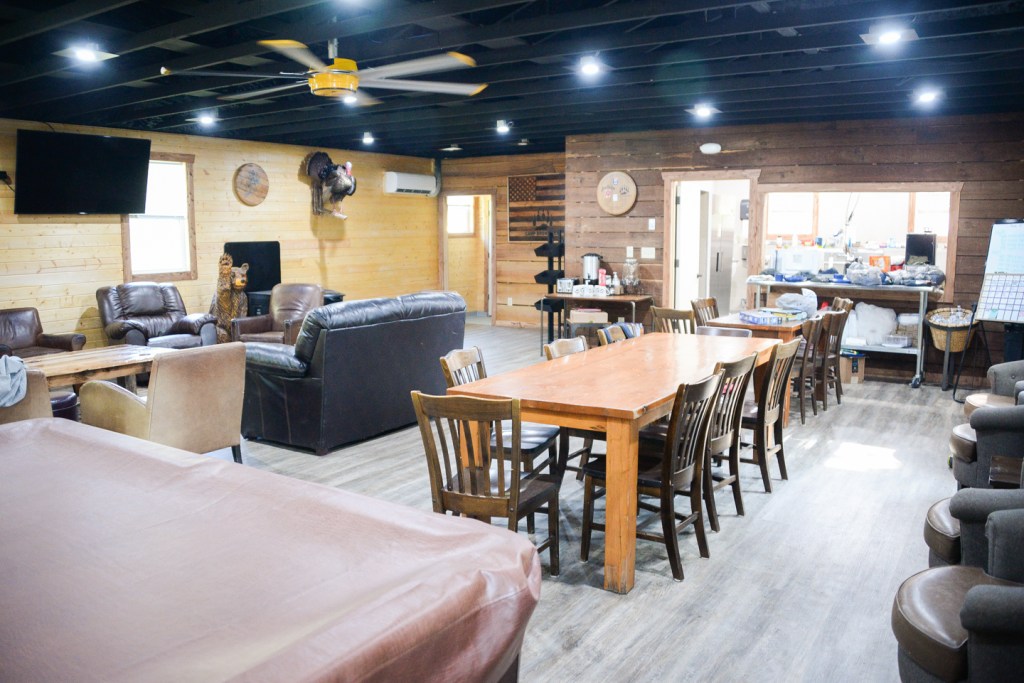 Brown has partners that teach different modalities who will come to the camp and lead meditation and yoga sessions. Sundays are spent hiking, kayaking, doing equine therapy, visiting local bourbon distilleries and breweries, and other activities.
"Typically, if a veteran doesn't find what they need, they come back," Brown said. "Each retreat, they experience three of the holistic modalities out of the 15 we offer. If something like kayaking or equine therapy doesn't get them motivated, they come back to try something else until they find it. Or they come back for camaraderie and we ask them to bring another veteran with them."
Brown has had a lot of help along the way to getting Camp Brown Bear to where it is today. In 2022, with the help of the Beam Vet organization, the lodge on the property was completely renovated. New floors, walls, commercial kitchen and bar were put in. One wall is made of Jim Beam bourbon barrel staves.
"Jim Beam coordinated with people they knew," Brown said. "They milled wood off of the property for the walls. Most of the materials were donated and all of the labor was volunteered."
He has also had lots of help from local veterans clearing brush from the woods and building hiking trails. He has a herd of 27 Anglo-Nubian goats whose job is to eat the excess foliage on the property. And, he has had a couple of AmeriCorps groups volunteer at the camp. The latest group was there in September.
Based out of Vicksburg, Mississippi, the group helped Brown clear brush and dead vegetation from the woods. The group spent three and a half weeks at Camp Brown Bear.
"He (Brown) has a whole list of projects he needs done," AmeriCorps member Kaitlyn Toppin said in September.
"We love to be outdoors and we love all of the animals," Toppin said. "We heard about the goats in advance. We feel like we're making a more direct impact on veterans, which is an important part of the community to serve. Every one of us has someone in their family from a military branch. This is personal to us and we're excited to help an important community."
Brown also receives help at the camp from his son, Winston Brown, who is in his senior year at the University of Kentucky majoring in mathematics.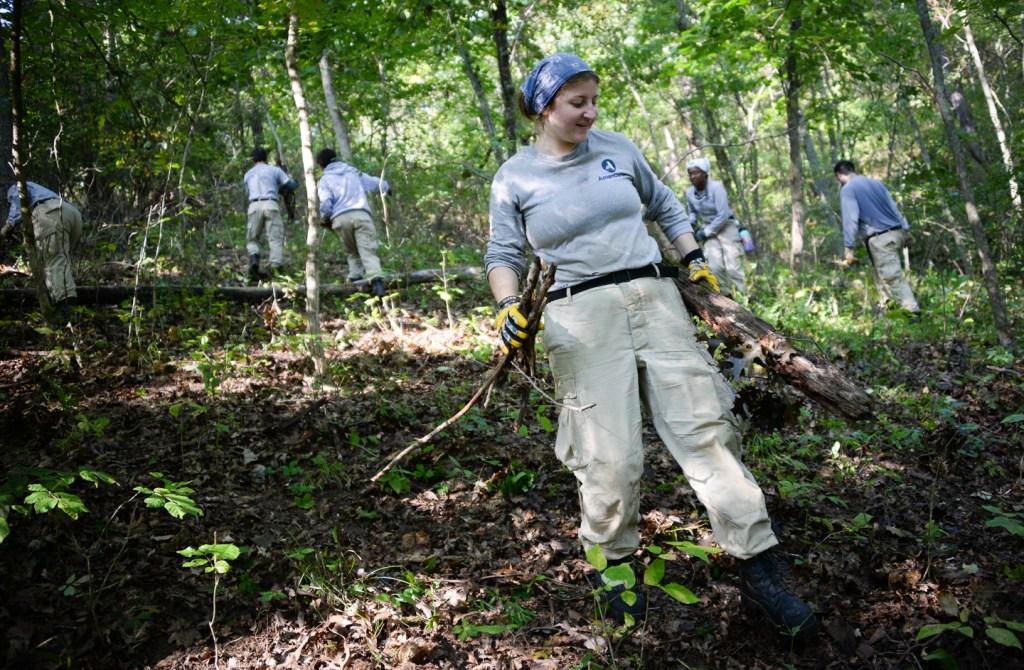 "He went to college at 16," Brown said. "He wants to go to a service academy after he graduates. He loves the structure of it."
Winston volunteers during the weekend retreats and he house, goat and dog sits when Brown is out of town. Brown's labrador retriever mix, Davie, is always by his side while working on the farm.
Brown has a staff of dedicated volunteers, which includes Cortney Burden, director of female operations; Jeremy Wallace, practitioner and offsite activities manager; and Alexander Mock, marketing and networking manager.
As for the future, Brown is hoping to one day open a Camp Brown Bear in Montana or northern Arizona to serve the veterans out west. He has had veterans from all 48 states at the retreats. He said the retreats don't take long to fill up after he opens registration.
His biggest need right now he said is funding.
"The cost is about $500 per person," Brown said.
But, all of the physical labor and work Brown puts in to raise funding for the camp is worth it.
"I've seen many lives change here," he said. "I lost a lot of teammates oversees and the last few years I lost quite a few to suicide. That drives me to do more. This is the best therapy for me —being in the wilderness. The time between retreats, I really enjoy this property and getting it ready for the next group."
To learn more about Camp Brown Bear and to donate, visit www.campbrownbearusa.org.