Even on a gloomy spring day, the pastures at Morgan Farm are bright and cheery as 40 bouncing lambs run and play across 20 acres of lush green rolling hills.
"All of the lambs' names begin with the letter H," Sheryl Morgan said. One lamb's name is Harry Potter because it has a dark streak resembling Harry Potter's lightning bolt scar on its forehead.
Each lambing season, they use the next letter in the alphabet for their naming system. It helps to keep track of the age of the animals.
Sheryl operates the Bridgeport sheep farm with her husband, Phillip, and daughter, Karen. Her son, Aaron, who lives on the back of the farm with his family, helps with "pasture management," Karen said.
Sheryl and Phillip bought the farm in 1991. When Karen was attending Western Hills High School, her agriculture teacher JR Zinner encouraged her to raise market lambs to show.
"This is a 4H project out of control," Karen said. Sheryl said they also got the sheep to help eat overgrowth on the farm.
Eventually, they transitioned into wool sheep, which is what they raise today.
"We thought they were cute, so we got wool sheep and realized they have a lot of wool and we had to do something with it," Karen said.
This spring, their herd consisted of 21 ewes (female sheep), four rams (male sheep), six yearlings, 38 lambs and two llamas (for protection). About half of the sheep are of the Shetland breed. The other half is Jacob.
Jacob is an old breed, which Phillip said was recently removed from the heritage breeds' endangered list. According to livestockconservancy.org, "Jacobs are small, horned, black and white sheep. Ewes weigh 80-120 pounds, and rams 120-180 pounds. The sheep are white with colored spots or patches. The colored portions of the fleece are usually black, but they can also be brownish or a lighter color called lilac. The Jacob is a multi-horned or 'polycerate' breed. Most animals have two or four horns, though six horns also occur. Both sexes are horned.
"The breed produces a medium fleece that is light and open, with a staple length of four to six inches and a weight of three to six pounds. Unlike most other medium wool breeds, the quality of the fleece has been a major selection factor in the recent history of the Jacob breed. As a result, it is much sought after by fiber artisans, who enjoy its characteristics and color combinations — black, white or a blend of the two."
According to the website, "Shetland sheep are fine boned and small in size. Rams weigh 90-125 pounds, and ewes weigh 75-100 pounds. Most rams have spiraled horns, while most ewes are polled. Shetland sheep are calm and charming in disposition, docile and intelligent.
"The Shetland breed is especially prized for its wool, which is fine, soft and strong. Fleeces average two to four pounds and vary in crimp from wavy to straight. Eleven colors and 30 color patterns are recognized in the Shetland breed. This diversity is a great asset both to the breed and to the fiber artisans who enjoy using its fleeces."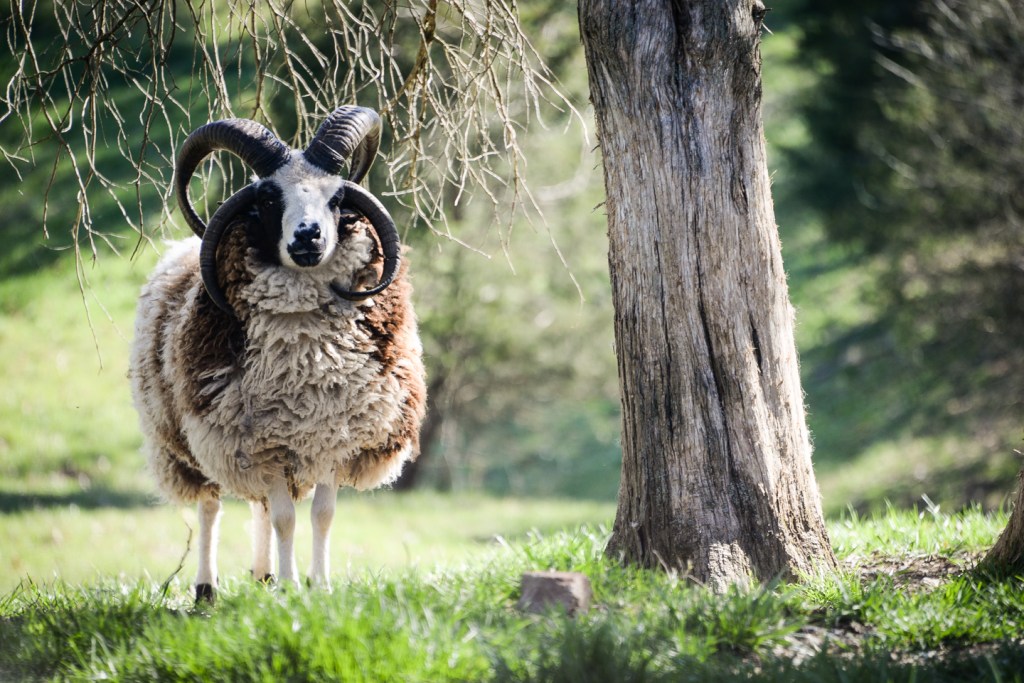 Karen said every fleece is different.
"Some are softer, some are coarser," she said. "All handcrafters want something different."
In the spring before the ewes gave birth, they were sheared. The  yearlings and rams were sheared shortly after. Their fleeces, after being skirted (the process of removing vegetation from the fleece) are placed in bags to be sold. The Morgans will first attempt to sell the bags of fleece "as is" at fiber markets and festivals. The fleeces sell for $18-20 a pound. Each fleece weighs about three pounds, Karen said.
They will save some of the fleeces, which they will either process themselves or send to a mill to be processed. When they process it themselves, they wash it with hot water and Dawn dish soap, Sheryl said — being careful not to agitate it. They then use a picker, which opens the wool and prepares it for the carder where it is combed.
Sheryl will use the wool to make felted soaps or pet rugs. She will dye the wool using natural dyes that she makes out of a variety of vegetation. She's been known to use goldenrod, marigolds, dandelions, carrot tops, Osage orange tree, flowers, roots, leaves, bark and black walnuts.
"That is our family joke, if you find a container of dried onion skins in the pantry, leave it. Mom is going to use it for dye," Karen said.
To prepare the dye, Sheryl will put whatever vegetation she is using into a pot of water and bring it to a boil. She will then remove it from the heat and let it set overnight. She will strain it and then put the wool in the colored liquid and bring it to a simmer, being careful not to swish the wool around because she doesn't want it to felt. She will let it simmer for an hour then remove it from the heat and let it cool.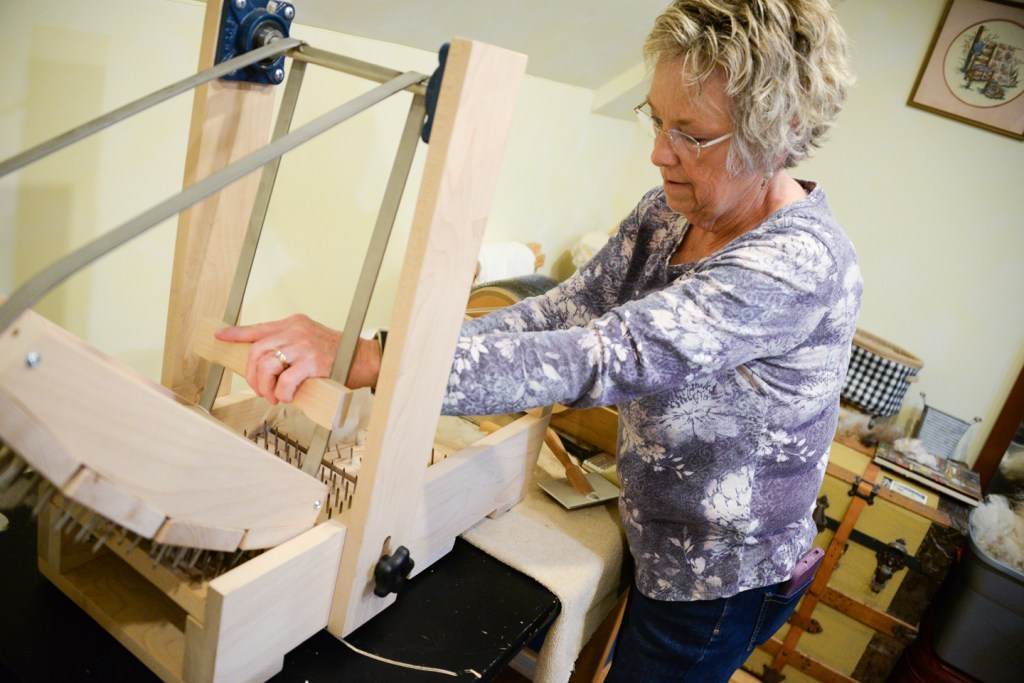 "It can't be shocked or it will felt," Sheryl said. "Wool fibers are smooth and it has scales. When it felts, you can't get it back apart."
When Karen dyes wool, she uses acid dyes. When the wool is ready to be spun, she will load the wool onto a bobbin on her spinning wheel and then feed the wool into the wheel as she uses foot pedals to keep the wheel spinning. She said she tends to spin finer strands of yarn.
She will then sell her hand spun yarn at the fiber festivals they attend. She also sells it on her Etsy page, KanieMae Handmade Wool Products.
The Morgans will also have some of the wool spun at the mill. Karen has been known to knit sweaters, socks, hats and gloves for family members, but she doesn't often make clothing products to sell.
As far as the day-to-day operation of the farm, Phillip said he lets all of the ewes and lambs out of the barn at 8 a.m. each morning. At night, they come back in. During the day there are two llamas on the property, Linus and Andy, who guard over the sheep and herd them back to the barn if they see danger.
"The llamas are guard hounds," Phillip said.
Phillip also feeds, shears and does the maintenance.
When it comes to shearing, it's a team effort. Phillip, Karen and Sheryl work together to corral the sheep. Phillip then puts a harness on them and puts them on a stand. Then, he gets busy shearing.
"I had to learn to shear," he said. "I learned from shearing her market lambs."
While on the stand, Karen and Sheryl will administer any medical attention the animal needs, such as vaccines against worms and parasites.
As Phillip shears, Karen will stand ready to catch the fleece as it falls off. She then takes it over to a skirting table. It's then bagged and ready for the next step.
"It's truly a family endeavor," Karen said.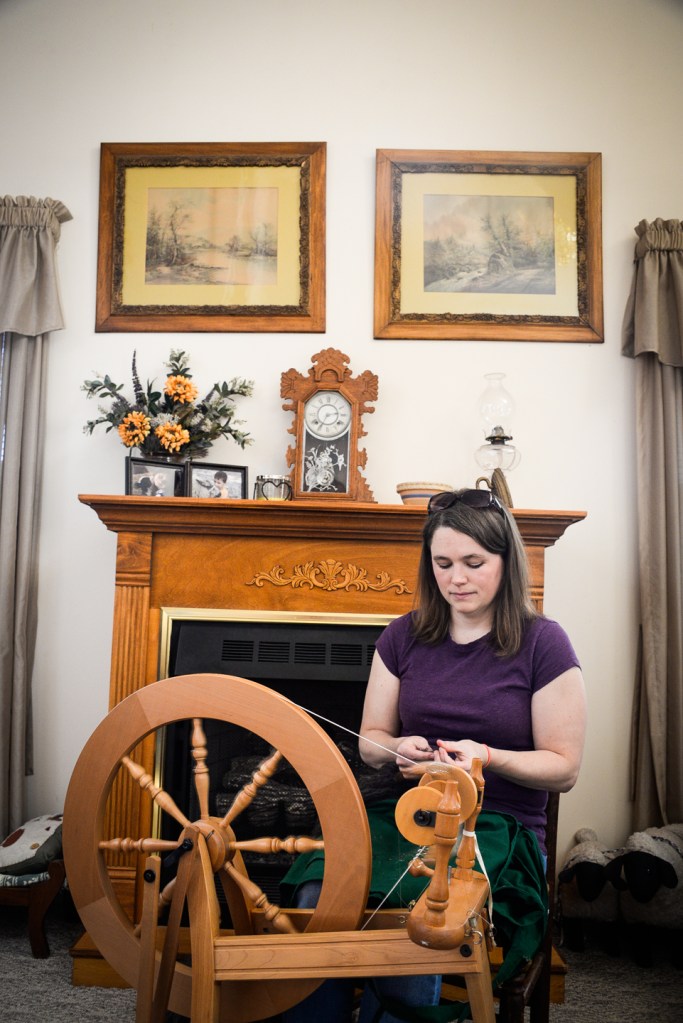 Phillip said the majority of the lambs will be sold to other breeders, while others will be processed for the family to eat. Occasionally, they will sell a whole lamb to a buyer who will then take it to a processor.
After graduating from WHHS in 2005, Karen pursued her interest in agriculture at the University of Kentucky and received a degree in animal science. She now works for the U.S. Department of Agriculture certifying organic farms nationwide.
She thinks 4H and FFA programs are important and a great asset to today's youth.
"Agriculture is so connected to our lives and kids anymore are so removed from where everything comes from," she said. "4H teaches basic life skills and FFA teaches the business, finance, bookkeeping side of agriculture."
She wants youth to understand that agriculture isn't just about farming.
"There's more to it than that," she said. "At least be open minded and take a look at it. Agriscience should be a branch of STEM. For example, crop production is an application of chemistry, biology and physics — it's so much more than just farming."