If you're looking to give your taste buds an out-of-this world experience, Stainless Brewing and Spirits offers just that.
"We want our beer to be the first beer in space since our theme is space and our mascot is spaceman Captain Phineas Star Sailor," Stainless Brewing and Spirits owner Kevin Pierce said. "He gets drunk and goes on wild adventures looking for good beer and bourbon throughout space."
Pierce, a Frankfort native who attended Franklin County High School, said he met with representatives from SpaceX who took a few bottles to the launch pad for a photo shoot. He said they are cautious about sending glass bottles to space, so Pierce is coming up with some sort of drink pouch to hold the beer.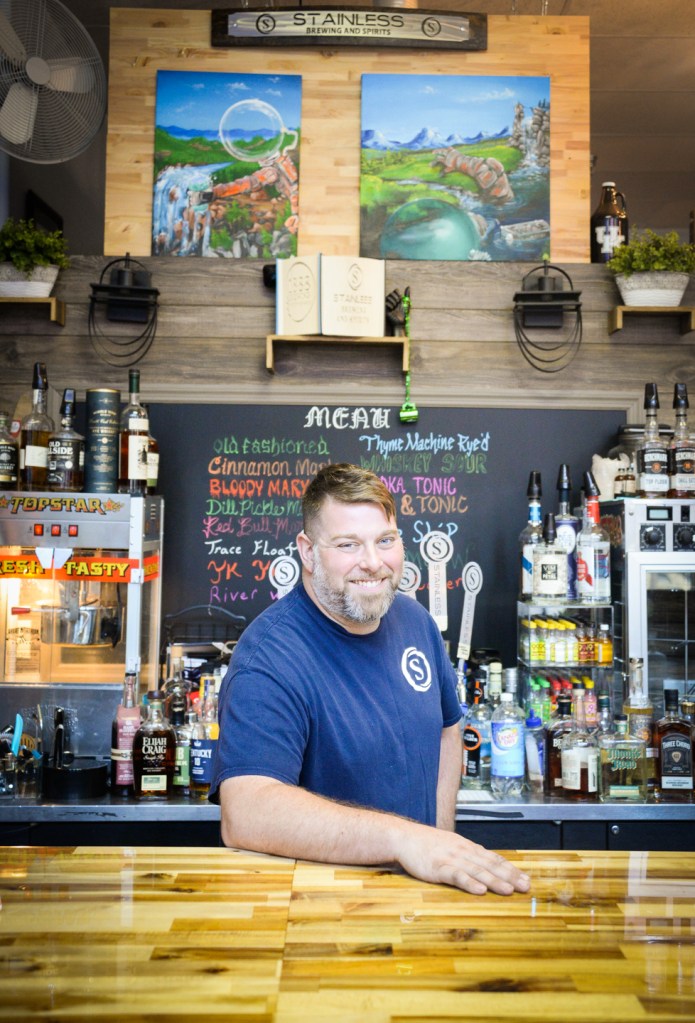 Making his own beer has been a dream of Pierce's for years. He made his first backyard batch on Thanksgiving 2018.
"It was a German Doppelbock, 10%," Pierce said. "It was fabulous. My friends liked it."
He learned to brew by watching YouTube videos and with the assistance from his son-in-law's friend, JR Redmon, who is the head brewer at Brew Stallion in Lexington.
"I picked his brain," Pierce said. "He was able to sell me equipment to get started with."
After that, Pierce went to work building his business. He started brewing with a five-gallon system, then upgraded to a 10 gallon system, then a 15 gallon system — now he brews on a 30 gallon system out of his bar located at 317 St. Clair St. He opened his business in March.
"All of our beers rotate," Pierce said. "We don't have any house specials."
He keeps six beers on tap. The top sellers so far have been Vibe (a pilsner), Space Yarn (a New England IPA), Tan Trooper (a tangerine West Coast IPA,) Taste the Rainbow (a Skittle-infused pilsner) and an Irish Red.
"We're slowly getting known for our candy beers," Pierce said. "We use Skittles and Sour Patch Kids. We also keep with traditional beer themes."
And, they offer a bourbon barrel-aged beer. Pierce said he uses barrels from Whisky Thief Distilling to age the beer. Whiskey Thief owns 25% of Pierce's business.
"We take a simple approach to beer," he said. "With our beer, we cut some of the hops out so it's more enjoyable instead of being overloaded. I hate any beer that lays on your tongue."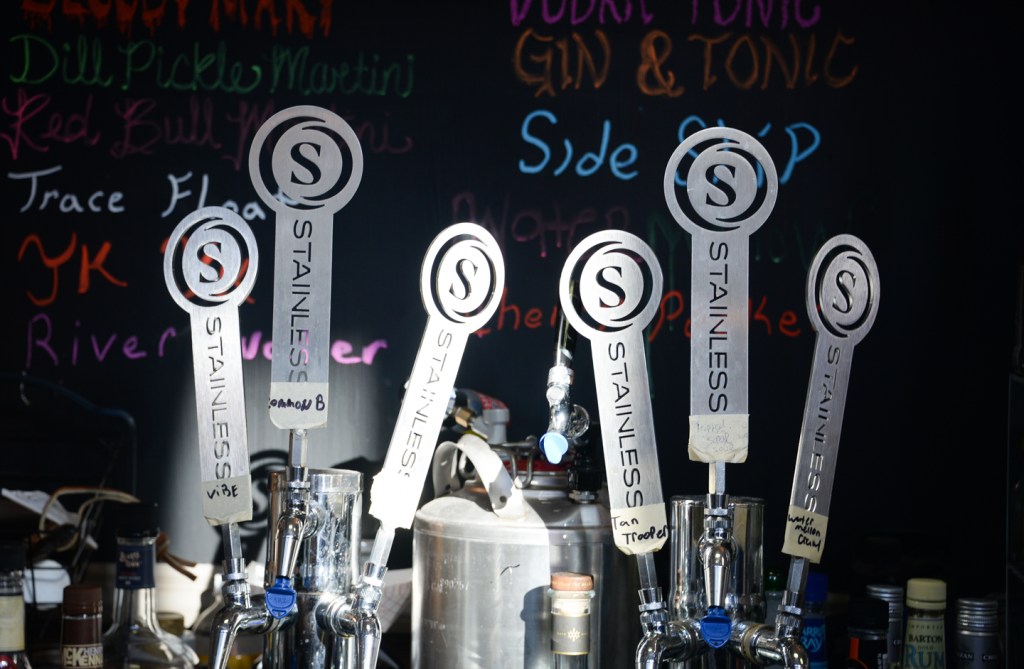 Pierce is also working with Whiskey Thief to create his own line of bourbon. Pierce has a collection of about 50 bourbons on the shelf of his bar, among other types of liquor.
"We use a lot of our beer in cocktails," he said. "We try to think of different ways to use beer."
Pierce makes a coffee beer. When he adds a shot of cream to it, it's called a morning brew. He also makes a Trace Float with Freddie's Root Beer and Buffalo Trace Bourbon Cream.
Another top seller is the dill pickle martini and blue muffin martini. He also has wine available.
Pierce offers some snacks, including Yeti Cheese, which is made with his beer.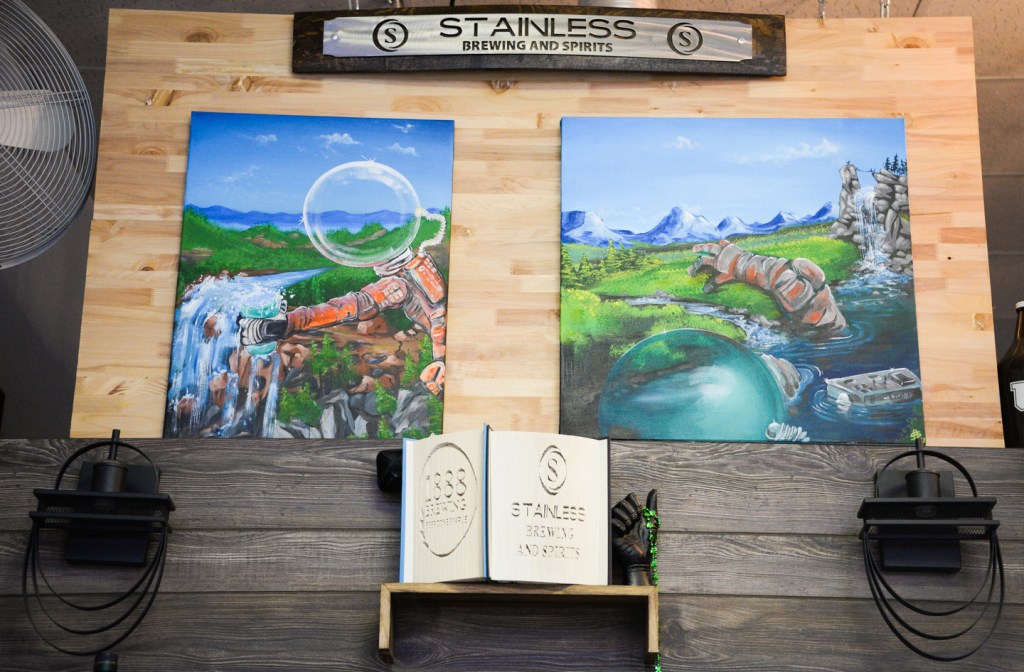 Decorating the bar area are several paintings by local artists including, Shannon Dale Neal, Greg Begin and Mike Rice. The paintings are to be future bottle labels for Pierce's beer.
On the bar facing St. Clair St. sits old video game consoles — a Nintendo, Super Nintendo and a Nintendo 64 are among the consoles patrons have to choose from.
Stainless Brewing and Spirits is open from 4:30-9 p.m. Tuesday-Thursday and 4:30-10 p.m. on Friday and Saturday. It's closed on Sunday and Monday. Pierce's day job is as an equipment mechanic at Republic Services. He's been there 14 years. He goes to work at 6:30 a.m. every morning, and then opens the bar at 4:30 p.m.
As far as the future of his business, Pierce is going to continue to build his brewing system, and has hopes of moving to a much larger space.
"I would like to maintain a tap house downtown since that's where I started," he said.