The fire is stoked at about 700 degrees in the tiled pizza oven where bubbling cheese and fresh ingredients bake on a pizza round in about 90 seconds. It's mesmerizing to watch and the aromas are tantalizing. Customers can order a meal and then take time to shop in the food hub.
"We're very unique and different in that we only carry Kentucky-produced products in the food hub — nothing from out of state or out of season," Michelle Bragg, co-owner/operator of Locals Food Hub and Pizza Pub, explained. "We're committed to Kentucky producers. That's challenging sometimes in the winter because we won't have things like blueberries and apples. We call that seasonal eating. Our customers will come to Locals first to get their meat, cheese, eggs and buy what is in season."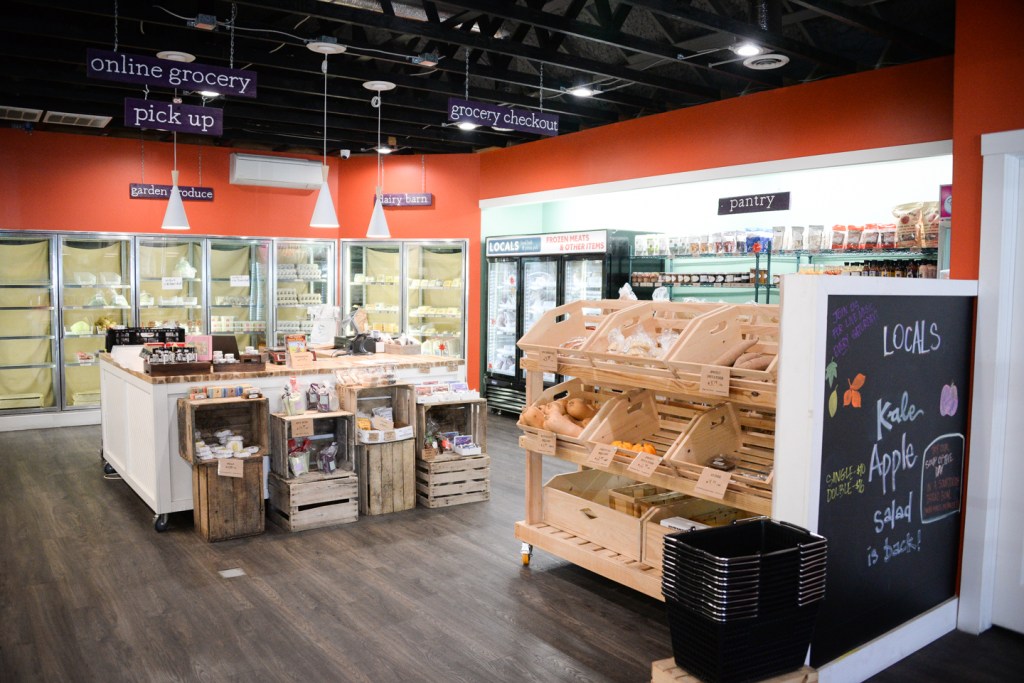 Locals is more than a pizza place. It's a dual-purposed space — a grocery with Kentucky-only grown food paired with a restaurant serving fresh woodfired pizzas, salads, soups and appetizers made with almost all Kentucky-sourced products. Customers can choose from 10 draft beers from Kentucky micro breweries. Wine and non-alcoholic drinks sold are solely from Kentucky businesses.
Offering Kentucky food
The idea for Locals came about in 2020 when some friends were throwing around ideas during the height of the pandemic. "We sat down and started talking about this concept that is now Locals Food Hub and Pizza Pub," co-owner/operator Birch Bragg explained. "It was born of a need to participate in the strengthening of our local food system. During COVID, we all experienced the empty grocery shelves. We saw the fragility in the global supply chains."
Birch and wife, Michelle, along with Joseph Fiala and Taylor Marshall decided to create Locals, in part, to help promote a stronger food supply chain. In July 2021, the Frankfort store and restaurant opened. Birch and Michelle work as the daily hands-on owners/operators but Joseph and Taylor continue to be actively involved in the direction and vision of the business.
"We exist for three main reasons," Birch said. "Our mission statement is to increase viable, accessible markets for our farmers and their goods; to make it easier for our community to buy local food, which is why we are open seven days a week; and to create a gathering place where our community can come together for local food." The owners have set a goal of opening 10 stores throughout Kentucky within 10 years.
From farming to helping farmers
Birch and Michelle are no strangers to farm life. Birch grew up on a farm in Metcalf County. After some time working in Hawaii and Lake Tahoe, Birch found his way back to Kentucky where he met Michelle. They eventually started a market farm near Bowling Green where they sold what they grew.
While living there, they helped co-found Beechbend Indoor Farmers Market. "We would sell our produce from the farm, and woodfired pizzas. That's where our love for the woodfired pizza began," Michelle explained. Birch added, "It was a big undertaking because we'd pack up a trailer every night with our portable pizza oven, a portable kitchen and three coolers. People loved the pizzas!"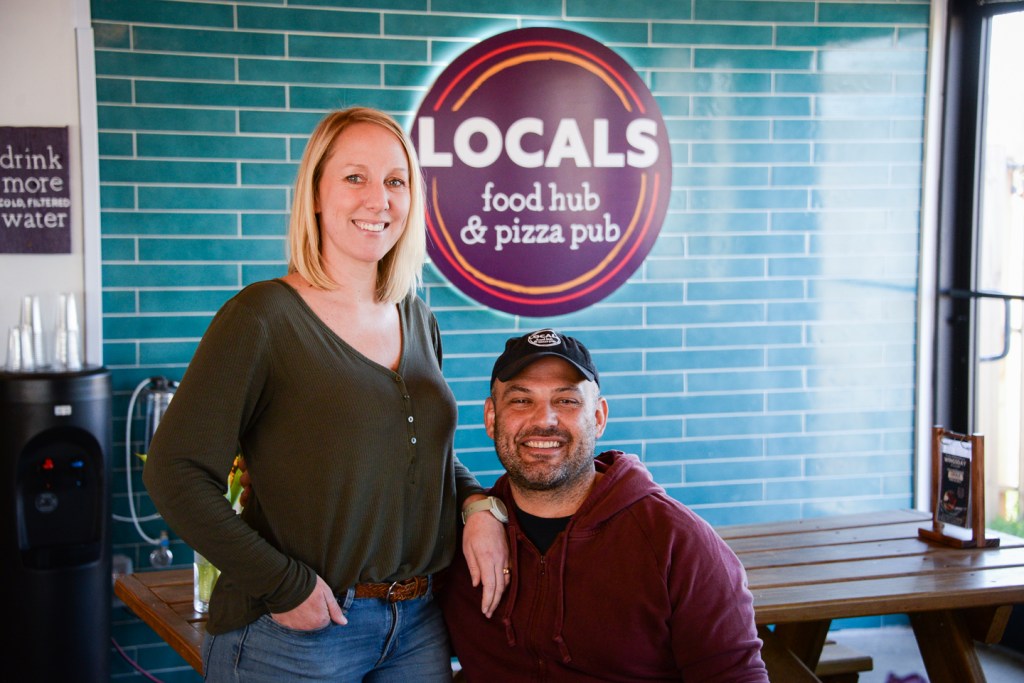 A new opportunity brought them to Frankfort in 2016 after meeting one of the West Sixth Brewery owners at a Farm to Table event in Bowling Green. "He told me they had just bought a farm in Frankfort and needed a farm manager to help spearhead the development of the business," Birch said. "After much thought we decided to take the position and make the move to Frankfort. I came ahead of Michelle and our one-year-old daughter, Iris, and lived on the West Sixth Farm in a camper for awhile." The couple now have a son, Cedar, as well.
Investing in Frankfort and Kentucky
Since Locals has been open, they have purchased $550,000 worth of product from 120,000 Kentucky producers. "That's a significant investment in our local farming community," Birch said. "Our biggest goal in opening this store is to help impact Kentucky farmers; to create a place where we can buy more of their products; and the community has easier access to local food. We really want to showcase the amazing food that's being produced right here."
The business was awarded two USDA grants in 2022. "The first was a $200,000 Healthy Food and Financing Initiative toward our second location, which will be in the Louisville Smoketown area," Birch said. "It will help facilitate the opening of the store in an underserved community."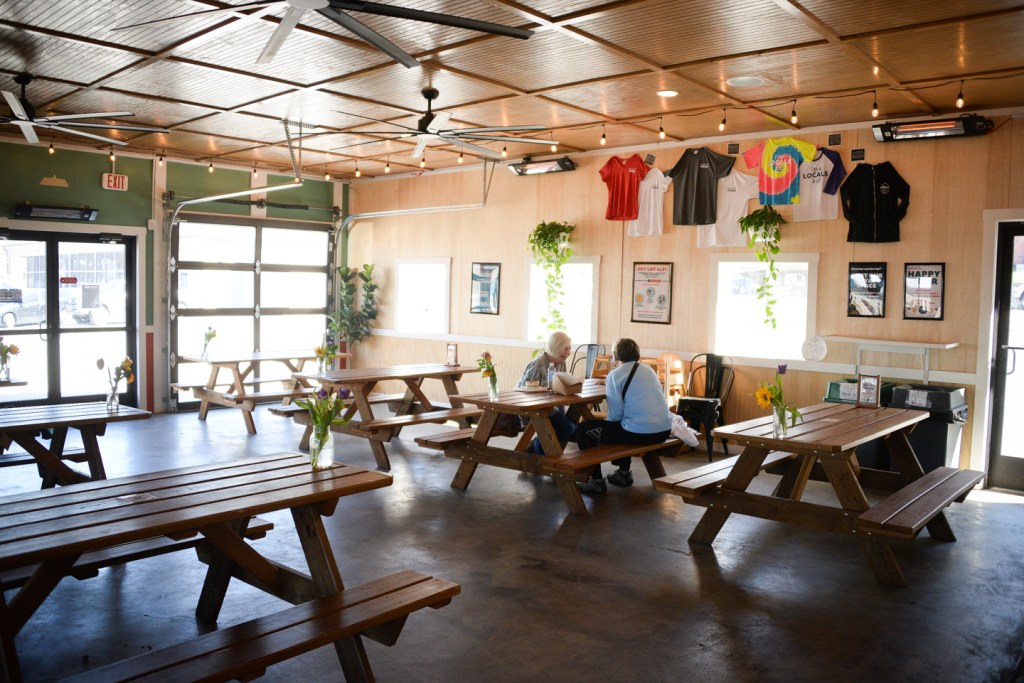 The second is a $400,000 grant spread over a three year period through the USDA Local Food Promotion program. "It is given to people who are committed to building or creating a more resilient food system through local food," Birch commented. "Our goal is to develop a home grocery delivery service and to have a very strong component of helping the underserved community members, as well. We want to develop a grocery platform where people can order online and have food delivered to their doorstep," he added.
"We can't purchase food with this grant money. The grant is essentially allowing us to build the infrastructure in our store to create a delivery system. We can do things like buy a refrigeration truck with the grant money," Birch said.
"So, we do need the help of the community. Donations will help us to build partnerships and have the funds dedicated directly to where we can create voucher systems or double dollars programs in house for anyone with SNAP or underserved members of our community. It could help us create a box program for direct delivery access for seniors and others," he explained.
Locals is thankful to have the support of the people in the community. "It feels good to be in this space and to be recognized for what we're doing," Birch remarked. "We love it here. Frankfort is a really great place to raise a family. We've found our little community of friends and this is definitely home now."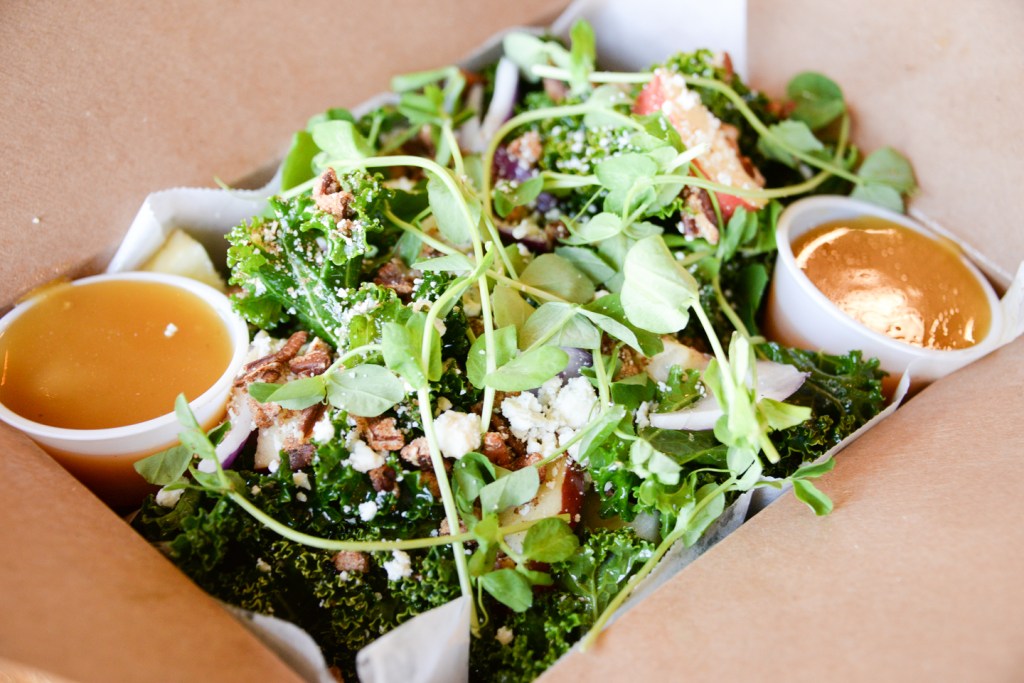 Sorghum vinaigrette
Ingredients:
8 cups apple cider or malt vinegar
6 tablespoons salt
½ cup hot sauce
1 cup grated onion
8 cups blended oil
10 cloves garlic
6 cups sorghum
⅓ cup brown sugar
Directions:
Combine using an immersion blender.