In the kitchen and on YouTube he goes by Chef Lemonhead. Outside of the kitchen, he's Stephen Lemon — a 14-year-old born and raised in Frankfort and a freshman at Western Hills High School.
His cooking YouTube page has 1.74K followers who surely salivate while watching his 150-plus videos of him making meals in his family's home kitchen.
With an LED light stand set up and his phone on a tripod, Stephen goes to work making whatever his taste buds are craving.
"I'm spontaneous about things I like to make," Stephen said. "I don't have a certain one thing I like to cook. I like to find new things."
Stephen said his interest in cooking began at a young age watching his parents cook along with "Chopped" on the Food Network. During the COVID-19 pandemic shutdown when Stephen and his family — parents, Tuesday and Eric, and brothers, Josiah, 18, and Joshua, 17 — held their own version of "Chopped." He also has an older brother, Antuan, 23.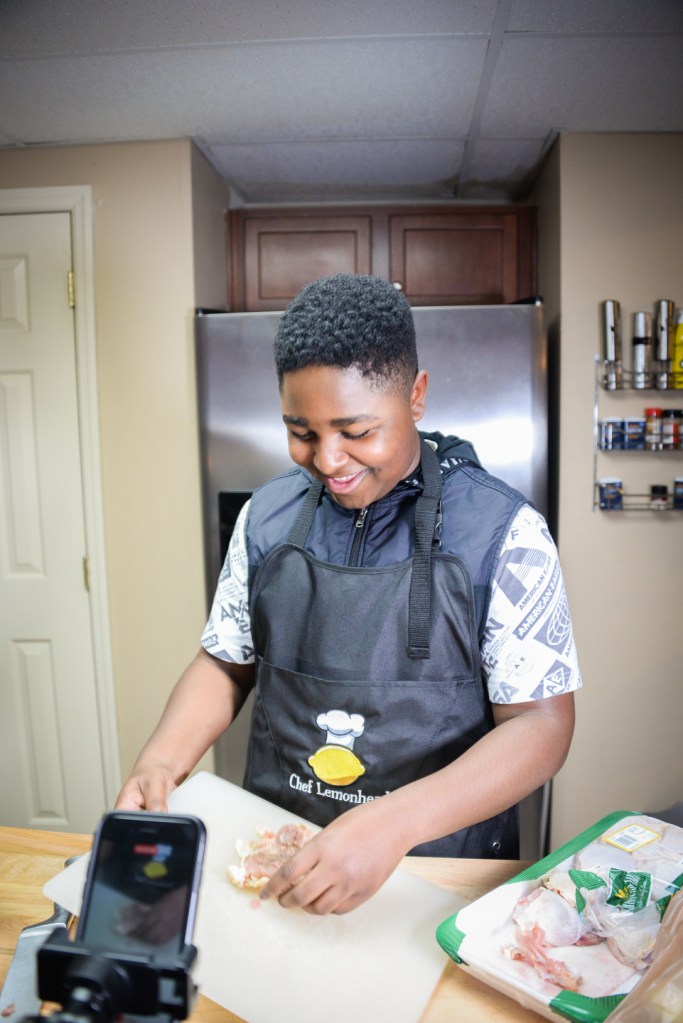 "We did our own 'Chopped,'" Tuesday said. "We went to the store and bought random items."
Eric said he bought shrimp, Ramen noodles, filet mignon, Lunchables … "they made a mess."
Stephen made nachos, which were a hit with everyone, however, he did lose to his brother.
Tuesday said when Stephen was younger, one of the first things he made was a peanut butter and jelly sandwich. Eventually, he learned how to cook scrambled eggs. Around 12 years old, after he learned how to use sharp utensils safely, he began to make more involved meals. The first being tacos.
"I cooked the meat and cut up the vegetables," Stephen said.
Tuesday said she's not worried about letting Stephen use knives. "He's pretty safe in the kitchen. He does way better than me."
His first video on YouTube was of pulled pork he made in an Instant Pot.
"I used a pork butt and made my own barbeque sauce," he said. He made a rub for the pork butt, then put it in the Instant Pot and pressure cooked it. He served it on a slide bun with barbecue sauce he made out of vinegar, brown sugar, liquid smoke, ketchup, salt and pepper. For the rub he used paprika, garlic powder, onion powder, brown sugar, salt and pepper.
He said he will typically Google a recipe to see what to use. "Then I do my own thing."
Not everything he makes turns out. In fact, he's had quite a few cooking blunders. One involved a carrot cake that he forgot to let cool before he put icing on it. 
"The buttercream icing melted and the cake crumbled," he said. "I'm not a very good baker."
However, that isn't always true. He has had people purchase pies from him.
Another mishap involved the microwave.
"I saw a life hack on YouTube where you make a boiled egg in the microwave. I tried it and it exploded."
One time he put tinfoil under a pie he was baking to collect any of the filling that spilled over, but the foil didn't allow for the bottom of the pie to heat thoroughly.
His favorite food to cook is traditional American fare like burgers, wings and fried chicken.
He and his brother made fried chicken together once. "My brother likes to play the drums, so we made drumsticks."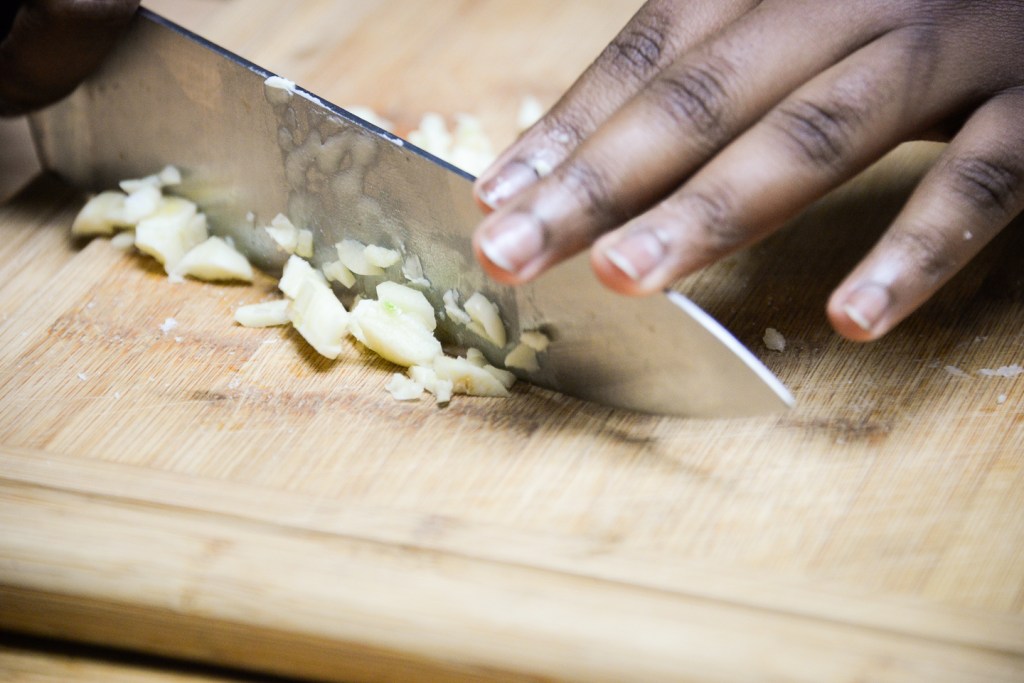 He made the marinade for the chicken from scratch using buttermilk, white pepper, paprika, garlic powder, onion powder, salt and pepper. He then dipped the chicken in flour, before putting it in a deep fryer. He said if he doesn't put together his own mixture of seasonings, he likes to use Tony Chachere's Creole seasonings.
Stephen likes to make wings as well. He seasons them with Tony Chachere's seasoning and cooks them in the air fryer until the meat is 170 degrees. Then he puts them in a bowl and tosses them in whatever sauce he wants to use at the time.
"Toward the beginning of the year, I was selling wings at school," he said.
Along with the Instant Pot and deep fryer, other cooking gadgets he uses often include a rice cooker and Kitchen Aid stand mixer. He also cooks a lot with cast iron pans.
"I like cast iron," he said. "It's really reliable. I like to use that if I'm searing something. You can get a good crust on it."
In fact, if he can't use a grill for burgers or steak, he'll use cast iron.
"If you're going to cook burgers on the stove, invest in cast iron. It gets a good crust."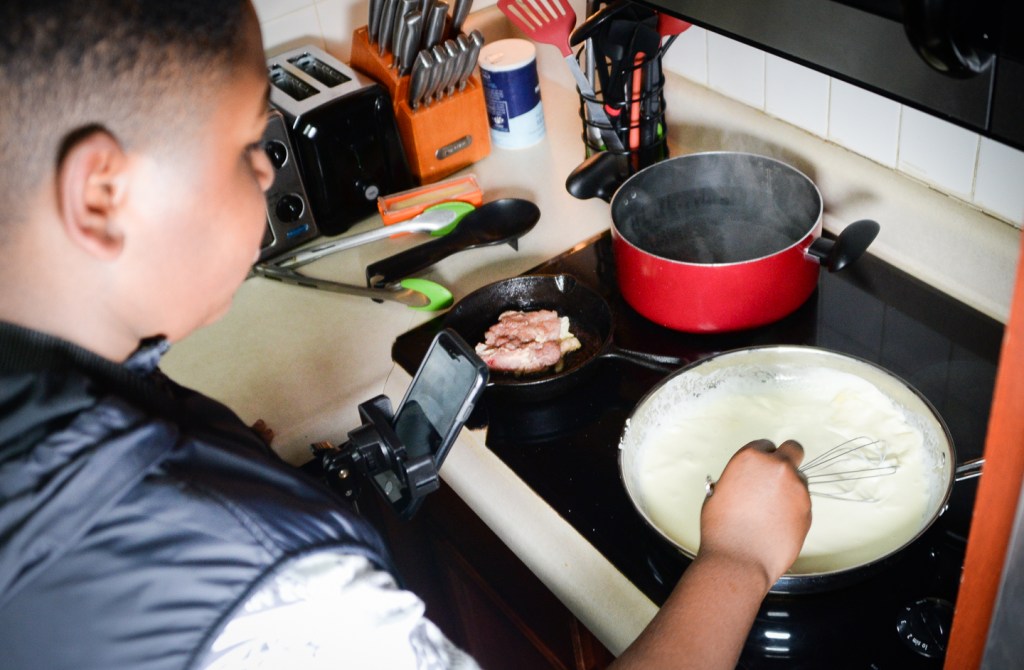 He also bought his dad a Weber grill as a gift, which he says he uses more than his dad — to which Eric agreed.
For Thanksgiving, he smoked a brisket on the grill, putting the coal on one side of the grill and the meat on the other side to smoke it.
"It was my first time [smoking a brisket]," Stephen said. "There was a lot of room for improvement, but it was good."
One dish he recently nailed was Chicken Alfredo. He made his Alfredo sauce from scratch.
"It's more technique," he said. "The tricky part is making the sauce and knowing when to put in certain ingredients — timing with the butter."
Stephen hopes to one day own a restaurant or food truck, and serve diner food.
As far as advice for other kids who want to learn to cook, Stephen says it takes a lot of practice and you have to be safe.
"You have heat and knives," Stephen said. "Learn how to do it and keep practicing. If your parents cook, watch them and ask them questions."
As for Eric's advice to parents, he says to teach them to cook while they are young..
"They might get good at it when they're still in your house."
Tuesday laughed and followed him in saying, "I haven't had to cook in a long time."
Stephen can be reached at cheflemonhead1@gmail.com and on Instagram and YouTube @ChefLemonhead.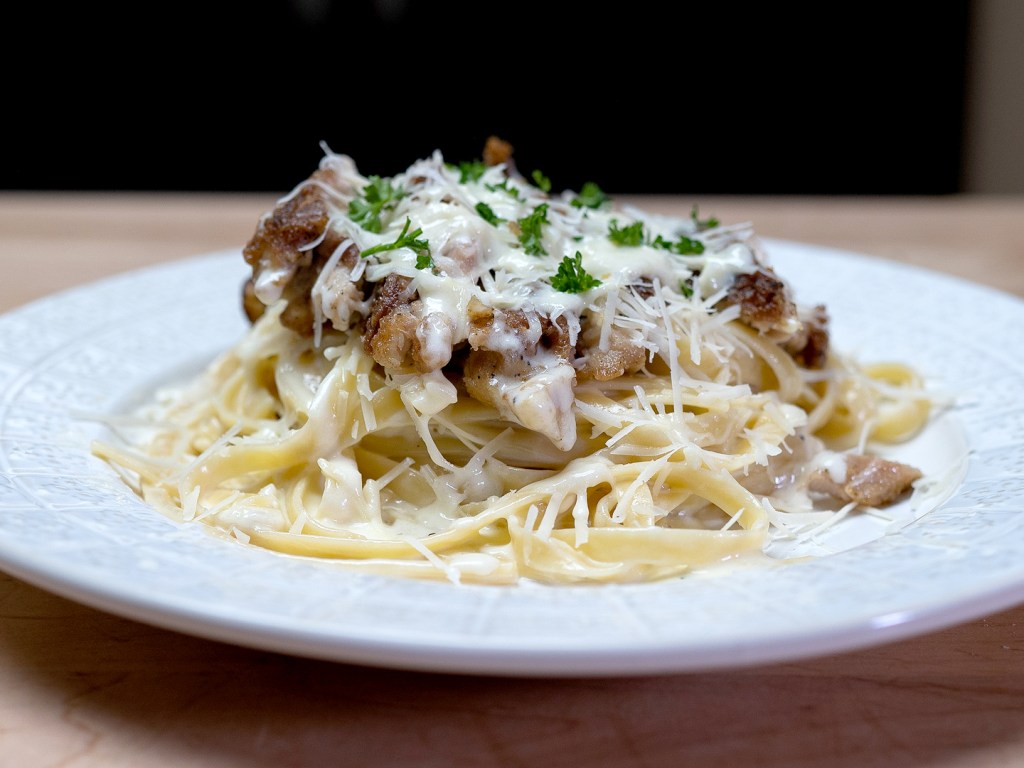 Chicken Alfredo
Ingredients:
4 boneless chicken thighs
Salt and pepper to taste
2 tablespoons extra-virgin olive oil
14 ounces Fettuccine
1/2 cup unsalted butter
1 1/4 cup heavy whipping cream
5 cloves garlic, finely minced
2 teaspoons finely chopped thyme
2 cups parmesan
Directions:
Preheat the oven to 375 degrees. Season the chicken thighs with salt and pepper. Warm the olive oil over medium-high heat in a cast iron skillet. Once it's shimmering, swirl the pan to evenly distribute and add the chicken and leave it undisturbed for 5-7 minutes, until the bottom is golden-brown.
Flip and place in the preheated oven for 7 minutes or until the internal temperature reaches 165 degrees. Take chicken out of the oven and cut into pieces until ready to serve. Place fettuccine in a pot of boiling water that's been seasoned to taste with salt. Cook according to package instructions or until done.
In a large pan, add heavy whipping cream and unsalted butter and set to medium heat. Constantly stir the pan until all the butter has melted. Increase the heat slightly and bring to a gentle simmer. Simmer, stirring occasionally, for 3-4 minutes or until lightly thickened.
Cut off the heat and add in parmesan, chopped thyme and finely chopped garlic. Vigorously stir together until thoroughly combined. Season to taste with salt and pepper.
Reserve ¾ cup of pasta water. Drain the pasta. Add pasta to the Alfredo sauce. Toss and use pasta water as needed to fully emulsify.
Place in a bowl. Top with cut chicken, grated parmesan and a crack of black peppercorn before serving. Enjoy.