By Tisa Conway-Cunningham
Hot brown egg rolls? Blueberry margarita cheesecake? Poppy's donut burgers? Oh my! Allow me to reintroduce you to Bourbon on Main and its newest head chef, Charles Logan. Yes, this name may sound familiar because this is not the first time Chef Logan worked at Bourbon on Main, which is located at 103 W. Main St. in downtown Frankfort. Originally, he was the night manager at Bourbon on Main for a year. Now, he is back, and Bourbon on Main is better than ever.
A local of Frankfort, Chef Logan grew up in the kitchen learning from his dad, John Logan, and his grandmother, Sandra "Sandy" Scifers, who did most of the cooking. His grandmother took culinary classes while holding down a full-time job, and eventually started her own catering service. Every time the family traveled to grandma's house in Indiana, she made sure to have a top-notch spread for the family to devour. She served big lobsters and shrimp scampi, and always filled the table with her culinary delights. She loved to cook and to feed the family.
Chef Logan's father, John Logan, was the primary cook at home, but his mother, Amber Logan, was a baker. She was always in the kitchen whipping the family up some treats. Chef Logan especially loved her wild berry muffins. This creation was a simple combination of all of the berry muffin mixes, but Chef Logan recalled them being so special and good. It was something about all of them mixed that elevated the berry flavors. Cooking was a family affair, and Chef Logan spent his time taste-testing and watching as his family created in the kitchen.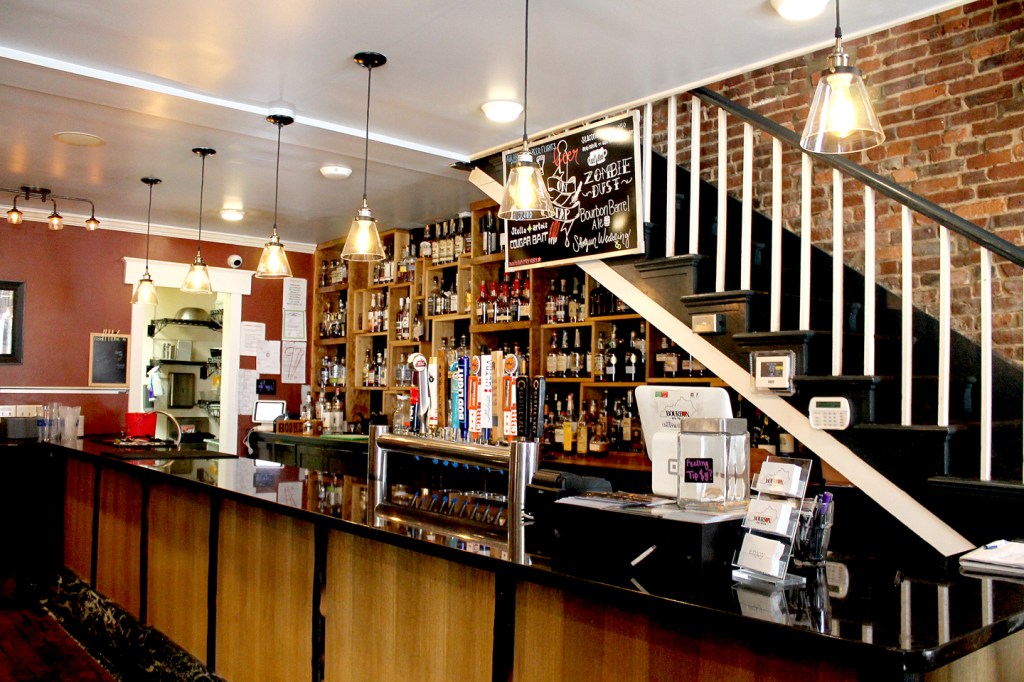 In his younger years, Chef Logan never thought he could make money by cooking. When he thought about the food industry, odd jobs such as fast-food gigs, dishwashers and all the different line jobs were all he kept thinking of. All the dots were not connecting, so he decided to put himself out there to figure out what it was that he wanted to do. His journey led him down many paths.
Chef Logan spent four years working for Toyota in Georgetown. He was a State Farm Agent, he was an assistant manager at Valvoline; he was a lot of things at various job sites, but none of these were a perfect fit.
"All of these jobs were decent, but at the end of the day, I just felt unfulfilled," he said.
About three years ago, during the COVID-19 pandemic, Chef Logan found himself at a crossroads. Tired of working behind a desk and feeling burnt out, he made the decision to quit his job. He was due one more one-month paycheck, but he had no plan. There was no new job lined up, but he had just turned 30, and felt like he was experiencing a "quarter-life crisis."
At that moment, Chef Logan made the decision to enroll in culinary school and managed to secure a position in a hospital kitchen. It was August 2020, and he knew that he needed all the experience that he could get before he started school in January of the next year. He made busy work of it. He washed dishes and cleaned, because there was always something to clean in the kitchen. All his colleagues were much older and had more experience in the culinary field, so he made it a habit to listen to them and learn all that he could.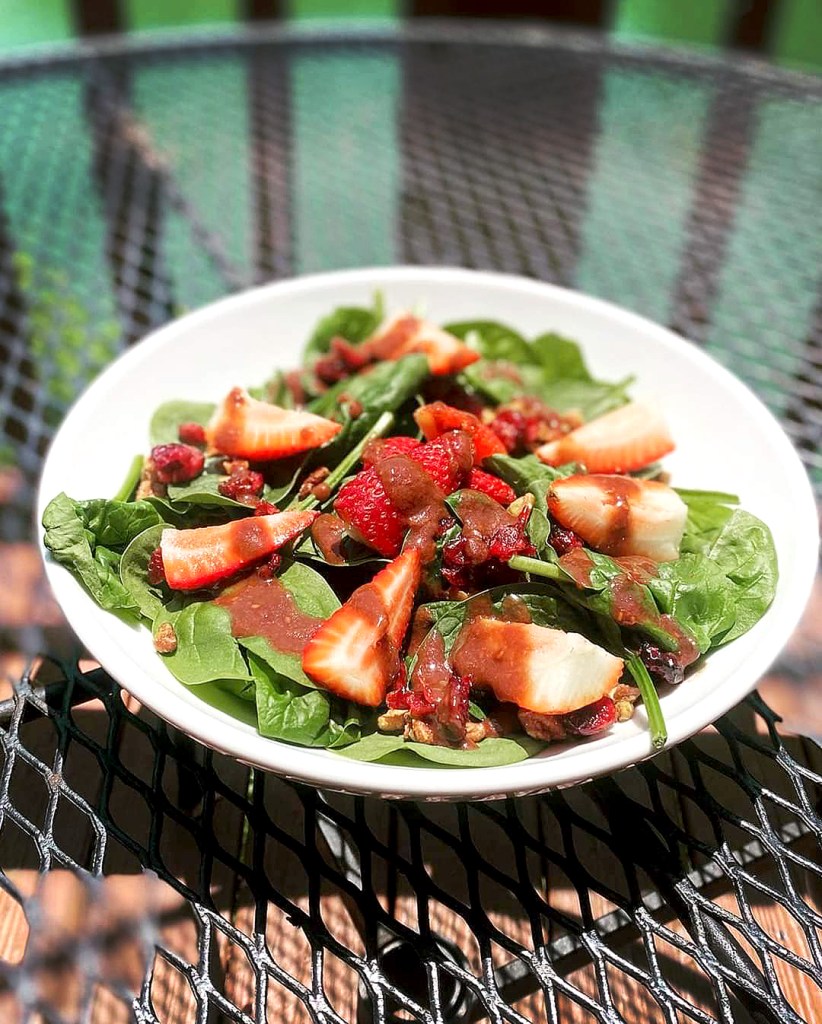 He was a hard worker and wanted to learn, and it felt good to learn how to cook a meal for 200-plus people in two hours.
For a year, Chef Logan worked in the hospital kitchen, while attending school at Sullivan University in Lexington. He gained so much knowledge in the kitchen and in school that he went from being the dishwasher and the salad guy, to the guy cooking the food.
During culinary school, Chef Logan moved back to his parent's home in Frankfort. On a chance encounter, he was approached by Kelly May, one of the owners of Bourbon on Main. His brother went to school with him, so the families knew each other most of their lives. While walking his dog one day, a white Toyota Avalon whipped into one of the alleys near him.
"I heard you are going to culinary school?" Chef Logan recalled May asking him.
Chef Logan responded, "Yeah, I am."
May asked, "Do you want to work at Bourbon on Main?"
"Maybe," Chef Logan responded with a chuckle.
May continued, "OK, I'm going to call you about an interview."
Chef Logan had zero restaurant experience. He had never worked in a real restaurant, but he kicked his learning into overdrive. He learned to make whatever he could to prepare himself. He went on to obtain his associate degree in culinary arts. Soon after, he found himself sitting in a booth at The Cooperage Bar with four people, including May and three people he did not know. His interview consisted of a series of what-if scenarios that Chef Logan answered with his best-case scenario solutions. When it was all over, he landed the job.
For about a year, he worked at Bourbon on Main from 3 p.m. to close. The evening was a busy time for the restaurant, so Chef Logan made a request to hold off on making him a manager until he learned how the kitchen was run. During this time, Chef Logan observed how the kitchen worked. He learned and he noted the things that the kitchen needed to keep their successful momentum going. He obtained some valuable restaurant experience, but due to differing opinions, after a year, he left Bourbon on Main.
Continuing his culinary journey, Chef Logan found himself at Martine's in Lexington where he was a pastry chef for a year, and in this position, he grew his expertise.
"That was an amazing experience going from a busy restaurant in Frankfort to the busiest and fanciest bakery in Lexington," he said.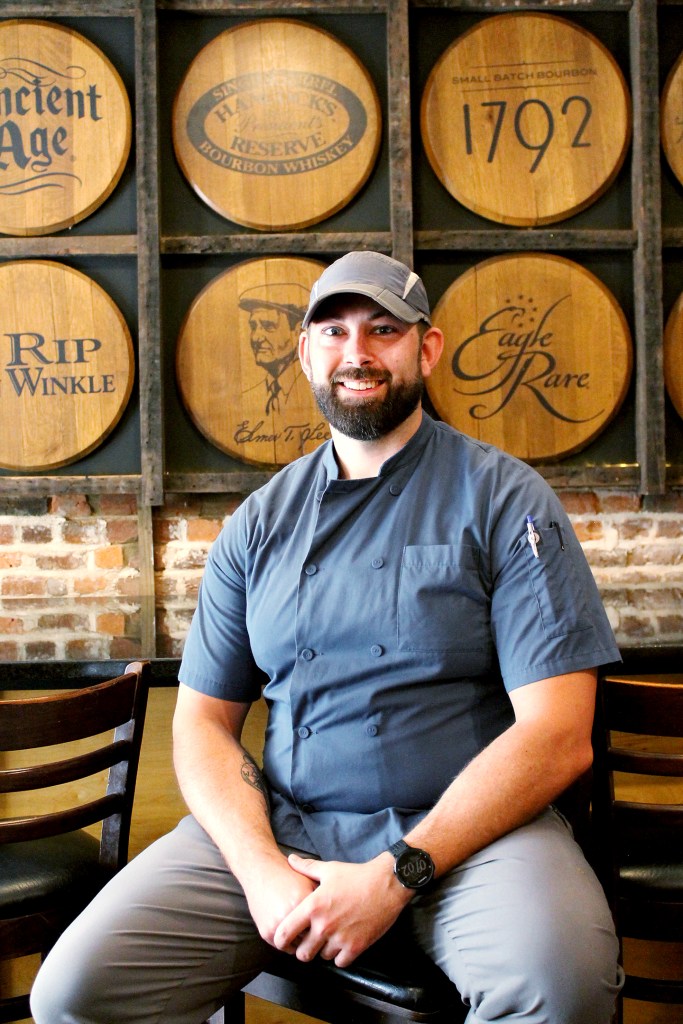 During his time at Martine's, Chef Logan gained even more culinary experience in the baking and pastry field. He went from working the evening and night shift, to filling orders at 2 a.m. Recalling his excitement, he admitted he loved it, and noted one experience producing bakery and pastry items for events such as the Breeders Cup. This was a totally different playing field.
Saturday mornings brought long lines waiting for the door to open, 800 cookies a day, and crazy, fancy, pastries. The bar was raised, and there Chef Logan renewed his respect for the industry standard of having consistent, high-quality production.
Last October, the new general manager and co-owner, Jaimie Piercy, called Chef Logan about the head chef position opening at Bourbon on Main. She hated it when Chef Logan left. Putting the cards on the table, she asked him what it would take to get him back at Bourbon on Main. During his family vacation, he thought about what he really wanted. When he returned, he presented his "list of demands," which were accepted, and Chef Logan made his way back home to Frankfort.
On Jan. 9, 2023, Chef Logan returned as head chef at Bourbon on Main. Since he took over, he has stayed true to the original ambiance that is Bourbon on Main. He felt no reason to reinvent the wheel, but at the same time, he reflected on the absence of local patrons visiting Bourbon on Main.
Remembering some of the issues and past complaints about the price point and the lack of consistency with the food, Chef Logan wanted to make sure that he set a standard in his kitchen. He has spent time teaching his chefs the expectations that he wants in his kitchen. He teaches his staff what he knows, so they can learn, gain experience and thrive just like him. By teaching his staff how to properly prepare dishes, there has been a consistent increase in the quality of food coming out of the kitchen.
Since his return, Chef Logan has made a few updates to the menu and is working to implement some new specials too. Getting creative, Chef Logan created Poppy's original glazed Donut and Bourbon on Main Burger for burger week. For the Capital Expo, Bourbon on Main offered freshly made corn dogs. On Derby Day, Chef Logan created a hot brown eggroll with a cheesy mornay dipping sauce.
Fish Fry Fridays started to accommodate Lent. All of these selections were yummy, and if you missed it, then do not fret because fish and chips is now permanently on the menu. Also, Bourbon on Main sold so many hot brown eggrolls during the Derby that they are a permanent selection on the new menu too. Chef Logan also implemented two rotating seasonal, locally sourced, specials on the menu. In July, those specials were a seasonal strawberry field salad, with spinach and strawberries coming from the Franklin County Farmers Market, and a rotating seasonal dessert, lemon blueberry cheesecake.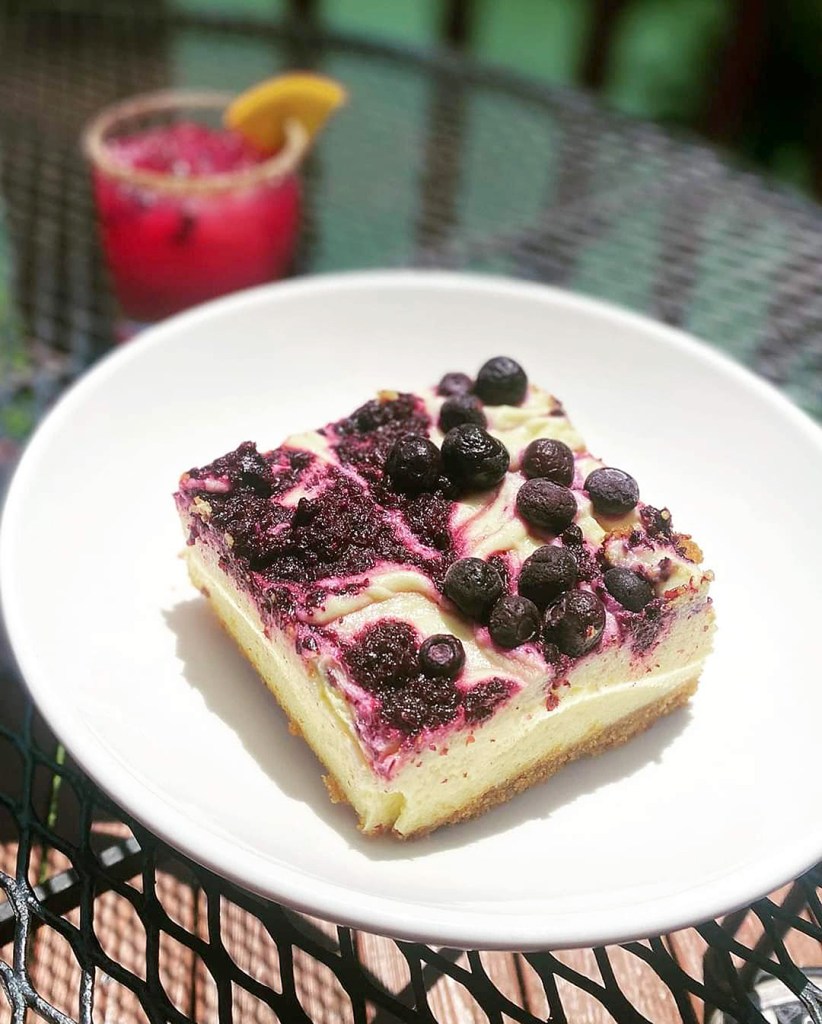 Lately, Bourbon on Main has experienced an influx of tourists, but there is nothing like cooking for your people. Chef Logan is welcoming locals back home to Bourbon on Main. The menu is smaller and includes some of the original favorites and some new items that will become favorites.
Frankfort, you are in for a treat. Bourbon on Main's chefs hand roll 150 hot brown egg rolls daily, and they sell out nearly every day. They go through 10 pounds of fish daily. So, if you like fish and chips, give Bourbon on Main's fish and chips a try. Psst, they use locally sourced Weisenberger cornmeal in their batter. Whatever you try, your tastebuds will not be disappointed.
Going back to his southern roots, Chef Logan's defining dish is one of his favorites from his dad. If he could define his culinary style in a dish, it would be his dad's cast iron jalapeño and hot sausage stuffed cornbread. Sometimes it's the simplest things that make us happy. Food has a way of taking us back to our roots and transporting us back in time to those special moments of our past.
His jalapeño and hot sausage stuffed cornbread transports Chef Logan back to the kitchen with his dad cooking the main dishes, his mom baking her wild berry muffins, and his grandmother filling the table with her culinary smorgasbord. It was in those moments that Chef Logan fell in love with cooking.
Honey jalapeno cornbread muffins
(Recipe via bakerbynature.com)
Ingredients:
1 cup yellow cornmeal
1 cup all-purpose flour
1/2 cup light brown sugar, packed
1 tablespoon baking powder
1/4 teaspoon salt
1/2 cup buttermilk
1/2 cup full-fat sour cream
1 large egg plus 1 egg yolk, at room temperature
1/4 cup honey
5 1/2 tablespoons unsalted butter, melted until browned, cooled slightly
2 small jalapeno peppers, seeded and minced

Directions:
Preheat oven to 400 degrees. Line 12 regular muffin cups with non-stick liners and set aside. In a large bowl combine the cornmeal, flour, brown sugar, baking powder and salt. Make a well in the center of the dry ingredients.
Add in the buttermilk, sour cream, egg, egg yolk, and honey. Use a fork to lightly mix these ingredients together, then use a rubber spatula to fold the wet ingredients into the dry ones, stirring just until incorporated (do not over-mix). Fold in the browned butter and jalapenos and stir until just combined.

Divide batter equally among prepared muffin cups. Bake for 15 minutes, or until a cake tester inserted into the center of a muffin comes out clean. Place the pan on a cooling rack and cool for 10 minutes. Serve warm, with extra honey and butter.