Building with LEGOS has grown into much more than a hobby for 21-year-old Nick Boswell. His ultimate goal is to one day work for the LEGO company. But for now, Nick, who describes himself as high-functioning autistic, is enjoying the process of building LEGO creations. His projects are not just made from small boxes of LEGOS found on the store shelves. He builds large, complex LEGO kits. He has so many "builds" that he has his own workroom filled with his creations
"We had shelves built around the top of his bedroom and down one whole wall," his mom, Jayme, explained. "When there was no more room in there, we dedicated a room in the basement where Nick can build, create and display the models."
Front and center in his LEGO workroom is one of Nick's largest and most detailed projects — an authentic scale model of the Titanic. With over 9,000 pieces, it's 53 inches long and designed in three sections that recreate the bridge, dining room, grand staircase, cabins, boiler room and swimming pool.
"The cool thing about the Titanic are the interiors," Nick explained. "But, my favorite part is the little pistons that really move the propellers." Always wanting to improve on the project, Nick thinks LEGO should add an iceberg and Jack and Rosalyn LEGO characters to improve the kit.
Nick, who read books and watched movies and documentaries about the Titanic, said it took him about 18 hours over a number of days to build the model. "We even went to the Titanic museum in Gatlinburg," he said.
The spark
When Nick was young, his grandparents took him to LEGOLAND in California, and that was the beginning of his love of all things LEGO.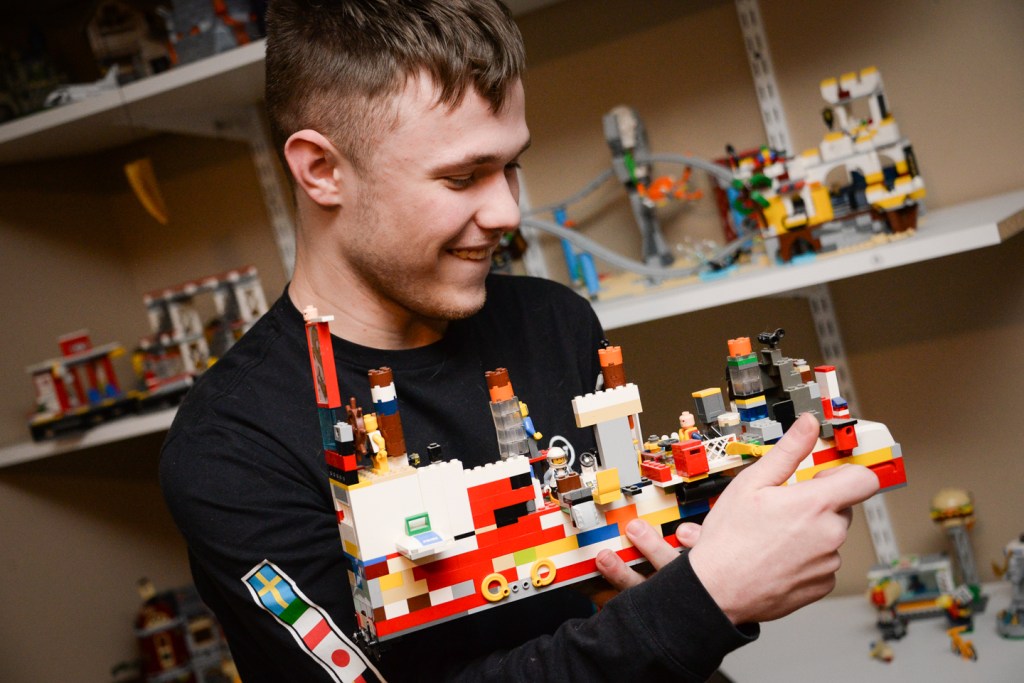 "At LEGOLAND, you could pick up bricks and build something, then either have it weighed and pay for the LEGOS or just put them back," Jayme said laughing. "We found LEGOS in his pockets, down in his stroller, everywhere!"
Nick started by building with DUPLOS and then began making his own creations with buckets of LEGOS. At 7, he came home after seeing the Titanic movie and designed and built his own model, without using a kit.
"LEGOS help me focus and that's good," Nick explained. "I see everything in big pictures. With LEGOS you just start with one brick at a time. It's very cool."
The builds
On shelves in Nick's bedroom are multiple LEGO projects that Nick can describe in detail. There's the rotating Ferris Wheel that he built when he was 13; and the typewriter that looks real and has moving keys. "The typewriter is really cool because it had all the interesting mechanics in it," Nick commented.
Nick's creativity is revealed in his carefully designed LEGO city made from various kits he has repurposed. It lines the wall on the floor of his bedroom. "This is the 'Home Alone' house. It has so much going on with it. There's even a zipline into the treehouse," he points out, laughing. "I can make my own storyline with this town and put characters in different places like the book store that has Harry Potter inside because everyone knows that a wizard has to gain knowledge."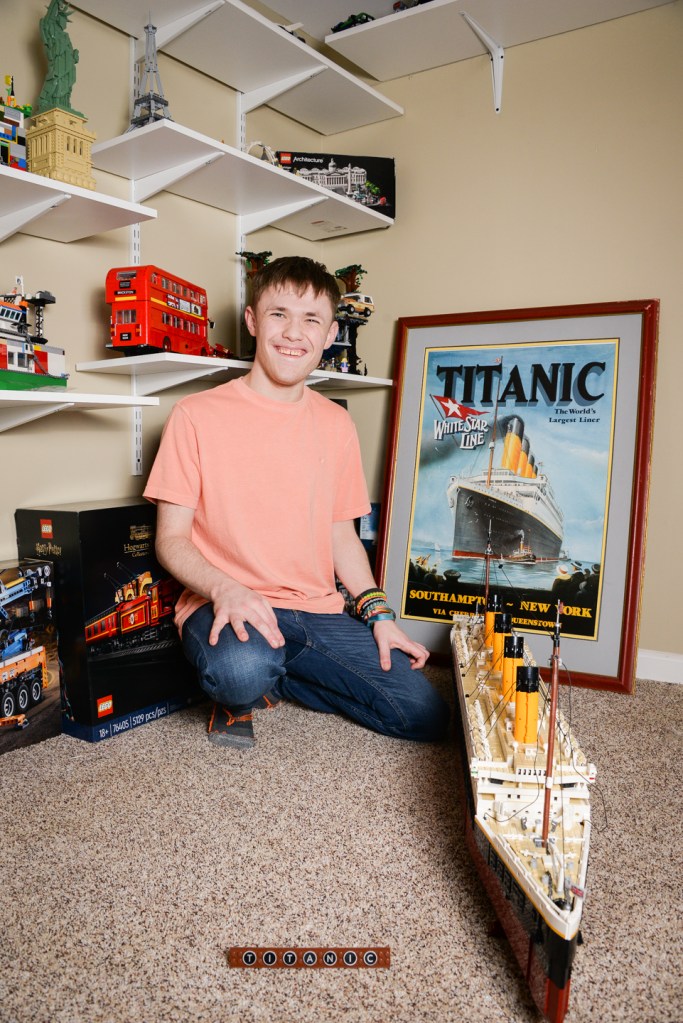 In his workroom, shelves hold a LEGO model of Apollo 13 and other space-themed projects, race cars, and the Hogwarts Express that actually moves and has the train station platform. One of the most intriguing builds was the LEGO Grand Piano that plays tunes controlled by Bluetooth using an app on his phone. "Isn't that neat?" Nick asks. "There's a little sensor which actually detects the movement. My favorite song it plays is probably this Beethoven piece."
The next build sits neatly on the floor in a large box waiting for Nick's attention — the 10,000 brick Eiffel Tower. Nick's challenge is to build the almost five foot tall structure, complete with working elevator, in a month. (Author's note: Nick completed the Eiffel Tower in 29 days.)
The message
Nick's family and friends are always on board to help promote autism awareness. His brother, Will, and sister, Molly, who attend Frankfort High School, are very supportive of their brother.
For the last couple of years, Nick has worked for Frankfort Habilitation in the warehouse helping to assemble fan motors and parts for a company. But his dream is to work for LEGO as a prototype builder, a designer, a reviewer or in some other capacity.
"Nick has told us that if you take the 'dis' off of disability you get ability," Jayme explained. "So, that's been our mantra for him."
"Every single LEGO Nick builds, we put on his Instagram account @BoswellBuilds and hashtag as many autism sites as we can and tag LEGO, as well," Jayme said. "It's our way of getting the word out about autism."
"I just want people like me to know that they can do anything," Nick said.
You can find Nick on Instagram at @BoswellBuilds.