Creativity and entrepreneurship come naturally to Jessica and Ryan Tingle. Their latest endeavor, Rust & Dust, brings those two skills together as they breathe new life into old furniture. When some people would decide it is time to retire a piece of furniture, they see its potential in ways the average person would not usually dream of. Imagine a dresser converted to a kitchen island, a butler's table in disrepair repurposed as a coffee table, or a vintage rocking chair restored to its original condition. They have a special talent that allows family heirlooms to stay in families or discarded pieces to find new homes as functional pieces with vintage charm and a modern touch.
While Rust & Dust is a fairly new business, furniture refurbishment and home DIY projects are not new to Jessica and Ryan. They have completed hobby projects for many years, beginning back when they became high school sweethearts.
The hobby became a business in 2021 when they endured a season of heartache and loss.
"We really dove into refinishing more as a creative outlet for healing," Jessica recalled. "We enjoy seeing a piece with imperfections and flaws be brought back to life or turned into something completely new, and along this journey, our hearts have been experiencing the same kind of transformation."
Every project represents a transformation of healing. This factor is what makes Rust & Dust more than just a business.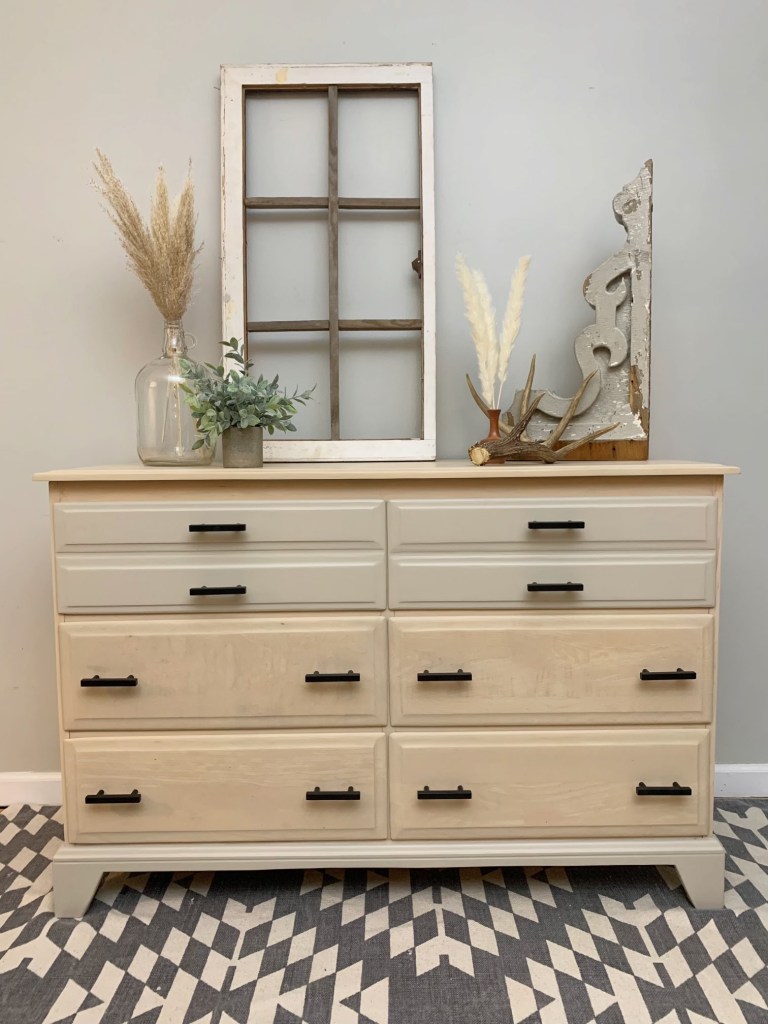 Entrepreneurship also is not new to the Tingles. They learned as they worked in their family-owned Floral Shop, Tingle's Riverview Florist & Gifts, which any Frankfortian knows well and remembers fondly. They bring the same kind of warm, customer-oriented energy to their new pursuit, except now they are fully in the driver's seat.
Jessica honestly reflects upon their transition to business owners saying, "Owning our own business is amazing and scary all at the same time, but we love it that way. It's thrilling in that we spend time doing what we love, and enjoy so much freedom and flexibility in our schedule. But it can also be scary when you feel like you don't know what you're doing or what to expect."
Every new business requires a degree of "going out on a limb," and their leap of faith has proven worthwhile. They stay busy working on custom client projects, scheduling their work a few weeks or a month out. They work on their own designs and projects to resell each month as well.
The Tingles are an example of local folks using their passions and talents to add to the community. Not only are they providing a valuable service, but they use their platform to encourage others by sharing their story of healing through the pursuit of their passion. Their product is the perfect representation of this transformation.
Whether intentional or not, their work sends a very metaphorical and heartwarming message. What is old, sometimes broken and worn, becomes new with a lot of thoughtful time and effort. It will not be what it was originally, but it might have some new uses or touches that make it more functional in its new role. It will always have some remnants of the past showing through, and if not maintained, it may need to be touched up again.
Similarly, all of us can be renewed in the same way. No matter what we've been through, with a lot of thoughtful time and effort, we too can become new. Whether it is through developing a new skill or hobby, improving our mental or physical well-being, or healing from heartache and grief, we can always move forward in some way, even if it is a small way. It takes hard work, but that's where we learn important lessons about ourselves and the world along the way. Old parts of us will always show through, yet we won't ever be exactly what we were, but instead a new version of what was in the past. And just like a restored piece of furniture, we too must be careful to maintain our newly transformed selves. But the good news is, touch-ups are always an option, even if we've slacked for a while.
If you're in the market for furniture or simply some inspiration, following along with the Tingles is a great idea! Their Facebook page is the same name as their business: Rust & Dust. On their page, you'll find videos from their Youtube channel. They have a knack for showcasing their work in front of a camera and their son, Tobias, along with their pups, make regular appearances. It's like watching Frankfort's version of Chip and Joanna Gaines!
For the Tingles, Rust & Dust allows them to achieve their goal to wake up every day and do something meaningful they enjoy. For the rest of us, we get to benefit from their commitment to producing quality furniture out of already existing, solid pieces. Anything they've touched is guaranteed to be one-of-a-kind and beautiful.
To inquire about a custom piece from the Tingles or to view their current inventory, they can be reached at rad.redesigns@gmail.com. They post pictures of furniture on their Facebook and Instagram pages and also have a booth at the Georgetown Peddlers Mall where they have a mix of refinished furniture, as well as vintage and antique furniture and home decor. They are currently working on a physical Frankfort location, which will open by the end of the year and will debut with an open house event.