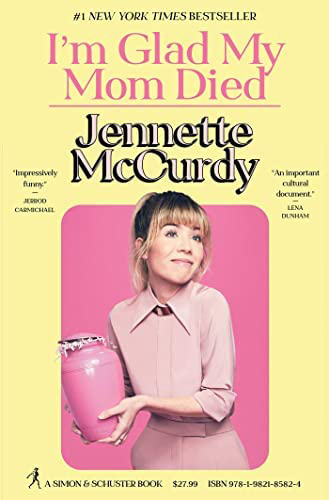 "I'm Glad My Mom Died" by Jennette McCurdy
In her debut book, Jennette McCurdy pulls readers in right away with her striking title and blunt prose. Jennette holds nothing back, including her struggles with OCD, eating disorders and therapy. Longtime fans of the star and her work, along with newcomers like myself, will love Jennette's frank recollection of her life.
Jennette's mother, Debra, pushed her into acting at six years old, after giving up her own dreams of becoming famous to raise Jennette and her brothers. At just 11 years old, Jennette's mom shows her "calorie restriction" to help her land the children's roles for which she was auditioning. This sparks Jennette's many years of suffering with eating disorders like anorexia and bulimia. Debra is ruthless and will do anything to advance her daughter's career, including using her own breast cancer diagnosis to gain sympathy (and acting gigs) for Jennette.
Jennette gets her big break as Sam Puckett on iCarly, the role she becomes famous for. While her mom relishes in secondhand fame, Jennette's self-loathing grows. She struggles with fans clamoring for her attention, long hours on set pretending to be grateful for this role when she is not, and her ever-present, oppressive mother who will not even let her shower by herself. Debra spends all day on set with her daughter and eventually moves into Jennette's apartment with her when she moves out of the family home.
Debra passed away in 2013 after battling breast cancer for a second time. For the first time, Jennette is without her mother orchestrating her every move. To cope, Jennette turns to alcoholism and bulimia. She clings closer to her boyfriend, who is dealing with his own mental health issues. She dreads going to work at a job she never really wanted. Eventually, Jennette comes to terms with the fact that she needs help processing her feelings about her mother's death. She tackles these issues head-on through various forms of therapy, taking ownership of her life for the first time now that her mother is not looking over her shoulder and calling the shots.
Jennette shares her story with a shot of honesty and cynicism that will draw in readers. It is refreshing to hear a celebrity, someone we think of as "having it all," talk openly about their own struggles that make them human just like all of us. Somehow, she brings humor into her darkest moments, leaving the reader confused on whether they should laugh or cry. Either way, grab some tissues and enjoy "I'm Glad My Mom Died" by Jennette McCurdy.
— Review by Alex Sandefur, Paul Sawyier Public Library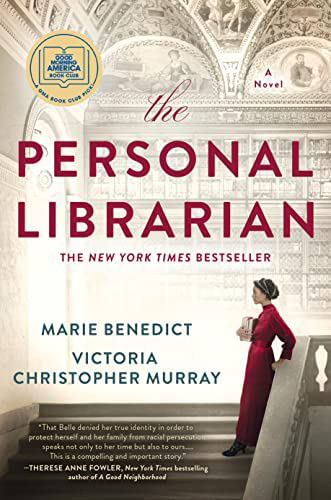 "The Personal Librarian" by Marie Benedict and Victoria Christopher Murray
This historical novel is the story of Belle da Costa Greene, J.P. Morgan's personal librarian. Morgan hired her to help transform his collection of rare books, artwork and manuscripts into the world-class Pierpont Morgan Library, now known as The Morgan Library & Museum. She becomes a close confidant and proves herself a shrewd negotiator when it comes to purchasing items for his collection. However, Belle is hiding a deep secret. She was born Belle Marion Greener, the daughter of Richard Greener, the first African American man to graduate from Harvard. Her mother, Genevieve, changed her children's and her own last name to Greene. Belle's parents separated, partly due to her mother rejecting their African ancestry and insisting her children pass as white to ensure their futures.
Belle became well-known in the art world in America and abroad. This fictionalized biography portrays some of the successes and losses throughout her life, even though very little is known about her because she destroyed much of her personal material to protect her family and the legacy of the Morgan Library.
The author's writing style is not as descriptive as a lot of historical fiction, but the character of Belle da Costa Greene is captivating, which makes this an entertaining read.
— Review by Paul Sawyier Public Library staff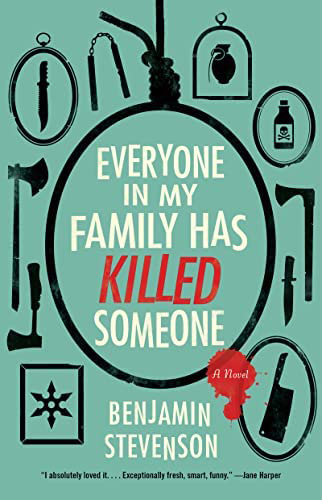 "Everyone in My Family Has Killed Someone" by Benjamin Stevenson
Imagine yourself in a local pub in Australia. You overhear a bloke at the next table say, "Everyone in my family has killed someone. Some of us, the high achievers, have killed more than once. I'm not trying to be dramatic, but it is the truth. Some of us are good, others are bad, and some just unfortunate." This is the line that Benjamin Stevenson uses to open his tale of multiple murders involving one family.
In the preface of this story, Stevenson introduced us to a real-life writer named Ronald Knox who published the "10 Commandments of Detective Fiction." These are the 10 rules that mystery writers should obey in order to "play fair." The story's narrator is Ernest Cunningham, a name that is supposed to insure us that he is telling the truth. But perhaps each family member has their own version of the truth. Stevenson constantly reminds us of the "commandments" as he tells the story of each murder and the incredible connections between them.
The story is set in a ski lodge in Australia. The family has been gathered to celebrate Ernie's brother's release from prison for what else — murder! Within 24 hours, there is a blizzard, plus an unknown dead man who appears to have been gruesomely burned without evidence of any melted snow. The police officer that manages to arrive before the worst of the storm seems to be a new rookie who is way out of his league with the Cunningham family. However, the officer is convinced that the murderer must be one of the Cunningham clan. After all, that's what they're known for.
Stevenson is an award-winning comedian, and his humor is abundant in this book making a murder mystery deliciously enjoyable. The body count is numerous but at the conclusion of this read, you will wish there were more extended family members to continue the delightful, entertaining tale.
— Review by Lizz Taylor, Poor Richard's Books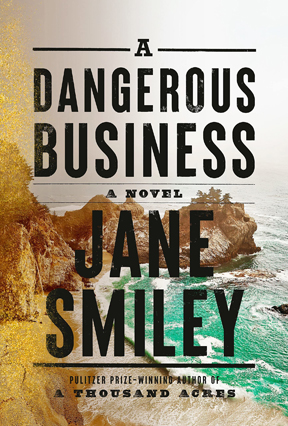 "A Dangerous Business" by Jane Smiley
Jane Smiley's big, break-out novel was "A Thousand Acres," a Pulitzer Prize winner, with themes of truth, justice and love set on a farm in Iowa. The novel was realistic, gritty and powerful.
Smiley wrote a response to her first novel simply called "Moo." This satire on the Agricultural College of a University was hilarious, even though at times there was a serious revelation of ethical violations made in order for the school to appear successful.
"A Dangerous Business" would have to be characterized as a lesser novel than those previously mentioned. But perhaps, there is just as much reality in this historical mystery set in Monterey, California, after the "Gold Rush."
The two main characters are single women, both making a living in a brothel. In a town where people arrive, and suddenly move on or return to where they came from, it's easy to assume a new identity. Is anyone who they say they are?
The two women happen to come upon the body of another young woman who was thought to have returned home. They inquire about other missing women only to realize that the girls aren't important enough to have standing in the community, and no one has given a thought about what could have happened to them.
With the guidance of Edgar Allen Poe's "Murder in the Rue Morgue," a book that was left by one of their customers, the two main characters sharpen their observations and plan to discover the murderer.
The characters are quirky and engaging, and the pace matches the best "whodunits." And there is the fact that in 1854 being a woman is a dangerous business. It can also be a dangerous business playing detective as the two discover.
— Review by Lizz Taylor, Poor Richard's Books