By Jocelyne Waddle, The Garden Club of Frankfort
I was told as a child, growing up in southern France, that passions choose us, not the other way around.  Mine has always been roses. But, again, I am not sure I had a choice. Have you noticed how many French stories feature roses? "Beauty and the Beast," "Sleeping Beauty" and "The Little Prince" to name a few.
Roses have graced the windows of our Gothic cathedrals, captivated us with their symbolism in the poetry of the Renaissance and left us breathless in the elaborate gardens of French chateaux. This ancient flower from Asia has been cultivated all over France for centuries.
Did you know that the Empress Josephine Bonaparte, wife of Napoleon, was a passionate rose collector? As her husband wreaked havoc in Europe, she employed gardeners to tend to her 250 different roses, which were acquired from all around the world. They still grace her gardens at Malmaison, near Paris. The famed French botanical illustrator Pierre-Joseph Redoute painted 117 of Josephine's roses for his watercolor book "Les Roses." Few other plants have played such a role in our history. It has not only been cultivated for its visual beauty, but also for its use in cuisine, medicine and perfumes.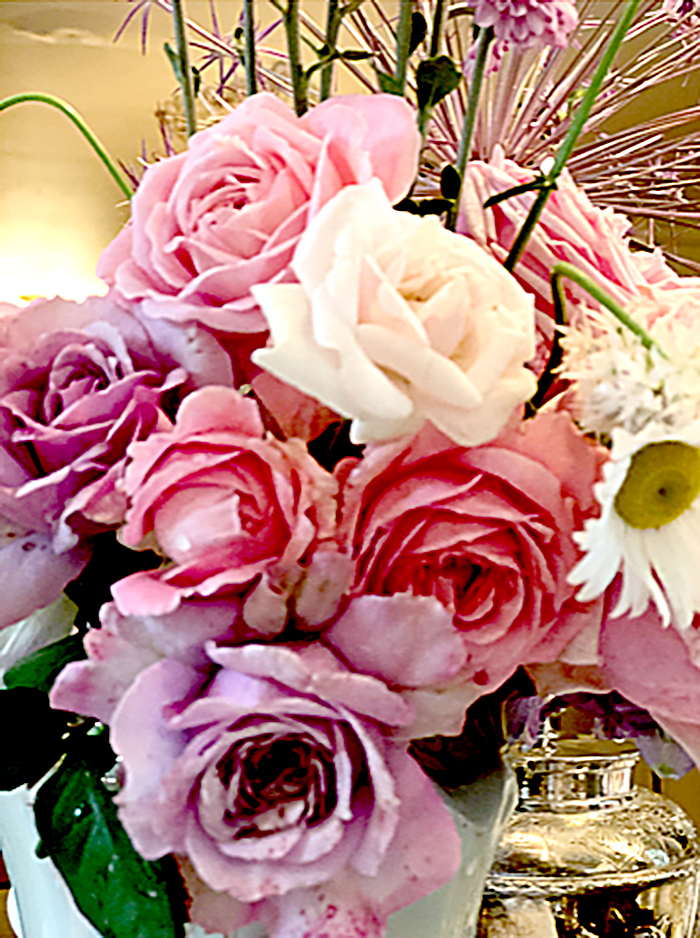 The romantic sense in me has succumbed to the allure of this queen of flowers, not only for its beauty but also for its intoxicating scents. You can choose from old roses who have the "true rose" scent that you probably associate with rose-scented perfumes. Most English roses, regardless of their color, are fruity and smell of apple, pear, strawberry, raspberry, apricot or even sometimes lemon. Tea roses have a scent that many compared to the aroma of fresh China tea. In some roses, it is so strong that it can take over any other smells. The tea scent most commonly occurs in yellow or apricot-colored roses. I love musky roses for my garden, even a small amount will perfume the air at the height of the day and will linger well into the evening. Choose rambler roses with prominent stamens if you favor this perfume. Finally pink and apricot-colored English roses that smell like myrrh have a sweet scent reminiscent of licorice.
As a transplanted gardener, I was warned that growing roses in central Kentucky was a challenge. "They are fussy plants!" I was warned again and again. I confess that in 30 years of gardening in Frankfort, I have had my share of failure over the years. I have learned that the less you fuss over old fashioned roses, the more they will reward you by their sheer determination to bloom.
I have learned a few lessons:
Plant your roses once the last frost has passed. I use a root stimulant to give them a chance to get established. Make sure that your bushes are planted deep enough that the crown is between 2 to 3 inches underground.
Roses don't like to have their roots constantly being wet. Choose a well-drained location.
Morning sun exposure is best, but some roses can grow in shade and some in full sun. Read the labels carefully and do not be afraid to experiment.
Do not use granulated fertilizer during the first year of growth. It can damage the baby roots. Once they are established, fertilize in early spring and early summer.
Water, water and water some more in summer, always at the soil level to avoid black spot. If you do get this unsightly fungal disease, just defoliate, and make sure you throw the infected leaves in the trash. Do not put them on your compost pile.
Deadhead regularly for repeat blooms.
Against aphids infestation, (only if it is unmanageable) I use Neem oil early in the morning. The dreaded Japanese beetles are hand-removed early in the morning, when they are still slow moving, and drowned in soapy water.
I cover my rose bushes with mulch in winter and prune the old or disease canes in February/March while the plant is still dormant.
Like all well-loved antiques, the old-fashioned heirloom roses will bring elegance and a sense of history to your garden. For inspiration, go visit the rose garden at the side of the Capitol Annex.
Jocelyne Waddle is a member of The Garden Club of Frankfort. For inspiration or practical advice on cottage and formal gardening, decorating with European antiques and cooking, French style of course, follow her @elegantfrenchliving on Instagram. For information on The Garden Club contact bhsmith`2010@gmail.com.