Once upon a time, in a three-rivers city much larger than Kentucky's state capital, a young Black student named William H. Graham Jr. earned his diploma from Westinghouse High School, and had no plans to go to college.
"After high school, I got me a nice little job selling hardware and housewares at a department store in downtown Pittsburgh, and thought I was making a lot of money," he said.
He loved his blue collar hometown where his father was a steel worker, his mother did house work and was a unit manager at a hospital, and where sports were big, and still are.
"I'm still a Steelers fan every day, and a Pirates fan every day," Graham said recently.
William played high school basketball, and baseball up to Pony League, and football until he was about 12.
"I could have played football or baseball in high school, but when I got tall and lanky, I decided to focus on one sport. I was an average basketball player in high school, no All-State recognition or anything like that. I grew from 6-3 to 6-5 during my senior year, and went from 6-5 to 6-7 between high school and college."
When he wasn't at the department store, Graham often played sandlot basketball. That's how he met Carl and Kenny Wade, Pittsburgh residents and Kentucky State University graduates who had played football at K-State.
Impressed with Graham's basketball skills, the Wades told the KSU head basketball coach about him, "and that's how I got to Frankfort. Coach Robert Williams gave me a full four-year scholarship sight unseen."
But Williams, who signed him, left before Graham's freshman season at KSU, a historically Black college that officially became Kentucky State University in 1972.
"I came to K-State in January 1967 and Coach Lucias Mitchell came in September that year. Coach Mitchell was at Jackson State before coming here."
The Pittsburgh freshman wasn't upset about a coaching change. He said he was just thankful to have an opportunity to earn a college education by playing a sport he loved.
"I had God-given talent. I could run, and I didn't mind to work hard. In high school I thought I was working hard. But when I got to Kentucky State with Coach Mitchell, it was a totally new day. I never had any idea what work was all about until I met him. He showed us you could take it to another level, or two levels.
"Practices were grueling. You had to bring it for three-and-a-half, maybe four hours, depending on how he felt. It was nonstop, no standing around. Everybody had to be moving."
The exhausting work eventually paid off. Mitchell's Thorobreds raced to three consecutive national championships in 1970, 1971 and 1972 in the National Association of Intercollegiate Athletics (NAIA) Division I Men's Basketball Tournament in Kansas City. Graham was a key player in the first two championships for smaller colleges and universities than NCAA Division I schools. He also was team captain his senior season.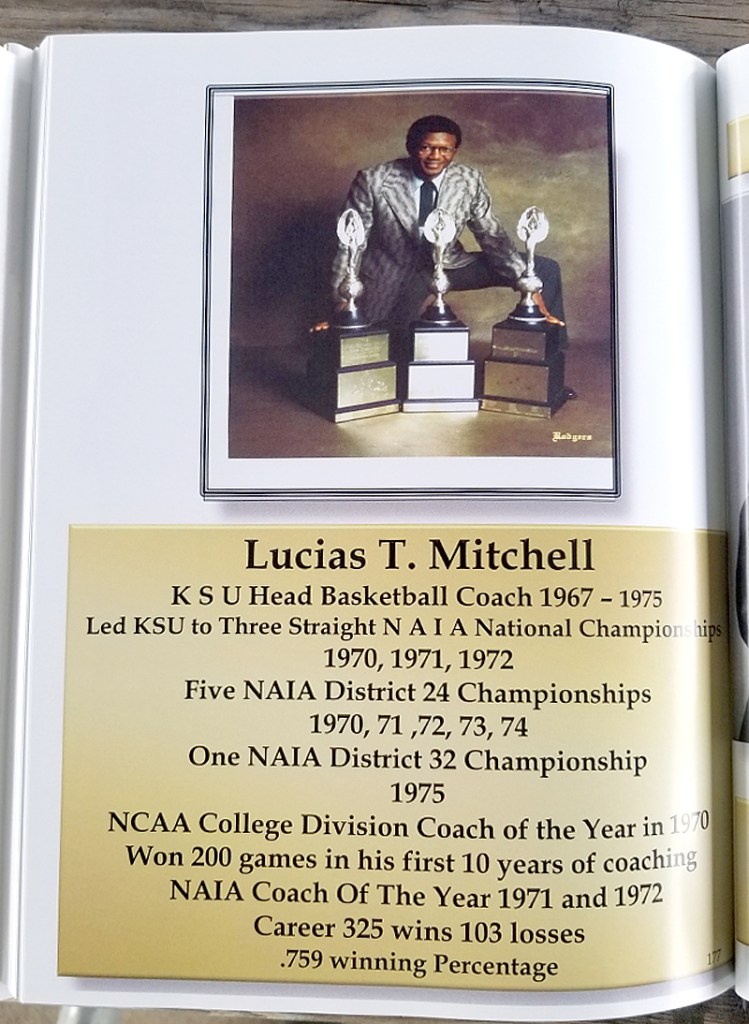 Soon after arriving on the K-State campus, he was nicknamed "Burgh," being from Pittsburgh. Later somebody changed it to "Bird," Graham said, and that's what his teammates still call him today at reunions and homecomings.
Leader of the pack
Kentucky native Lonnie Johnson, K-State's student manager and statistician during all three national championship seasons, said his first impression of Graham was his exceptional strength.
"We had a killer preseason conditioning program," said Johnson, a retired social studies teacher for Jefferson County public schools.
"The guys ran from old Young Hall up the hill to the old football field, and then around where the track and tennis courts are now, and back. They would do that twice. Then they would run sprints on the football field, and run up and down the bleachers.
"And here's 'Bird,' wearing a weight jacket and ankle weights, and he's leading the pack. It was comical. He was such a strong guy, solid build, sharp and quick. His conditioning was superb."
Johnson, 74, grew up in Campbellsville and Lebanon, was a 1966 Lebanon High School graduate, and worked at a Lebanon factory before enrolling at KSU in 1968.
"Coach Mitchell was such a disciplinarian," Johnson said. "If somebody didn't fit in, he would lose his scholarship."
Graham said, "We loved Coach Mitchell, and we always tried to impress him. We miss him (he died in 2010) because we know what he instilled in us. If you had anything in you, he would bring it out."
Even today in retirement, Graham says he's never late for an appointment.
"I remember Coach Mitchell cutting guys from the team, saying goodbye, because they came to practice a minute late. That's pretty tough. It's a whole different world now. Years later, after he retired, he told me he couldn't coach now. He wouldn't make it."
Johnson said on championship teams, "the least little things can throw you off. It's so hard to win championships. Coach would always describe the team like baking a cake. Everybody can't be the icing or batter or salt. But you blend it together for a beautiful cake, and 'Bird' was an essential part of our beautiful cake.
"He was the defensive stopper on the team. He guarded the best player on the other team, and usually shut him down. He was a great defensive rebounder too, and he accepted his role. That's what made us so unique. People on the team had specialty things they did, and they accepted them. When we started winning everybody started saying, 'Wow, this works.' You wanted to do what you do best to make the team successful."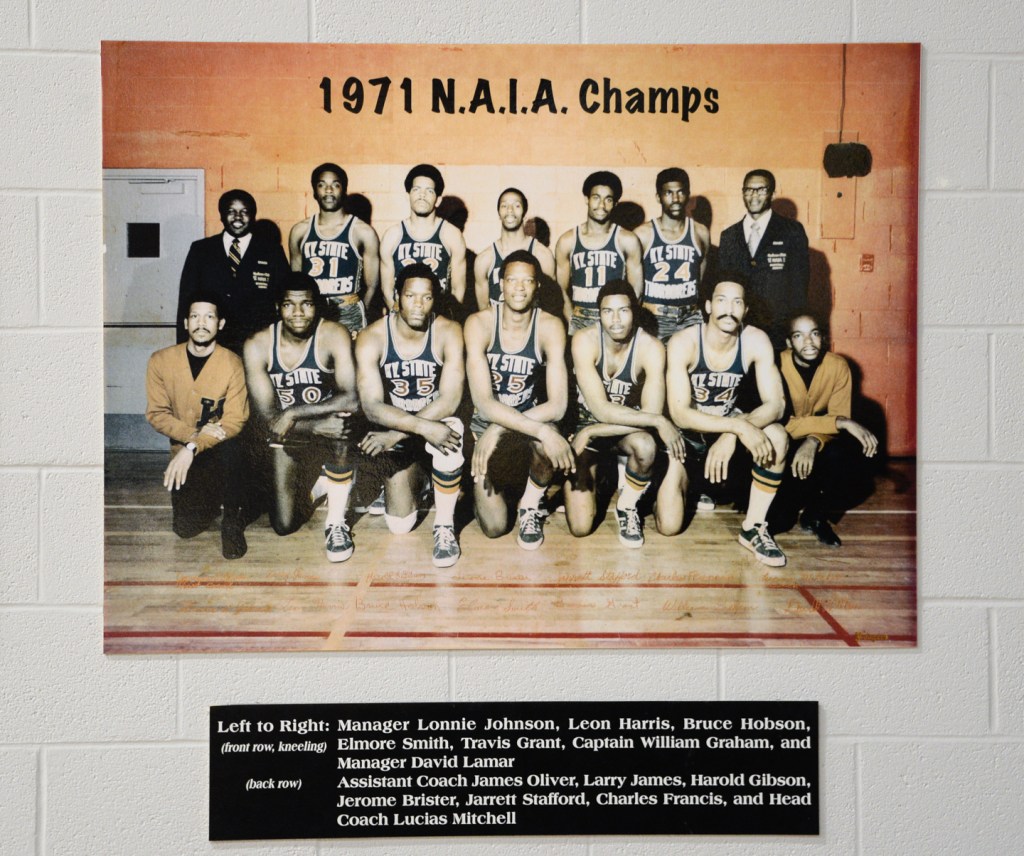 Although he was a defensive standout, in one of the games in the 1971 national tournament, Graham scored 26 points against number-two seed Grambling State from Louisiana to help secure the win.
"Grambling was good, and they did something to slow down Travis Grant and Elmore Smith that night, even though nobody ever stopped them for real," Johnson said. "Bird saved us that night. He was the man."
A time to grieve
In Mitchell and Graham's first season in Frankfort, the Thorobreds finished 10-15.
"I was a starter off and on as a freshman, and played a lot," Graham said. "Coach was trying to find the right lineup."
In the spring of 1968, not long after his first season ended, Graham was called home to Pittsburgh. One of his younger sisters, Ella Mae Graham, died unexpectedly of a ruptured brain aneurysm, "and I was home for her funeral. We buried her the day Dr. Martin Luther King Jr. was shot and killed (April 4 in Memphis, Tennessee).
"It hit me hard because I was already going through grief with my sister passing," Graham said. "Then when I heard Dr. King was assassinated, that made it a lot worse. I really honestly thought about not going back to college because I was so upset at the time. Students were marching on campus while I was away.
"Like other students, I was angry because we knew Martin Luther King was trying to do the right thing, and he was killed. The whole country was upset — rioting, marching, protesting. Those were bad times. But it all worked out. I came back and we got through it."
During his college career, Graham said he never experienced blatant racism.
"Keep in mind, we didn't travel to the Deep South. I think the farthest South we went was to Tennessee, so we didn't get a full gist of what was going on in the South. I know it seemed like we had to go to different places to find things to eat after games. I can't remember anybody telling us, 'No, you can't come in.' But you knew things like that existed."
Kentucky State's men's basketball team improved its record to 15-9 in Graham's sophomore year.
"I started a lot of games, playing forward or center. If Elmore Smith (7-foot-0 from Macon, Georgia) came out of the game, I moved to center."
After college, Smith played professional basketball in the NBA from 1971 to 1979. He was a 1971 first-round pick for the Buffalo Braves, and third pick overall. He also played for the Los Angeles Lakers, Milwaukee Bucks and Cleveland Cavaliers.
When K-State won its first national championship in 1970, the Thorobreds were the fourth seed heading to the 32-team NAIA Tournament.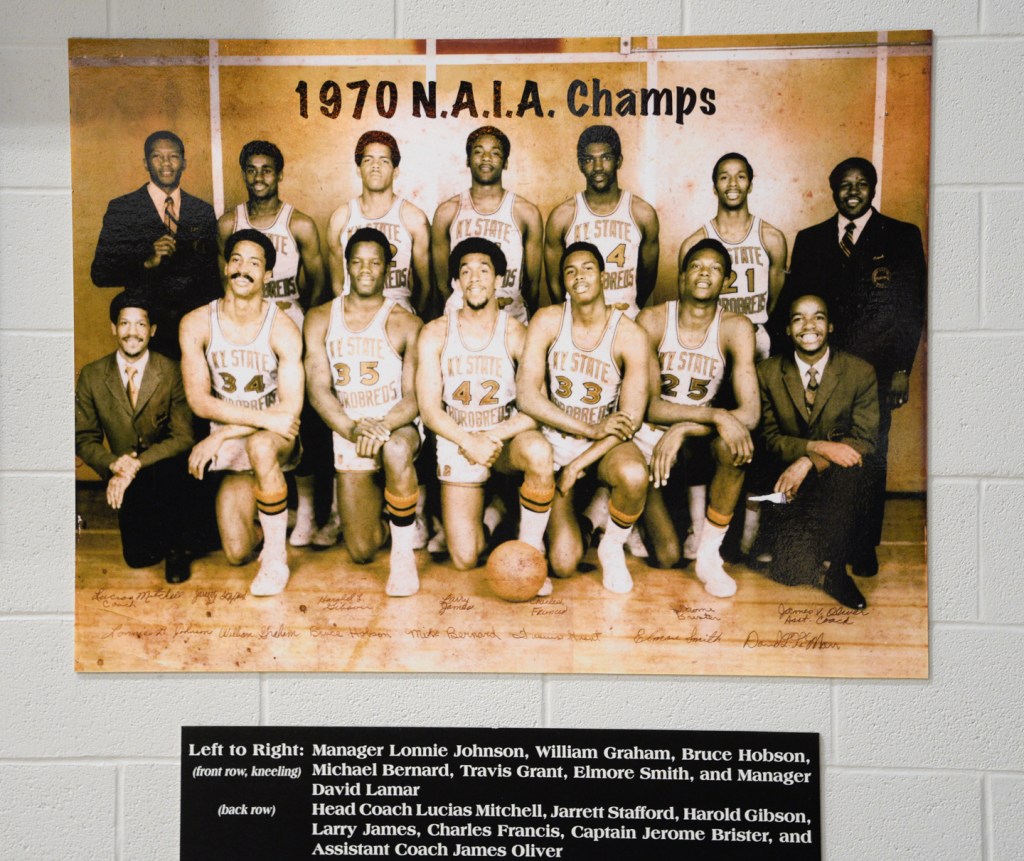 "We were in a district with Kentucky and Tennessee teams combined, and only one team from the two states would qualify for the national tournament," Graham said. "Now it's a lot different. Five or six teams in some states qualify. It's watered down quite a bit."
To win their first championship, the Thorobreds defeated Illinois Wesleyan 64-56 in the first round, Wisconsin-Eau Claire State 73-65 in the second round, Central State (Ohio) 66-56 in the third round, Guilford (North Carolina) 108-90 in the semifinal round and Central Washington State 79-71 in the final game. K-State's overall record was 29-3.
In 1971, the defending champions returned to Kansas City as the number-one seed. KSU won 100-66 over St. Thomas (Minnesota) in round one, and beat Central Washington State 73-59 in round two, Grambling State 93-81 in round three, Elizabeth City State (North Carolina) 104-91 in the semifinals, and ran away from Eastern Michigan, 102-82 in the championship game, finishing the season with a 31-2 record. It was the perfect way for Graham to close his college career as a player, with back-to-back national titles.
A KSU Basketball Media Guide said Graham, "the soft-spoken senior captain, averaged 13.2 points per game and 16.4 rebounds per game."
In 1972, KSU, a number-three seed, won its third straight NAIA title, scoring a 71-62 victory against Wisconsin-Eau Claire in the championship game. The Thorobreds coasted to an 118-68 win over Minot State (North Dakota) in the first round, defeated West Georgia 112-83 in the second round, beat St. Thomas (Minnesota) 66-57 in the third round, and won by five points, 87-82, in the semifinal round against Stephen F. Austin State (Texas).
KSU's Travis Grant was the tournament's leading scorer (213 points) for the third year in a row, and was named Chuck Taylor Most Valuable Player for the second straight year. K-State finished the season with a 28-5 overall record.
Graham — after earning his bachelor's degree at KSU in 1971 in health, physical education and recreation — played pro basketball "for a minute," he said, smiling, in a recent interview. "I was drafted by the Phoenix Suns in the NBA, and by the Denver Rockets in the ABA. I wound up getting released by Phoenix right before the regular season opened. I was the last player cut by the Suns in 1971."
He went on to play professionally for one year in Liege, Belgium, in the European League.
"I enjoyed it, but in the back of my mind I knew I had to go home and get a career going," he said. "I started going to graduate school at the University of Pittsburgh, and had a teaching job in the Pittsburgh public school system."
Long coaching career begins
Soon after starting grad school, he received an offer to coach basketball at Point Park College in Pittsburgh, "and I wound up coaching in 1973, teaching during the day, and going to graduate school at night. It all worked out, and was a blessing."
He has a master's degree in education from the University of Pittsburgh, "and 40 some hours above a master's, which is probably almost equivalent to a doctorate."
After three seasons at Point Park College, Graham was hired as an assistant basketball and baseball coach by then head coach James Oliver at Kentucky State University. Two years later, Oliver was named head basketball coach at Alabama State University, and Graham became Oliver's top recruiter and assistant coach to ASU's big men.
While there, Alabama State was ranked number one in the NAIA in 1980, and finished as runner-up in the national tournament, losing 84-77 to Cameron University from Oklahoma in the championship game.
Graham returned to Frankfort in 1989 as KSU's head basketball coach and continued coaching until 1996.
"We were in the Top 20 in the nation during my tenure here, and we haven't been a Top 20 team in the NCAA Division II since I left coaching," Graham said.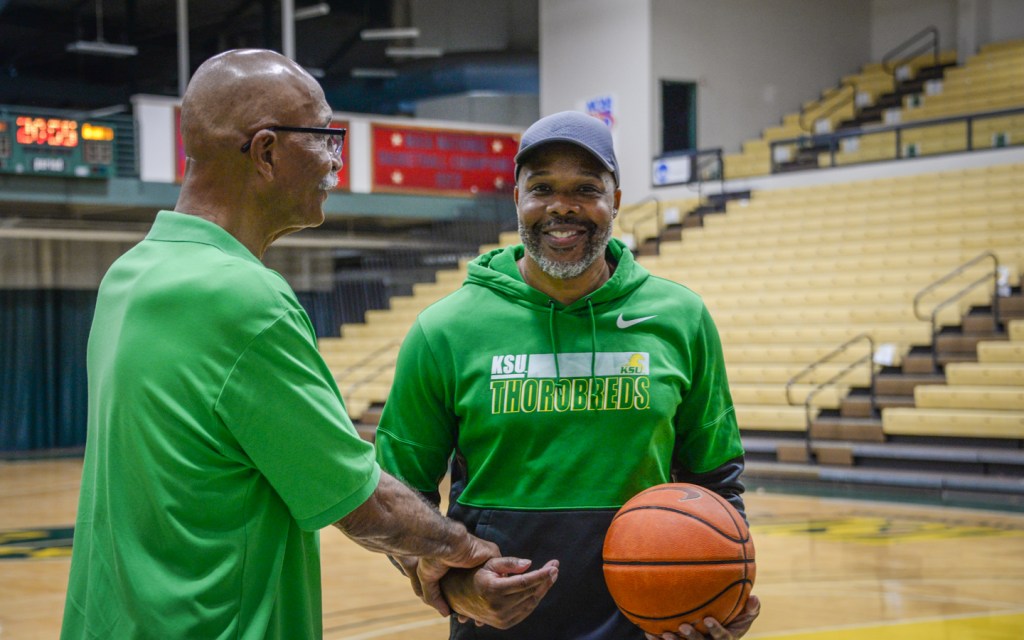 When Coach Graham was asked recently if he was as tough on his players as Coach Mitchell was, he said, "Yes. Well, almost. Maybe just a little bit less. It's a whole different day now, a different world."
Graham was inducted into the KSU Athletic Hall of Fame in 1992.
In 1996, he became assistant director of the Exum Center, KSU's spacious new building for health and physical education, built in 1994. Several years later he was promoted to director of the Exum Center, and was athletic director when he retired in 2018.
In his college memorabilia collection, Graham has a note from Frankfort resident and friend Arthur G. Box, who played basketball with Graham at K-State. It states, "Please find your copy of our updated book, 'Still Champions After All These Years,' (which Box authored). Bird, you have done more for the students of Kentucky State University than anyone I can think of in K-State's modern history, from 1967 to 2018.
"First as a student athlete, as a professional basketball player, then as assistant coach and head coach, director of the Exum Center, and finally athletic director. Your wisdom and knowledge of all things Kentucky State are still needed and valued."
In a "Living Legend" booklet honoring Graham on his 2018 retirement, the K-Club said, "You are part of KSU athletic history. You have always maintained your integrity, respect, loyalty, tradition, and most importantly, your love for this institution and the athletic program. The K-Club wishes you and your family the very best during your retirement."
Staying fit in retirement
Today, Graham still enjoys returning to Pittsburgh about twice a year to visit relatives and friends. But Frankfort is home for Graham. His Kentucky State No. 34 basketball jersey is retired and displayed, alongside Travis Grant's and Elmore Smith's jerseys in the Exum Center basketball arena, where young men and women in green and gold run up and down Lucias T. Mitchell Court.
This year on Aug. 16, he and his high school sweetheart, the former Lillian Foster, celebrated their 53rd wedding anniversary. They have two daughters and a son: Erica Graham, who lives in Pittsburgh; Courtney Graham, a resident of the Dallas-Fort Worth area; and William Graham III, of Fairhope, Alabama. Courtney played basketball for Mississippi State University, and William, the youngest, played basketball at Wright State University in Dayton, Ohio. All three are college graduates.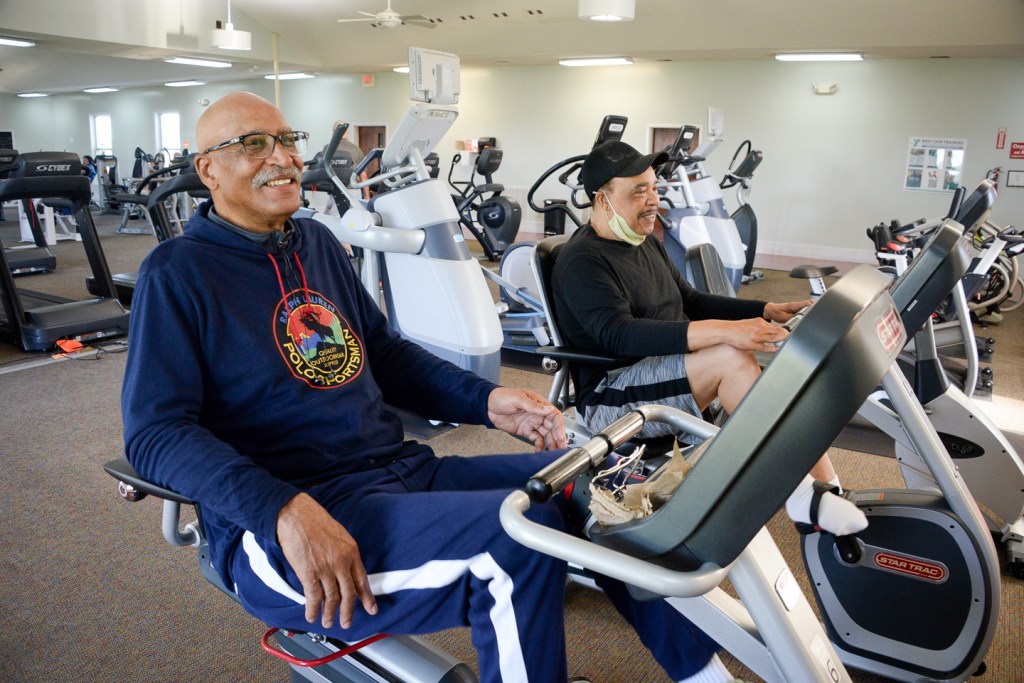 In retirement, their father continues to stay physically fit. Six mornings a week, he walks three to five miles in and near his neighborhood in West Frankfort, and then works out for two hours on weightlifting and cycling equipment at Prevention Park YMCA.
Sunday is his day of rest. He's head deacon at First Baptist Church at the corner of Clinton and High streets in downtown Frankfort. Graham says religion has always been an important part of his life, "but it's more important now, since I've been here in Frankfort.
"I went to a Baptist church growing up. Our parents made sure we went. Now I'm more involved with church work. You quit work, but you're still doing volunteer work to help others. That's my purpose, to make things flow."
Graham grew up in the city where the Monongahela and Allegheny Rivers flow together to form the Ohio River, which runs on to Kentucky before flowing into the Mississippi River.
When he packed his suitcase in Pittsburgh in 1967 and headed South to a small capital on the Kentucky River, Graham said he never dreamed he would play a key role in a small historically Black college in Frankfort rolling to two consecutive national championships. Then after he finished playing in 1971, in Tina Turner fashion with amazing energy, the K-State Thorobreds kept on rolling.