If walls could talk, what story would they tell? Frankfort is full of historical homes that hold the stories of the past. Gary and Shelby Sacks moved into such a home. In fact, they live in the house my grandmother, the late Barbara Mills Ward, grew up in — although not only in a totally different era, but in a totally different location too.
The house itself seems quite ordinary, but it is tied to a piece of Frankfort history that tells of a bygone era — a simpler time. It once sat at the intersection we now know as Spaghetti Junction. In the 1920s through 1950s, that intersection was a small two lane road about two miles outside of city limits. My grandmother lived in her home there as a little girl with her parents and brother. Her dad, Emmett Mills opened a versatile business right next to their house — a filling station and restaurant built to resemble a Dutch windmill called the Green Mill. For more than 30 years, it was a staple in the community and it became a landmark.
Pictures of the Green Mill can be found around Frankfort, but stories or written history of this former staple is hard to come by. However, Facebook is always a good place to consult the "hive mind" when information is scarce. Several Frankfortians remember the Green Mill and shared their memories after I did some digging on social media.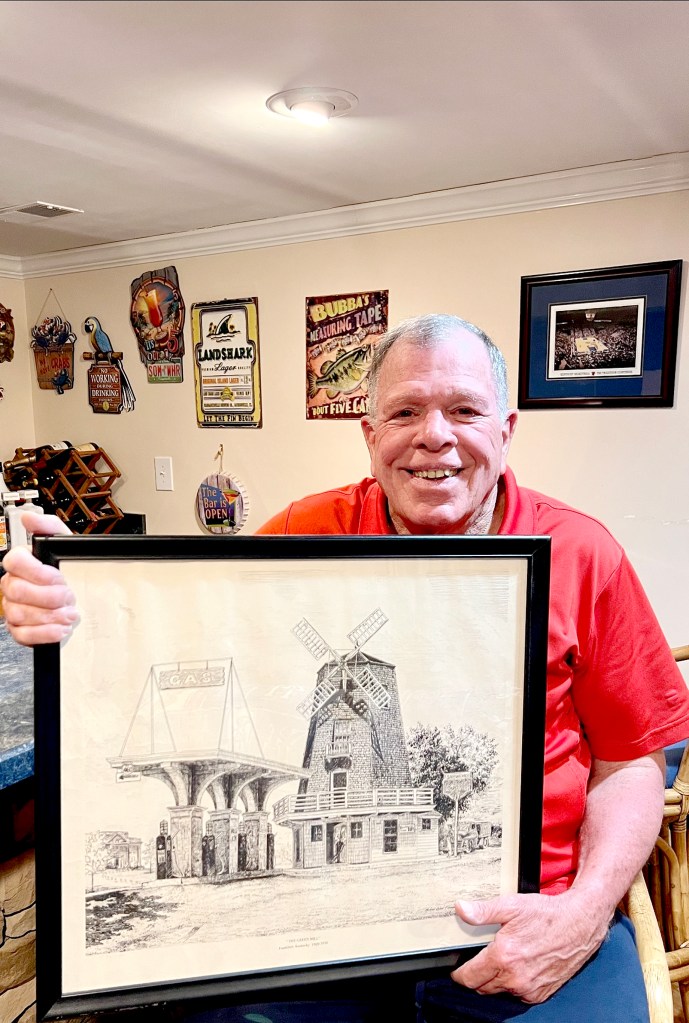 Frankfort native, Larry Allison was a little boy who lived in Rolling Acres and attended the old Elkhorn School in the 50s and early 60s, which was elementary through high school. At the time, walking home from school was the norm and the Green Mill was the perfect pit stop on his way home. He recalled buying a Coca Cola for a nickel — the kind that comes in a glass bottle and fills up with the pull of a lever.
Allison enjoyed the Green Mill at the tail end of its life. It was torn down in 1957, one year before my dad was born. It is a shame my dad didn't get to experience his grandfather's business for himself, but he has a cousin who has memories of the Green Mill as a very young boy.
That very young boy (emphasis on very young — we are talking about the 1950s, after all!) is Emmett "Bubba" Mills, who was named after his father, Emmett Mills, who was named after his father, Emmett Mills — not confusing at all! For clarity's sake, we will refer to him as Bubba.
"They served barbecue pork, bean soup and oyster stew — that was what they were known for," Bubba recalled. "The kitchen was upstairs and there was a dumbwaiter to send the food down. I would ride up in the dumbwaiter and the cook would make me a sandwich, cut off the crust and tell me not to tell my grandfather," he reminisced.
As he has grown older, Bubba thinks of his childhood memories of the Green Mill with fondness and it has sparked an interest to know more about it. Jack Gaines, the same cook who would prepare sandwiches for him when he was young, told him an interesting story of the Green Mill.
Bubba began this story with a preface that it may be a tall tale or it very well could be true, but it is a good story either way. As the story goes, Emmett Mills' business got its name not only due its resemblance to a literal mill, but the name was also inspired by the famous Green Mill lounge in Chicago.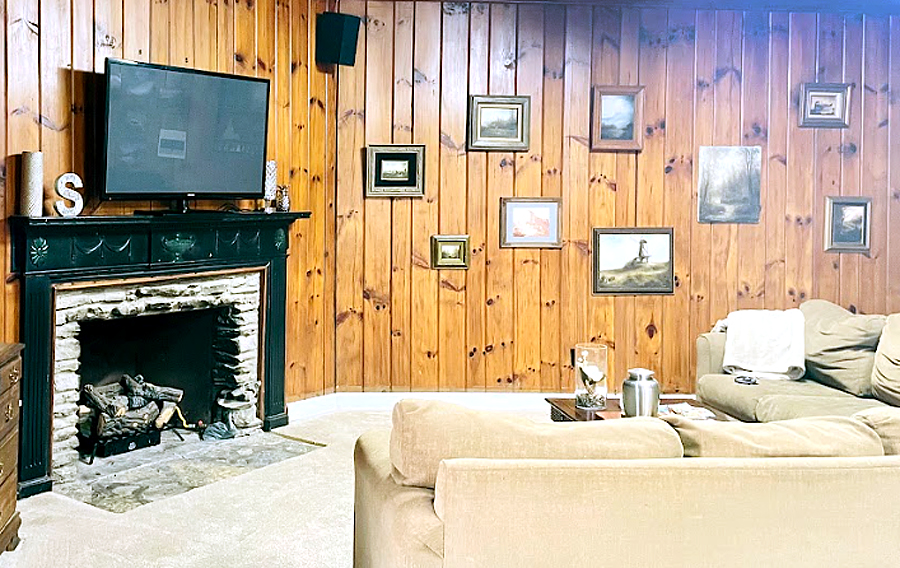 Infamous may be a better word to describe the Green Mill's namesake, as it was well-known as a regular hangout of mobster, Al Capone. During prohibition, this mobster hot spot in Chicago was situated on top of underground tunnels, which were the pathways for bringing in illicit booze via a hydraulic elevator behind the bar, remnants of that era which still exist at the Green Mill Lounge today. The lounge is still in operation.
When he wasn't trafficking booze, gambling or doing other mob boss things, Capone liked to travel to Florida. In the 1920s and 1930s, the road from Chicago to Florida brought Capone right through Frankfort. Rumor has it that on one of those drives, our own Green Mill caught his attention and he stopped to check it out. While the upstairs was an innocuous general store and quick service food joint, Capone found his way to the basement of Frankfort's Green Mill, where slot machines and a pool table captured his interest. He gave the locals who were there that night a run for their money, literally, but all in good nature. Or, at least that is how the story goes!
"My mother had the pool table from the Green Mill until she passed away. She left it to friends of hers who really enjoyed the story about the pool table where Al Capone once played pool," Bubba explained.
Whether the tale about Capone's pitstop in Frankfort is true or not, it is a fun tidbit that gives the history of the Green Mill a more mischievous side, which I think is true to its character.
It was a simple place that many remember fondly. Like Larry Allison, another Frankfort native, Doris Goldstein remembers stopping in after school. Her mother would get bean soup and she would get a blue popsicle — what a treat! A convenience store and gas station with homemade soups and barbecue is good enough on its own, but maybe it reveals something about my great-grandfather, that he thought there should be a little bit more. After all, if he didn't put a pool table and slot machines in the basement, what would Capone have thought when he stopped at the namesake of his favorite Chicago lounge? We wouldn't want him to think Frankfort is a snooze!
Like all good things, the Green Mill era came to an end. While the actual mill was torn down, the home my grandmother grew up in still stands, although now it is further down East Main.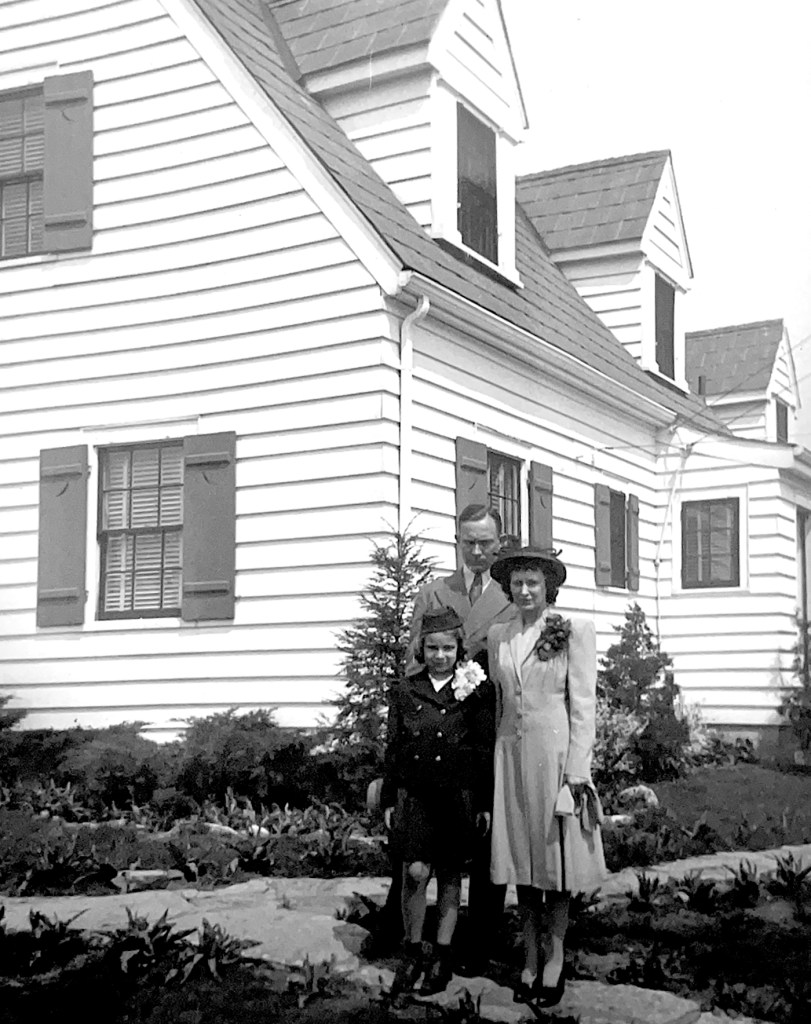 As the last existing piece of the Green Mill property, I reached out to the Sacks, the current homeowners, who graciously invited me to come see the home. I was interested in it not only for the research for this article, but also to see where my grandmother lived as a little girl!
As I drove up to the quaint house with white siding and black shutters, I could imagine my grandmother playing in the yard and posing for the pictures I've seen with her in her Sunday best. I pictured it next to the Green Mill and imagined what that must have been like. As I walked to the door, I was transported back to the present as Shelby and Gary Sacks greeted me and began to show me around, telling all about the many original features of the home.
One room in particular is lined in knotty pine on every wall. The Sacks have adorned the wall with photos of windmills in honor of the home's history. During the tour of their house they pointed out numerous original features such as the original fireplace, hardwood floors, and other quirky characteristics such as oddly placed, extremely narrow closets.
The Sacks appreciate the history associated with their home. In their own way, they carry on its legacy as part of the Green Mill; what once was considered a hub for Frankfort, where one could eat, buy necessities, socialize and have fun. Although they're relatively new to town, they've grown a large circle of friends who they welcome into their home nearly every Sunday for dinner together, continuing the spirit of eating, socializing and having fun.
Perhaps the spirit of a home stays with it, year after year, through a variety of families who have called it home. The white house that once stood at the Spaghetti Junction intersection will always hold memories of the Green Mill era and have a spirit of community and gathering, with a spark of mischievous fun.