You probably know Bedford as a small town in Trimble County. But did you know that across the Atlantic Ocean in England there is a far older town also named Bedford? This Bedford, a market town in Bedfordshire, is the birthplace of noted Frankfort sculptor Shaun Murphy. Shaun, whose sculpted heads of American presidents are drawing rave reviews, freely admits that he is a modern-day "headhunter," but only in the sense that his current artistic focus is on finding heads he wants to sculpt.
Sculpting has been a notable aspect of Shaun's life since childhood. Well supplied with plasticine by his parents, Shaun recalls spending hours as a young boy creating armies of soldiers out of lumps of the putty-like material, which is made from petroleum jelly, calcium salts and other ingredients. As a child, he also loved to paint and draw, excelling in elementary school competitions as he embarked on his lifelong adventure into the arts.
It was during his days at Coventry College of Education that Shaun began an intensive, structured study of the creative arts. Later, he studied painting and sculpting at Saint Albans College and media design at the Plymouth College of Arts. Upon completing his education, Shaun concentrated on painting, working primarily in oils.
Although he enjoyed a degree of success selling his paintings on Sundays in Green Park in Central London, Shaun soon discovered his artistic focus shifting in the direction of media arts (the study of human communication through film). Following his artistic vision, and continuing his adventures, Shaun made the transition, ultimately serving in a variety of roles in the film world, including writer, producer and director. In addition to creating and teaching the first media arts course in the UK, Shaun created commercials and advertising for a number of firms, including a number with names familiar to many Frankfort residents: Aon Consulting, Fidelity Investments and Lloyds of London.
While Shaun never ventured into the world of big screen movies and the Hollywood scene, he is a big fan of Alfred Hitchcock films, with his favorite Hitchcock effort being the 1963 horror-thriller "The Birds," starring Rod Taylor and Tippi Hedren, in her screen debut. He's also a big fan of a pair of Steven Spielberg films, "Jaws" and "Close Encounters of the Third Kind," James Cameron's "Titanic," and two of Ridley Scott's best, "Alien" and "Blade Runner." However, he notes that the film that most influenced him is one by the noted Spanish director Luis Bunuel, "Un Chien Andalou (An Andalusian Dog)." The screenplay for this 1929 French short silent film —considered by many as a seminal work in the genre of surrealist cinema — was written by Bunuel and Salvador Dali. The film became very popular, with an extended theatre run of eight months.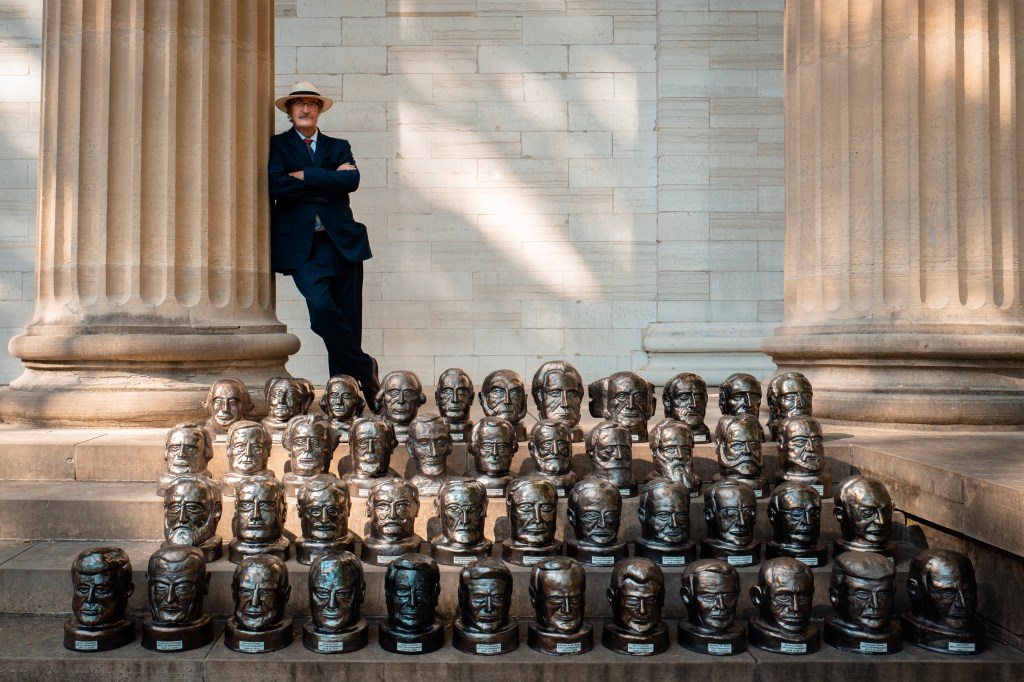 It was while working for Lloyds of London that Shaun began his Kentucky connection. During his tenure with the firm, he was assigned to the Frankfort office. Once in Frankfort, he met his wife Paula, who is also an artist. For several years they lived in England. However, when Paula expressed a desire to return to the Bluegrass, they made the move back from Britain in 2001, settling once again in Frankfort, with Shaun becoming a dual citizen of Great Britain and the United States.
Shortly thereafter, Shaun embarked on a new adventure, that of Director of Community and Family Engagement in the Kentucky Department of Education. In this role, he worked with local schools to help encourage parents to become more involved in their children's schools. Among the programs Shaun oversaw during his tenure, were 21st Century Community Learning Center, Service Learning and Community Education. One element all of these programs share is a strong focus on art and media education.
Following his retirement from the important role, Shaun and Paula spent the next five years traveling as often as they could, both in the United States and to a number of other countries. COVID's sudden appearance on the scene forced them to cease their globetrotting and Shaun returned to his boyhood passion, sculpting.
Just as COVID was ramping up in February 2020, Shaun began sculpting a couple of early American presidents in clay. When it became apparent that COVID was going to disrupt "normal life" for some time, he set himself a challenge of using the downtime to sculpt all of this country's presidents in order of their term in office. President Biden came out of the kiln in July 2022.
Shaun notes that his goal is to capture what he sees as "the presidential features of each president with some hint about their character." He endeavors to make each one look "presidential, composed and studious."
Simplifying their features allows Shaun to focus on highlighting the patterns and symmetry that he sees in their faces and head structure. Now, almost every American has seen the massive Mount Rushmore sculptures in South Dakota, and many of us, including Shaun, have been inspired and influenced by these artistic creations. He notes viewing them generated the vision to have his presidents "emerging out of a clay base without any upper clothing detail." Each Shaun Murphy presidential sculpture is fired in a brushed bronze glaze.
Renting space and materials at Broadway Clay in downtown Frankfort, Shaun began his work on each sculpture by carefully studying a photograph of the head he is going to sculpt. Occasionally, as with all of the American presidents who served in the days before photography (George Washington, for example), he is required to work from a painting, rather than a photo. At this juncture of the process, the elements Shaun focuses most intently on are the details of his subject's face: shape of the eyes, nose and lips, curve of the jawline, the way the individual's hair is styled, etc.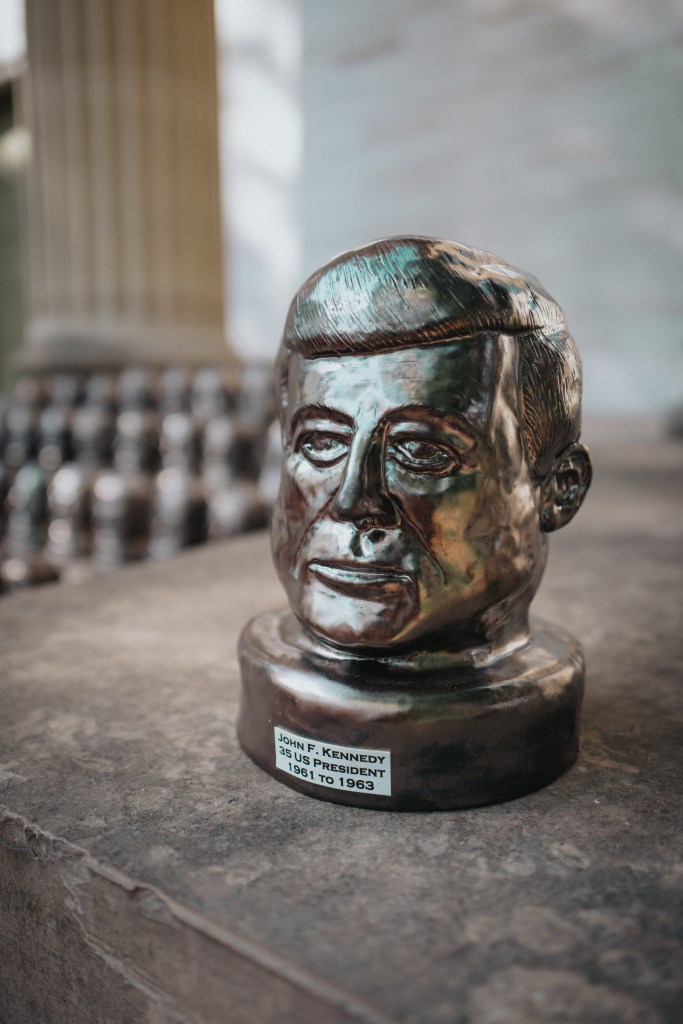 Once the vision he wants to create jells in his mind, he begins work on the actual sculpture, starting by creating a model head with a single block of wood. Next, he covers the wood in several layers of paper, then tightly wraps the paper with tape. After this step is completed, he covers the taped paper with a half-inch layer of clay. Then the adventure really begins.
Using a variety of sculptor's tools, including a loop tool, fettling knife and circle piercing tool, Shaun begins to define the features of his subject. He starts by working on the forehead, then moves on to the nose, eyes, cheeks, mouth, chin, ears and hair. Due to the intensity of accurately defining and creating intricate facial details, sculpting is a very demanding art form. Working in bursts of two to three hours for three or four days a week has proven to be the most productive timeframe for Shaun. On average, going from molded clay start to finished sculpture takes around 20 hours.
Once the sculpting is finished, it's time to move on to the critical, and potentially disastrous, firing process. This process involves placing the raw clay sculpture in a kiln and heating it to a very high temperature in order to turn the material into ceramic. Once fired, the sculpture can be extremely long-lasting, provided it is properly cared for. Effectively fired sculptures can last for hundreds, even thousands of years.
However, the firing process is not without its pitfalls. During firing certain segments of the sculpture — a nose for example — can fall off and must be repaired and refitted. At times, firing a sculpture can even prove explosive, completely destroying a work that has taken hours of labor to create.
Individual sculptures in a collection can present their own challenges. By way of example, Shaun notes that when working on his U.S. Presidents collection, John Tyler and William Henry Harrison created special challenges for him due to their notable facial resemblance.
Of all the presidents he sculpted, Shaun said that Abraham Lincoln is his favorite. Now that he has completed his work on America's presidents, Shaun has begun working on a collection he calls Iconic Women, with the first sculptures in this series being Mother Theresa and Harriet Tubman.
Shaun is currently searching for the next venue to showcase his presidential collection, with hopes that a museum, art institution, or collector will purchase and preserve the sculptures as a group. He is also freeing up time for crafting sculptures on a commission basis. If you would be interested in having a personal sculpture of a beloved family member or admired historical figure, you can connect with Shaun by email at thesmurphs2@yahoo.com.
When he's not sculpting, Shaun loves to indulge in his other passion — sailing. He owns three boats — a solar powered cruiser, a small two-person sailboat and a vintage runabout. So, if you don't happen to catch Shaun at Broadway Clay, he may well be sailing into new adventures on Kentucky waters.