By Madison Plank
Western Hills High School Band Director Stephanie Wallace knew when she was in the seventh grade that she wanted to be a band director.
Now, she's been with the school for 25 years after studying music education at the University of Louisville and teaching in western Kentucky for three years.
At first, Wallace taught competitive marching band but changed her path a bit after experiencing the brutal schedule that comes with it.
"There's some serious burnout that happens with competitive marching band," Wallace said. "You end up living it and I knew that's not really what I wanted to do. I wanted to be able to have a family. So, I was contacted by Western Hills and came and interviewed, and 25 years later, here we are."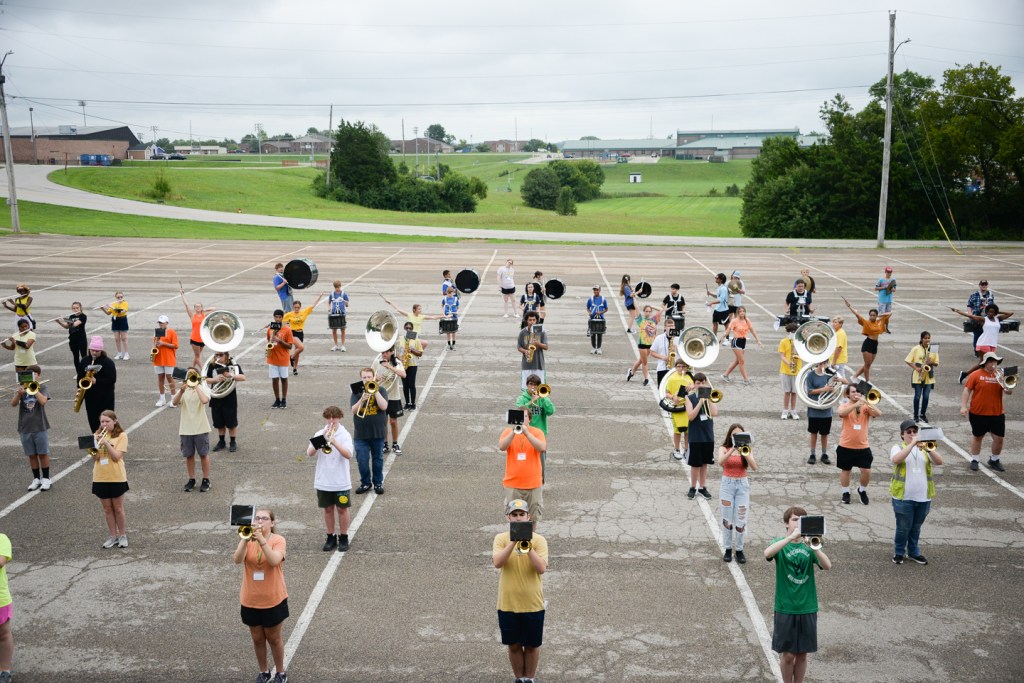 Wallace described one of her favorite parts of her job is concert band, where she gets to choose the music for the students and gives them a chance to give back to the community.
"I enjoy the pride and enjoyment that (students) get out of (concert band)," she said. "I like to see them grow. I love being involved in the school, in the community and I love teaching these kids to give back to the community because that's the number one priority for us, is that when people ask us to perform in the community, we try to do as much as we can and stay involved out there."
Just 15 minutes away on the other side of Frankfort at Franklin County High School, Band Director Josh Toppass also gets to live his long passion to be involved with music.
Toppass graduated from FCHS in 1998 where he was in the band and went to the University of Louisville to pursue a degree in music education. He then went on to teach in the Jefferson/Bullitt county area for a few years before coming back home to teach at Bondurant Middle School until taking his position at FCHS in the Fall of 2012. Alongside from being band director, he is also a semi-professional musician where he gets to play the saxophone.
"My goal was always to come home and be back in Frankfort," Toppass said.
Toppass at first wanted to be a professional musician after graduating from FCHS — which, he still gets to do — but was inspired to teach music instead after his experience studying it in college.
"As I started studying music in college and observing other music educators, I really enjoyed being in the classroom," Toppass said. "It was one of the best decisions I ever made and it's the career I was meant for."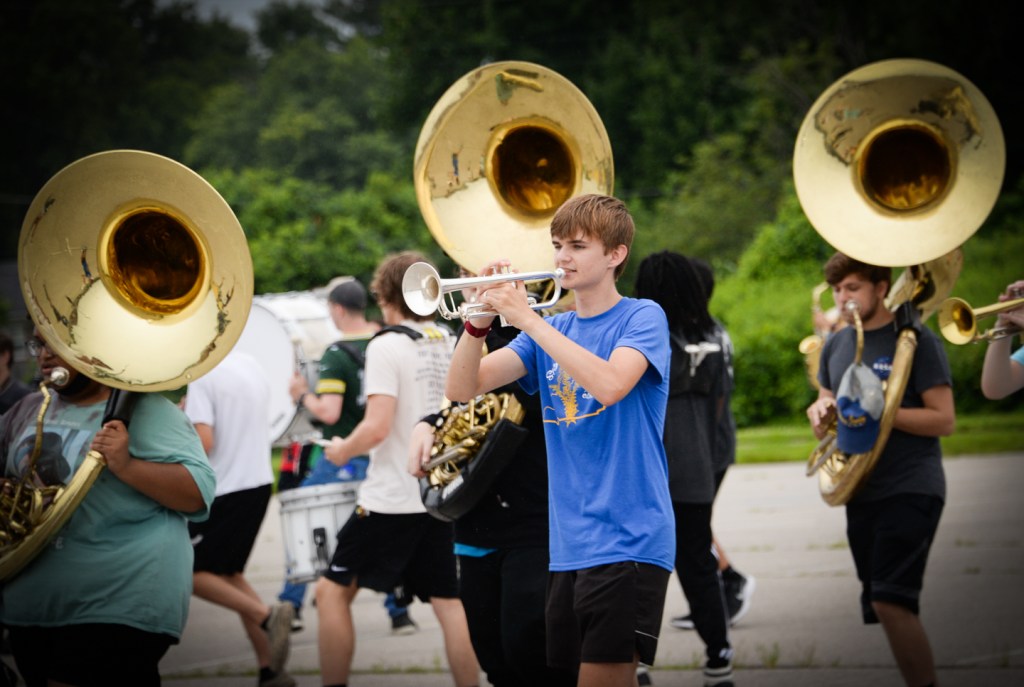 At Frankfort High School, former Band Director Brad Nunn described the students as his favorite part of the job. From Oldham County, Nunn graduated from Oldham County High School where he was also a member of the band, and then went on to the University of Kentucky on a saxophone scholarship and graduated with a degree in music education before receiving his master's in performance music from Morehead State University. He resigned from his position in August.
WHHS senior band member and flute player Emily Rudic has been in the band for seven years and joined because her cousins were in the band.
"When I was younger, I'd go watch them doing the Christmas parade and a couple of senior nights, and they did 'Thriller' and were all dressed up like zombies and I thought that was really cool and wanted to be a part of that," Rudic recalled.
Another WHHS senior band member, Joshua Welch, who plays the trumpet, wanted to be a part of the band since middle school because his brother was part of the band. He has also been in the band for seven years.
Both Rudic and Welch are senior leaders of the band, where they get to teach freshman and new marchers the fundamentals of marching band.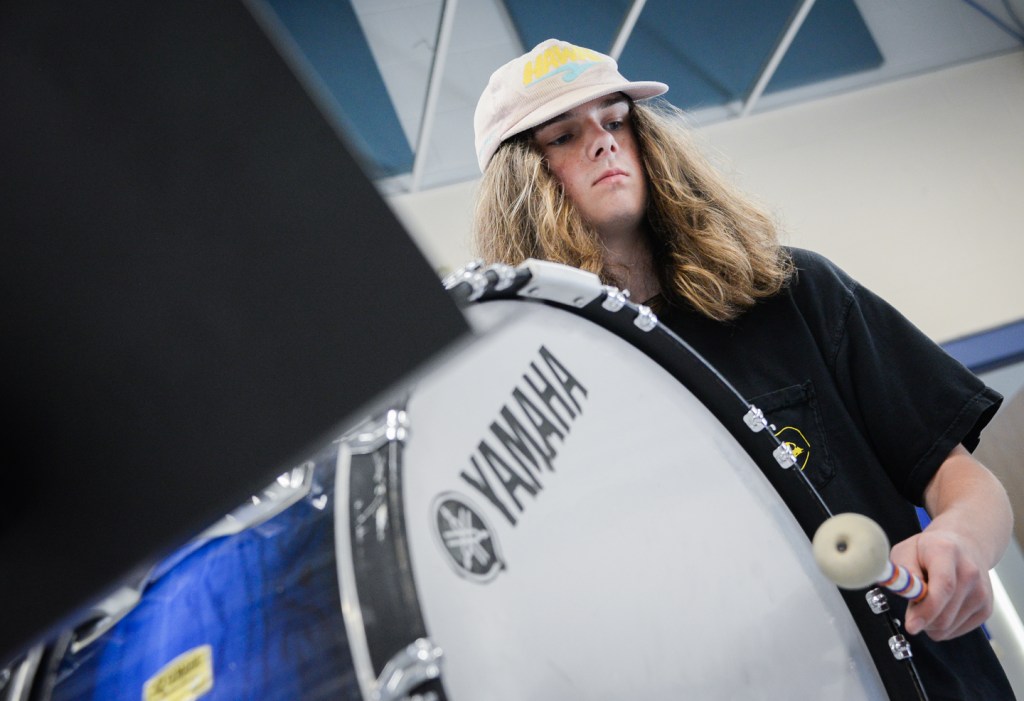 "It's a lot of leading people around," Welch said. "Especially people who don't exactly know what's going on, such as the freshmen who won't really know much about marching, but it's our goal and our privilege to teach them to do that."
Welch added that his favorite part about being involved with the band is the family aspect, where many of last year's seniors had a great impact on him. That aligns with the foundation Wallace has hoped to instill in her band.
"I always tell people that I might not be from here, but I feel like I am," Wallace said. "And, I feel like I've built a program here that is family. So, you know, it's comfortable, but at the same time, it pushes me to be the best that I can be, and I hope to think that I have pushed them to be the best that they can be."
FCHS senior drum major — or leader of the marching band — Henry Andrews has been in the marching band since he was a freshman, where he plays the trombone. This is his second year going into being drum major and he is more optimistic for this season as the last two years have been put on a halt because of COVID-19.
"Hopefully, this year will be not as intense, but a little more challenging for (the band) to play," Andrews said. "Last year, we were still obviously recovering from COVID, so there was lower-end music that we could get quickly and get our steps down because we had two years of people that really had no experience with the marching band at all. I'm really excited for them to keep going through it and work on good music."
As for fall plans, WHHS' marching band will perform at the Battle of Elkhorn, where they travel to Georgetown and perform with Great Crossing High School's band at halftime. FCHS will also perform with Scott County's marching band at halftime during that game as well.
This year, FCHS will come to WHHS and do a combined marching band performance at halftime.
"It's awesome to have over 300 kids on the field, playing music together, and kind of putting the rivalry aside for that few minutes during halftime," Wallace said.
FCHS' marching band will also put on a costume performance on the last football game of the season which is also their senior night. Eighth graders from Elkhorn Middle School join to play as well before the season turns to concert band and jazz band.
Although FHS does not have a marching band, they do have a pep band, and Nunn said his goal for this fall is to have the students come together to entertain the crowds at football games.
"We just want the students to come out, get our music together and play well in the stands and really provide entertainment for the crowds at football games," Nunn said.