By Larry W. Moore
As a child growing up in the English countryside, Anna Murphy's love of nature came, well, naturally. But it truly blossomed when she moved to Frankfort at the age of 13 along with her parents Shaun and Paula Murphy. Coming of age in a downtown home overlooking the Kentucky River, and spending time on her grandparents' farm in Franklin County, she forged a lifelong spiritual connection with the landscape and its plants and animals.
Her move to Frankfort provided another major turning point in her life, for it was here that she found her passion and profession as a painter. She credits Frankfort High School for kindling her love of art (encouraged by her parents who both are also artists), and the opportunity to attend the Governor's School for the Arts for introducing her to painting. This led her to the University of Louisville where she received her B.F.A and was recognized as the outstanding senior in 2D art. Her senior thesis show included an exquisitely detailed painting of her Scottish grandmother's handmade lace, and this connection to the artistry of traditional women's work provided another literal thread running through her painting.
After graduating, she relocated to Chicago where she continued her education in both the creative and business aspects of art as an assistant to a professional artist and through a painting residency. There she established herself both as a studio artist specializing in figurative and portrait painting, and notably as a muralist responsible for public art installations around the country. Her mural practice brought her back to Kentucky in 2019, where she had the wonderful opportunity to work with her mother Paula to create the painting "Beautiful and Brave" on the side of the Bourbon on Main restaurant in downtown Frankfort.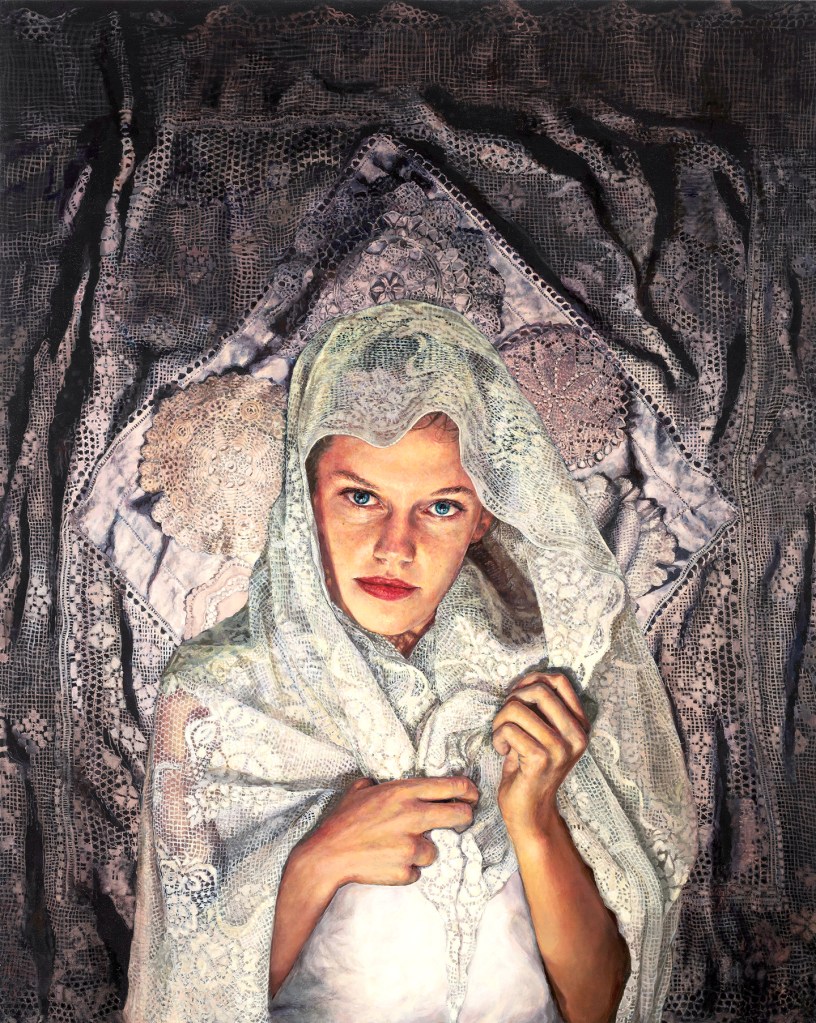 Now (after a long pandemic delay) she's back with an exhibition of her paintings at the Grand Gallery. Her show is entitled "Divinity in a Material World," and it draws on the full range of her experiences and passions to express what she calls "the Divine Feminine, the creative force that lives within all of us," connecting the physical and unseen worlds. As she explains her aims in these paintings and in her work in general, "Painting is not only a way to heal myself and my own mind and soul, but it also gives me the wonderful opportunity to inspire and uplift others. This is my reason for all the work I create, to inspire, uplift and move people into a beautiful state of being."
One of the beautiful and material aspects of the paintings in this show is the appearance throughout of lace, including that painting from her senior show that started her down this path (now in a private collection and on loan for this exhibition). Not only do these paintings demonstrate the remarkable technical precision of her artistry, but the depiction of lace connects us to the feminine both as a traditional handicraft and through a religious association that is expressed most directly here in the iconographic painting "Light of the World."
Another powerful aspect of beauty and physicality in this show is Murphy's paintings of women, at once tender and sensuous. Her painting of two young women on a bed (covered in lace, of course) can be read many ways, but her title — "Holy Spirit" — explicitly expresses the belief that we are spirits living in bodies, and that celebrating the body also celebrates our spirituality. This blurring of the lines between sacred and profane, spirit and flesh, is more common in Asian than in western art, and is one of most profound and personal characteristics of Murphy's painting.
Anna Murphy's Grand Gallery exhibition continues through the end of December. The Grand Gallery is located on the second floor of the Grand Theater in downtown Frankfort. The gallery is open to ticketed patrons during all events at the theater, and is open for free admission at other times by contacting the Grand Theater business office at 312 W. Main St., 502-352-7469 or online at www.thegrandky.com/gallery (click on the "request appointment" link).