On a quiet street in an east Frankfort neighborhood sits a traditional-style home with a typical well-manicured lawn and landscaping. However, behind the house, the landscaping is far from typical — it's a wonderland of glistening, vibrant flowers.
The house is the home to Brittany Mundine, owner of Hither Blooms, her husband Chris Brown and their three children, Ewan, 13, Grady, 4, and Arden, 2.
Brittany grew up in Frankfort and graduated from Western Hills High School. When she was a child, she lived in South Frankfort close to her cousins.
"My cousin and I would go to the Rose Garden at the Capitol and collect rose petals that fell on the ground," she said. They would use the petals to decorate her cousin's playhouse.
"I've always loved flowers."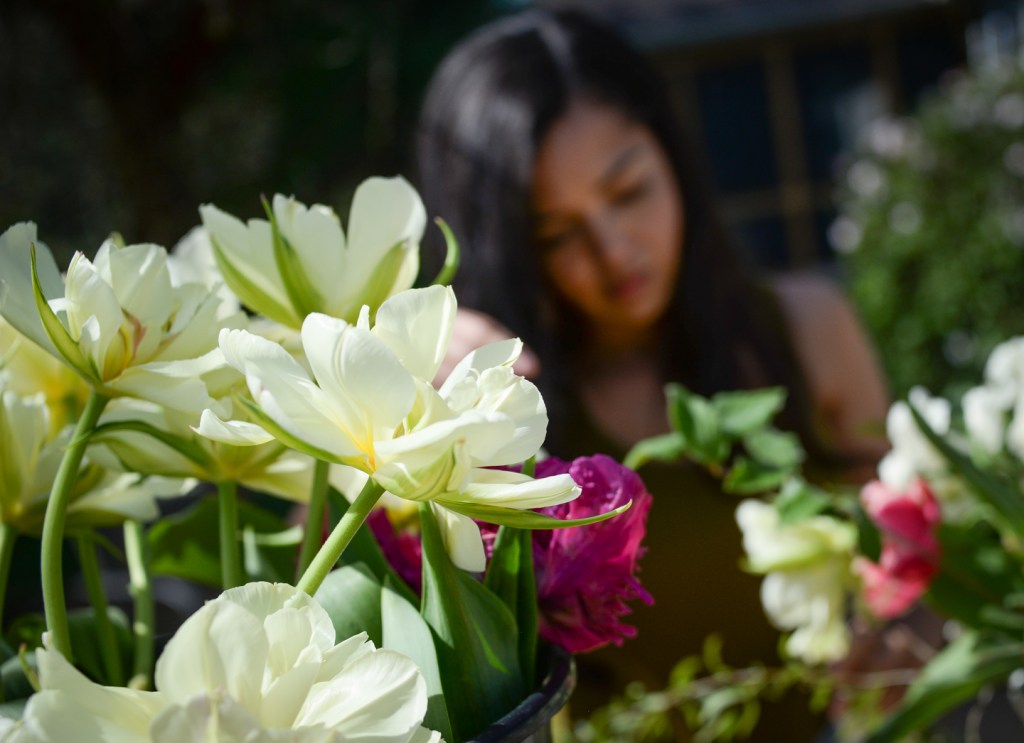 As she got older, Brittany liked to purchase flowers at Kroger and put together her own arrangements. She even arranged her own flowers for her wedding in 2016.
"I bought flowers wholesale, and I just made little bud vases for the tables," she said. "We got married in the backyard."
One of the flowers she used in the vases was ranunculus.
"I had ranunculus for the wedding, and I said I had to grow some of those. I just love them. They're my favorite."
Not too long after their wedding, she had Chris tear up the yard to make her some flowerbeds. They also turned a wooden deck into a greenhouse.
"I think I had in my head then that I wanted to maybe have a business, but I thought I would make sure I didn't kill anything first," she said.
Brittany is a former nurse, but after having her two younger children, she decided to become a stay-at-home mom.
"I know a lot of nurses who have turned flower growers," she said. "A lot of us are doing it as a side business."
She said a former nurse owns Bellaire Blooms in Waddy. Brittany also thinks growing flowers became popular after the airing of "Growing Floret" on the Magnolia Network.
After discovering she did indeed have a green thumb, she founded her business Hither Blooms in 2018. Now, her flowerbeds spread across a large portion of her backyard and around her house. She also has raised flower beds in her neighbor's backyard.
In the spring, she grows tulips (double, parrot, fancy types), ranunculus, anemones, daffodils, summer snowflakes, alliums, peonies, lupines, poppies, snapdragons, larkspur and more.

In the summer and fall months, she grows dahlias, sunflowers, zinnias, lisianthus, tweedia, scabiosa, larkspur, snapdragons, feverfew, cosmos, strawflower, celosia, marigolds and more.
She sells flowers at the Franklin County Farmers Market and to local florists.
"Ben Lee buys from me in the spring," she said. "He buys tulips and dahlias."
She also sells arrangements through her website hitherblooms.com. Along with single arrangements, she also offers four-week and eight-week subscriptions, where subscribers receive one arrangement a week. She offers delivery and pickup.
"I got a lot of Christmas gift subscriptions," she said.
When it comes to putting together arrangements, she said she just does whatever she thinks looks good.
"I just wander around outside and gather what looks good," she said. "Everything will end up in arrangements. I even cut on the dogwood tree.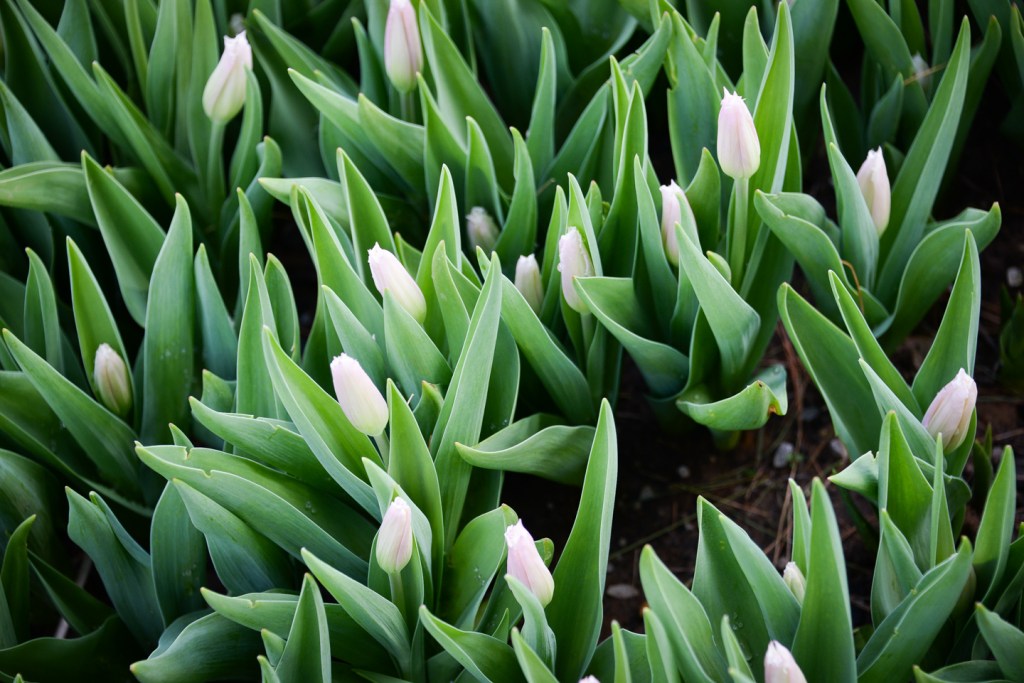 "People generally say, 'just pick something pretty — I trust you.'"
Brittany admits though that she much prefers growing flowers to arranging them.
"I think it's kind of magical. You have itty-bitty seeds then you get this beautiful flower out of it. Every time I plant something, I think it's not going to work out, but then when it finally blooms, I'm like, 'I did it.'"
Even though she would like to have more property to grow flowers, she said growing in the neighborhood does have its benefits.
"It's nice being in the neighborhood," she said. "We don't have the problem with deer."
The trees and house also help to protect the flowers from frost. However, she is limited in space.
"As soon as I take one thing out, I'm putting something in its place."
Brittany and Chris hope to buy a house with some land in the future.
"I don't think I would be a U-pick, I think I would want to do more perennials and tons of peonies. I want to do roses eventually too."
Until then, she is happy growing flowers in the backyard of her suburban home.
"Bloom where you're planted," she said.