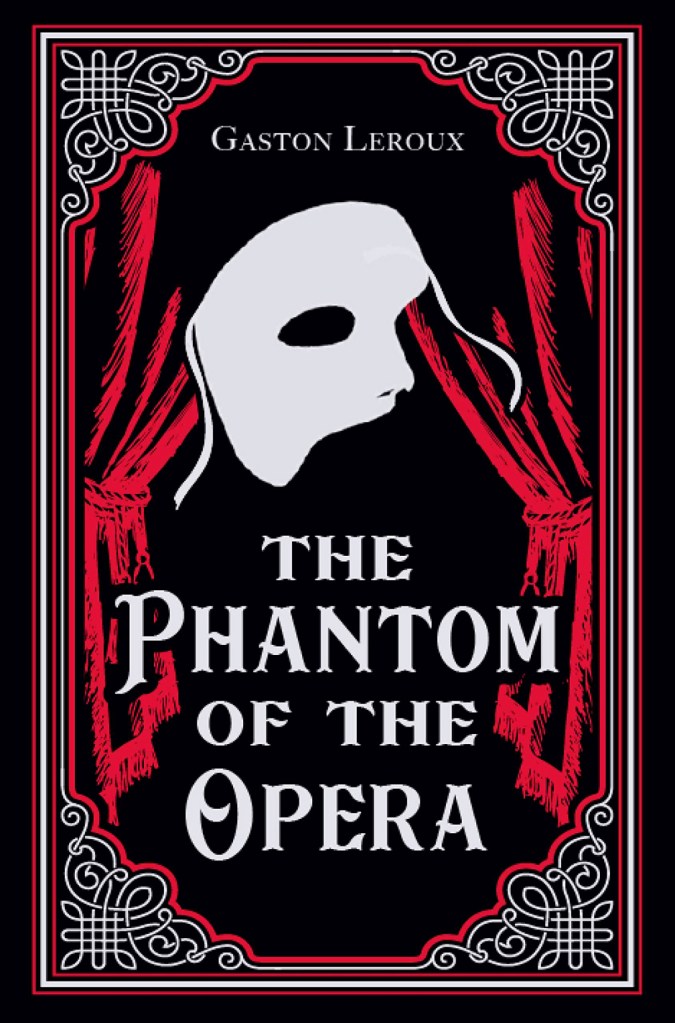 "Phantom of the Opera" by Gaston Leroux
Many people are familiar with the Phantom's story thanks to Andrew Lloyd Webber, but the source material is something of a different nature. The spectacle of the stage show is not present in the pages, where a dark presence exudes throughout the catacombs of the Paris Opera House tinged with death and mania.
We still follow the story of Christine Daaé, ballerina at the Opera House, as she finds herself drawn into the mystery of the Phantom and the extraordinary powers he seems to possess. In the novel, we find the Phantom to be a much crueler character than found in the Broadway show. He is vengeful and violent, willing to cause death and injury upon anyone he perceives in the way of his single goal — the love of Christine.
The book is textbook gothic horror, leading readers through dank caverns and the dark underbelly of the city. A torture room entraps several protagonists, promising painful death. The reader visits graveyards in the dead of night on mysterious quests. The Phantom himself is otherworldly and inhuman, appearing to have knowledge and capabilities beyond what can be explained rationally. All these things create the backdrop many can recognize from other similar tales such as "Dracula" or "Frankenstein."
The difference here, however, is that the Phantom is just a normal man. While in many gothic tales the antagonist is revealed to be truly beyond human, the Phantom is constrained by the same realities of human nature as everyone else. His years of torment and personal trauma have simply transformed him. He is obsessive and driven by purpose, determined that he is owed something in return for the pain he has felt all his life. Whereas Dracula and Frankenstein have powers beyond that of normal men, the Phantom is powered only by his righteous fury. In many ways, this is more frightening than a vampire or golem, reminding readers that everyday humans are capable of these kinds of evil.
The author, Gaston Leroux, was a very well-known journalist and author of detective fiction, although lesser known now for this than others, such as Arthur Conan Doyle. The "Phantom of the Opera" is his most enduring work. This is a classic novel in every sense, having influenced several generations of music, stage and film, and anyone with an interest in literature should certainly add this to their list.
— Review by Ernie Dixon, Paul Sawyier Public Library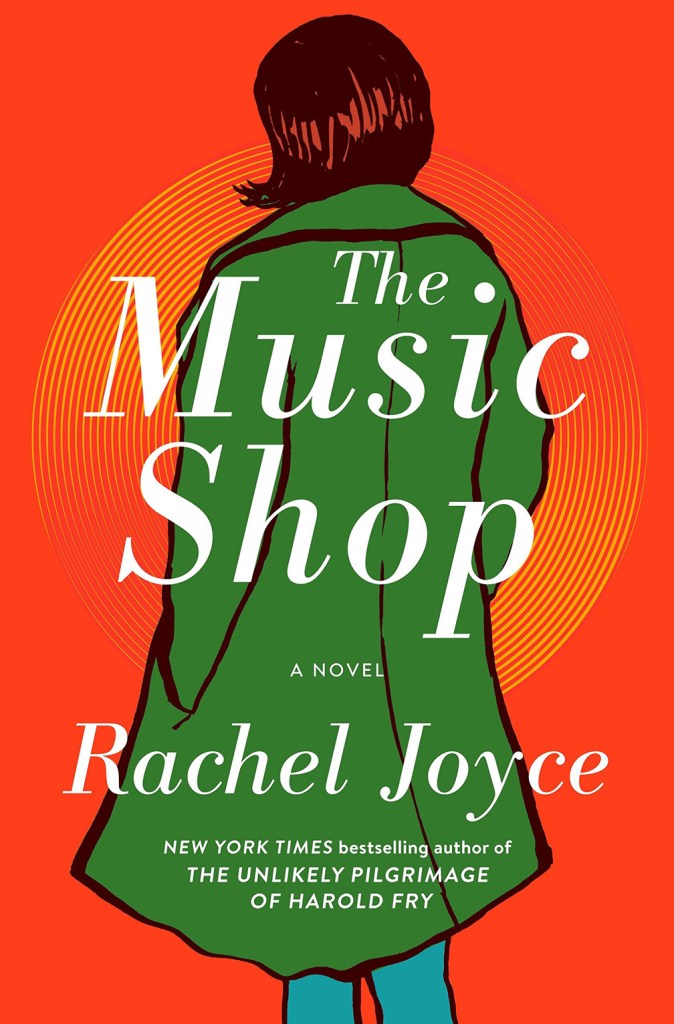 "The Music Shop" by Rachel Joyce
This novel takes us back to London in 1988. On a dead-end street in a run-down suburb, there is a dilapidated music shop filled with vinyl records of every kind. Frank, the shop's owner, has an uncanny gift. He is able to help his customers connect with just the right piece of music they need. When a beautiful but mysterious young woman, Ilse Brauchmann, asks Frank to teach her about music and how to connect with it, he reluctantly agrees and teaches her all about songs, artists, genres and the feelings they evoke.
Joyce is very skilled at character development, even though many of the novel's characters are not given especially robust roles. The overall sense of community among the rest of the store owners on the same street as Frank's record shop makes the story come alive with warmth and harmony.
This is not a traditional romance novel, but it is a love story depicting how people come together through music. This book is highly recommended, especially for music lovers.
— Review by Paul Sawyier Public Library Staff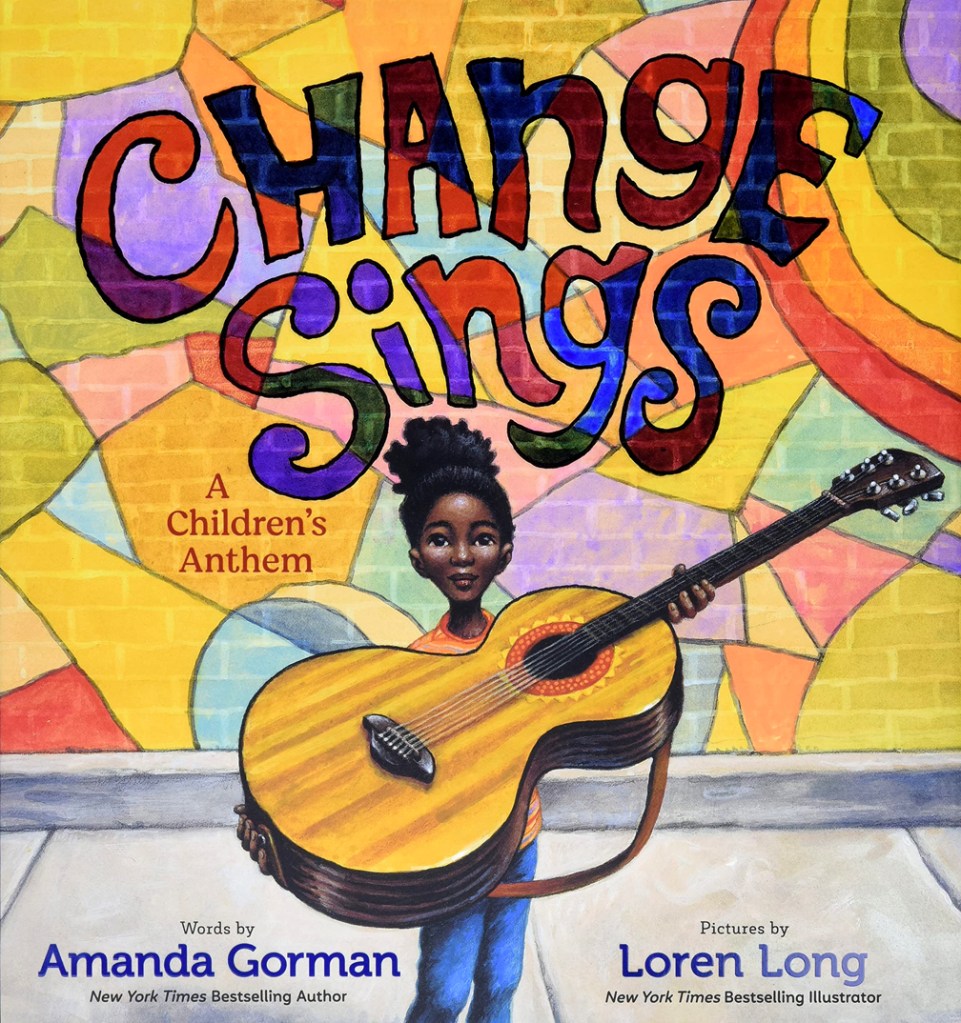 "Change Sings: A Children's Anthem," words by Amanda Gorman, illustrated by Loren Long
Amanda Gorman, now National Youth Poet Laureate, made an incredible impression with her powerful words spoken when she read her poem, "The Hill We Climb," during the last Presidential Inauguration. The audience was stunned as this young girl diagnosed early with an auditory processing disorder who struggled with speech articulation, was able to deliver her influential words of change and hope.
In "Change Sings," Gorman writes in verse of a young girl with a guitar as big as she is. The story begins quietly with the girl strumming her guitar, and singing "I don't fear change coming, and so I sing along." She stands in front of a mural of Martin Luther King, with a stained-glass-like background with MLK's words of "hope, change, and dream."
She leads the characters in the book on a musical journey, with each offering a service to the community. The young girl hands each character a different musical instrument as they unite their efforts to clean up trash, deliver groceries to a shut-in, clean a storefront and build a ramp for a young girl in a wheel chair.
Gorman's characters all embrace their new-found spirit as they join together with their efforts both in music and in creating a better community. Standing in front of the newly washed store windows, our young girl sees her reflection and says:
"Change sings where? There! Inside me.
"Because I'm the change I want to see."
The book is illustrated by award-winning Loren Long with strong bold colors and wide two-page visuals that accompany the story, finishing in a crescendo of color as all the children become the new mural on a formerly drab building. "We are the wave starting to spring, for we are the change we sing." 
— Review by Lizz Taylor, Poor Richard's Books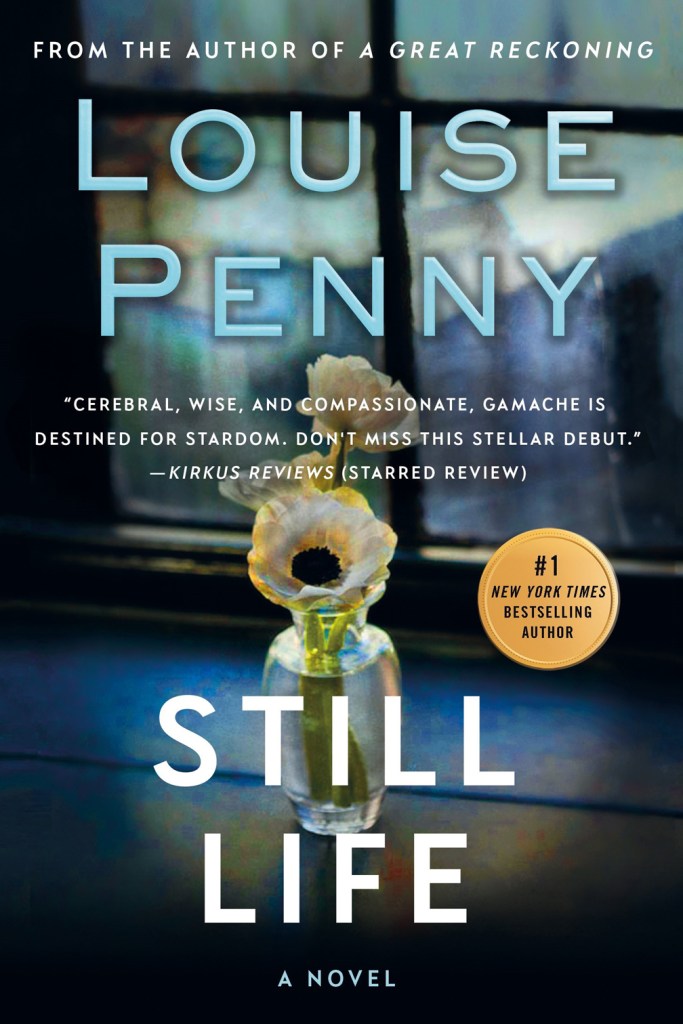 "Still Life: A Novel," by Louise Penny
Louise Penny has written numerous mysteries featuring Chief Inspector Armand Gamache. A friend recently gave me the first of the series, "Still Life," with a warning that most likely after reading this one, I would have to read all the others. This will probably happen but my friend didn't tell me there are 17 other Gamache novels!
Set outside of Montreal in the Quebec province, Penny uses the detective to give us a glance of Canadian culture, especially police procedures. There is a strong similarity to Christie's character of Hercule Poirot, a gentle, cerebral force leading a team of younger proteges.  
Along with the villagers and their suspicion of the Inspector, Gamache must deal with his support team, and their ambitions that often intrude in his interviews. Gamache has a team of younger officers all impatiently desiring to climb their career ladder. He has to reign them in and keep them focused on the facts, and still encourage them to use their curiosity about a case. When he instructs one detective to take notes, keep her head down, and say nothing, you can feel the resentment from the officer, and yet, Gamache includes her in the after-discussion back in their office, and complements her observations. 
Is this an ordinary hunting accident in a rural village or is it homicide? Accidents happen during deer hunting season. As in many mysteries, the clues appear to be hiding in plain sight. However, as in a British mystery, Penny includes a "red herring" or two. Additionally, in this case the victim has recently completed and submitted a painting in a local competition of the town people during a "Fair Day Parade."  Even though the painting appears to be of stick figures, as Gamache interviews subjects, he can easily locate their person in the painting. Does the painting also include the killer?
Penny has won numerous awards for the Gamache series including the "Agatha Award" for best mystery novel of the year five times. Two of Penny's books have been made into TV movies. I have never viewed these but now must add them to the list of 17 other Gamache novels to be read.
— Review by Lizz Taylor, Poor Richard's Books