In today's world, millions of Americans focus significant attention on their own physical health, or the physical health of their loved ones. Naturally, companies that offer weight loss or strength training programs have taken notice, as have individuals who write books on how to lose weight.
So much so, that it's challenging to turn on the television or check out Facebook without seeing an ad for a new "sure-fire" weight loss plan, or to walk into a bookstore and not quickly encounter an entire section of books about methods for losing weight, workouts that will transform your body or recipes that will help you lose weight and achieve better health. However, as Will Martin so clearly points out, there is another, equally vital component to your health — your mental health.
Born and raised in Cincinnati, Will left the Queen City following his high school graduation to attend Wittenberg University in Springfield, Ohio, where he majored in environmental geography. Returning to Cincinnati to begin his work career, Will quickly discovered that he did not enjoy the fast-paced city life, and that working for a large company was not the career path for him.
"I always felt rushed," Will said. "It was get up early to be at work by 8, with meetings at 10 and 11, and then the dentist office at 2:30, and the grocery store at 5, and meet friends at 6, and … well, you get the picture. Every day I felt anxious, nervous and depressed. Soon, I began to realize that I wanted, needed, to live a slower-paced life. That a life of constantly rushing and hurrying from one place, assignment or event to another was not good for my mental health."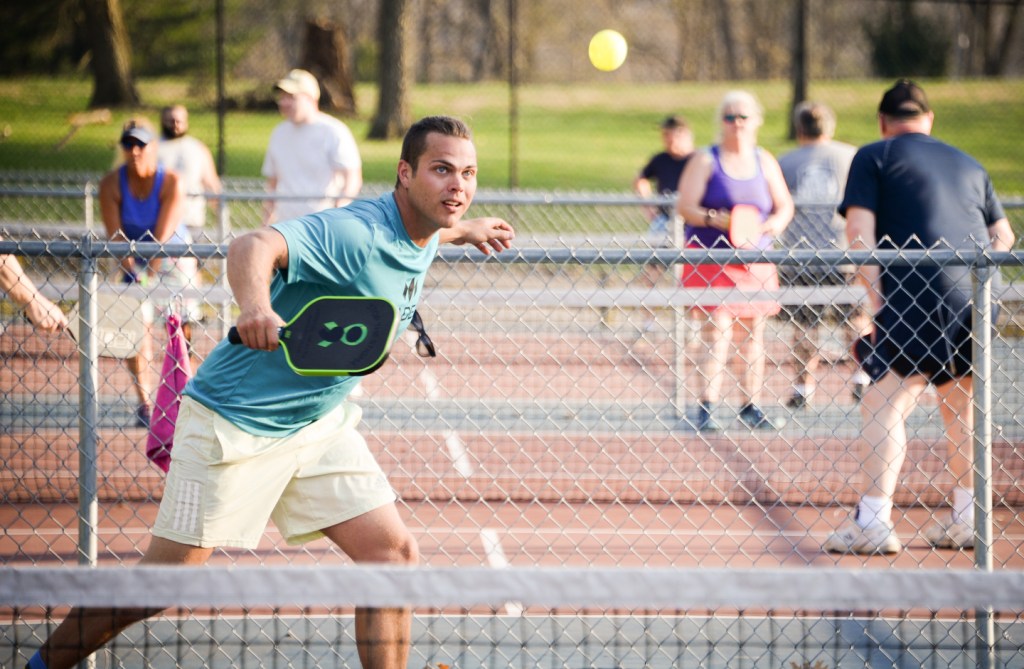 Taking matters into his own hands, Will made the conscious decision to relocate away from the daily stresses of city life.
Fortunately, his parents had already moved to Owen County, buying property adjacent to a farm where they had first met years earlier at a Derby party, and Will decided to join them. He notes that he came to Owen County in the "Spirit of Adventure," turning down several job offers in Ohio to make the move.
His first job in Kentucky was at a small gas station in Owenton, a choice he points out that he made in a deliberate effort to achieve a work life that was less stressful and slower paced. As he discovered that being outdoors and embracing the natural world not only appealed to him, but helped ease the stress and anxiety that, in those days, were a powerful component of his daily mental life, he went to work for Rockin' Thunder River Tours, an outdoors firm headquartered in Madison, Indiana, that specialized in scenic cruises and jet boat tours of a 40-mile stretch of the Ohio River.
Soon after joining Rockin' Thunder, Will realized that he loved being on the water and wanted to become a licensed captain. Taking action to make this happen (taking action is one of the core tenants of Will's personal philosophy), Will traveled to a Coast Guard base in Naples, Florida, where he took a series of Captain's License courses, passed all required exams and earned his official captain's license.
Returning to Madison, Will worked for Rockin' Thunder for a few years, piloting their exciting, and popular, "Thrill Boat Ride." When the firm decided to shift solely to traditional river cruises, Will decided to launch his own business, Blue Wing Landing Outfitters, which focused on bow-fishing excursions on the Kentucky River, plus deer and turkey hunting trips on property in Owen County that his parents owned, and occasional boating tours on the Kentucky.
Will's parents eventually sold the property he was using for the hunting side of his business, a change that was followed closely by a massive bourbon spill into the Kentucky River, which wiped out fishing for months. Obviously, it was time to shift to another career path.
His next move was to begin working at Blue Wing Landing Inn, a historic Greek Revival home located on 240 secluded acres along the Kentucky River near Owenton that can now be rented for retreats, family vacations or as a base for outdoor adventures. The home, originally built in 1858, and was once owned by one of Kentucky's first senators, John Brown, is on the National Registry of Historic Places and retains many of its original features.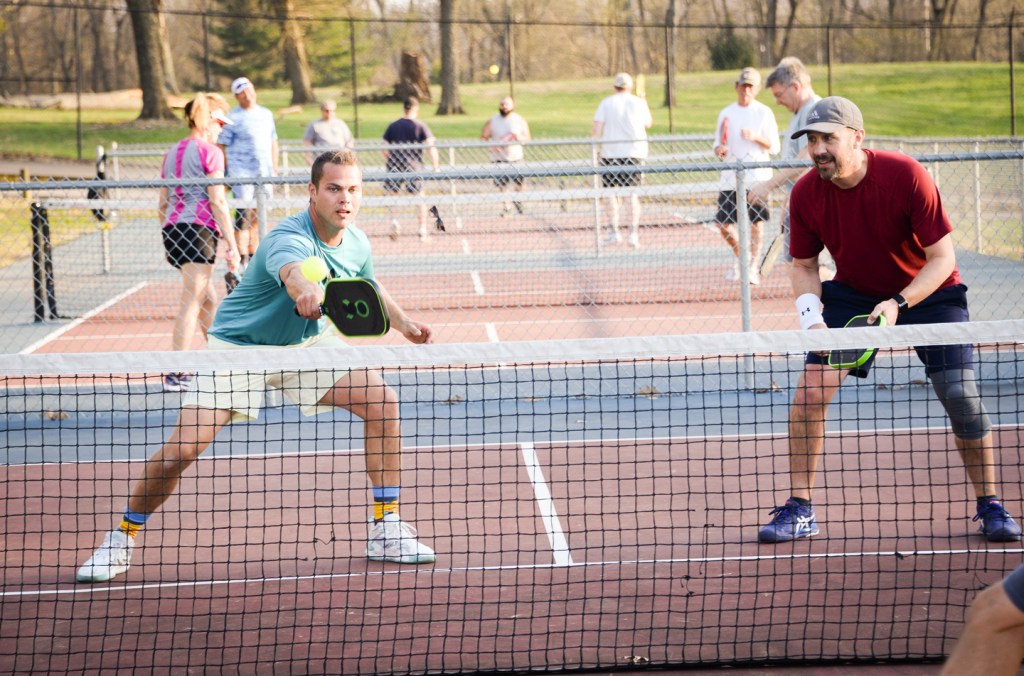 In addition to the inn itself, the property contains three original cabins, a 14 foot dock, a six acre pond and dozens of hiking trails. Will Martin now manages both the inn and the grounds.
As he navigated life's ups and downs, Will continued to battle with anxiety issues on a daily basis. Currently, the two primary treatments for the anxiety disorders that affect millions of Americans, are psychotherapy and medications. Although Will availed himself of both these medical options, he sensed that, while helpful, they were not the total answer to the challenges he had been facing since his sophomore year in college.
He felt they were not helping enough to allow him to achieve the level of mental comfort he desired. Gradually, he grew aware that being active and engaging on a regular basis with others was the critical third element in his personal treatment plan. At the same time, he also realized that he possessed a growing passion to raise awareness about the critical importance of mental health.
Putting this realization into action, he began to focus more on his love of being physically active by participating in group activities and sports whenever he had the opportunity. In addition to strenuous physical labor on the Blue Wing Landing property, Will began hiking on an almost daily basis, joined a kickball league in Cincinnati, and led hunting and fishing expeditions before discovering the sport that has helped him find a greater peace of mind than he has known since his childhood — pickleball.
Will notes that pickleball (first played in 1965), which he describes as a blend of tennis, ping-pong and badminton, "is the fastest growing sport in this country." Will initially heard about pickleball from his parents, both of whom enjoy the sport, when they invited him to join them for an evening on the pickleball court. Laughing, he notes that his "first thought was that pickleball was a game where old people hit a wiffle ball." Reluctantly, he agreed to try the sport, only to find that he loved it.
Pickleball, Will shares, is a sport that is "easy to learn, yet difficult to master." Although pickleball requires less running than either tennis or badminton, quick reactions are crucial. Fortunately, Will notes, "you gradually develop quicker reactions as you play and practice, and as the muscles of your body adapt and grow."
In addition to the exercise and reinvigoration of his competitive spirit, Will enjoys the social side of pickleball, noting the vast majority of the pickleball players he knows are friendly, welcoming and truly fun to hang around with. During pickleball season, Will tries to play several times a week, often at East Frankfort Park. He has also participated in many pickleball tournaments, including ones held in Lexington, Louisville, Owensboro, Cincinnati, Knoxville, Nashville and Columbus, Ohio. At every tournament, Will makes it a point to work diligently to raise awareness about mental health issues and challenges with the other players and the fans.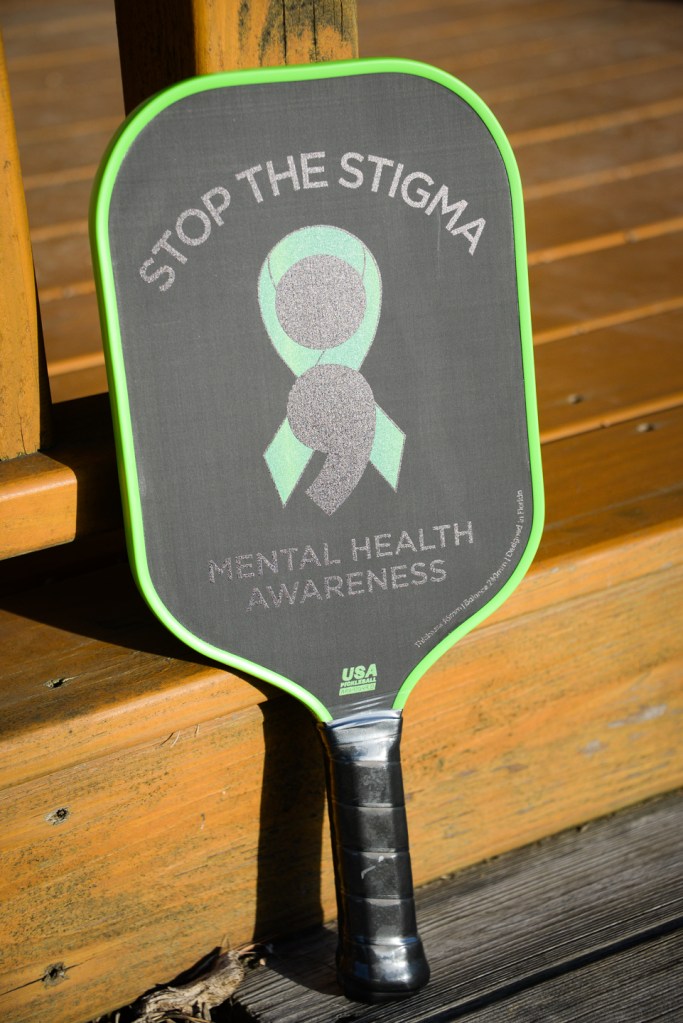 Another avenue he is following to promote mental health awareness opened up when he created a special Mental Health Awareness logo for pickleball paddles. Pickleball paddles featuring Will's logo design have proven so popular that they have already sold out and are now on backorder at Diadem Sports.
Few of us would disagree with the concepts that the world is a constantly changing vessel and that the young people of today certainly live in a different world than the one in which their parents and grandparents grew up. In many ways, today's world is a more intrusive one — think cell phones, the internet, Facebook, Twitter, TikTok, etc.
Will Martin notes these "instantaneous intrusions" can, and often do, dramatically raise the stress level of younger people. Over the course of his own battle with anxiety issues, Will has discovered a number of concepts that have helped him address the myriad issues raised by anxiety and depression. In an effort to help others dealing with mental health challenges, and as another component of his ongoing mission to raise mental health awareness, Will offers the following slices of advice:
• Find a sport/activity that you enjoy, and then participate in it as often as possible — medications, counseling and group therapy, while helpful, are not enough by themselves;
• Learn to live in the "quiet times" of your mind;
• Stay engaged with the world, making sure that many of your engagements are in-person;
• By helping others, you help yourself;
• Learn to love, and learn to share that love with all those whom you love.
Will closed the interview with a smile and a cheery, "see you on the pickleball court!"