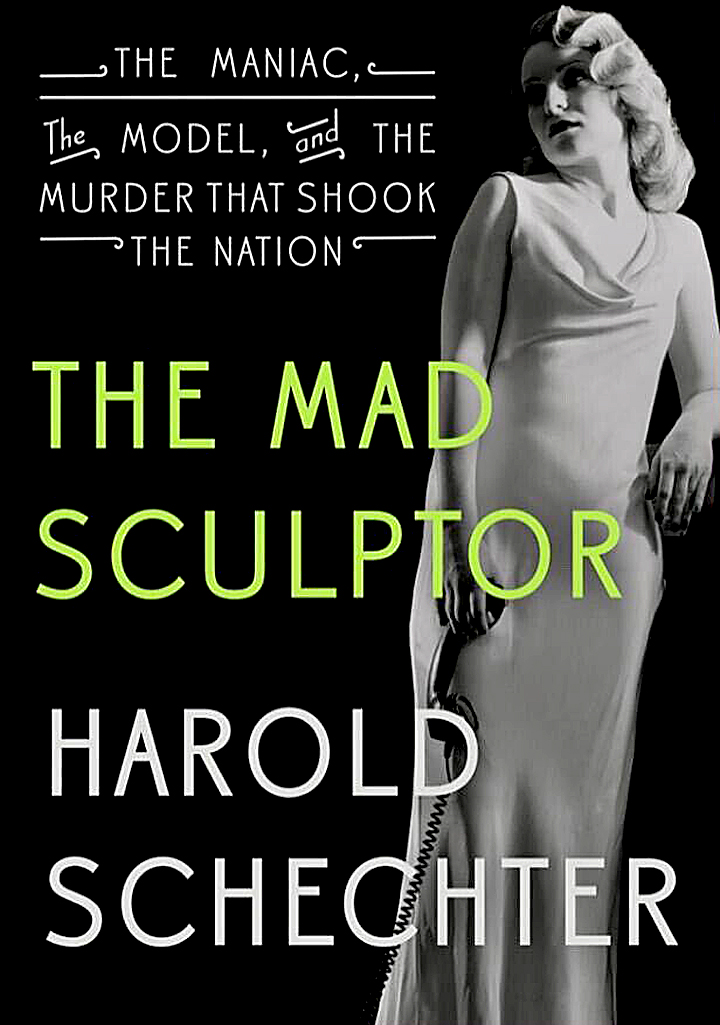 "The Mad Sculptor" By Harold Schechter
Although we might think of the true crime fixation as a modern phenomenon, titillation over grisly and gruesome acts has dominated American headlines for well over a century, as the riveting book, "The Mad Sculptor: The Maniac, the Model, and the Murder That Shook the Nation" by Harold Schechter, amply shows.
"The Mad Sculptor" reads like part biography, part dime-store thriller and is impossible to put down. Schechter opens on Beekman Place, a gorgeous estate on the East Side of Manhattan whose various iterations were owned by some of the wealthiest residents of New York City. However, even as this and its surrounding streets became more gentrified and its inhabitants ever more tightly ensconced themselves within its environs, life right outside was some of the most squalid and hardscrabble of anywhere in American history. And, in the 1930s, Beekman Place found itself repeatedly in the headlines as a site for (or adjacent to) several grisly murders.
The most lurid of these involved a beautiful young pinup model and the mentally unbalanced sculptor who had stalked her older sister. Veronica "Ronnie" Gedeon was a young woman known for her beauty and vivaciousness. Born to Hungarian immigrants, she had consciously rejected her parents' lifestyle, opting to support herself and her mother through modeling jobs and while away evenings with friends and lovers whenever possible. She was a model for pulpy detective stories, and, after her untimely death, newspapers flooded their readers with dozens of pictures of her either fully nude or scantily clad.
However, while it was easy for the public (and Ronnie's alcoholic father) to blame the death of her, her mother, and their boarder on her supposed "fast" lifestyle, the triple homicide had nothing to do with her. Rather, they were the unfortunate bystanders in a man's delusional obsession with Ethel Kudner, Ronnie's beautiful and hardworking older sister.
The perpetrator of these terrible crimes was a man named Robert "Bob" Irwin, a talented sculptor with megalomaniacal tendencies. Bob had grown up extremely poor, the son of two evangelicals more consumed with their own salvation and satisfaction than the health and safety of their children. From an early age, he had become obsessed with the supposed powers of "visualization," or, being able to mentally imagine something so viscerally that it appeared in its physical form in front of you. He felt that being able to master this skill would give him Godlike powers, even allow him to become the second coming of Christ. And, he would be willing to do anything — reject friends and family, harm himself, even kill — to attain these powers.
"The Mad Sculptor" is a fascinating read. Bob's whole life seemed to be a wild, out-of-control trainwreck, and the terrible way the newspapers treated Ronnie truly pulled at my heartstrings. Reading this book gave me such insight into how the media salivates for headlines simply because, as one editorial put it, "Murder sells," even making me reconsider my own love for true crime. Do any of us have the right to be privy to someone's worst moment? Where is the line between sympathy, preparedness and voyeurism? Are sales and ratings more important than human dignity? Regardless of where you stand in this debate, "The Mad Sculptor" will surely end up being one of the most thought-provoking books you read this year.
— Review by Cindy Butor, reference librarian at Paul Sawyier Public Library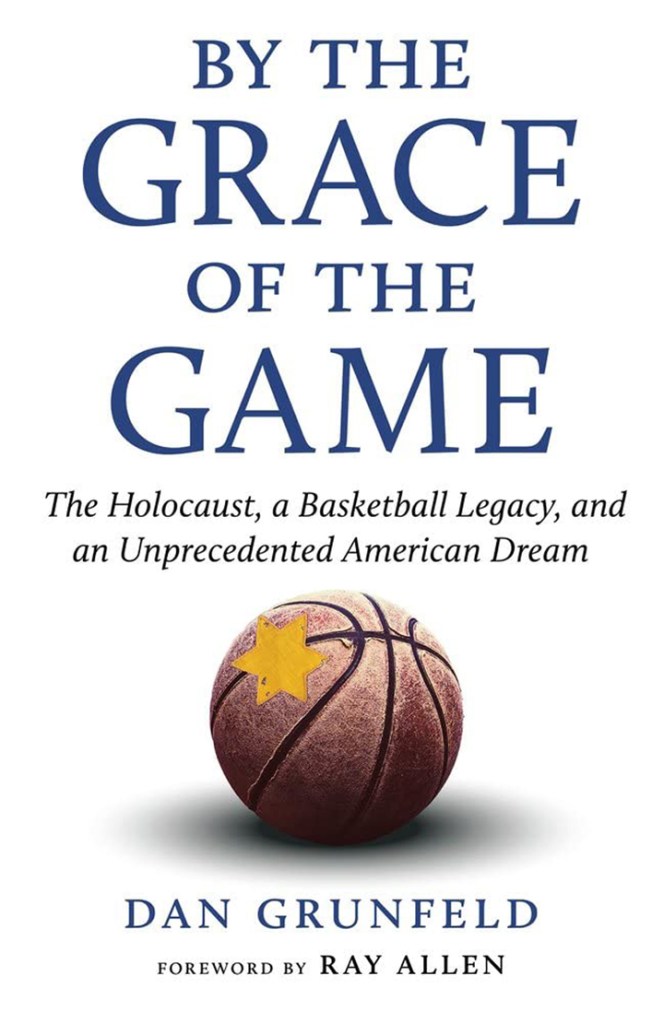 "By the Grace of the Game" by Dan Grunfeld
Dan Grunfeld's book covers sports and family, as both he and his father, Ernie Grunfeld, had successful basketball careers. But, what makes this book even more compelling is the fact that his grandmother narrowly survived the Holocaust.
Alternating chapters between his life and his grandmother's, the book reveals her losses and his privileges beginning with his birth.
Though it focuses on these stark contrasts, it also reflects positively on Grunfeld's father's life and the love between the three generations of their family.
Stories and descriptions of events in their lives help to make this memoir engaging, such as visits to the Grunfeld family by basketball recruiters from the University of Kentucky, the 1976 Summer Olympics and playing for European teams.
The basketball knowledge, history and tradition that he includes is engaging and helpful to those who are not aficionados. You really do not have to be a basketball fan to enjoy this book. Highly recommended.
— Review by Paul Sawyier Public Library staff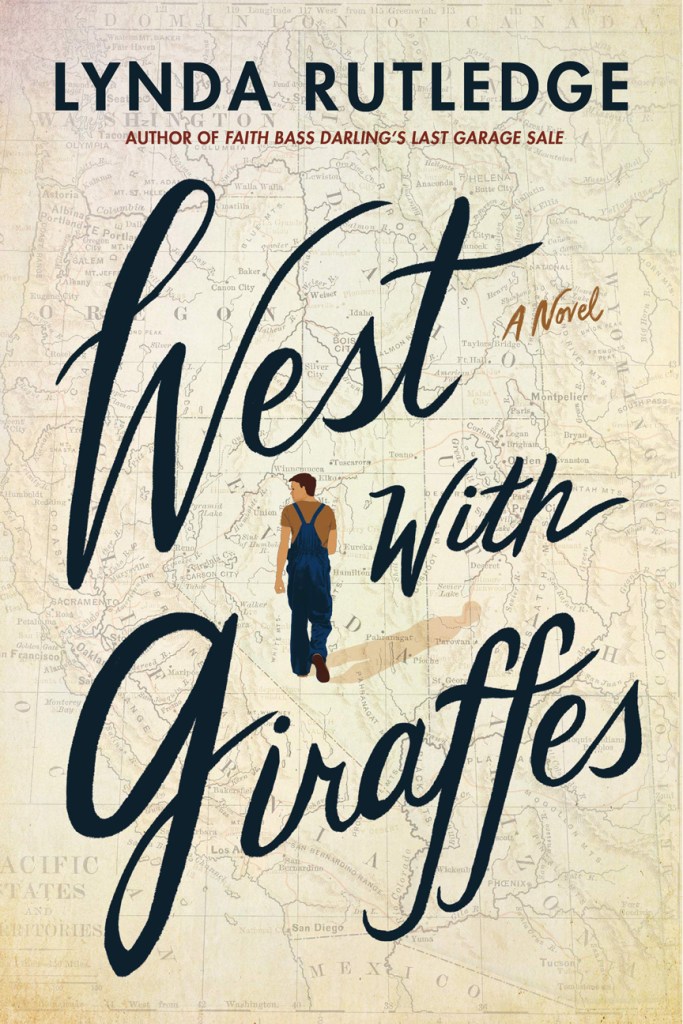 "West with Giraffes" by Lynda Rutledge
The year is 1938, and two giraffes have survived an ocean crossing to New York, as well as a hurricane. Many other giraffes have been captured and transported to large zoos on the east coast, but sadly, the climate overwhelms them and they don't survive. The destination for the two juvenile "hurricane giraffes" is the San Diego Zoo, where the climate is less harsh. Although only two years old, they tower their handler at 12 feet, 8 inches. But, that load in a truck requires even greater clearance. They head for quarantine in New Jersey with electric linemen lifting overhead wires to allow clearance for the wild creatures. The female has suffered a leg injury in the hurricane but is allowed to be transported west with medical treatment along the way.
This story is told by one of the giraffes' handlers, Woodrow Wilson Nickel, or "Woody," now 105 years old, who hears that giraffes are threatened with extinction. He begins writing by hand his account of the time with the "hurricane giraffes," traveling with the transporter for the Zoo, and the red-head young female reporter following them with hopes of becoming the second prize winning female photo-journalist.
The weather, bridges, narrow roads, highways with trucks are all hazards for the giraffes, but there is also the circus trailing them in hopes of kidnapping one for the profit boost. Daily, the truck must seek periodic shelter under a shade tree with a canopy low enough for the giraffes to dine. And then there is the problem of locating a safe shelter at night for the transporters with one sleeping while the other guards the giraffes.
Woody seems to have an immediate connection with the Girl, probably because he keeps onions in his pocket which the giraffes cannot resist. But Woody's past is only a police report away. The Zoo transporter has a secret he would rather not be known, and the reporter may be on the run from an abusive spouse.
Rutledge will keep you awake while you read of the adventures throughout this novel. But the biggest question is will they all survive?
— Review by Lizz Taylor, Poor Richard's Books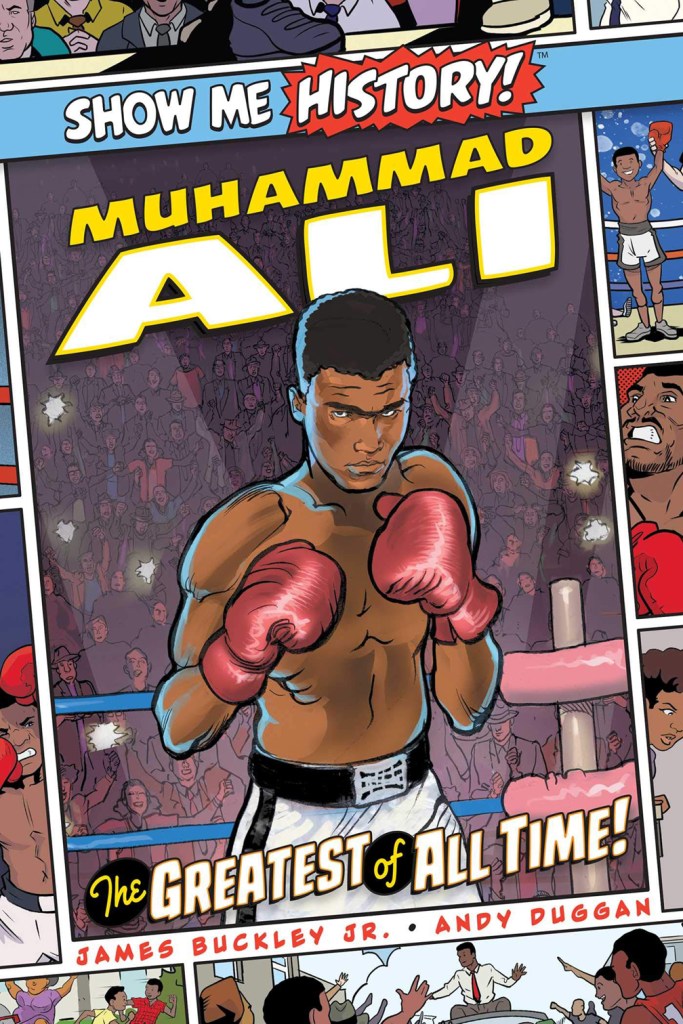 "Muhammad Ali: The Greatest of All Time!" by James Buckley Jr.
James Buckley Jr., a former editor with "Sports Illustrated" has written numerous books for children. In keeping with his biographical interests, he has also written the texts for a new series titled: "Show Me History," where the subject's life is illustrated in a graphic comic-style that appeals to children.
Besides Abraham Lincoln, Alexander Hamilton and Susan B. Anthony the series includes a book dedicated to Muhammad Ali: "The Greatest of All Time!" Born in 1942, in Louisville, and named Cassius Marcellus Clay Jr., his parents called him "Gee Gee." Both he and his brother Rudy were known as the "wrecking crew," for they sometimes went a little too far in organizing the other kids in the neighborhood. When Gee Gee's new red Schwinn bike was stolen, he reported it to an off-duty police officer threatening to beat up the person who stole his bike.
The officer, Joe Martin, introduced Cassius to a boxing gym where he could learn to control and direct his anger.
His first fight was when he was 12 years old, and after winning, Cassius said, "I'm the greatest in the world." But not satisfied, he disciplined himself by running to school in steel-toed boots instead of taking the bus, and drinking raw eggs to build strength. He had ambition and confidence to go after the "Golden Glove" Championship.
Buckley covers all the major wins, as well as defeats, of young Cassius. He also documents Clay's struggle with fairness in the world which led to his defiance of the mandatory army draft, and his becoming a Muslim with the name of Muhammad Ali.
This is a great book for young boys, especially the reluctant reader. When Ali was making a donation to the Kentucky Historical Society my sons joined others to get an autograph. They were so proud that they had met "The Greatest." We talked about the dedication that took, but how Ali also fought outside the ring for what he believed in.
— Review by Lizz Taylor, Poor Richard's Books