Tucked away in northern Franklin County, is Fran Slezak's home, which is straight out of a storybook.
From the road, the front of the house peeks out from beds of wildflowers. The front porch is adorned with intricate wood framework made by her late husband, David Slezak, along with his artwork. Painted wood figurines and stained glass art hangs from the ceiling of the porch inviting guests and setting the scene for what they will see inside.
David, who passed away in March, was an artist with many talents.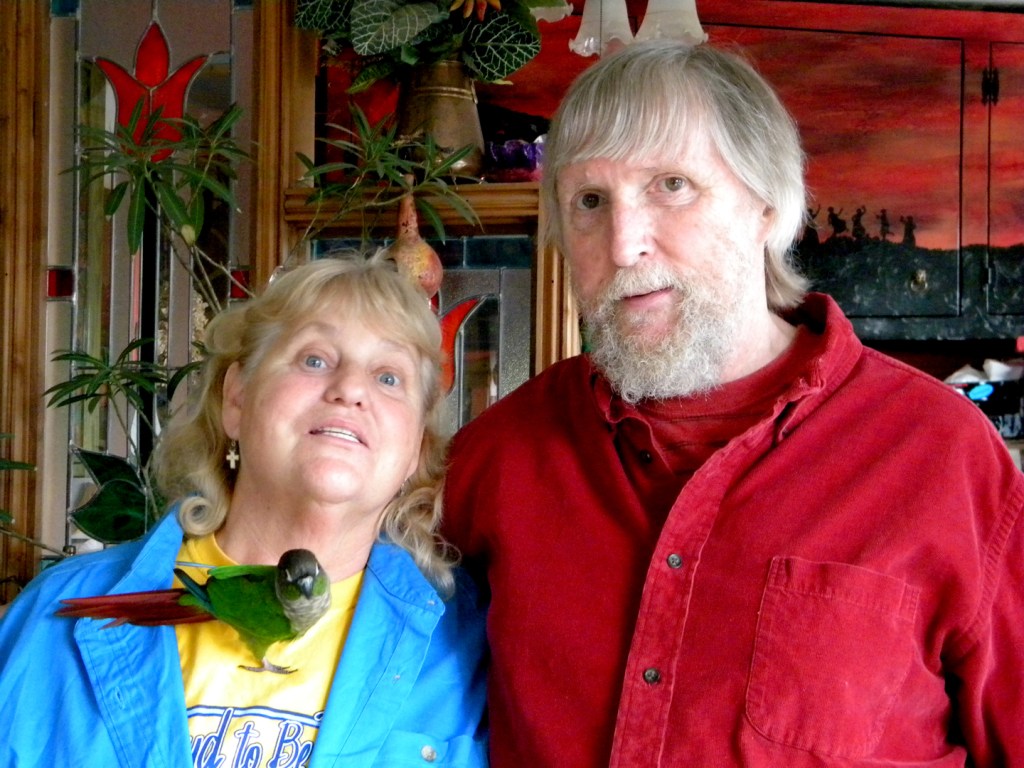 "He did stained glass, he painted on wood, he was a wood worker … he made the kitchen table and chairs, he made all of the frames … he was amazing," Fran said. "I just cleaned up after him and stood in amazement at his vision."
Fran moved into David's home, an 1,100 square-foot brick ranch, 32 years ago after they were married. David lived at the house for 10 years prior to their marriage.
"David didn't do much to the house until I moved in," Fran said.
Fran grew up in the Chicago area, with not a lot of money.
"I was raised really poor and I would go to downtown (Chicago) on Michigan Avenue where I loved to see the Tiffany glass," Fran said. "I always wanted to have stained glass."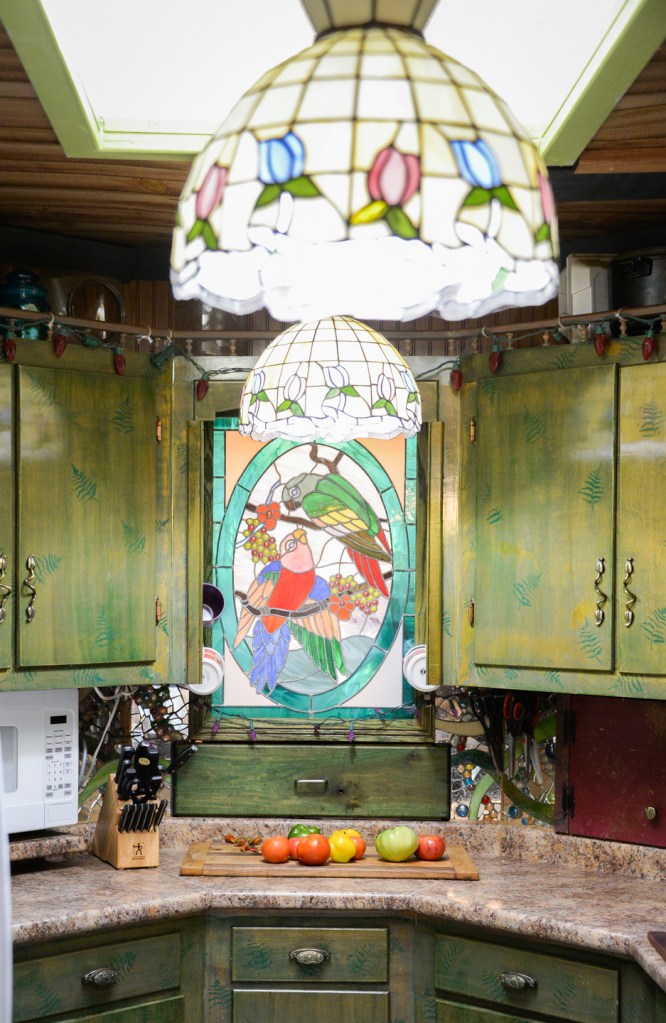 That love of stained glass seemed to resonate with David after Fran purchased two stained glass light shades for the kitchen from Lowes. After that, David decided to create stained glass pieces for their home — and it turned out, he was really good at it.
The front door depicts a scene of a heron in wetlands with cattails swaying in the wind. On the back wall of the kitchen, is a piece with Fran's Amazon conure Ammi with a peach face lovebird that they didn't have yet but later ended up obtaining.
The front of the kitchen cabinets are floral stained glass scenes.
"I came back from visiting my sister and there were the cabinets with my Christmas present inside — four sets of dishes. He loved dishes."
The dining room table seats eight and is made of solid walnut along with the accompanying chairs.
"We live like rich people but we are not," Fran said. "We didn't have money for hard wood."
She said David received the wood from a man they went to Camp Pleasant Church with.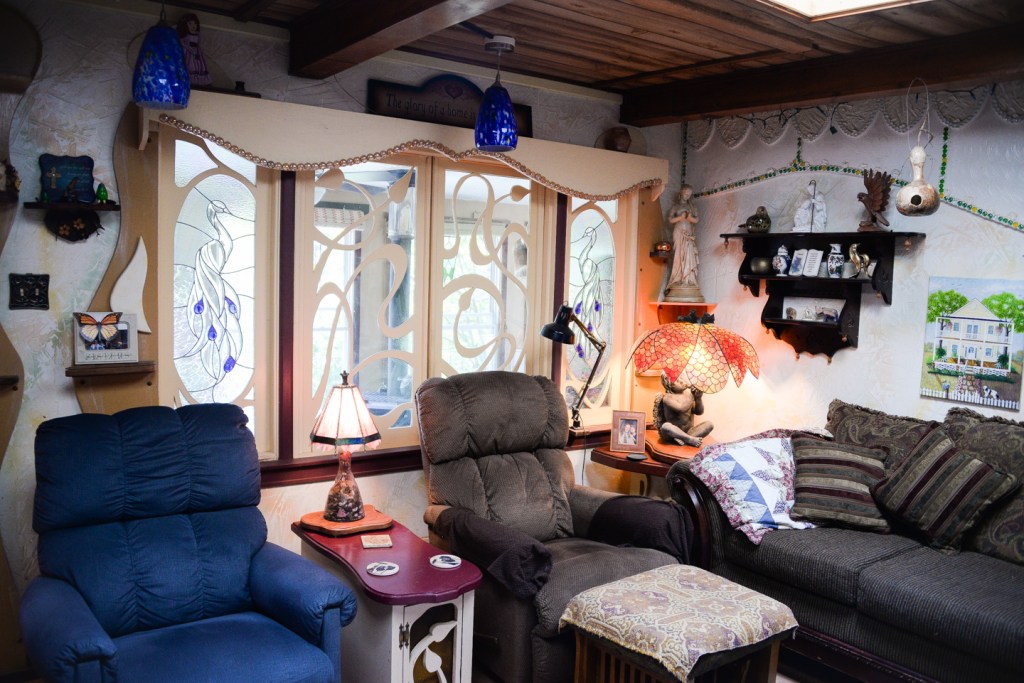 "His father had a barn filled with old walnut wood. He told David if he would build a communion table and Deacon benches, then he would give him the rest of the wood."
So that's what he did. He had wood left over to also build side tables and shelves. One shelf has floral cutouts.
"He did such intricate work," Fran said.
In the living room, is a large picture window that also depicts a water scene with a pair of herons. When you look up, there are two skylights with floral stained glass images.
Around every door frame and window frame in the home, is a wave like frame that adds to that storybook feel of the home. With it being a small home, David made use of the space by building cabinets and drawers that are built into the walls.
Fran's favorite room in the home is an all-seasons room that David built on to the back side of the house. The back wall of the room is windows which look out over their 15 acres. Hanging in the windows are more of David's stained glass pieces, including Fran's favorite piece that depicts a city landscape with a moon.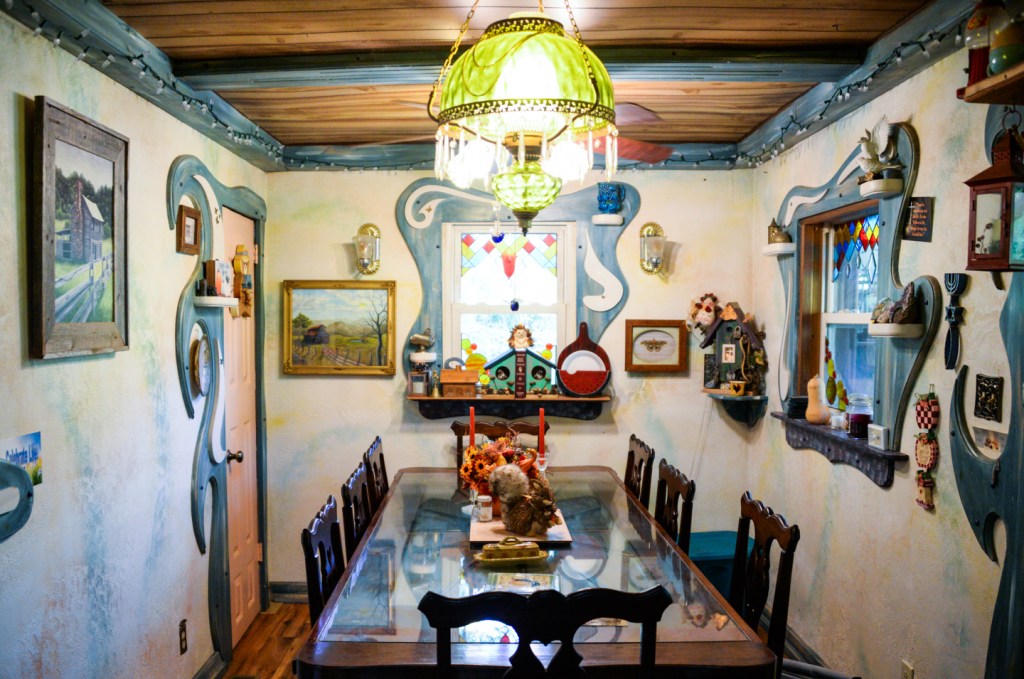 On the porch is a daybed where Fran mainly sleeps. She's comfortable there, where she can open the windows on a summer night or build a fire in the woodstove on cooler nights.
Ammi, Fran's Amazon conure, also has his cage on the porch.
The house is also decorated with artwork from their friends.
"When you're an artist, you have artist friends," Fran said.
There are also several stained glass lampshades that David made. The shades sit over small statues on wood side tables David made to hold them.
Fran's favorite lampshade depicts the sun and a river. The base of the lamp is made out of a hollow log he found on their property, which he made into a hobbit house.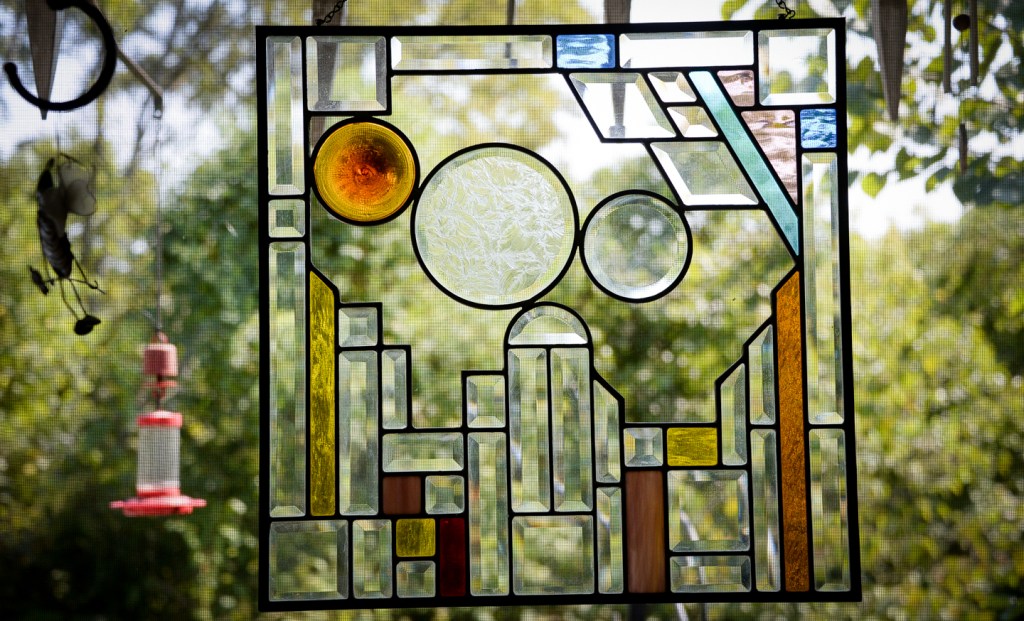 Fran said before David passed, she was able to learn the process of creating stained glass art and has lots of materials in the basement of the home.
"I've thought about getting a group of people together to do it," she said.
Fran enjoys doing stained glass and painting, but her real love is outdoors where she developed landscaping that has something beautiful to offer all through the growing season.
"I did the landscaping. I have seven different varieties of viburnums, rose of sharon, and more," Fran said. She planted bushes and flowers that bloom throughout the growing season to offer food for birds.
The most meaningful plant in her yard, however, is a serviceberry tree that David's ashes are planted under.
"The story of the serviceberry tree is an Appalachian story," Fran said. "When the ground thawed enough to bury people and have a funeral service, that's when the tree bloomed, which meant it was ok to have a funeral service."
Although David is gone, he still lives on not only through the growing serviceberry tree, but also through his art that tells the story of the house that Fran will continue to call home.
"I like the quiet," Fran said, "and the birds, the wildlife like the deer and the turkeys that come to eat acorns … I love the flowers."