By Anna Latek
Sometimes it can be hard to blaze your own trail, particularly when you come from a family with a huge reputation. And even more so if that reputation stems from the world of Kentucky politics.
But, Jacqueline Coleman has done just that.
Coleman is the first woman ever elected to the office of Lieutenant Governor in Kentucky (Crit Luallen held the post as an appointment from former Gov. Steve Beshear after Jerry Abramson left the post to take a job in the Obama administration), and brings to the office the tenacity, honesty and humanity that can only come from a career in education.
Her father, Jack Coleman, served as the Kentucky House representative for the 55th district from 1991 to 2004.
"When I was growing up, everyone always asked me 'Are you Jack's daughter?' Now, they ask him 'Are you Jacqueline's dad?'" she said.
The proud teacher, wife, mom and politician is certainly blazing trails for women in Kentucky, and she sat down with FRANK. magazine for Women's History Month to talk about life, family and the legacy she hopes she can leave for Kentucky's women in the years to come.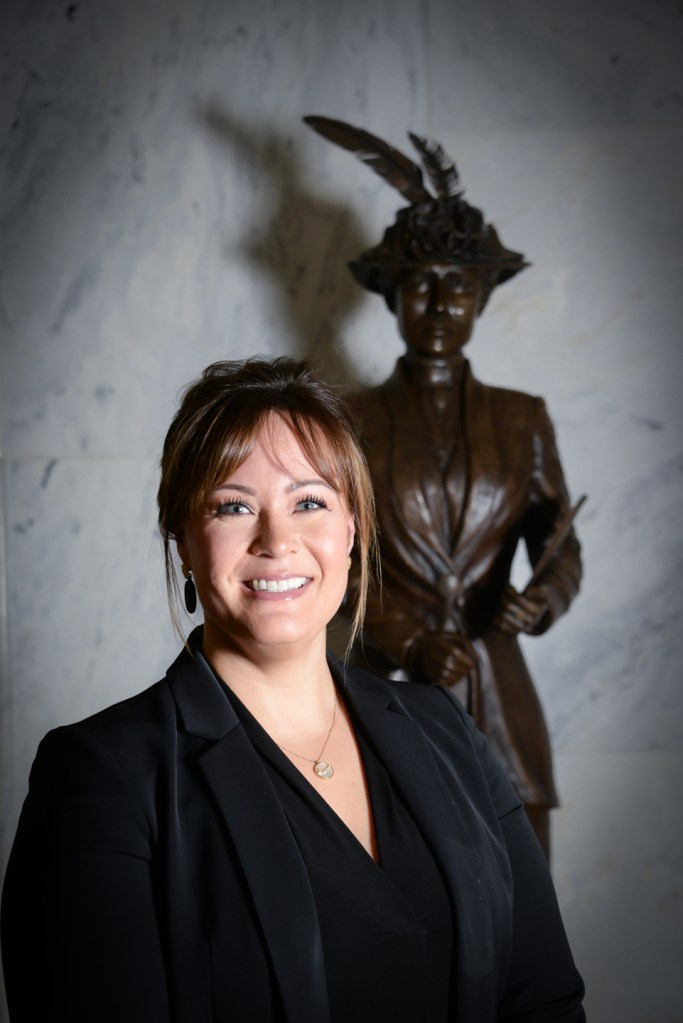 FRANK.: Let's start with the basics, for those who might not know a lot about you. What is your background? Where did you grow up? Tell us about your family. What did you do before you became Lieutenant Governor?
Coleman: I am from Burgin, which isn't too far from here. But it is such a small town that it seems very few people have heard of it. And I actually was back living in Mercer County when (Gov. Andy Beshear) called and asked me to run with him. So, I've been in rural Kentucky my whole life. I went to Centre College in Danville, where I played basketball. I was very fortunate to be a student athlete at the next level.
I went on to grad school at the University of Louisville to study political science, where I was a graduate assistant on the women's basketball team. I got to do a lot of traveling throughout the ACC, and that was really neat for me to experience, having been a basketball player.
Then, I went into high school teaching, and that's where I've spent all of my career — in the classroom. I taught primarily high school government, and some dual-credit classes as well, which was a lot of fun for me. I taught at Burgin Independent — that's where I started my career, which was pretty fitting. I spent the bulk of my career at East Jessamine High School, just outside of Lexington. That's where I met my husband (Chris), we got married, and I acquired two stepsons. Eventually, I met Emma, who played for me, and Chris and I adopted her. So, I really kind of built and expanded my family while I was at East Jessamine.Then, I decided I wanted to go into administration, so I became an assistant principal in Nelson County.
In between those two positions, I ran for office. I ran for state representative. And, I think it is really important for young women to hear about the ups and the downs, and I want them to know that I ran my first race and lost. I think it's a really important lesson for young women to learn. I know when I saw Martha Layne Collins and Crit Luallen I thought "well, they've always been in that position and they've never had anything go wrong." And, that is never the case, so I want to be very clear about losing my first race.
But, I ran such a strong race in a very difficult area (the 55th district, once Coleman's father's seat) that it got the attention of then-Attorney General Andy Beshear, who asked me to run with him when I was an assistant principal. This was during the pension battle that we were all fighting together. And, while the first run was probably not the right time and situation, this seemed like it was. We went to battle and we ran as hard as we could for two years, and here we are. Against all odds, winning by one and a half votes per precinct across the state.
FRANK.: Who do you consider your biggest political heroes? I know you mentioned Gov. Collins and Lt. Gov. Luallen. Is there anyone else locally or nationally that folks might not have heard of who has been an inspiration? And how about educators you've had?
Coleman: Oh, so many teachers that I've had have been inspiring to me because they believed in me. I think that's really important to a young girl to feel — that when an older woman that you look up to tells you "you can do this" or "you can try this" — that really changes your perspective of yourself. I remember Virginia Robertson, she was my second grade teacher at Burgin. She was so creative and everyone loved her. I also had an intermediate science teacher that I really liked, which is hilarious because I am not good at science.
I will say, when I was teaching, the best compliment I ever got was when a kid came in my classroom and said "Ms. Coleman, I really hate social studies, but I really like your class." And I was like (makes a "dusting off hands" motion), "Done. This is great."
It's those opportunities you have as a teacher to really inspire kids and make them believe in themselves. But also in my professional career, every time I took one more step forward it was because there was a woman around me who said "Hey, have you ever thought about getting your doctorate?" or "Have you ever thought about becoming an administrator?" No, I hadn't. But when they plant that seed, you really start to think about how you could be better.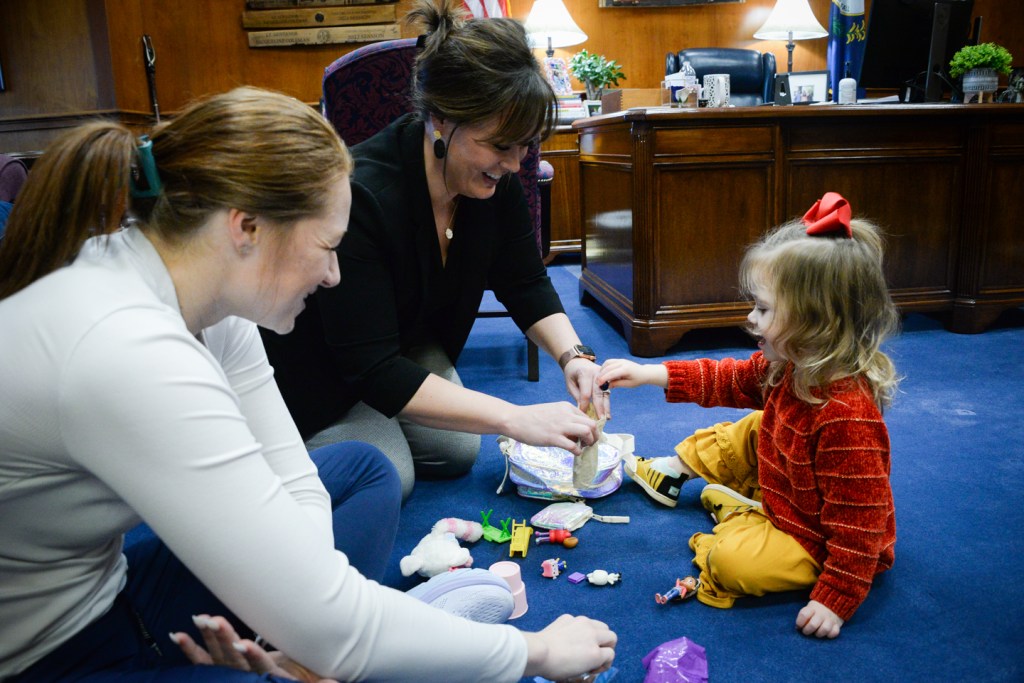 Of course, look at Martha Layne Collins. She is the first, and she was the one who really blazed the trail — Sen. Georgia Davis Powers. So many women across Kentucky. Sannie Overly was the first woman in leadership, and then Joni Jenkins was the first woman to lead a caucus … and that was all in my lifetime. We have made a lot of progress, and I would like to see more, obviously. But I have been privileged to get to know these women, and in some cases even be mentored by them.
As a Centre graduate and as someone who occupies this office, of course Crit Luallen. People try to introduce her and say "she is," and I'll just go "she is the queen." That's how I feel about her. The fact that I can call her and say "I have a question" or "I need your advice," and she'll just say "Come on over!" That just blows my mind — that still to this day that this is an opportunity that I have. There are just so many strong women across Kentucky, and it is an honor to be able to celebrate them, to remember where we came from, and the women who blazed the trail so that I can be sitting here in this office. But also to look back and think about how I can help pull other younger women along and make them understand that they have potential, and they should step out of their comfort zone. Because you never know what can happen. Look at what happened to me.
FRANK.: What do you feel has been your most important "pet project" or something that you have worked on as Lieutenant Governor that you hold near and dear to your heart, and you want to carry on even outside of this office? Something that you know you want to dedicate your life to working on?
Coleman: Before I became Lieutenant Governor, I actually started a non-profit called Lead Kentucky, and it's kind of lay dormant since the pandemic because we weren't able to do much with it. But long story short, I wanted to really connect with college women and help them to become leaders on their campus — if they're a leader on their campus, they are more likely to be a leader in their professional life. It was literally an idea I had one day. I had no idea how to start a 501c3 — I'm a teacher. I don't do any of that stuff. So I had to learn all of it and ask for help along the way.
Really, honoring the women who came before and continuing the path for younger women is really important to me. Something that really caught my attention when we came into office was the Kentucky Commission on Women. It was started in 1970, because there was a need to study the economic stature of women — what are the challenges and barriers that exist? If you can do that study and put that information out there, it helps both the public and private sector have the tools to address those challenges. It also, quite frankly, gives women a leg to stand on. To say "this is not just me and my opinion. Look at the data." I felt that was really important.
In 2008, (former) Gov. Steve Beshear — we like to call him "1.0" — actually valued that so much that he brought the office into the Capitol. I think that really says a lot about raising the value of that commission and the work that they do, and quite frankly the women of Kentucky. Unfortunately, during the last administration, the budget was zero-ed out, nothing was done with it — it was like it was on a shelf and didn't exist. And that bothered me. We haven't "arrived." We still have pay equity issues, we have access issues, we still have healthcare issues. There's all kinds of things out there that mean we still have a lot of work to do.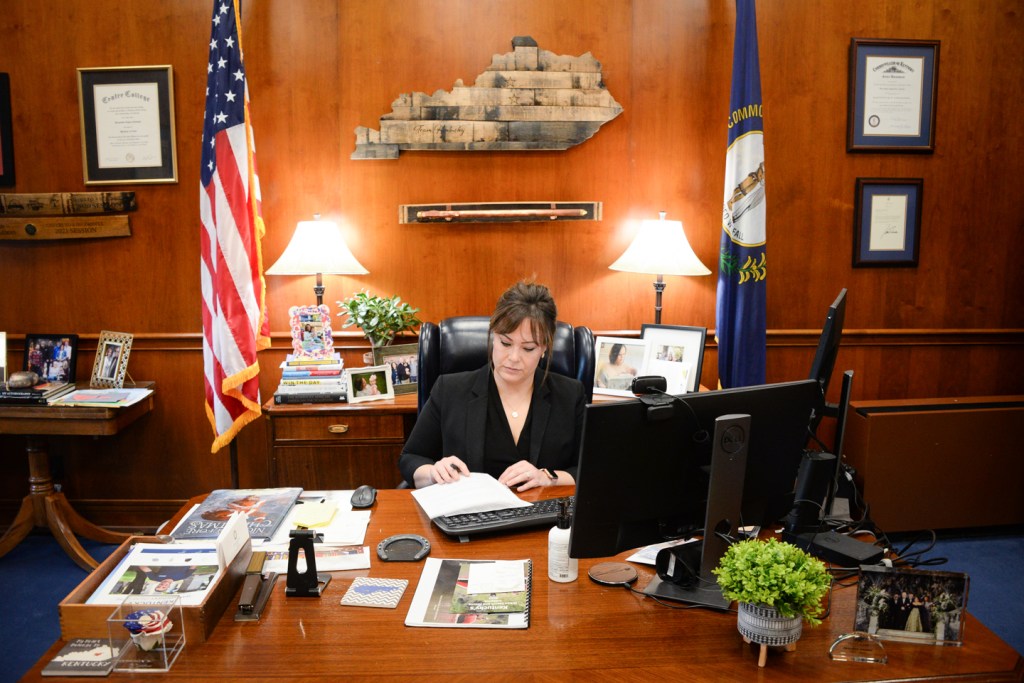 This office basically offered to bring it back to life, totally on a volunteer basis. We don't have anyone who is paid to operate the Commission on Women. That group of women, including our new appointees, are operating out of this office. I get to serve as a statutory member, and it is really neat to get to know all of these women across the state. And we are just now resuscitating it. Our goal is to be a "convener" — to be the group that provides the information that can guide us forward. So all of that is really getting jump-started right now, because we have a lot of really neat things planned for March.
The Student Mental Health Initiative is something that we have really focused on in this office, as well. It just so happens that with our makeup in this office we have the perfect combination of education, policy, social work and things like that which really brought this together. I have to say that our work with the Student Mental Health Initiative has actually started to get some momentum nationally as a model, so we continue to hear from the federal government — they basically want us to do a roadshow. And the reason why is that we put students at the center. The students design the action summits, they created the questions, they led the conversations, they dove into the data. And they are the ones that created the recommendations that we then shared with various agencies and the legislature. It is totally student-led, student-centered work around mental health, and making sure that we uplift those student voices. That is the work to me. That we listen to those students, and that we focus on the whole child. Math and reading are important, but if you aren't in a good headspace, or you have major family issues going on at home, math and reading couldn't be less important to you.
Those two are probably the ones that dominate the work that we do here, and I am very proud of it. I am also proud to work with a governor that trusts me to do that. To take on those big initiatives and that work and to bring it to life. He doesn't ask any questions, he says "go do it. This is your thing." And that partnership is why we have had so much success in these initiatives, as well.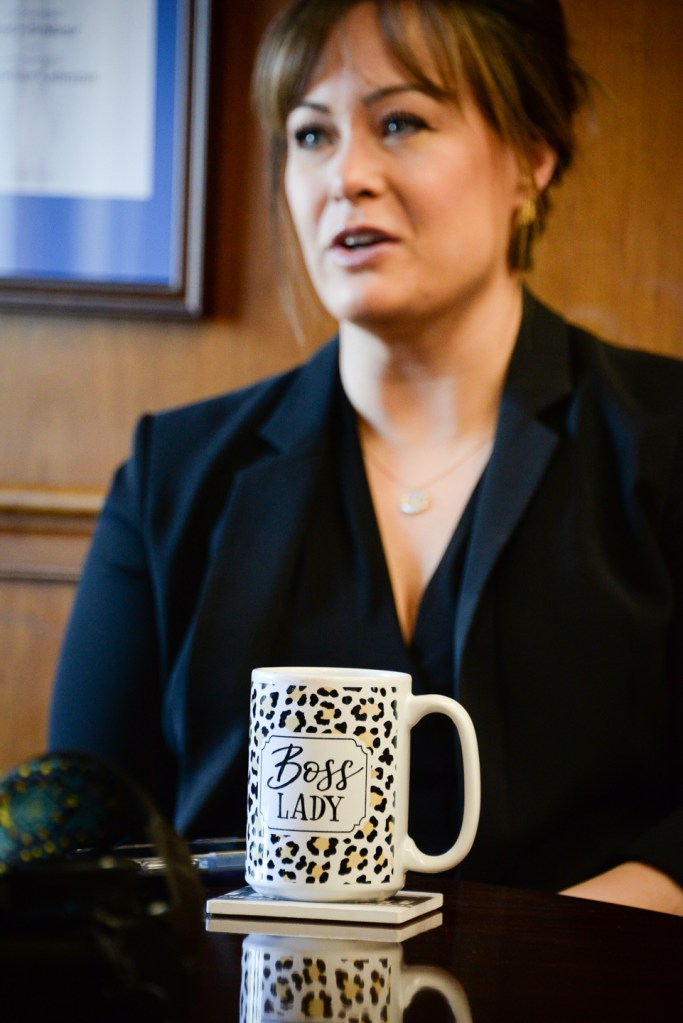 FRANK.: What do you feel is the most important legacy you want to leave? What is it that you want to have tied to your name?
Coleman: Well, I am the highest-elected woman to ever give birth while in office, and I think that is something that will certainly follow me. But I think that what I've also tried to do is make this work relatable. Evelyn will come to work with me sometimes, and it's not always planned. Sometimes we just have to make things work, and I'll have her at events with me sometimes.
I try to get her out so that other women can see not only that I can do it, but also that I struggle with it too. I mean, you can't control a 3 year old — and I've learned that the hard way. But just to make sure that people know that this is not out of reach. I go pick her up at preschool just like other folks do. I go to Kroger. This is very relatable, personal work. It can't be relatable and personal if you're not including your family, or if people don't see you doing everything that they do, and struggling with the same things they struggle with.
I think that making this attainable, and making this work important but centering it around not being perfect — because nothing is. We just take our stumbles and when Evelyn decides to squirm out of my arms at an event, I am like "Well, let's hope for the best!" One day I took her to a speech in Richmond, and sat her beside me, and I gave her a little thing of blueberries. She was maybe one and a half. She was sitting there eating them, and as I was wrapping up my speech I noticed she was eating the last blueberry. So I said, "Well, we're out of blueberries, so thank you!" People can relate to that, and I think that makes things seem a little more accessible, which I think is helpful.