As rich as Marjorie Duncan Doneghy Willis's blood is with paint, it also runs rich with history.
Marjorie was born and raised in Frankfort, daughter of Molly and James Monroe Doneghy, who worked at the Governor's Mansion. Molly served as a cook, while James was a driver for the governor.
Marjorie spent some of her childhood on the grounds of the Governor's Mansion.
"I remember looking through the window from the kitchen into the governor's dining room," she said. "I remember how the table was set fancy." Marjorie's father also worked as a server during formal dinners.
Her mother started as a cook for former Gov. A.B. "Happy" Chandler. She also worked for former Gov. Edward T. "Ned" Breathitt.
In a State Journal edition of Main Street published in December 1985, Molly said, "Out of the blue one day, Gov. Breathitt joined us at the cooks' table down in the kitchen to eat lunch. 'Ladies,' he said as he filled his plate with lunch, 'I'm not particularly fond of party food. So, when you're fixing for me, just fix good old-fashioned home cooking.'"
The article went on to say that Molly and her husband were familiar faces to those who entertained in Frankfort, often preparing or serving or doing both for parties.
"We took pride in our work and we enjoyed it. We especially liked being needed. It was nice to know people wanted us," Molly said.
Molly died later in the 1980s after the publication of the article. Marjorie's father died when she was 19 years old.
Also as a child, Marjorie remembers spending a lot of time on the floor painting.
"I started painting and drawing on the floor when I was very young," she said.
Marjorie went to Mayo-Underwood School for grade school and graduated from Frankfort High School.
"I had to walk all the way to Mayo-Underwood from Third Street," she said. She grew up at 317 E. Third St. "Some days we got to ride the city bus."
In high school, Marjorie admits that she didn't do well on her schoolwork, but she credits her art teacher for helping her stay focused.
"She always told me I was doing good work, and that pushed me," she said. "I wasn't doing too good in my school work. I was a left headed thinker. Art was in my head all of my life — not school or curriculum."
Growing up, Marjorie said she didn't experience too much prejudice.
"I never really had prejudice thrown on me too tough. I heard of stuff," she said.
She does vividly remember Jim Crow laws. She recalled going to the Grand Theatre downtown with her father.
"We had to sit upstairs at the Grand Theatre growing up," she said. "At the time, I didn't know that's why we had to sit upstairs. My dad took me to see cowboy movies all of the time."
On March 5, 1964, Dr. Martin Luther King Jr. marched with civil rights activist in the March on Frankfort. Marjorie and many of her school mates were in attendance.
"A lot of us had to spend a week after school for attending the March on Frankfort," Marjorie said. "Some didn't."
Though Marjorie didn't experience much prejudice, the same can't be said for other members of her family. Her grandfather, Edward Doneghy, was killed Nov. 4, 1930, when he went to vote for the first time.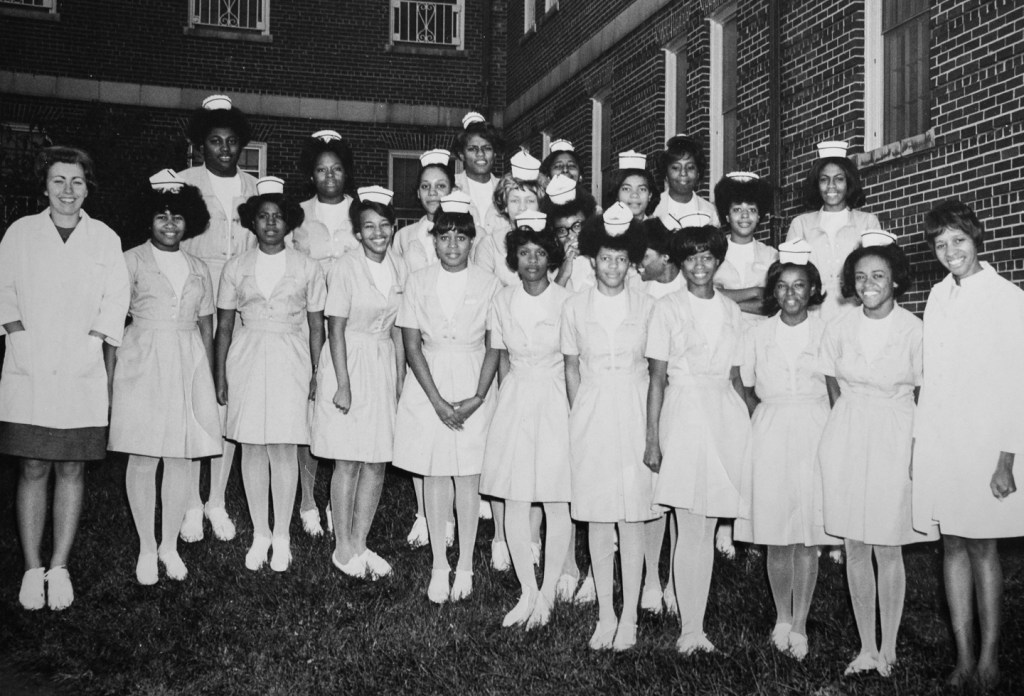 In an Aug. 24, 2008, edition of the Sunday Plain Dealer, a publication in Cleveland, Ohio, Rev. Marvin McMickle, a cousin to Marjorie, tells the story of Marjorie's grandfather who was killed after he walked into a polling location in Danville.
"Doneghy, a Republican like most Blacks at the time, was rebuffed by a white election official, Democrat Joe Hayden," the article states. "It would be another 35 years before Congress would pass the Voting Rights Act, which strengthened the right of Blacks to vote. It is considered the most significant piece of civil rights legislation to date.
"But it would come too late for Doneghy. As he protested, Hayden brandished a pistol and fired four times, killing him. Hayden was arrested and claimed self-defense. Released on bond the same day, he returned to the polling location.
"Little more is known about the incident or Doneghy, described in a couple of newspaper clippings. Doneghy's death certificate lists the cause of death as 'pistol shots — homicidal.'"
Marjorie's grandfather was killed, but his four sons carried on his legacy. Marjorie's father went on to work for the governor and another one of Marjorie's uncle's, Dudley Doneghy, went on to become an athletic trainer at Centre College. Dudley also served in the military during WWI. Marjorie has his military gun in a memory box at her home.
Marjorie also went on to chase her dreams of being an artist, after she first did a short stint at Kentucky State University's nursing school after graduating from FHS.
After nursing school, she attended the John Herron School of Arts in Indianapolis, before going to The Art Institute of Chicago. At the institute she concentrated on acrylics. She got work doing posters for the Chicago Police Department and other commission work. She sold lots of art to doctor's offices.
"One of my favorite activities ever was when I was chosen to be one of the judges in the Buckingham Fountain Art Fair in Chicago," Marjorie said.
While going to art school, Marjorie worked as a nurse's aid, a surgical tech or in doctor's offices.
"I worked in the health field for almost 50 years," she said.
In 1984, after her mother got sick, she moved back to Frankfort. She continued to do art while working for disability determinations for the state — a position she held for 25 years.
For her art, she continued to paint and sell. She's also held paint parties for different groups over the years.
"There's no better feeling than to paint with a group of people," she said.
In the spring of 1986, her daughter Jardan was born. Marjorie got her started early with art.
"​​Jardan and I painted together a lot because there were no girls in the neighborhood at that time," she said. "She also rarely played outside with the other kids until she was older."
Like her mother's work, Jardan's work includes bold and bright colors.
"She gets her bold colors from me," Marjorie said. "Jardan likes graphics. Lines have to be perfect — she got that from my daddy. He could see real good. He had magnified vision. She can see a crooked line from a mile away."
Jardan has been very successful since graduating from Frankfort High School in 2004. She attended Florida A&M and got a degree in business and graphic design. She then went to graduate school at Florida State and obtained a degree in integrated marketing communications.
In 2011, she went to work for Delta as a contractor, managing the company's west coast creative communications. In July 2020, she left her job with Delta and went back to her creative roots establishing her studio Wild Sassaby in her mother's childhood home.
She still operates her studio, but now it's out of Atlanta where she lives with her husband and son.
"I'm very proud of her," Marjorie said. "She was in the art fair at Piedmont Park in Atlanta in the summer of 2022."
Marjorie's current favorite technique is pour painting.
"There are multiple ways to pour paint — there are 12-15 techniques," she said. "I choose whatever way I feel like doing at the moment."
She then pours the paint onto a canvas and pushes it.
"They turn out to be abstracts, but you can't plan it," she said. "You can only choose colors that are compatible to make a pretty piece of art."
Marjorie is thankful that art was introduced into her life as a child.
"Art relaxes me," she said. "It makes my heart sing."
She thinks art should be a part of every child's life.
"Art helps kids think," she said. "They love it in their heart to do art projects. I've seen this in action a few times painting (with children) at The Kings Center."