and Hannah Brown
It's a bit of an understatement to say that Taylor Avenue, now known as River Row, has had quite a makeover. Located at the base of Louisville Hill, buildings that had fallen into disrepair have been restored into a colorful community.
Danny Strong of BrokenFork Design is the "visionary" for the project. "I'm a social entrepreneur by trade," Danny said. "We redevelop properties and also build back aspects that help to re-energize an area. Once we acquired most of the Taylor Avenue properties, we started to build everything out and develop a community."
BrokenFork started the revitalization and reimagining of Taylor Avenue more than a year and a half ago. The company purchased most of the properties on both the hillside and river side of the road.
"It was a large street with a lot of vacancies. It needed help. All of the commercial spaces were vacant except Bud's (Detail Shop) and he was at a point where he was happy to retire," he commented.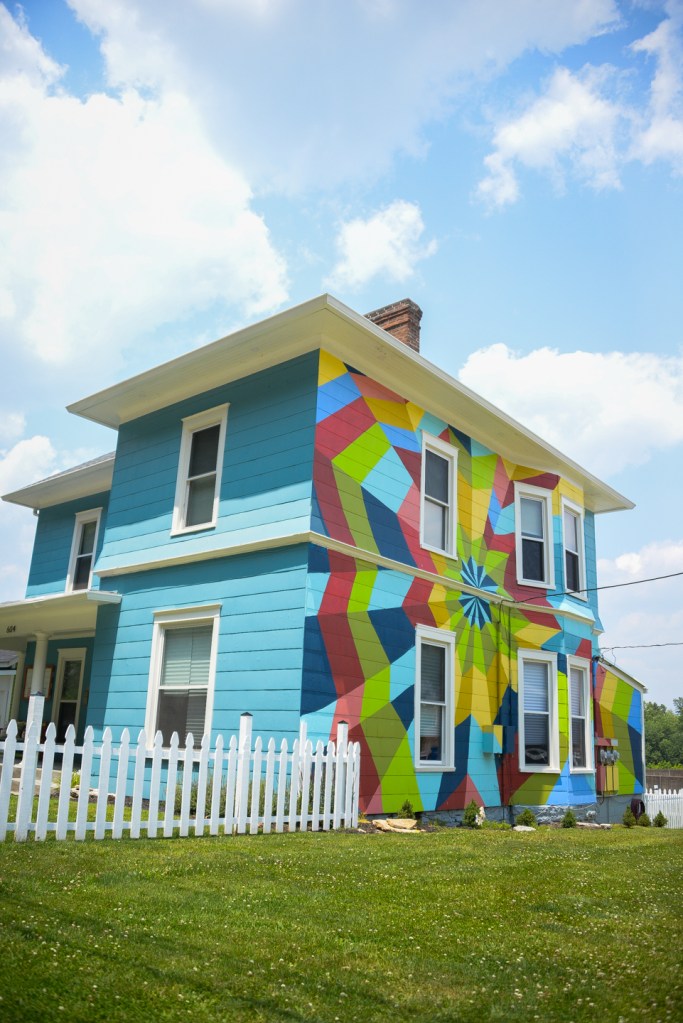 Currently, BrokenFork owns and leases the River Row properties, and offers interesting amenities for those living in the community. "We have added a fire pit with chairs, a kayak launch, compost bins, a community garden space and a dog park," Danny said. While he directs the vision, Danny gives his crew license to be a bit artistic.
"I like to give everyone who works on these projects a lot of creative freedom. This is such a great area of Frankfort and so beautiful. We want it to be a place that Frankfort residents, as well as visitors coming into our city, can enjoy," Danny commented.
"People can use the river launch for kayaks and paddleboards, enjoy a drink at POURters and even hike up to Browns Ferry Road.
"When you're trying to reposition areas, you really want to add some new vibrancy, something of interest that makes it stand out. You're trying to create change," Danny said.
One of the ways BrokenFork is accomplishing this on River Row is simply with paint. "Paint costs the same no matter what color you pick, so you might as well use a fun color!" he remarked.
Eclectic and fun colors are accurate descriptions of River Row. Front and center is a two-story blue home with a geometric pattern painted on the side. Once rebuilt and restored, each home received a creative makeover. That included interesting touches like large metal chickens in the yard of one hillside home, and nearby, a bungalow painted a happy purple with just a hint of glitter.
"You can always add glitter, right?" Danny commented, smiling. (An author's note: It's hard not to smile when walking or driving on River Row.)
BrokenFork has partnered with several businesses and organizations to make River Row more than just a colorful residential area. With its proximity and access to the Kentucky River, downtown and South Frankfort, the hope is that it will become a gathering place where people can enjoy a day of kayaking, hiking and relaxing with friends. Below, are some of the businesses and groups involved with River Row: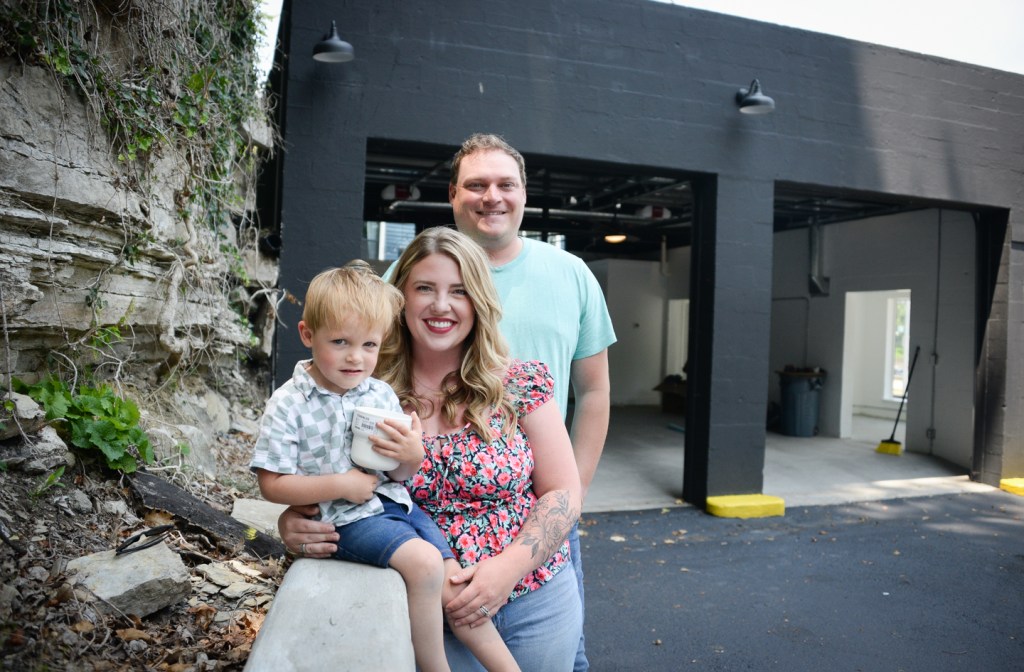 POURters
A self-serve tap house located at 601 Taylor Ave., POURters is one of only three establishments of its kind in Kentucky. Owners Jonathan and Tiffany Seppenfield are excited to offer this new concept in hospitality. "It's a great way to discover new beers," Jonathan explained. "You can pour an ounce and then sample which one you like the best. That's nice because you're not paying for a whole beer you may not like. You can come in, load your card and then choose to pour a domestic beer like Miller Lite; or, say, a local beer like Sig Luscher. We'll change the selections every so often."
Wine on draft, as well as coffee and a non-alcoholic beverage option, will always be available. Two patios allow patrons to relax with a beer and "grab and go" types of food — deli sandwiches, pickles, chips, beer cheese.
"We love Frankfort and this location. Our house is only two blocks from this business," Tiffany remarked. "We are happy to be a part of the River Row community. It was obvious that Frankfort needed something on this side of the bridge. Now, people will be able to make a loop and have more places to go in downtown and South Frankfort."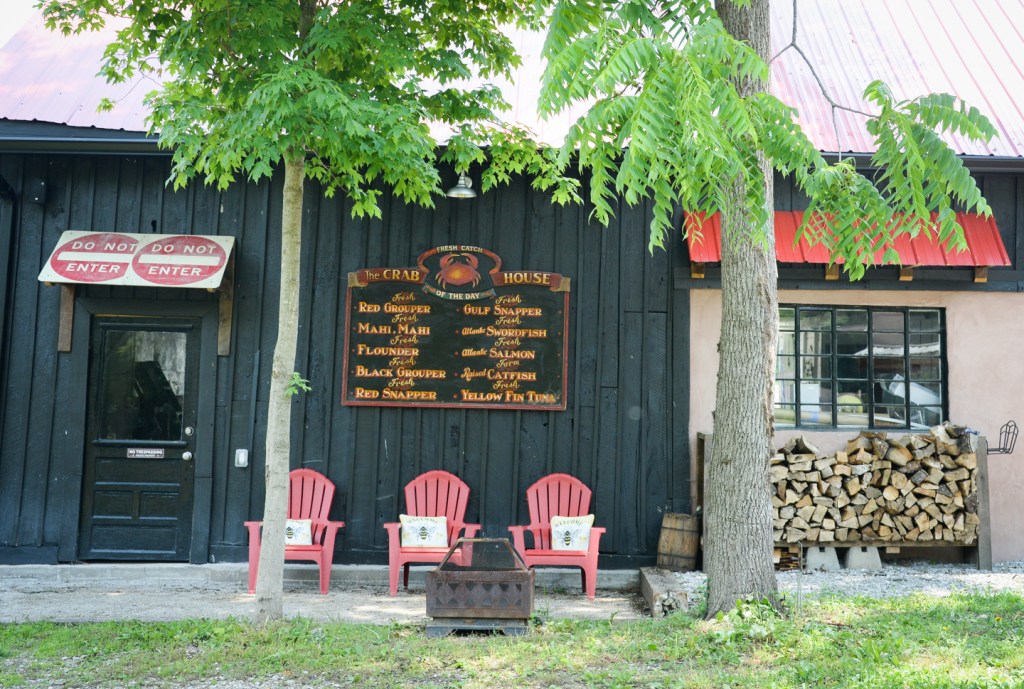 The boathouse
Occupying the boathouse in the River Row District will be Explore Kentucky, which will be working to make stand-up paddleboarding accessible to youth and adults interested in the water activity.
"We will launch a youth stand-up paddleboard program out of the boathouse," Gerry James, founder of Explore Kentucky, said. "The boathouse is probably one of the most important things to me in Frankfort."
Gerry, a Frankfort resident, is an outdoor recreation leader and planner. He said he's always on the Kentucky River paddling on paddleboards and kayaks. He has organized more than 50 paddleboard events around the state and helped the Louisville Boathouse establish a partnership with the City of Louisville, River City Paddle Sports and the Louisville Rowing Club to bring paddle sporting events to the Louisville community.
"The boathouse is important for Frankfort because we didn't have access like this," Gerry said. "It provides equity and inclusion for folks. One gentleman I know was storing his paddleboard in his apartment and hauling it up three flights of stairs. Now, they can store their boats and boards in the boathouse. It also provides a sense of community by providing activities."
Gerry said paddleboarding can help break down barriers.
"We are a river city and we need to embrace the river more," he said. "When I'm out there, especially as a Black man, I don't see many people who look like me on the water. Our community, South Frankfort, is so close to the river. People of color live adjacent to the waterway, but they're not represented by folks who look like them. This space will provide an opportunity for them."
He said the boathouse will also promote public health for the community.
"They can go out on the water and it improves their health," Gerry said. "It makes river access more accessible."
For more information, follow Explore Kentucky on Facebook and visit explorekentucky.us.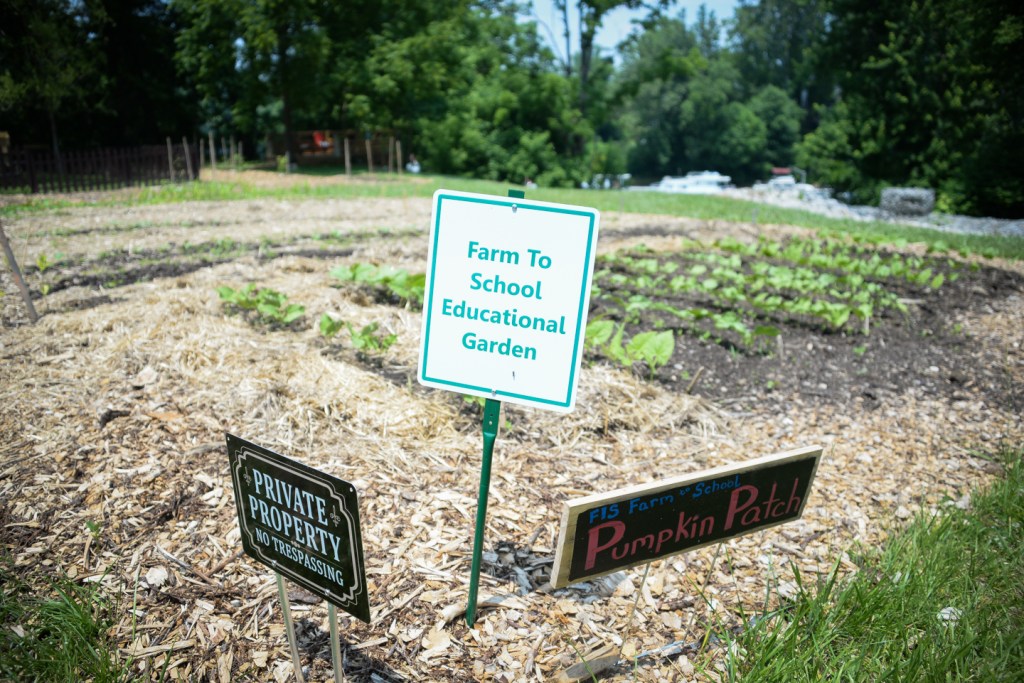 Second Street School garden
Located behind the boathouse in the River Row District is a 20-foot by 59-foot garden being maintained by students from Second Street School. Frankfort Independent Schools Farm to School coordinator Connie Lemley is facilitating the project.
"This is a nice middle zone for Second Street School students," Connie said. "They can walk to the garden during their class period."
Growing in the lot, which is adjacent to the Kentucky River boat dock, are dry beans, pumpkins and sweet potatoes — all fall produce.
"This is a fall garden for the kids," she said. The produce will be used in the SSS cafeteria, for food demonstrations and for "kids to pick and nibble on."
There are also sunflowers and six pawpaw trees donated by Kentucky State University.
The garden will be maintained by SSS Garden Club members and volunteers, which Connie said she's always looking for. If you're interested in volunteering, email her at connie.lemley@frankfort.kyschools.us.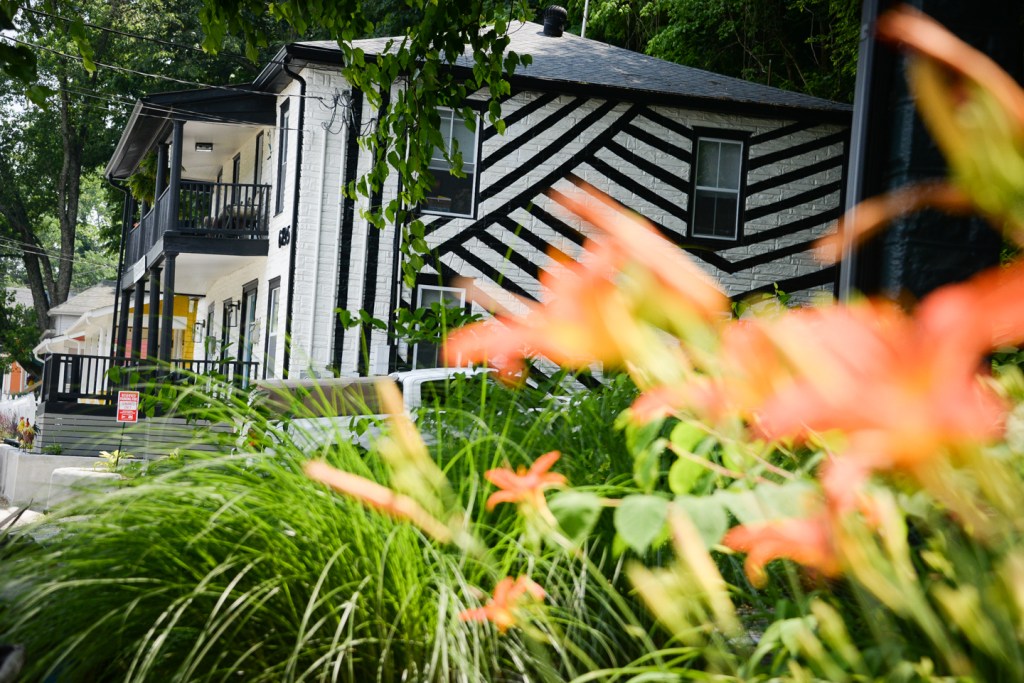 Hiking trail
At the intersection of Louisville Road and Taylor Avenue is a trailhead for a hiking trail being established by Woods and Waters Land Trust. Executive Director Heather Housman said BrokenFork donated a parcel of forested land to the land trust. A staircase leading to the trailhead is being built. It is slated to open in late fall.
"(The land) will be protected forever," Heather said.
The trail will lead up to Browns Ferry Road and then to Juniper Hill Park.
"It's another space to be used to get the community out and into nature," Heather said. "It's close to schools, making it accessible for school kids to use the forest.
"It's a neat forest. Every time you flip a rock, there are salamanders. It's a magical spot."
She also said there's a great view of the Capitol from the trail when the leaves aren't on the trees.
"It's a great way to connect people from South Frankfort to Juniper Hill Park," Heather said. "It will add to the existing network of trails in town. We will have more urban hiking places."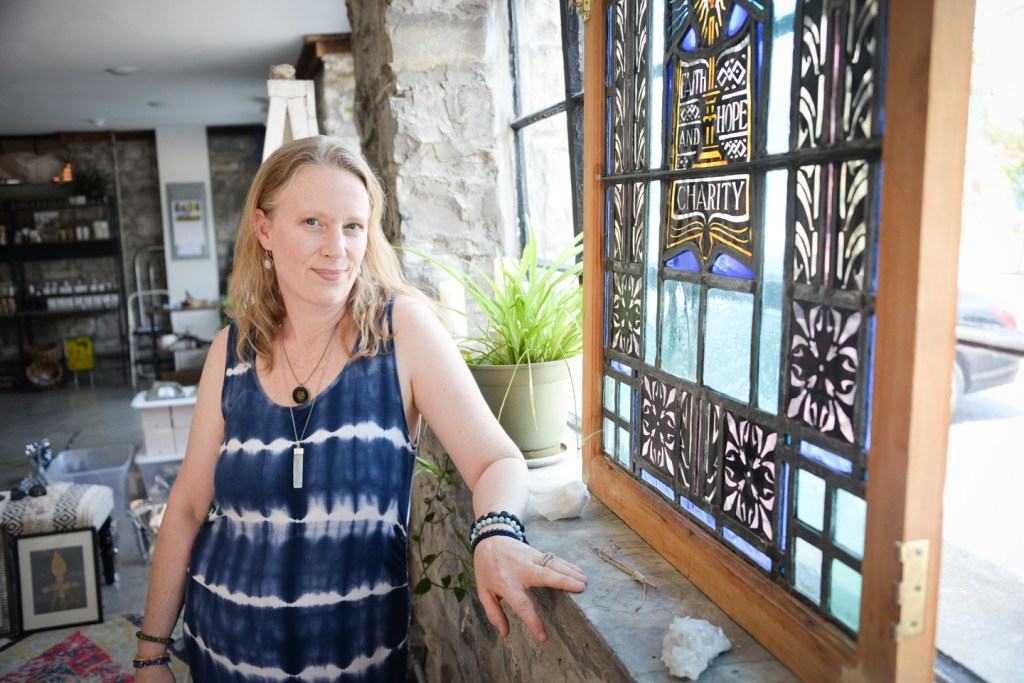 Earth Alchemy
Located at 603 Taylor Ave., in an old auto mechanic garage, is Earth Alchemy owned by Sarah and Greg Begin.
"Everything we offer is earth-based — from plants to jewelry, body care, oils," Sarah said. "It's all-natural and organic."
Sarah said she believes in integrating holistic health with Western medicine.
According to the Earth Alchemy Facebook page, the business offers classes, special events, apothecaries, oils, nature art, massages by Shelley Runkle, crystal energy work and meditative art. Sarah also sells tea blends, infused local honey, and natural products for pets, including Doggie Anxiety Spray.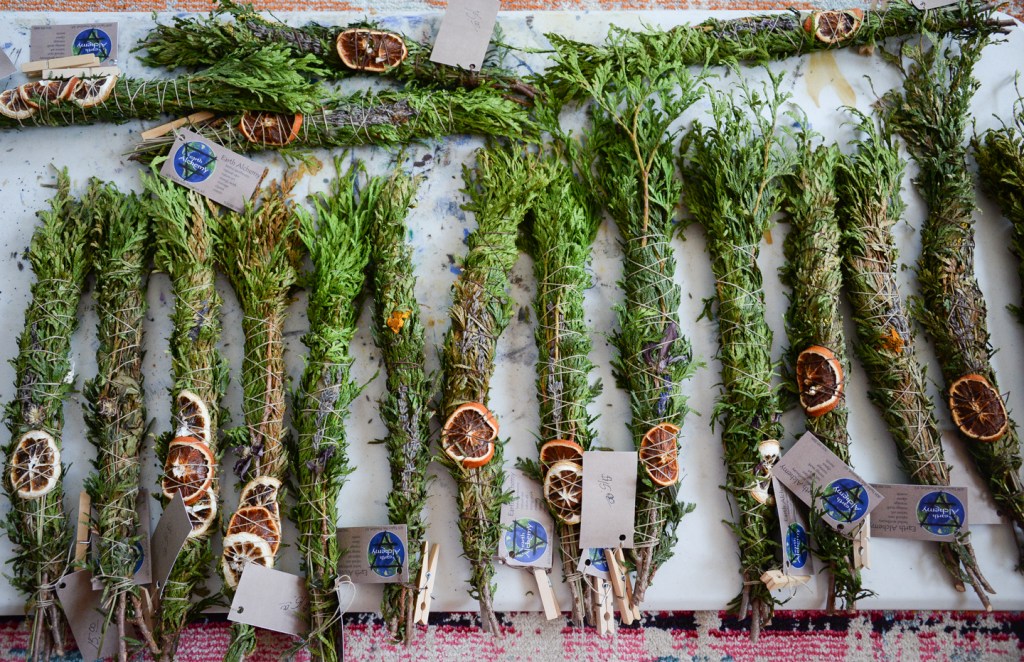 Greg teaches art classes in the space as well. In early July, he offered a class where participants painted the Tree of Life. He plans to offer classes monthly. She plans to offer yoga laughter and Reiki classes as well.
"Different teachers will come in for different modalities," Sarah said.
"This is my passion and calling in my midlife crisis," she said. "I'm finding a way to take what I've done for my myself and my family — health-wise — and teach it to other people."
The store is open 11 a.m.-6 p.m. Tuesday-Saturday. For more information, follow Earth Alchemy on Facebook or email Sarah at Sbwingate@yahoo.com.
Danny, the residents and the new business owners on River Row believe that the impact on the community is so much greater than the investment and they are enjoying the excitement the revitalized area is creating.