The food and drink at Limewater Bistro & Bar is stellar. Partners in business and life, Isabelle Hay and Axl Wheeler have created menu fare which is presented to diners in a gracious and pleasing way.
Limewater is more than just a place to eat. It's an experience. That experience begins with the illustrious legacy of the Glen Willis home, and now continues with Axl and Isabelle as they build their own story by opening an upscale eating establishment in the 200-year-old house.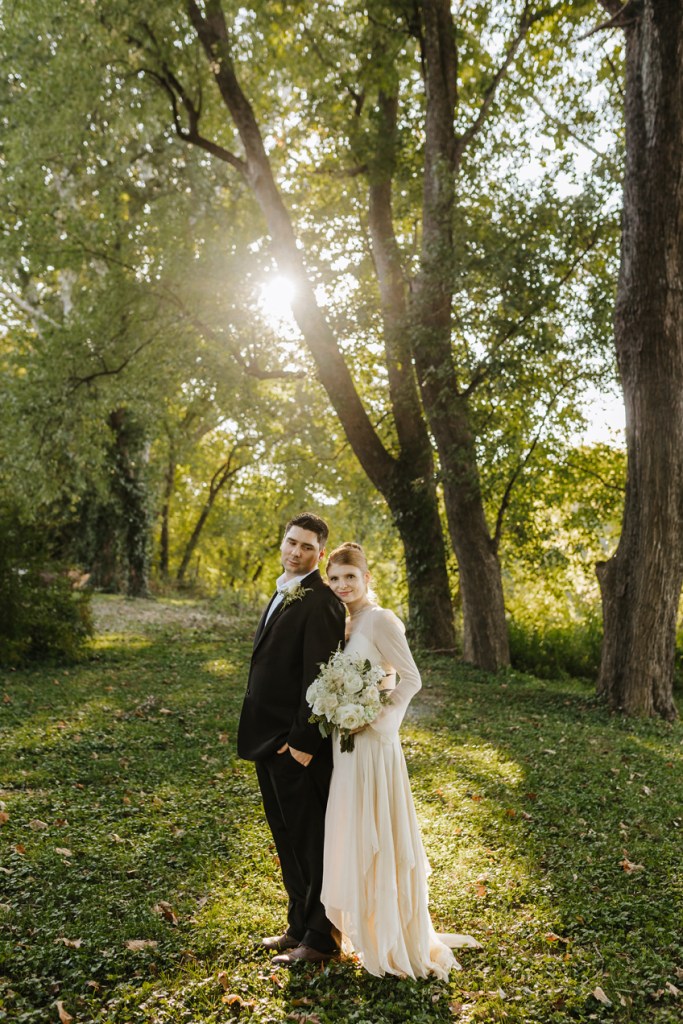 If these walls could talk
What stories could the walls of Limewater Bistro & Bar, located in the historic Glen Willis House at 900 Wilkinson Blvd., tell its diners? Originally built in 1815 on the site of Leestown Fort — during the last two centuries — Glen Willis has been home to decorated soldiers, widely traveled merchants, colorful politicians, avid historians and most recently, a restaurant.
Limewater Bistro at the Glen Willis beckons visitors to enjoy drinks on its porch overlooking the lawn running down to the Kentucky River. With a little imagination, it's easy to picture a riverboat docked at the water's edge that traveled up the Mississippi, the Ohio and finally, the Kentucky River laden with valuable goods from points far away. Kentucky's "Merchant Prince," Henry Harrison Murray, whose family owned Glen Willis from 1841 into the 1970s, most certainly entertained many interesting guests from those boats and the state capital.
Before the Murray family, Revolutionary soldier, historian and politician Humphrey Marshall lived in the home. A Kentucky legislator and U.S. Senator, Marshall is said to have dueled Henry Clay over a political disagreement. Neither statesman was seriously injured in the duel but the conversation around the dinner table after that conflict had to be quite lively.
Choosing Frankfort
How do you get from Massachusetts and New York — to Frankfort, Kentucky? Isabelle's hometown is the historic, seaside town of Nantucket and Axl is from Rochester, New York.
"I have lots of relatives here. My dad, Robert, grew up in Louisville, and a lot of our family is in Frankfort," Isabelle explained.
Isabelle also has famous ancestors from the area. "Col. Taylor of E. H. Taylor bourbon fame is my great-great-great-great-grandfather. I think I got the right number of 'greats' in there," she said smiling. "Frankfort is such a beautiful, historic town … and is such a great community. I see a similarity between Frankfort and the Nantucket I grew up in — interesting people, creative people and, of course, the history."
Both Axl and Isabelle agree that this is a passion to them. "We've been working in restaurants our whole lives and Limewater is giving us an incredible opportunity to have our own business," Axl said. "We've been talking about opening our own place for five or six years, so it's a bit surreal that we have made it happen. We feel very grateful because it wouldn't be what it is without all of the help we have had from our families and the people of this community," Isabelle commented.
The atmosphere
Isabelle and Axl's primary goal for customers coming to Limewater Bistro & Bar is to provide a pleasant, interesting dining experience. The interior of the restaurant creates a feeling of updated elegance — it makes one feel that great care has been taken in designing the spaces and providing a special ambiance for customers.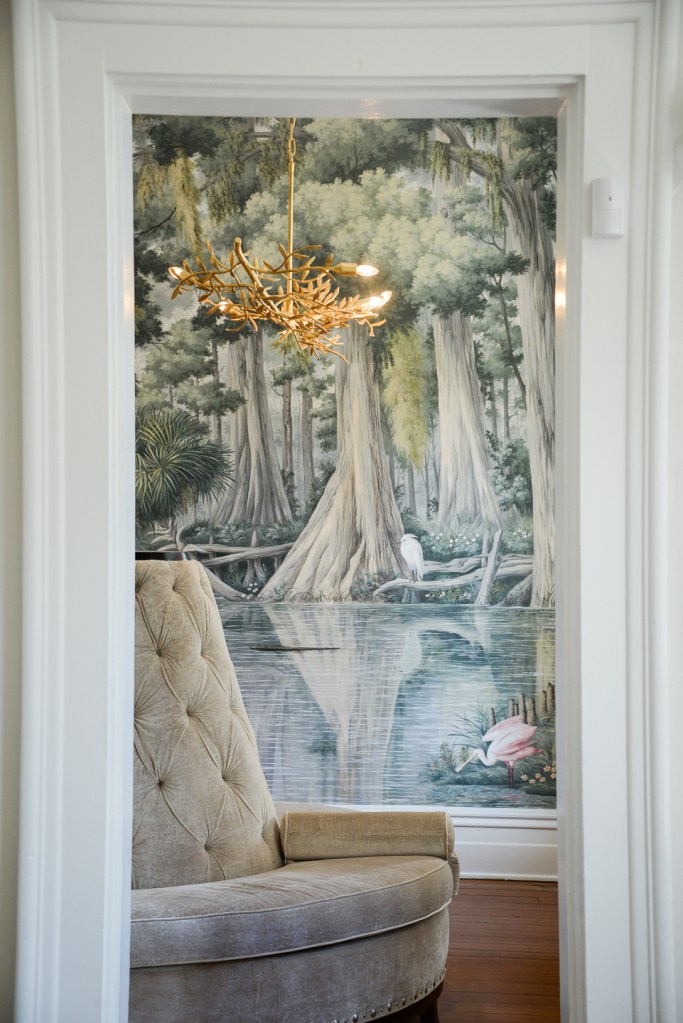 A sweeping mural called "Southern River" fills the foyer with light provided by a fabulous, unique chandelier. The main dining area is welcoming with white-clothed tables aglow, each with it's own small lamp. Art pieces, most painted by Isabelle's talented sister, artist Madeleine Hay, complete the look. Isabelle's mother, Kathleen Hay of Kathleen Hay Designs, was responsible for designing the space.
"The design is all her," Isabelle explained. "My mother is very good at mixing old with new. She knows how to work with historic structures but make them fresh and current. She has a talent for finding pieces that fit perfectly. We were striving for an airy and clean feel to the interior and I feel like we accomplished that."
One upstairs room is covered in cork wallcovering to resemble the inside of a charred bourbon barrel. A dark wood table and chairs featured in the area may have been privy to delightful dinner conversations and cheerful toasts during it's prior life. "We can seat private or larger parties up here," Axl said. "And we are working toward offering wine bourbon tastings. This would be a nice space for those, as well. Two of our staff are trained bourbon stewards."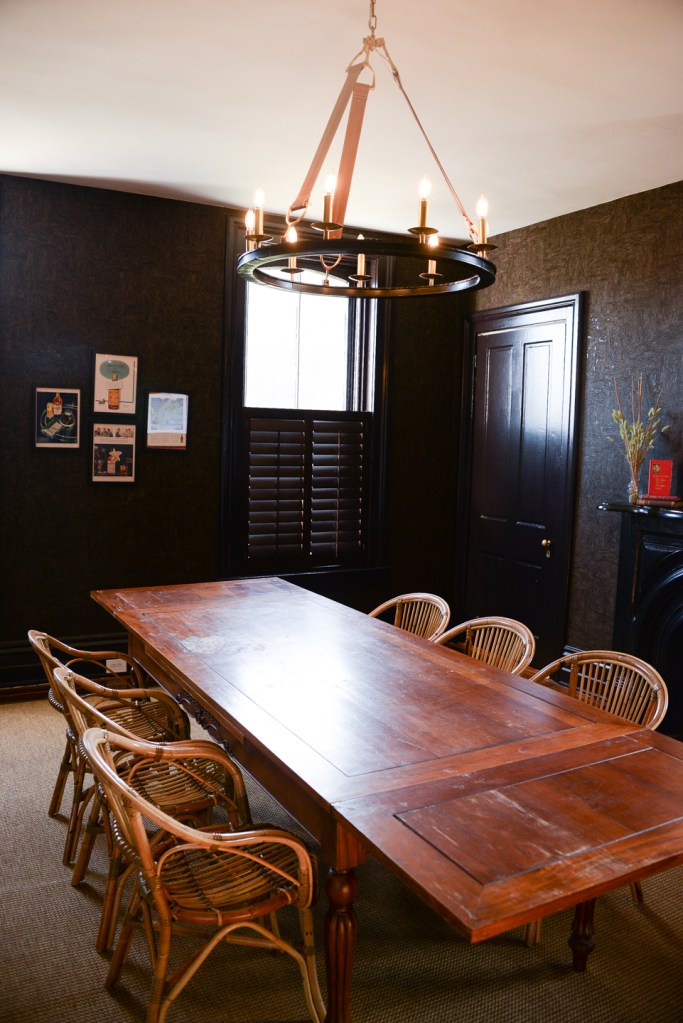 Across the hall, two additional rooms with tables are connected by a wide opening creating a nice area to host small, private gatherings. The colors in the room are subtle and calming, reminiscent of an early spring day in Kentucky. The back windows lend glimpses of the river.
The food and drink
With a culinary degree from Paul Smith's College in northern New York, Axl Wheeler said he gained most of his experience on Nantucket Island where he cooked a variety of cuisines and styles. Isabelle has extensive front-of-house experience and is a certified sommelier.
"We want to provide a balance between fine dining and bistro-style service so that guests feel comfortable but also enjoy a special experience," Isabelle commented.
"We like to keep our food interesting but approachable," Axl said. "And, we've built a great team of people to work with us — local chefs and servers. That's important and a priority to us to have employees who take pride in Limewater."
The Limewater menu has something for everyone and some of the food items change seasonally. "One of our best sellers right now is the pork schnitzel on the dinner menu. Shrimp and grits is another signature dish and the lamb burger has been a surprising success, too," Axl said.
The bar offers a list of appealing cocktails, wines and spirits. The signature drink is aptly named, "The Limewater." A fun take on a gin gimlet, it includes Castle & Key gin, lime juice, simple syrup, basil and aquafaba that creates a foam, binding the flavors. It's a drink worthy of it's name.
This writer can vouch for the pan-seared New York strip filet glazed with housemade steak sauce, bourbon-caramelized onion mashed potatoes and buttered Haricots Verts. It was mouthwatering delicious.
Limewater offers an amazing signature dessert, a blondie seven-layer tart. "We make our own filling with white chocolate, milk chocolate, butterscotch and coconut layered in a blondie brownie, with a brown-butter caramel sauce topped with bourbon whipped cream," Axl said. Again, this writer believes that you won't be disappointed.
"Our breads and pastries are made by my Aunt Carol," Isabelle said. "The restaurant really has been a family project that has brought us together. We could not have done this without their help."
Limewater offers diners a nice choice for lunch and dinner in Frankfort. Limewater Bistro & Bar is open for lunch and dinner Wednesday through Saturday and brunch on Sunday. For more information, visit their website at limewaterbistro.com.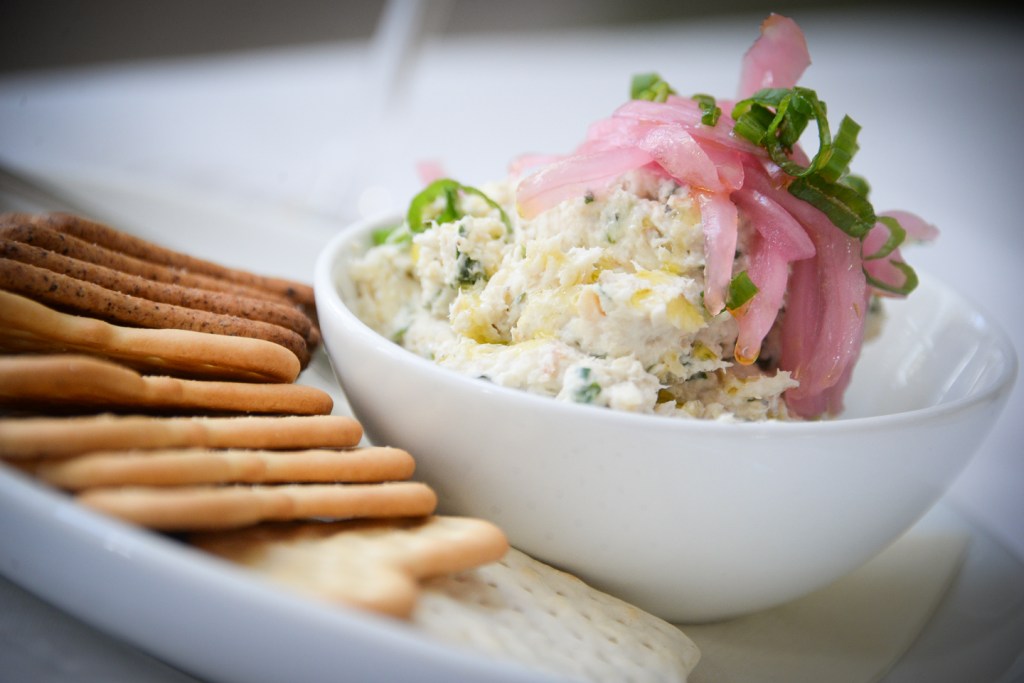 Creamy Smoked Catfish Spread
Chef Axl shared his creamy smoked catfish spread recipe. "It is really a great regional little snack. It's smoky, creamy and delectable."
Equipment needed:
Stand up mixer with a paddle attachment for best results, however this can be hand mixed.
Ingredients:
2 pounds fully cooked smoked catfish
12 ounces cream cheese
1/4 cup sour cream
1/4 cup chopped parsley
1/4 cup chopped tarragon
3 tablespoons lemon juice
2 teaspoons salt
1 teaspoons ground black pepper
Directions:
In the mixer, add the catfish, cream cheese and sour cream and mix on medium speed for 2 minutes. Scrape the sides and bottom, then add remaining ingredients and continue mixing for another two minutes.
Serve cold with crackers or crostinis.