Barbara Hadley Smith, The Garden Club of Frankfort
Like so many of us, Jill Robinson enjoys planting flowers around her house, but she does not consider herself an expert gardener.
"I experiment," Jill said. "If I see something I really like, I get it and plant it in the yard," she said. "If it doesn't do well, I move it to another spot. I have never taken a class on gardening, although I do have some friends who are master gardeners and I ask them for advice."
The property surrounding her house, once dirt and grass, has been landscaped with imagination. In the front, gravel pathways and wooden planters are exclamation points to a variety of colorful blooms. In the backyard, blooming flowers surround a sparkling pond and waterfall containing frogs, fish and lily pads.
Jill explained that as a kid growing up in New Jersey, she was fascinated by a pond in a neighbor's yard.
"That pond really made an impression on me," she said. "I went by it all of the time because I just loved it. I remember it had frogs in it."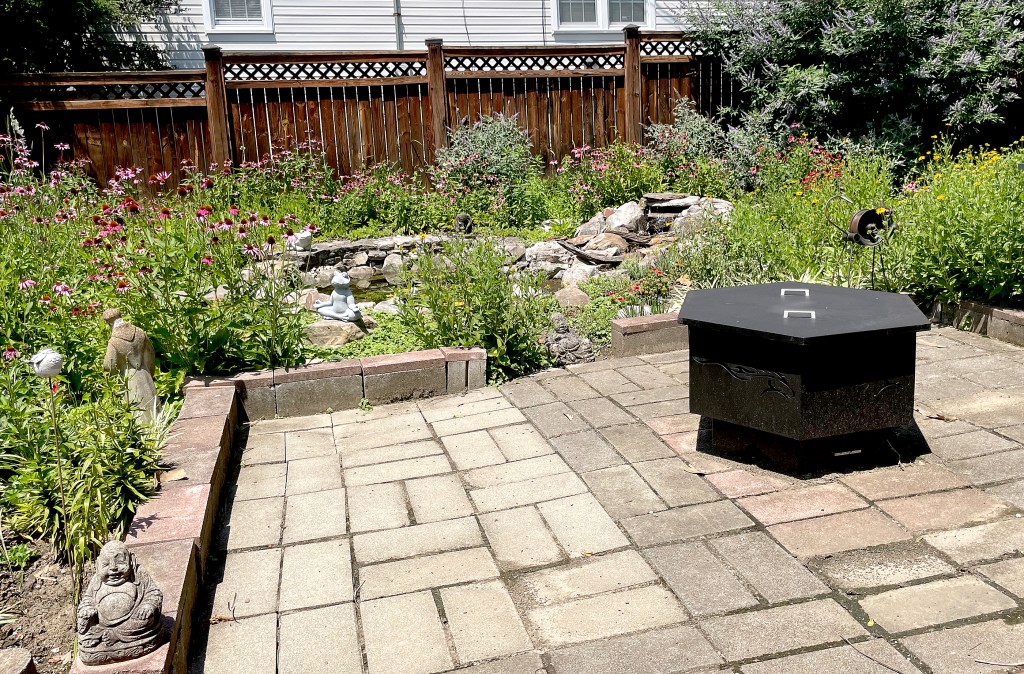 Jill explained that she really got inspired to start gardening after her first campaign for Franklin County Magistrate — which she won.
"While going door to door during that campaign, I saw so many nice gardens, some were quite elaborate," she said. "The day after the primary election, I went out in my backyard and started digging a hole. A friend of mine, Bill Smith who was a former firefighter and policeman, came by and asked me what I was doing. When I told him I was digging a pond, he offered to do it for me. That was my first pond.
"There is a big rock ledge in the middle of the yard, so my pond is deep on both ends and shallow in the middle where the ledge is," Jill remembered.
After about 20 years, the pond deteriorated and Jill decided she needed to replace it. She hired Larry Moore of Xstream Aquatics in Danville to design and construct the new pond.
"He asked me if I would like to have a waterfall, and I said sure," Jill said.
When the water in the pond needs to be supplemented, Jill has two rain barrels that collect water from her gutters, which is then fed through hoses to the pond.
Originally, Jill planted day lilies around the pond, but they began to spread and overpower the water feature and would bloom only briefly each season, so she dug them up and replaced them with a variety of perennials.
"It has been a great season for the flowers because of all the rain we have had," Jill said. "Of course, the rain has nourished the weeds too."
Now, the blooms of cone flowers, daisies, black-eyed Susans and hibiscus attract birds, bees and butterflies and brighten the backyard all summer long. Jill enjoys it all while sitting on her screened back porch.