Clipping recipes from newspapers and sharing them has long been a good way for fellow cooks to find new recipes. With today's technology, a plethora of recipes can now easily be found and shared by clicking a few keys on your phone or computer. But, anyone who cooks or bakes knows that special feeling of pulling out a favorite recipe written on an index card or cut from a newspaper. They're the ones that have the cook's notes penned in the margin. The stains and splatters across the words are a testimony that it's a well-loved recipe made for family and friends many times.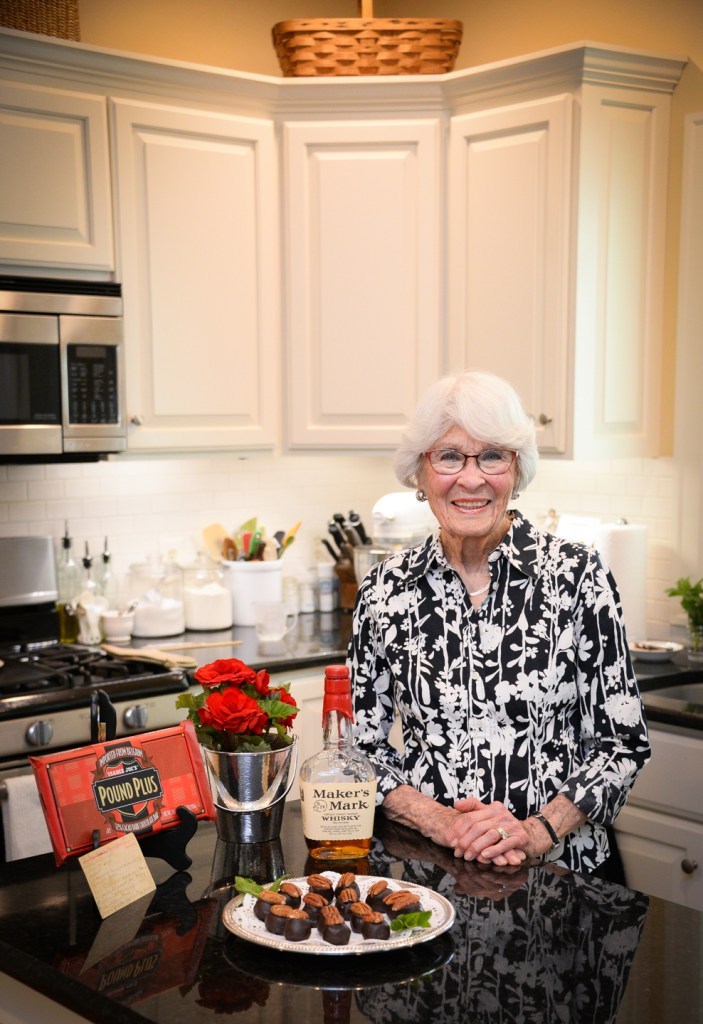 Ina Sturm's bourbon balls are one of those well-loved recipes. She copied it onto an index card many years ago from a recipe that ran in the newspaper, The Atlanta Constitution. Her mother-in-law, Mary Alice Sturm, who lived in Atlanta, saved the recipe for her.
"My mother-in-law saw this 'Kentucky Colonels' recipe in the newspaper and brought it to me," Ina explained. "She said she knew that bourbon balls were a thing in Kentucky and thought I might want to make them.
Tips for successful bourbon balls
More than half a century later, Ina is still making delicious bourbon balls from that recipe. "I have definitely made a few changes over the years but it's not too far from the original," she said. Here are a few tips that Ina uses to make her bourbon balls extra special:
• Don't put bourbon in the chocolate. Instead, mix it in the ingredients of the fondant ball.
• Mix chopped pecans into the fondant to get a little taste of pecan with each bite. Of course, it looks prettier to put the pecan on top, especially if you're giving them as a gift.
• Use Maker's Mark bourbon! The key to this recipe for me is using the right bourbon and I think using Maker's Mark definitely makes the best bourbon balls.
• I like to use Trader Joe's Dark Chocolate Pound Plus bar. Make sure to melt the chocolate in a double boiler (over water).
• Use about an inch square of paraffin wax.
• After mixing the ingredients, chill in the refrigerator just long enough so the balls can be molded easily. Then, chill the fondant balls before dipping them in chocolate. If you don't chill the fondant mixture, it will stick to your hands when you're forming the balls.
Happy to share
Ina's bourbon balls have evolved from the original recipe she received so many years ago. She has made the recipe her own and, through the years, has passed on her bourbon candy-making knowledge to two of her grandsons, Jamie and Brady. "Whenever Jamie is in town, he calls and asks if we can have bourbon-ball-making-time together," she said.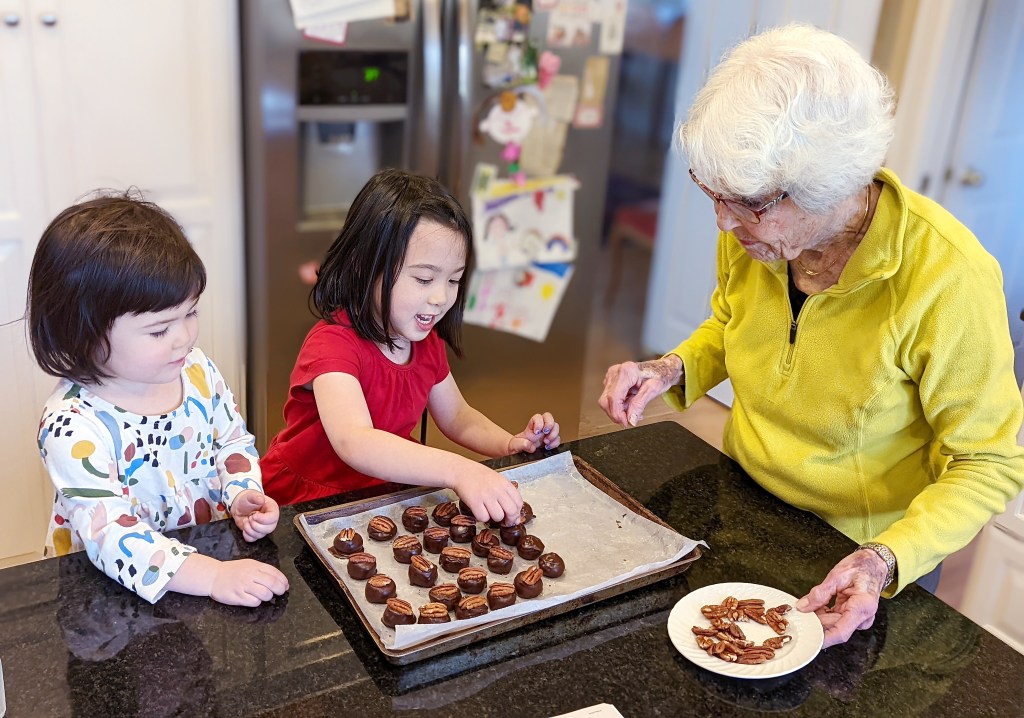 She has also shared her recipe with a friend, Ann Grider. "I think Ann is the only person besides family who has asked me to show her how to make these bourbon balls. She came over and we had such a good time making a batch," Ina remarked.
"I really enjoyed sharing time with Ina and learning how to make such a timeless Kentucky classic," Ann said. "It was the perfect way to spend a day. I'm thankful to her for being so generous with her time and talent."
The gift of giving
Ina enjoys making the Southern candy for her family and friends. She has even made large batches of the bourbon balls for several weddings. "Oh my goodness. I did about 400 for my grandson Jamie's wedding and I've made them for a few other friends' weddings, as well," Ina related. "The easiest way to make a large number of bourbon balls is to work on smaller batches ahead of time and then freeze them.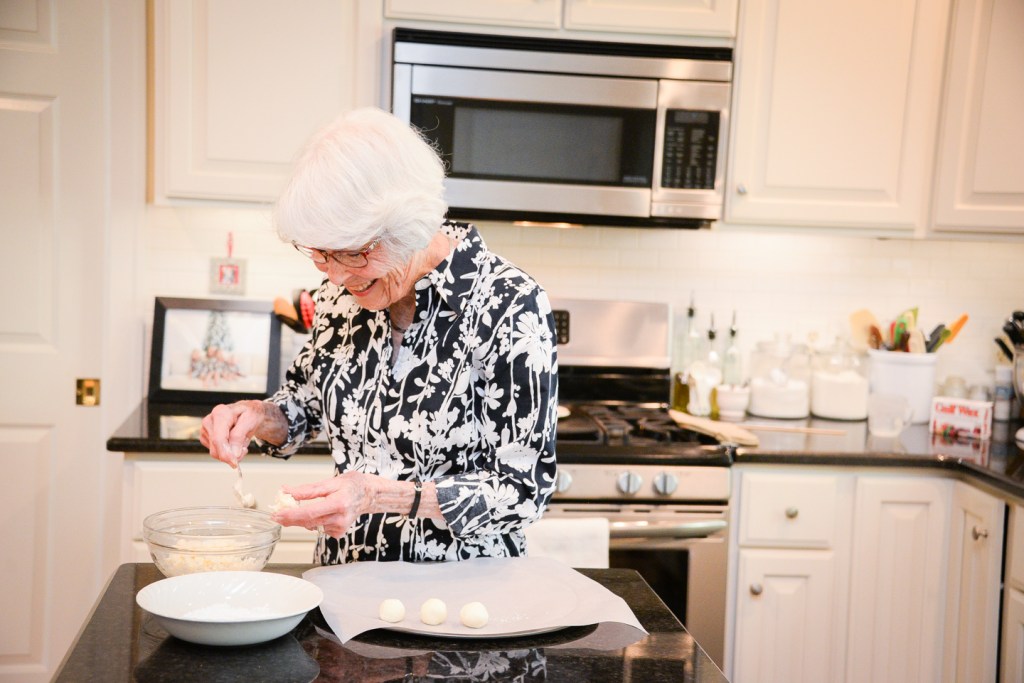 "I wish I knew how many bourbon balls I've made. I've been making them for more than 55 years — I guess I've made thousands!" Ina laughed.
She likes to keep the ingredients needed on hand to make her special recipe. "There are some people I just like to give bourbon balls — my friends, my family," she remarks. "And, I usually keep some in the refrigerator in the garage for when 'a certain son' stops by the house. Sometimes he likes to sneak a couple."
According to Ina, the recipe is simple to make, and it's something nice she can do for others. "Most people are just happy to get them," she said. "I think it's just fun to make something you know others will enjoy so much. I wouldn't make them just for me. I really make them to share."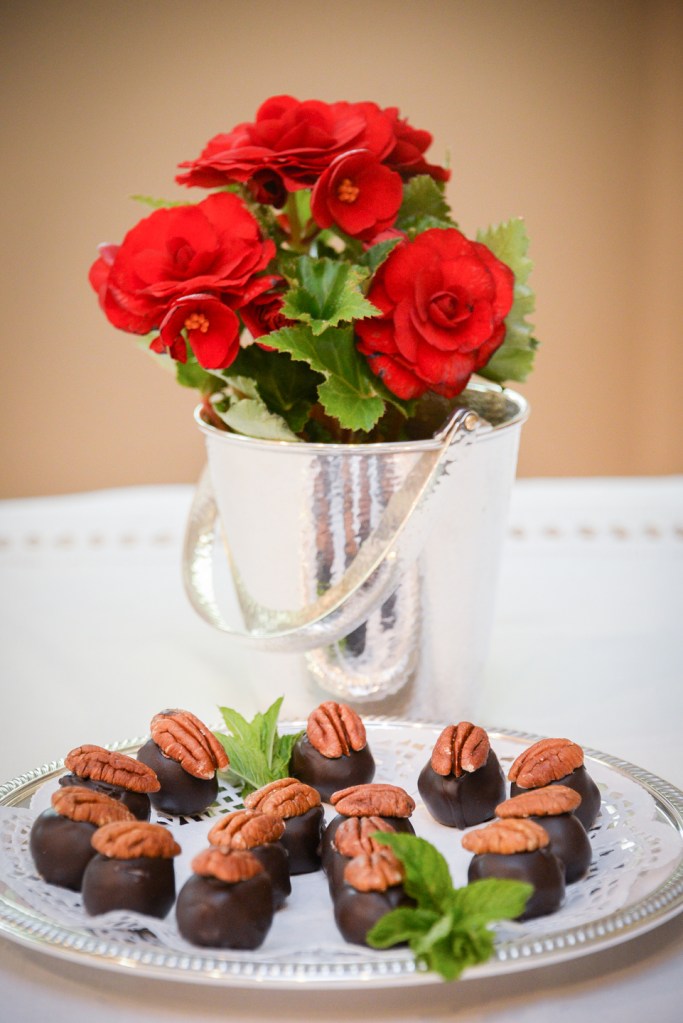 Ina's Bourbon Balls
Ingredients:
1 pound confectioners' sugar plus 1/2 cup of confectioners' sugar
1 stick salted butter, softened
1/4 cup Makers Mark bourbon (or bourbon of choice)
1/2 cup of chopped pecans (either mixed in, or place halved pecan on top)
8 ounces dark chocolate (semi-sweet works but the results are better with dark)
1 inch square paraffin (Gulf Wax)
Waxed or parchment paper
Small metal or wood skewer, or fork
Directions:
Place softened butter in a large bowl and cream; add a cup of confectioners' sugar and a small amount of bourbon and mix. Once blended, add sugar and bourbon a little at a time until all are used up, leaving 1/2 cup of sugar for coating. Add nuts in and mix until fondant is smooth. Chill in refrigerator for 5-10 minutes so that when forming balls, the fondant won't stick to your hands.
Pour the remaining 1/2 cup confectioners' sugar into a shallow bowl. Take a small spoonful of the mixture, drop it into the bowl of confectioners' sugar, rolling it around to make a small ball in your hand. Line a baking sheet with sides (so the balls won't roll off) with waxed or parchment paper. Place fondant balls onto the baking sheet. Chill in the refrigerator for at least one hour until firm
In a double boiler pan, heat water just hot enough to melt the chocolate. Melt 1 inch square of paraffin (Gulf Wax) to the pan, then slowly add 8 ounces of dark or semi-sweet chocolate. Remove from heat. With a skewer or fork, carefully dip fondant balls in the melted chocolate, coating them.
If chocolate gets stiff, add a little hot water. Remove and place each ball on the baking sheet. If you want to be fancy, put a half pecan on top of each bourbon ball instead of chopped pecans in fondant. Chill in refrigerator. These bourbon balls freeze nicely in freezer safe plastic bags.