The most recent Castle & Key guest property, The Field House, is located in the heart of Central Kentucky just over the Franklin County line in Woodford County. A stately, two story brick house surrounded by 110 acres of rolling fields, it is close to interesting distilleries and breweries, famous horse farms, scenic country roads and the capital city.
Beautifully renovated by Julie Williams, of JPW Creative, the charming five bedroom, three and a half bathroom home has everything a visitor needs to feel comfortable and pampered while they are exploring the surrounding area.
Julie has a gift for working with the existing decor of a space and then going the extra mile to improve and enhance the design. "It's a process for me. I believe that every room has a story and every house has a direction. For The Field House, I've combined a bit of a modern look to appeal to a younger generation and melded that with classic antiques to appeal to others," Julie remarked. "My hope is to bring the stories of Castle & Key and of our state of Kentucky to the guests in this house."
Renovated with Kentucky style
The gathering room, it's walls and woodwork painted in a rich shade of green, is warm and welcoming. The floor to ceiling stone fireplace draws guests in to relax on cozy sofas and chairs and perhaps to talk about the day's events. French doors on either side of the high-ceilinged room lead to outdoor entertainment spaces. Another area of the large room sports a game table and a wet bar with nods to the Castle & Key Distillery with pieces like framed spirit labels on the wall.
The kitchen is set up perfectly to cook a fabulous meal using high end appliances and ample countertops; or for caterers to stage food for entertaining. There's plenty of space for large groups to gather at the beautiful dining room table. The Field House definitely has plenty of space for parties large and small.
All of the lighting in the house has been updated including a spectacular chandelier from Curry and Company in the front living area. "It's just a showstopper, isn't it?" Julie said, smiling. "We painted the house from top to bottom, changed out all of the lighting fixtures and brought in antique, classic and eclectic furniture pieces and decor that just fit with the house."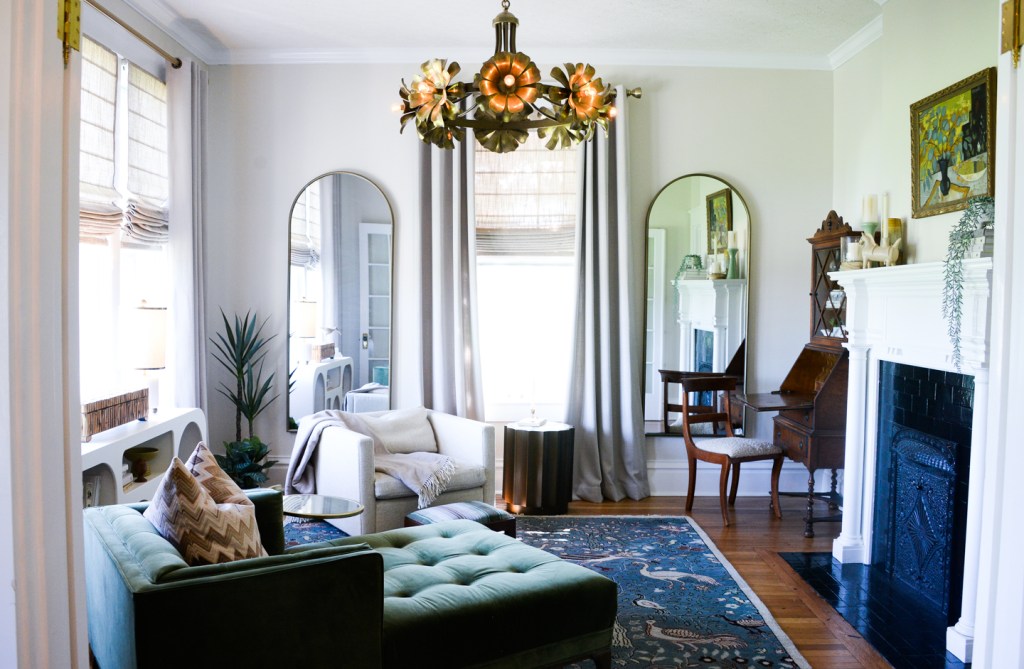 A bonus area of the house is hidden, surprisingly, in what was once the garage. "We made this a fun place to hang out, play some pool and have a drink," Julie commented. She has transformed the space into a party area with a bar in one corner and the pool table at the center of the room.
Upstairs, five bedrooms can accommodate up to 10 guests. From the cozy "butterfly decor" room with a pullout daybed to the spacious private ensuite primary bedroom, guests are treated to comfortable beds and Castle & Key signature robes during their stay. The furnishings are an eclectic mix of antiques, traditional pieces and thoughtful decor. "For me, it's about texture that makes or breaks the room — the rugs, the blinds, the bedding, that's what makes you feel comfortable in the space," Julie explained.
Lodging a part of Castle & Key experience
"Castle & Key is striving to create an immersive experience for its guests. Offering lodging options for visitors is one way we can make their time with us special," Alex Blotnik, Castle & Key marketing manager, said. "We're so excited about The Field House. It's just an incredible space for entertaining and visiting. You get the perfect combination of bourbon, horses and the feel of our Bluegrass state."
As part of that immersive experience, guests may see corn standing tall in a part of the acreage attached to The Field House in the near future. The plan is to plant a specific strain of corn that will then be used in Castle & Key whiskey and bourbon, according to Alex.
Co-founder and owner of Castle & Key, Will Arvin, said he is honored to be able to offer The Field House to visitors. "The Field House is more than just an Airbnb. It's a living piece of history, a tangible connection to the past that we're honored to preserve and share with guests. From the carefully restored interior to the stunning views of the surrounding countryside, every detail of The Field House is a testament to our commitment to quality and excellence."