Gen. Ulysses S. Grant was born in 1848 at Point Pleasant, Ohio. At birth, his parents gave him the name of Hiram Ulysses Grant. In 1839, when Representative Thomas L. Hamer appointed Grant to the U. S. Army Military Academy at West Point, the name on the nominating certificate read Ulysses S. Grant.
From that time forward, Grant dropped his first name of Hiram. Graduating from West Point in 1843, Grant would see service during the Mexican American War as a Quartermaster in the Mexico City campaign. He would spend almost all of his time in Mexico ensuring that the logistical needs of Gen. Winfield Scott's Army were met.
In 1844, Grant married Julia Dent. Peace time separation from his wife led Grant to resign his U.S. Army commission in 1854 and return to Missouri. Both as a farmer and a merchant, financial success would allude Grant. In 1861, he was a merchant in Galena, Illinois. With the start of the Civil War, Grant was appointed as Colonel of the 21ST Illinois Infantry Regiment. Upon the 21ST Illinois Regiment moving to Cairo, Illinois, Grant, due, to his previous military experience, was made a Brigadier General and placed in command of the District of Southeastern Missouri.
On Nov. 7, 1861, Grant led a Union force south from Cairo to contest Confederate troops occupying Belmont, Missouri. While Grant was at first successful in driving the Confederates from the field, a counterattack by the Confederates caused Grant to retreat to Cairo. Grant later said that the Battle of Belmont was a learning experience for him in how to lead and not lead men in battle.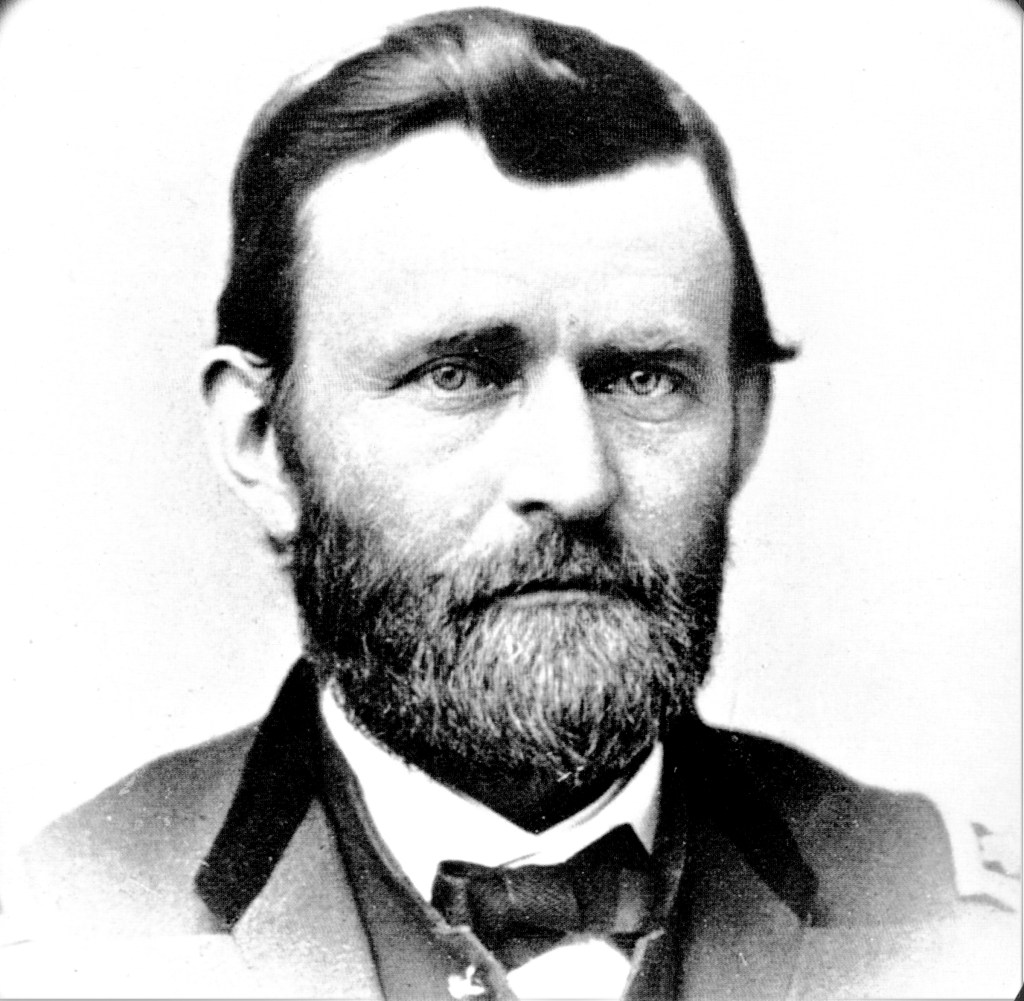 Grant, during February and March of 1862, captured Fort Henry on the Tennessee River and Fort Donaldson on the Cumberland River breaking the Confederate defensive line in Kentucky. Advancing into Tennessee, Grant, on April 6 and 7 1862, fought the Battle of Shiloh. Relieved of command due to the high casualty list generated by the Battle of Shiloh and charges that he had been drunk, Grant was sidelined. While there are reports of Grant being drunk, no one ever reported seeing him drinking alcohol to excess. Modern historians state what witnesses thought was drunkenness was actually Grant recovering from migraine headaches.
Grant was restored to command in July 1862 and set about formulating a campaign to capture Vicksburg, Mississippi. After a year long and grueling campaign, Vicksburg fell to Grant on July 4, 1863. Following the fall of Vicksburg, Grant was ordered to proceed to Chattanooga, Tennessee, and assume command of federal operations there.
On Sept. 18, 1863, Federal troops, under the command of Maj. Gen. William Rosecrans, had been defeated at Chickamauga by Confederate troops led by Gen. Braxton Bragg. Following the Battle of Chickamauga, Federal troops had retreated to Chattanooga where the Confederates had placed them under siege. Grant's order was to lift the siege by driving the Confederates from the hills around Chattanooga. This he successfully accomplished following the Battle of Lookout Mountain on Nov. 24, 1863, and Missionary Ridge on Nov. 25, 1863.
Following the lifting of the siege of Chattanooga, Grant, in October 1863, was placed in command of the Division of Mississippi. This command encompassed all of the land mass south of the Ohio River bordered by the Appalachian Mountains and the Mississippi River.
Now, when Tennessee left the Union on June 8, 1861, the citizens of East Tennessee pledged their loyalty to the Union. Thus, from the very first day of the Civil War, President Abraham Lincoln had tasked his military commander in Kentucky to drive the Confederate troops out of Eastern Tennessee. On a map, it looked simple to bring troops and supplies by rail from the North to Lexington and then transport the supplies by wagon over the Wilderness Road and through Cumberland Gap into Eastern Tennessee. However, what looked simple when viewing a map in Washington, D.C., proved to be an impossible task for those on the scene.
In January 1864, Grant set out to see why the federal effort to reach East Tennessee from Lexington, Kentucky, had not succeeded. Grant traveled from Chattanooga by boat up the Tennessee River to the mouth of the Clinch River where he took a train to Knoxville, Tennessee. From Knoxville, he traveled by horseback through Cumberland Gap and over the Wilderness Road to Lexington.
In his memoir, Grant states, "The road over Cumberland Gap, and back of it, was strewn with debris of broken wagons and dead animals. The road had been cut up to as great a depth of clay as could be by mules and wagons, so that the ride from Strawberry Plains to Lexington, over the holes and knobs in the road was a very cheerless one and very disagreeable."
Grant arrived in Lexington on Jan. 11, 1864. The next day, he rode a Louisville, Frankfort & Lexington Railroad train from Lexington to Louisville. Thus, some time on Jan. 12, 1864, Grant was in Frankfort. It is to me inconceivable that the train would not have paused in Frankfort to give Grant time to meet with Gov. Thomas E. Bramlette and Adj. Gen. Daniel W. Lindsey. Yet written documentation of such a meeting is lacking.
Do any of FRANK. magazine's readership know of any written documentation recording Grant's visit to Frankfort on Jan. 12, 1864?