She's on the run all the time, and she loves it.
One thing Jackie Gordon Duvall doesn't love, however, is being in the spotlight.
Really? She was born August 1, 1985, meaning she's a Leo, if you're into astrology, which she's not.
But let's take a brief look anyway, and see if any of it fits. Leos "love to bask in the spotlight and celebrate themselves" . . . so roll out the red carpet.
Please don't — not for this intelligent Black woman. Duvall, associate athletic director and senior woman administrator for Kentucky State University's athletic department, hesitated and said she needed to "think about it for a day, and pray about it" before saying yes or no to being interviewed for this story.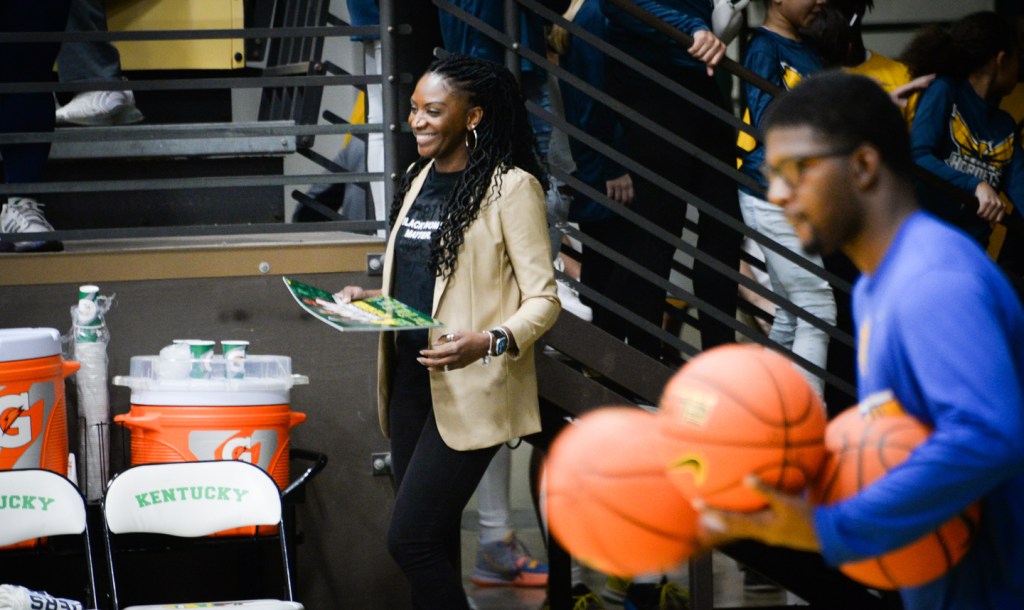 About 27 hours after the interview request came by phone, Jacqueline Marie Gordon Duvall finally said "yes." Two days later in the Exum Center, at the start of the interview, Duvall said, in a soft, sincere tone, "I'm hoping good things come from this story, not for me, but for this community and university I love. I want to make sure everything I am is represented.
"I don't like the spotlight. When you see Jackie, I want you to see my church, my family, this university and my track club. I was born on a great foundation of my parents and people in my community and village that poured into me. Truly, it's no goodness of my own.
"God has been very good to me. Anything that I'm a part of, or have been blessed enough to do, is because of other people, not just me. That's why I say I don't care for being in the spotlight and getting credit for things."
Duvall's Christian faith and place of worship, the apostolic Bethesda Temple Church of the Living God on Glenns Creek Road near Frankfort Cemetery, her family, and the Frankfort All-Star Track and Field Club (FAST), which she founded 10 years ago, are huge parts of her life.
Bishop Robert Manley Jr., of Bethesda Temple Church, says he's known Jackie and her family since she was a child. "She's a tremendous, tremendous woman, who has a lot of will, grit and determination. She was born to be successful and a great athlete. One of her pluses is that she's a great motivator, and she's a nice family person, who loves her church, no doubt about that."
Top runner and scholar
The former Jackie Gordon was an amazing athlete and scholar at Frankfort High School and the University of Kentucky. At FHS, she was class valedictorian in 2003, and a six-time multi-sport state champion. She won five times in the 400-meter run and dominated from 2000-2003. She also was a member of the 2000 state champion girls' cross-country team.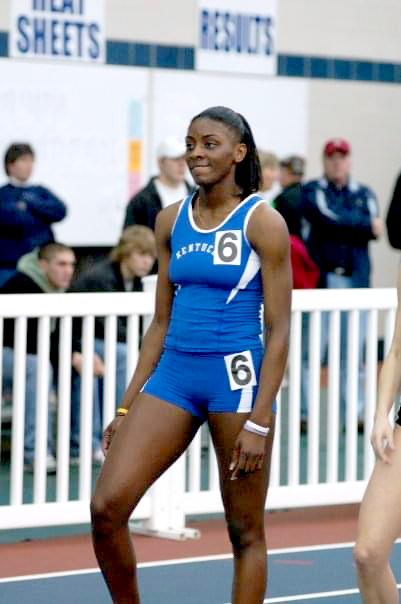 Earning a full scholarship to UK, she was a member of the track and field team and was named to the All-Southeastern Conference academic team four consecutive years. In 2004, she qualified for the national indoors competition, and with her UK teammates, set a record in the distance medley relay. She also competed in the 2007 SEC championship.
Jackie focused her post-collegiate track and field career from 2008-2011 on the 800-meter run, accomplishing a personal best time of 2:04 in 2011.
After earning her bachelor's degree at UK in communications and informational studies, family studies, Duvall earned two master's degrees from Western Kentucky University in child and family studies, and organizational leadership.
Before joining the KSU athletic department staff in 2020, Duvall worked for Frankfort Independent Schools from 2017-2019, serving as director of athletics, equity and extended learning — providing leadership over middle and high school sports and extracurricular activities.
From 2013 to 2017, Duvall was an assistant girls' basketball coach at Franklin County High School, working with head coach Joey Thacker, who had been one of her head coaches when she played basketball for Frankfort High. In 2015 and 2016, the FCHS girls team finished the season as state tournament runner-up.
Retired Frankfort High chemistry and physics teacher and track/cross-country coach Frank Miklavcic admires Duvall. "She was a great athlete to work with, and she had a great personality. She continues to exude that today and give back, working in the schools, and now working at Kentucky State. I still communicate with her about different things. She started her FAST track team, and has nearly a hundred kids in that now, working out in the summers," primarily at the Western Hills High School track.
Miklavcic said he does the timing for her meets, "but I haven't done any coaching." She and her siblings — Sabrina, Kevin, Gabriel and Alaina — and their friends handle that, he said.
When Jackie was a sixth-grade student at Second Street School, "she started being a high school state champion in the 400-meter run," Miklavcic said. "She always had that amazing ability, and was willing to work hard and do whatever I asked."
First trophy
In her Exum Center office in mid-December, Duvall laughed, thinking about running her first official race as a fifth-grader and winning a first-place trophy.
"It was a middle school cross-country meet at South Oldham," she recalled. "I remember it like it was yesterday, seeing Coach Miklavcic's elated reaction when I finished. I remember my dad (Al Gordon) running along the edge of the course with me." She heard her coach say, "Girl, you even beat the Gator," the lead vehicle in a cross-country race.
"When I started that day, I didn't know if I was any good or not," Jackie said. "I hadn't figured it out. But holding my first running trophy, I thought — I guess I did win. I guess I am pretty good, and that drove me to continue to want to see how good I could be. I realized when I was fairly young that I had a gift.
"I was raised with other competitive athletes in my family. We were always racing in the streets, and fighting each other like kids do, so a lot of it you get from just living in a culture of a family like mine. The effort, the competitiveness, the grit, just wanting to never lose, the hate of losing — a lot of that developed over time."
Duvall says her mother, Barbara Gordon, has a funny Jackie story saying, "Girl, you came out running."
Explaining, Jackie says, "Out of all her kids, I was born the quickest. She got to the hospital at 6:05 a.m. and I was born at 6:15."
While she earned numerous awards as a runner for a high school team, "I didn't win every single time," Jackie said. "Frankfort High is Class A and we went to events where we're running against (larger enrollment) 3-A schools."
She also ran in AAU with a group out of Louisville, "and I got beat a lot in AAU track because you're running against kids from all over the country who have just as much skills or talent as you, or more."
Sometimes fatigue is a factor. Besides competing in track and cross-country and excelling in the classroom, Jackie played basketball and piano, and was in the high school Drama Club. "You do all those things, and as a young person, you're never going to be the best of the best all the time," she said. "But, I loved every minute of it and really felt that was what I was meant to do. That's why I kept doing it."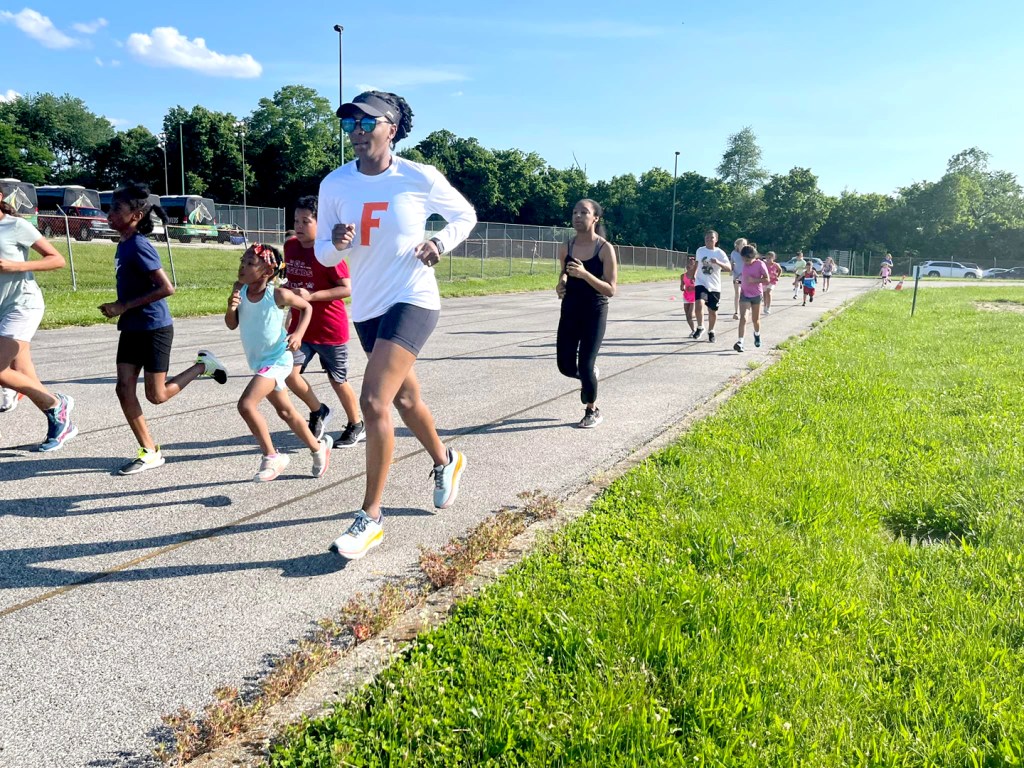 Jackie and all of her siblings played basketball. Their dad coached basketball at KSU and FHS.
"We were gym rats," she said. "My skills were different from (older sister) Sabrina, who was a much better offensive player. She was an incredible player, earning a full basketball scholarship to Tennessee State University.
"I was fast and a crazy defensive player, and I never got tired. I played the whole game and came up with a gazillion steals and layups. I scored over a thousand points."
She said she played on some of the best teams in the school's history.
Jackie thought about attempting to play college basketball, in addition to competing in track and cross-country. But she wanted to go to an NCAA Division I university, "so I let go of my idea of basketball pretty quick. I knew running was where my God-given talent truly was, so I decided to focus on that."
In 2020, Duvall was inducted into the Kentucky Track and Field, Cross Country Coaches Association Hall of Fame.
A believer in staying physically fit, Duvall says running is still "very much a part of my life. I try to run three days a week. A couple of years ago, I was running six or seven miles. Now it's more like three or four miles."
Book and music lover
Although she's extremely busy, "I make time to read." Books she's enjoyed reading recently include "The Gospel of Mental Health: From Mental Hell to Mental Wellness" by Stacey McDonald, a minister and school psychologist; "Becoming," Michelle Obama's 2018 memoir; and "American Dirt," a novel by Jeanine Cummins about the ordeal of a Mexican woman who had to leave behind her life and escape as an undocumented immigrant to the United States with her son.
"I love reading books by Brené Brown," an American professor, lecturer and podcast host, "and I can't wait to read Michelle Obama's new book, 'The Light We Carry: Overcoming in Uncertain Times.'" One of Stacey Abrams's books is also on her to-read short list.
Duvall also loves "all kinds of music. I am a very heavy gospel music listener. I always have been. I love jazz and '80s and '90s rhythm and blues. I can pretty much get into anything except for hard core rock, and I'm not a huge country fan. I like rap as long as I can understand it and the lyrics are something I can tolerate."
Jackie and her husband, Nicholas Duvall, director of the Whitney M. Young Jr. Job Corps Center in Simpsonville, reside in Frankfort. Together they have three children: Jaleia, a junior at Frankfort High; and Na'Mya, 21, and Nicholas Jr., 20, who live in Indiana.
Jaleia plays soccer and tennis at FHS, "and is a wonderful student-athlete and all-around sweet kid," said her mother. "She really loves tennis, and has grown into the aggression that she has to exhibit in soccer. She wasn't really into that at first. She's not a real contact-type sport person, but she's gotten better." Jaleia also helps with video production and other things at some KSU home basketball games.
Community involvement and the arts
Today, Duvall has a passion for making positive changes in her community. She's a member of the Optimist Club of Frankfort, and a board member for Family Circle Inc., a nonprofit founded in 2011 by her father. Family Circle's mission "is to strengthen the community by facilitating the development of programs, services, and activities that are family centered, promote active lifestyles, and encourage balanced living," according to its website.
Duvall is also active in Black Women Artists of Frankfort, a network to promote the artwork of local Black women.
"We do this through providing support to each other, offering educational experiences, partnering with other organizations, and coming together to develop opportunities for exposure of our art," Duvall said. "I have identified as an artist since I was young. I sang and played instruments, including piano for 10-plus years. I was involved in theatre, and I am a writer.
"More than anything, I am passionate about Black Women Artists of Frankfort because it provides me the opportunity to support my sisters in their art and work towards building a better community through social justice and diversity. Representation in the arts is important for young Black people to see."
Duvall said she believes her God-given purpose in life is still developing, evolving.
"There's a time and a season for all things that we experience and go through. I definitely believe I didn't start out knowing or thinking this is what I would do. But when the opportunity arrived (at KSU), I thought, yeah, this is what I am supposed to be doing, and I think there may come a time when that happens again.
"I believe there is a purpose, a plan much higher than I can ever begin to see or imagine. You have to be open to follow through with some things that make you uncomfortable. This ordained purpose is not just for Jackie, though. It's so much bigger than for just me. I'm just glad to be a part of it."
She said no matter what she does in her work career, she wants to always leave something better than she found it.
"That's why I work extremely hard, and I believe in doing the right thing for these young adults. These student-athletes and people I work with mean so much to me. That's why I'm really passionate about being here."
Then she laughs, saying, "There are challenges, and days when I'd like to sleep a little longer. There are times when I wish I saw more progress, and times when I feel like banging my head against the wall. But again, I love what I get to do, and I'm so grateful seeing how beautiful this has come together.
"Even in the worst, during COVID—– and that was a nightmare — we all worked together to make things work. I love our athletic administration, our collegiate administration and I absolutely love working with our student-athletes and coaches."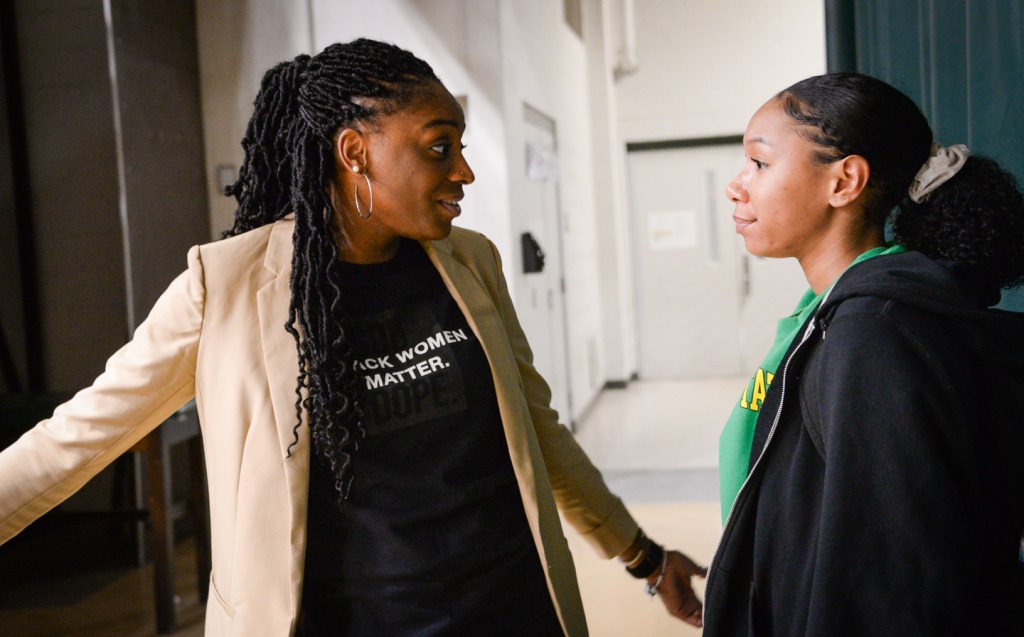 A few of Duvall's main athletic department responsibilities include overseeing women and coed sports; NCAA compliance; handling financial aid for all scholarship documents, and reports for the athletic department; serving as academic liaison from coaches and athletes to deans, professors and academic advisors; and being advisor for the Student-Athlete Advisory Council.
"I'm the second person to the athletic director," she said. "If he's not here or able to answer something, I would be somebody he would lean on for that support."
When asked if she plans to stay in Frankfort, Duvall said, "I hope so, for a while anyway. I don't know what's going to happen. I've been here a very long time, but I would never put myself in a box."
Faith, fun and family
On the walls and furniture inside her small office are inspirational messages for her and others who enter:
• "Legacy is not only what you leave when you die, it's what you leave when you enter and leave the room."
• "Let your FAITH be bigger than your FEAR."
• "Don't forget to be AWESOME."
• "There Will Be Miracles."
• "Fun Vibes Only."
• "Black Woman … noun; fact … 1. sun-kissed melanin skin, versatile in style, creator, majestic, soft, intelligent, lovely, a phenomenal being internally and externally.. . Keep doing you."
Al and Barbara Gordon's family moved from Bowling Green to Kentucky's capital in 1988 when Al was hired as interim head coach of the K-State men's basketball team. Barbara from Cleveland, Ohio, and Al from Clermont, Florida, near Orlando, met at Western Kentucky University.
After coaching basketball at KSU and Frankfort High, Al worked for state government in the Cabinet for Health and Family Services, retiring in 2018 as a professional relations officer. Barbara is currently a social sciences instructor at University of Louisville's Kent School.
Two people who had no ties to Frankfort came here with their children and stayed, Jackie said. Looking back now, that was special.
"Frankfort offered me a very unique opportunity because I grew up here. Everybody doesn't get to grow up in a place where there is already an HBCU (Historic Black College/University).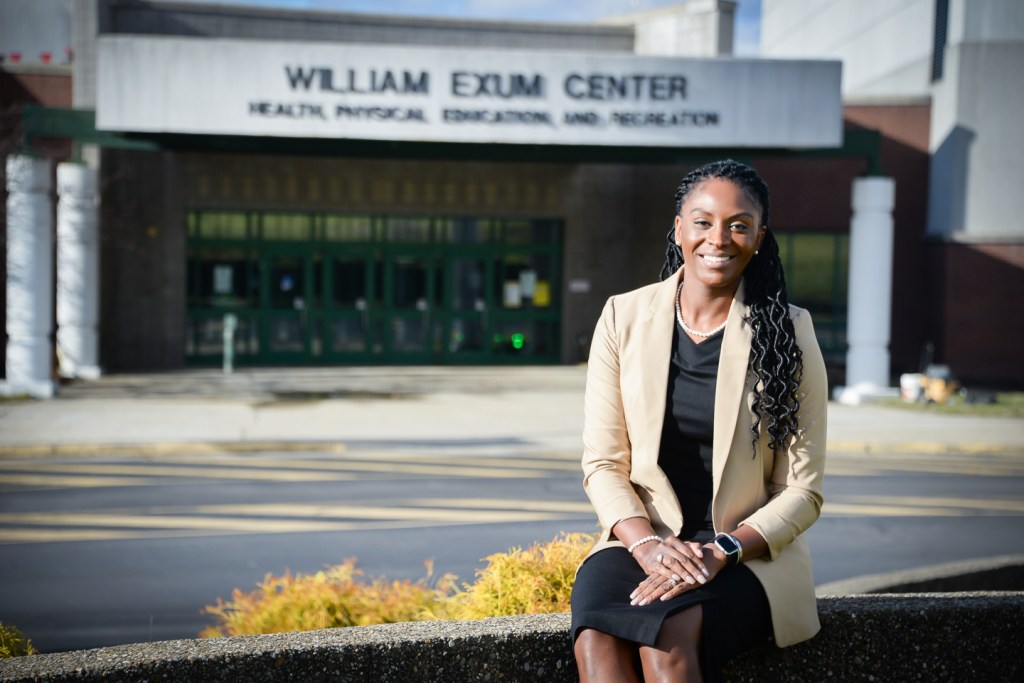 "I was a kid growing up on this campus. I attended lots of camps on this campus — not only sports camps but agriculture camps. I think because of the trajectory of my career — not being in an athletic administrative role for very long, and yet having an opportunity to work at this university — it was as if this HBCU embraced me. It shows how unique it is that I would end up here. It was something that literally was laid in my lap, and for that I am very grateful."
She knows many KSU alumni. She's gathered for fellowship with many alumni at her church. "This HBCU — not every HBCU — is significant to me because I'm a Kentucky girl and a Frankfort girl."
As she's gotten older and started to work in leadership, Duvall said she realizes "a lot of kids in this town don't have a clue what's going on at Kentucky State. They don't step foot on this campus. There's a disconnect."
She wants to help change that. She likes that she's now in a position to "hopefully provide some of that same connection to KSU and some of the same good experiences that I had growing up" to young people who live here.
Duvall said working as a professional in leadership at KSU "really wasn't a dream I knew I had, or a thought I'd ever get to do. But now that I'm here, I see it as a big part of my growth, and a big part of who I am."