An inviting lane off of Georgetown Road, just past Forks of the Elkhorn, leads to several homes tucked away on nice-sized lots from the old Macklin farm. Mark and Lee Gay feel fortunate to have found this neighborhood where they built their home and raised their family.
"Stephen Hockensmith, who also lives in the neighborhood, let us know that he was going to put 15 acres of his land up for sale, and we thought it was just the right spot," Mark said.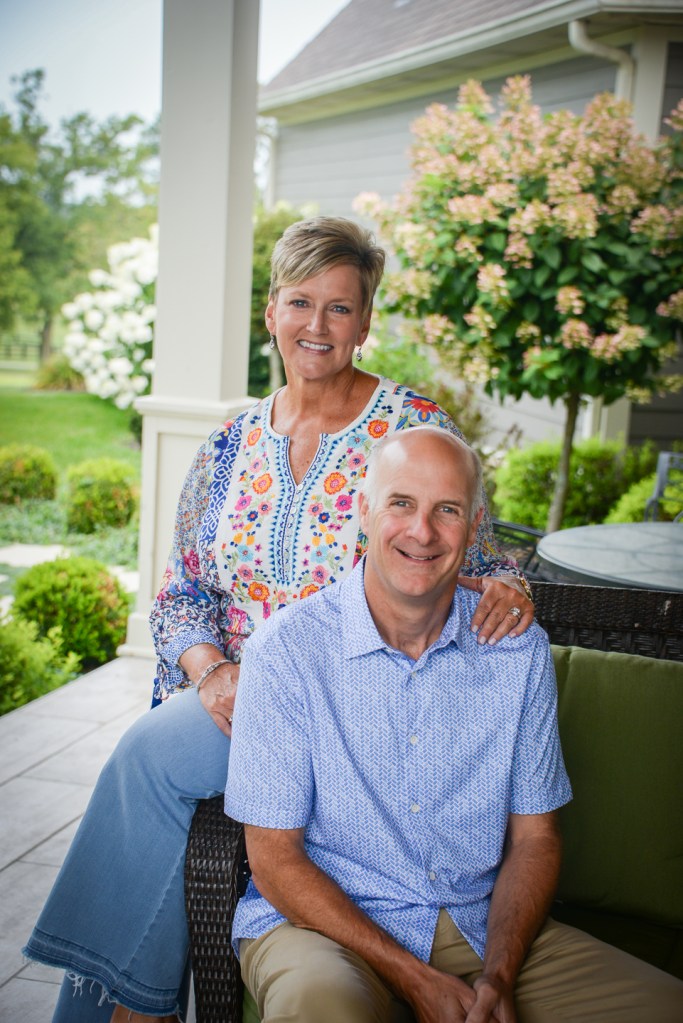 Mark and Lee both grew up in the Peaks Mill area, and have stayed in Franklin County. Mark's career has been in heating and air conditioning and he currently works for Cecil's Heating and Air. Lee recently retired from Bondurant Middle School after teaching for 31 years.
Southern Living plan
The Southern Living Kousa Creek house plans they chose for their home were adapted to fit the family's needs. "We looked at so many house plans and eventually came full circle back to this Southern Living plan that my sister had shown me a long time ago," Gay explained. "It took about a year to build and we moved in during the fall of 2011," she recalled.
The couple said it really helped to visit a house built with this plan that was for sale in the Reynolds Plantation outside of Atlanta. "Southern Living was so helpful. They sent us a packet with every color they used," Mark said. "We had tried a bunch of swatches of paint for the outside but could never get it right until they sent that packet. It was the perfect color for the outside of the house!"
A work in progress
Mark, Lee and their two daughters, Morgan and Kathryn, settled into their home, enjoying their new space. Then starting in 2015, the renovations and projects began — at least one project each year to improve the house. The projects have ranged from replacing the wood front doors with magnificent custom glass doors to remodeling the kitchen. They've built an oasis with a side patio anchored by an outdoor stone fireplace and a private pool area surrounded by beautiful landscaping.
The primary bathroom is one of their latest projects with custom appointments including motion activated lights under the cabinets and custom tile work.
Lee decided that she wanted to add a large walk-in closet off of the primary bedroom. They took a den they didn't use very much that shared a wall with the bedroom, and constructed an amazing closet with upper storage accessed by ladder and a stacked washer and dryer. "Mark uses the original closet (which is also a walk-in) and this is all mine," Lee said, smiling.
After the pool was built, the original laundry room was reconfigured by adding a bathroom so it would be convenient to come in and out when wet.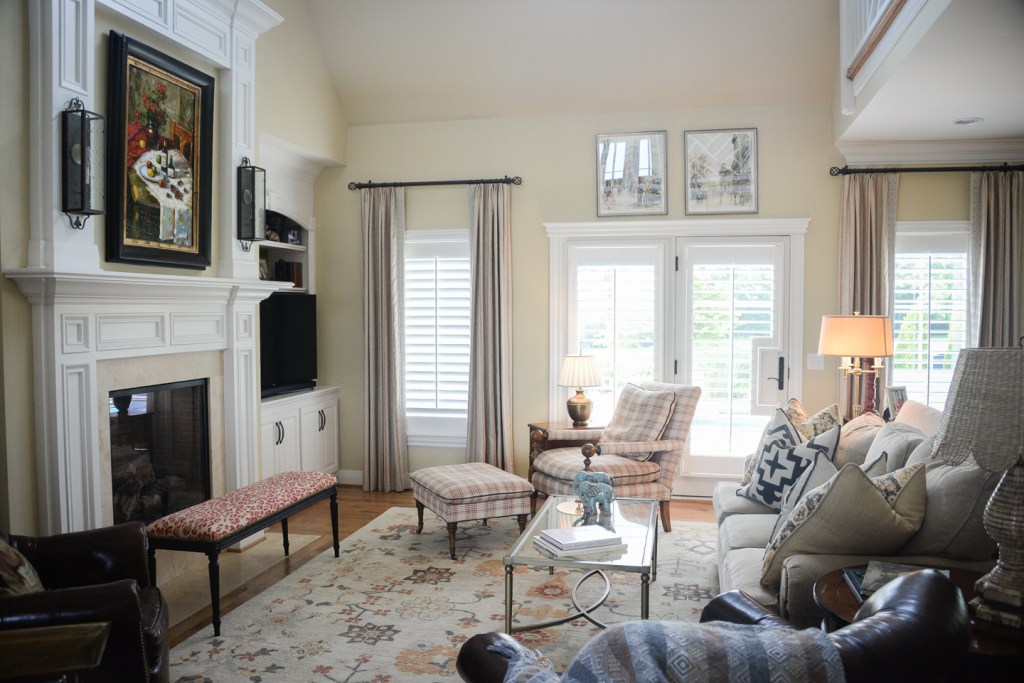 When the Gays began making improvements to the four bedroom, four full bath and two half bath home, they enlisted the help and expertise of Derrick Whitaker Designs. "We couldn't have done this without his guidance," Lee said. "Derrick completely reworked the kitchen, he designed the basement, the upstairs guest room before our daughter's wedding, and several other projects. Now when we start a project, we call Derrick. He's been very instrumental in helping us with design and decor in the house," she remarked.
Mark's Man Cave
Recently, Mark had the opportunity to finish his own special place in the house — a man cave in the unfinished basement. "This is the best part of the house!" Mark commented.
Antelope-patterned carpet runs down the stairs leading to a comfortable room designed for relaxation. A display cabinet filled with various bourbons are at the ready. A long bar counter provides a focal point to the room. "The bar was in a local general store and sat outside at my father's house for quite some time," Mark explained. "It was in pretty bad shape until Lee and her father restored it and now it's got a place of honor down here. One of the reasons we wanted to finish the basement was because of the bar!"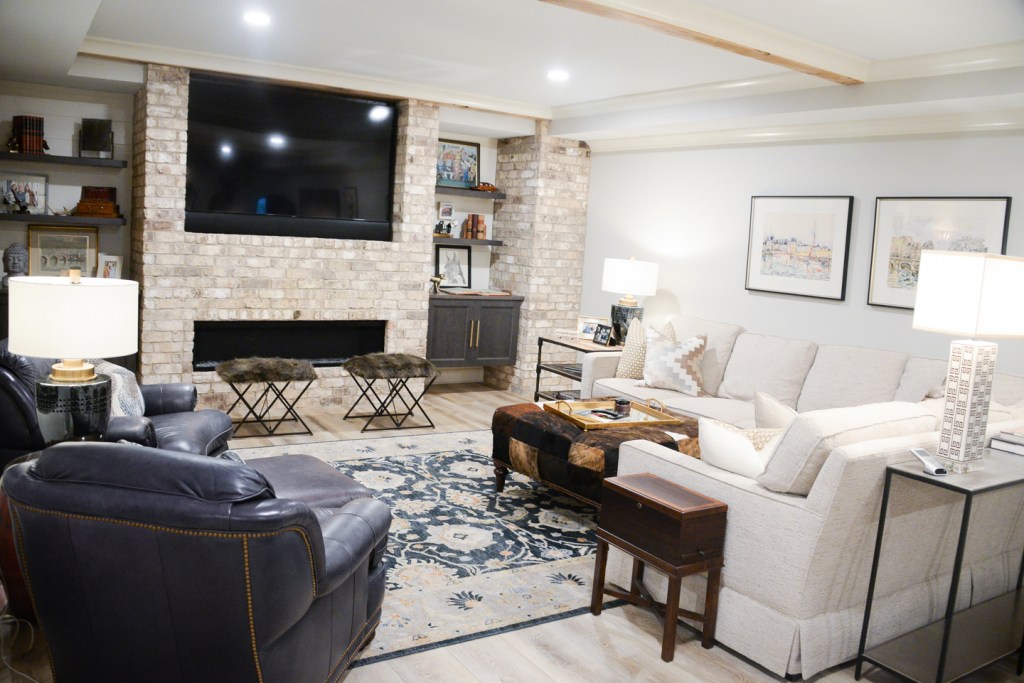 A sectional sofa surrounds the fireplace and big screen television where the Gays spend most evenings along with their Boxer dog, Piper. Mark and Lee also enjoy spending time on the patio and at the pool. "It's been so nice since we finally landscaped it in 2019," Lee said.
Visible from the pool area, the Gay's lone sheep, JoJo, lives in a spacious pen. "Well that's a story, for sure," Lee said, shaking her head. "Our daughter, Kathryn, helped to bring JoJo up as a lamb when working with sheep at Western Hills. She needed to be bottle-fed so Kathryn brought her here. JoJo would have come to a bad end (she was a meat sheep) if we didn't keep her so she stayed with us. She's now five and a big girl at 200 plus pounds! But, she's just part of the family now."
Mark and Lee enjoy the glorious sunsets and views from their home and are looking forward to the next project — maybe the room over the garage.
"Mark and I like a good project and there's always something to do when you own a home," Lee remarked.