Just a few years before the start of the Civil War, the first bourbon boom took place, and right in the middle of it all was African American slaves. They worked in the fields producing grains used for the mash, which was believed to be cooked by African American women. Blacks brought with them from Africa the knowledge on how to purify water. That knowledge was used in the process of distilling bourbon.
Post Civil War, African Americans and the knowledge they held continued to be pivotal in the creation of Kentucky bourbon. Though that history was not well kept, three local Black women are working to keep that history alive by telling the stories of their ancestors and writing themselves into the history for the current bourbon boom.
Katima Smith-Willis, Latesha "Tete" Hill and Kayla Bush all have a love of bourbon and each has a different storyline in the current history chapter on bourbon.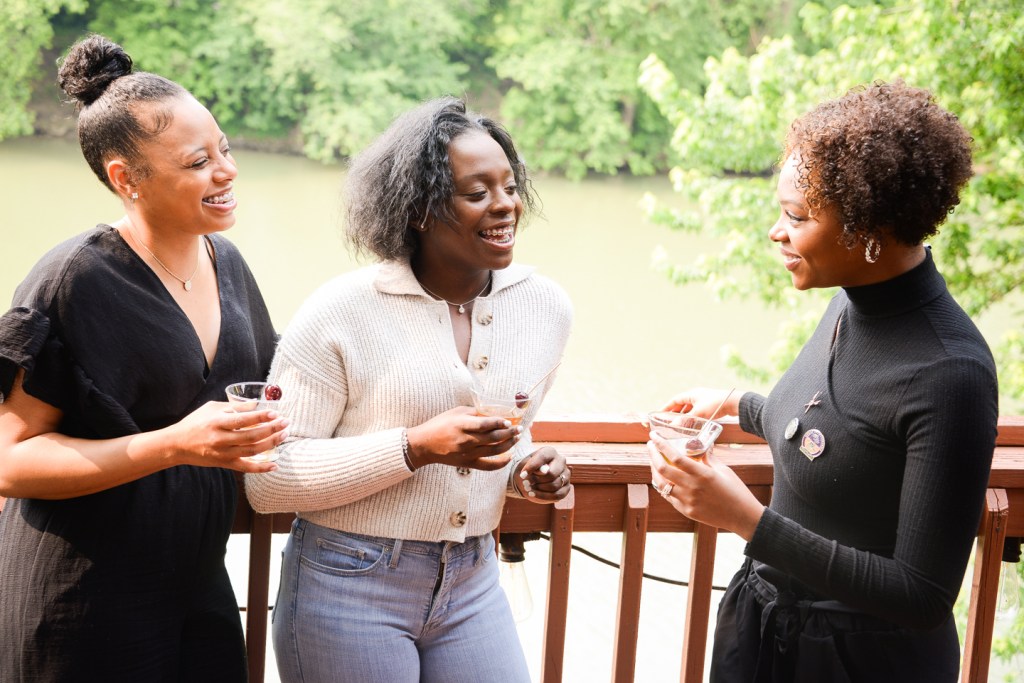 Katima is a Frankfort native whose love for bourbon blossomed at Bourbon on Main (BOM) in downtown Frankfort where she is a server and bartender.
"When I first started drinking my choice was bourbon and Coke — whatever the well was, which was usually Kentucky Gentleman or Kentucky Tavern," she said.
Katima, 27, began working at the restaurant in 2018.
"I began noticing the bottles," she said. "I knew it was a money maker but I didn't know why I loved it so much."
She said she started talking with Joe Fiala, one of BOM's owners. "He talked about the robust flavors."
Kelly May, another owner, would quiz her on the ingredients and how the different bourbons come off the stills. Taylor Marshall, a third owner, taught Katima the business side of bourbon.
"Experiencing them in the different aspects of bourbon is who I am today," she said.
Wanting to learn more about bourbon, she enrolled at Stave and Thief Society through Moonshine University to become a Bourbon Steward.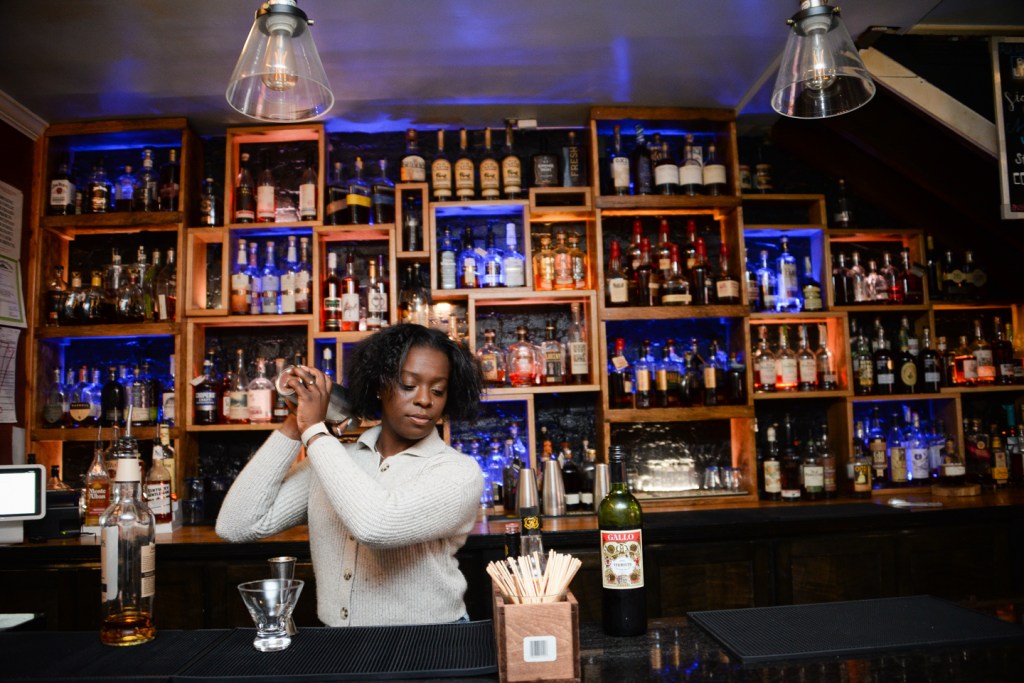 "It's more than just brown liquor in a bottle," Katima said.
Through obtaining her stewardship, she learned more about the history of bourbon, the distillation process, barrel process and the difference between bourbon and bourbon whiskey.
"It breaks down the process. There was part of it that was chemistry."
Since obtaining her bourbon stewardship, Katima is planning to start her own traveling business where she would do bourbon tastings and make cocktails at weddings and cocktail parties.
"People say bourbon is not for me until you try it in different cocktails," she said. "You could start with something sweet and move to something spicy. It's about finding the bourbon that is right for you and exploring those taste profiles through different lines of bourbon."
When asked what her favorite bourbon is, she steals a line from Freddie Johnson, a famed Buffalo Trace Distillery tour guide "whatever bourbon I have in front of me at the time with whoever I'm sitting with." But, if she has to choose, she says its Woodford Reserve Double Oak or OCD No. 5 out of Glenns Creek Distillery.
She also has joined the Kentucky Black Bourbon Guild based out of Lexington, which she said has been a pivotal group for her.
"I love the Frankfort Bourbon Society, but I wanted to be around different people outside of Frankfort and like-minded Black folks," Katima said. "I was welcomed with open arms and I got immersed into education.
"I've been learning about distillers, but also the slaves that have been a part of bourbon. Slaves had their hands in the process of distilling bourbon. They were the distillers."
As far as her future in bourbon, Katima plans to take a closer look at the policies and activism behind bourbon.
"I want to work out the kinks and mobilize something that will be passed down generationally," she said.
"Bourbon closes all of the best business deals. Whether it's a business deal or policy change, I want to be progressively having these conversations together. With the pandemic, people were physically and mentally closed up. However, we had in common 5 o'clock beers and bourbon with Andy. We need to keep the common ground we had during the pandemic going. We need to keep open and honest conversations in Frankfort to better our community."
Katima is married to Jordan Smith-Willis who owns I am Barber Studios. They have a son, Mylo, 1.
"I don't see us going anywhere soon," Katima said. "I want this to be a community that keeps having these conversations and he (Mylo) can keep those conversations going."
Tete is an executive certified bourbon steward, and like Katima, also a member of the Kentucky Black Bourbon Guild. She also is a certified mixologist and she's currently apprenticing to be a brewer.
Tete, as well, received a lot of her beginning knowledge of bourbon at BOM where she started serving in 2019.
"At Bourbon on Main, I was around 280 bourbons and I developed a taste for it," Tete, 32, said, even though she admits it was hard to get used to at first. "I'm more of a mix cocktail girl."
However, she quickly learned that it wasn't that she didn't like bourbon, it was that she hadn't yet found the right one for her.
"After I did find it, I developed a palette and appreciation for other bourbons," she said. "You have to go on a journey to find the bourbon you like."
She said she started off drinking Henry McKenna 10-year bourbon.
"Kelly (May) was letting me taste it. It won Bourbon of the Year that year, and had a price point that was reasonable."
When asked what her favorite bourbon now is, she said she has gotten a little more expensive. "My taste has changed a little. Rock Hill Farms is one my favorites. It's delicious, complex and super smooth. Beginner bourbon babies will love that one. The 1792 sweet wheat is one of my favorites. I also love Woodford Reserve and Angel's Envy. Angel's Envy age their bourbon in a wine barrel, which makes it a bourbon whiskey."
In August 2022 she left for a different opportunity at Limewater Bistro. "I get to be more creative and display my mixology."
Tete also leads sensory trainings at Gentleman Cigar Lounge, teaching people to pair cigars and bourbon. And, she does bourbon tastings at weddings and parties.
Tete loves learning about the history of bourbon at the Kentucky Black Bourbon Guild meetings, which are open to everyone despite race.
"African Americans are in so many pictures," she said. "African Americans were the ones making the mashes and some of the bourbons that are still made today."
She also learned about building mash. "It's a lot of chemistry. You have to hit certain levels and distill more than one time."
Tete said that 93% of bourbon comes from Kentucky. "Some other places are starting it, but nothing tastes like Kentucky bourbon."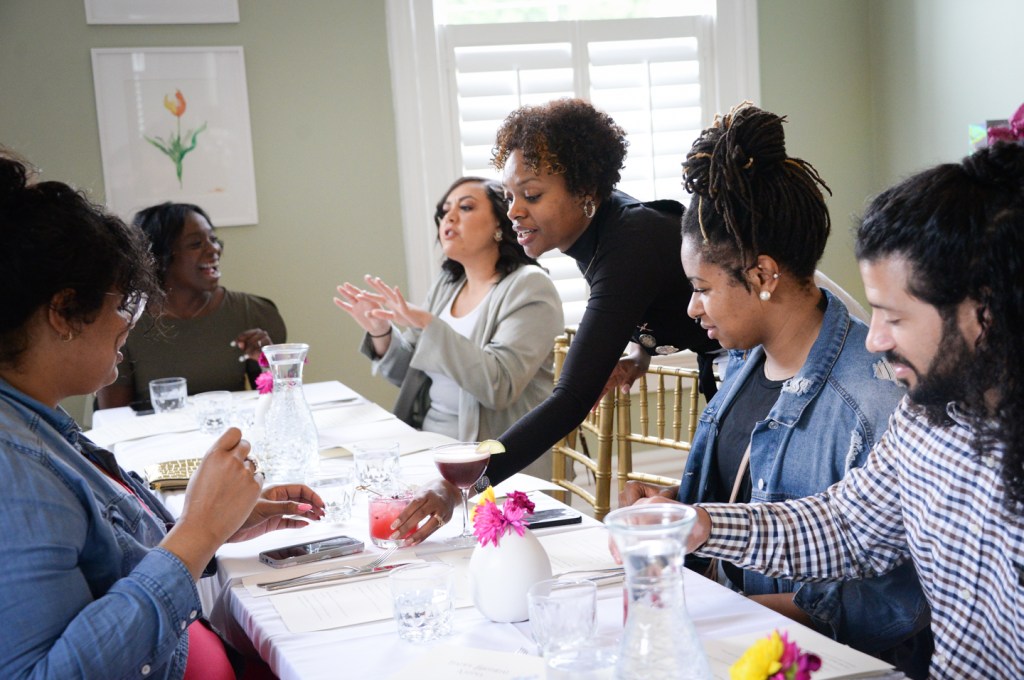 Tete is also very much enjoying her apprenticeship at Sig Luscher Brewery. She recently assisted in making an Imperial Pilsner. "It's made me go down this rabbit hole of different spirits."
She hopes to one day become Kentucky's first African American female brewer. She would also love to be a master taster at a distillery.
Tete also plans to grow her business and to get her name out there as much as possible. "I want to have my cocktails in every bar and do drink competitions. I love bourbon and I love mixing bourbon for experienced and beginner drinkers.
"I love seeing people's faces when they don't want bourbon and then when they drink one of my cocktails. I open their minds and can then take them on a journey. I'll start them on a mix cocktail like a whiskey sour and then work them up to an Old Fashioned and then a Manhattan."
Kayla is also a member of the Kentucky Black Bourbon Guild, as well as a recent Kentucky State University graduate with a bachelor's degree in mass communications and journalism with a certificate in fermentation and distillation.
Kayla said her fermentation and distillation classes started off teaching about the process of making yogurt and cheese, "then we started talking about bourbon and how much money it brings to Kentucky." That's when her interest peaked.
Kayla, 31, is from Woodford County.
"I started thinking about my past," she said. "Woodford County is old money … this is what they're talking about."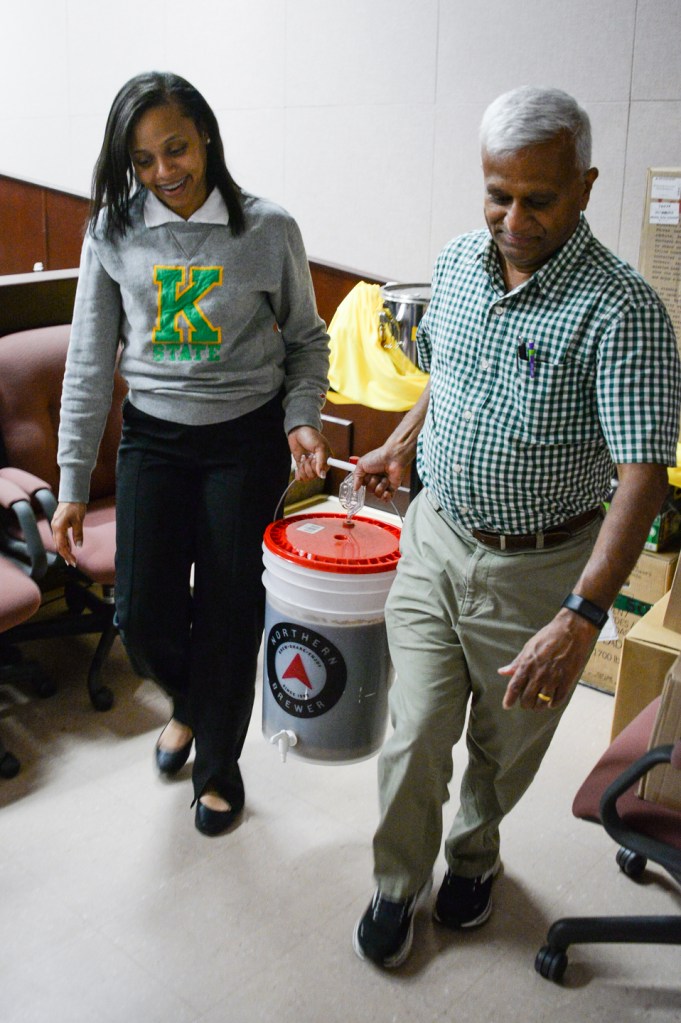 From there, Kayla went on a journey to discover the African Americans who developed bourbon in the very beginning, with some of them being her ancestors.
"What about bourbon makes it so popular now?" she said. "When I was growing up, people were trying to get away from that history."
And, now, Kayla is digging it up with the help of Nicolas Laracuente, a bourbon archeologist at Buffalo Trace Distillery. She recently completed an internship under his guidance.
Through Buffalo Trace's archives, the Capital City Museum, the Filson Historical Society in Louisville, the Kentucky Historical Society, the Kentucky Department for Libraries and Archives and deed records, Kayla has been able to find an abundance of information that paints a picture of African Americans involvement in the first bourbon boom.
"The labor behind bourbon were slaves," she said. "The history will tell you African American women were distilling and fermenting because its cooking, just on another level. Mashing grains is a form of cooking."
Through her research and in talking to family, she discovered that her great-great-great-great grandmother, Ann Risk Caise, was enslaved in southern Woodford County by Sen. James P. Ford, who owned a distillery.
"Ann was living in the household with his children," Kayla said. "Tax records show that he was distilling wheated bourbon."
She said Ann's husband, Ben Caise, was working the land, while Ann was responsible for cooking. Ann's oldest daughter was a servant in the household.
"Ann had to be responsible for distilling and things like that."
After slaves were freed, Ann and Ben were conveyed 62 acres of land in an area known as Elm Bend in Woodford County. The land was once owned by Dr. James Crow, who worked for Peppers Distillery.
"They say he was the first chemist to use science to figure out the mash bill," she said.
Up to that point, slaves — who couldn't read or write — were making the bourbon and their recipes weren't recorded.
Kayla has been able to undercover even more history on African Americans' contributions to Kentucky bourbon. Her work has been acknowledged by many in the bourbon industry. She was invited to present her findings during the Jim Beam Fourth Annual Conference.
Her work has also caught the attention of historians at University of Kentucky and she has been offered a scholarship to obtain her graduate degree in Africana studies, which she will begin in the fall.
"UK wants me to continue my research on African Americans contribution to the Kentucky bourbon industry."
Using the research she is gathering, Kayla is hoping to eventually create her own bourbon. Her current favorite bourbon to drink is Woodford Reserve. She likes the smooth, sweet flavor.
Through her work, her ultimate goal, however, is for African Americans to be able to see how they fit into the current bourbon boom.
"There's a whole consumer base that doesn't know that they are accepted," she said. "We need to be seen in leadership roles as well. Let's not make it abnormal to see Black people in bourbon."
Kalya hopes that one day distilleries will add tours that teach the history of African Americans involvement in the bourbon industry.
"Lets add tours about the true distillers and the true start to bourbon. Lets have something that resembles me. There's a whole pack of us that are into bourbon and that's a huge consumer base you're leaving out.
"Younger generations need to know the history behind bourbon, so that they can be involved with it now."