Crit Luallen believes that there's no better place to live than Frankfort. "This is one of the most special, remarkable places you could live in the world," she said, smiling. "I think we have one of the most beautiful state capitals in the country."
Crit, who served with seven Kentucky governors, has deep roots in Kentucky. She grew up on a farm that her grandparents bought in the 1920s. The land was actually settled by Crit's ancestors, James and Agnes Ware in 1783, as part of a Revolutionary War Land Grant.
The baby sister to five brothers, one of Crit's fondest childhood memories is riding horses bareback across her family farm on the outskirts of Franklin County. A self-described tomboy, Crit said she "spent all of her time running and playing outside. It was wonderful growing up here. The house was always full of brothers and friends and cousins — it was a bit chaotic at times."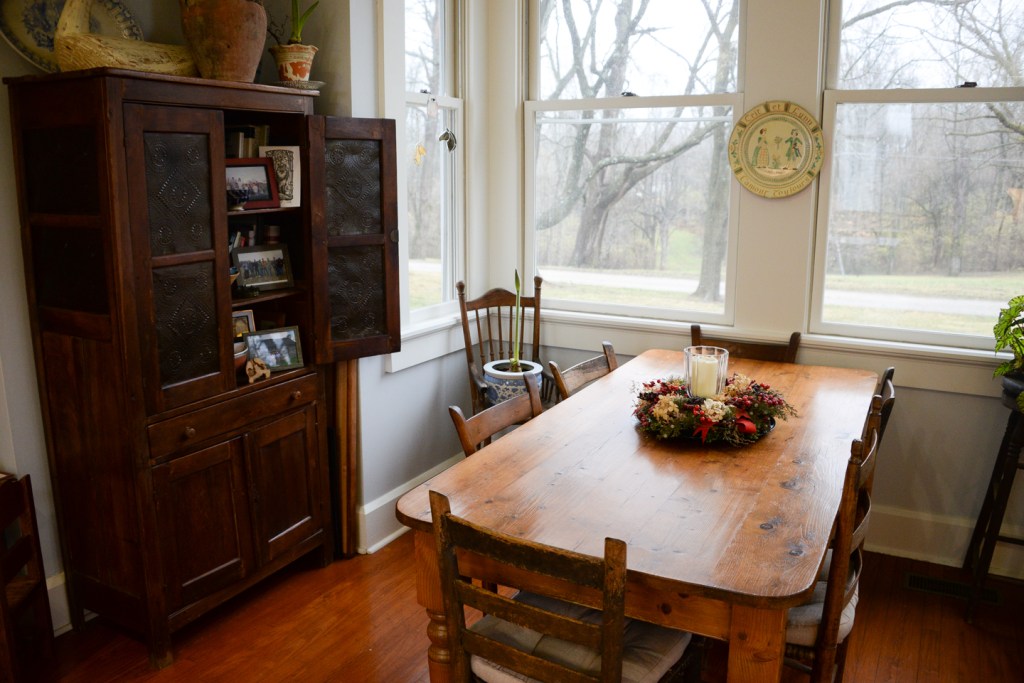 The 155-acre working farm is still in the family. Two of Crit's brothers and a nephew have homes on the farm. Crit and her husband, Lynn Luallen, live in the original house. Except for her years pursuing an art degree from Centre College, Crit has lived in the family home situated along Old Versailles Road and Old Frankfort Pike.
After graduating from Centre, Crit came back to Frankfort. Her mother had moved closer to town leaving the family home empty for a time, so it was in need of some extra love and attention. "I came back from Centre and started working on this house and looking for a job," Crit said.
From mailroom to lieutenant governor
A friend told Crit that they were hiring people at the new state Democratic Headquarters. That was the beginning of Crit's long career in public service. "I took a job in the mailroom during Wendell Ford's 1974 U.S. Senate race. Wendell Ford took the time to walk through and talk to us, learn our names and ask what we were going to do with our lives. He told me that if you work in public service you can make a difference." Wendell Ford became a mentor to Crit from that point forward. "I always asked him for advice when I was running for office or making a big decision," she remarked.
Crit hails from a family filled with celebrated Kentucky personages dating back more than 200 years. Her lineage includes two Kentucky governors — John J. Crittenden (1850-1853) and Dr. Luke Blackburn (1879-1883), as well as bourbon royalty, E.H. Taylor.
She spent more than 40 years in Kentucky government. "I worked in every level of job from the bottom to the top … and eventually worked on just about every aspect of policy in Kentucky," Crit explained. "I served in the highest appointed position, which was the Secretary of the Governor's Executive Cabinet. I was elected state auditor twice and then was appointed to serve as lieutenant governor by former Gov. Steve Beshear. I found my experience to be incredibly rewarding because Wendell Ford was right. When you get involved in public service you feel like you're making a difference in people's lives."
A home filled with history
The house, built around 1900, boasts a wide, welcoming wrap-around porch with an inviting table that seats 12. "We do lots of entertaining at that table," Crit said.
In the summers, Crit and Lynn like to take their morning coffee to the back porch where the sun rises in the distance over the fields. It has a view of an original cottage to the house that Crit now uses for her gardening tools. "It used to be used as a smoke house for hams," she explained.
The house feels comfortable from the moment of entering. Many of the antique furnishings and original art comes with a story. In an upstairs bedroom, there is a cradle from the Taylor family that is said to have come over the mountains in a covered wagon. A children's bedroom is outfitted with twin beds that came from a Louisiana monastery with hooks to hold mosquito netting. There is Kentucky art collected by Lynn and Crit through the years; and original photographs taken by Crit that are framed and hung in the stairwell.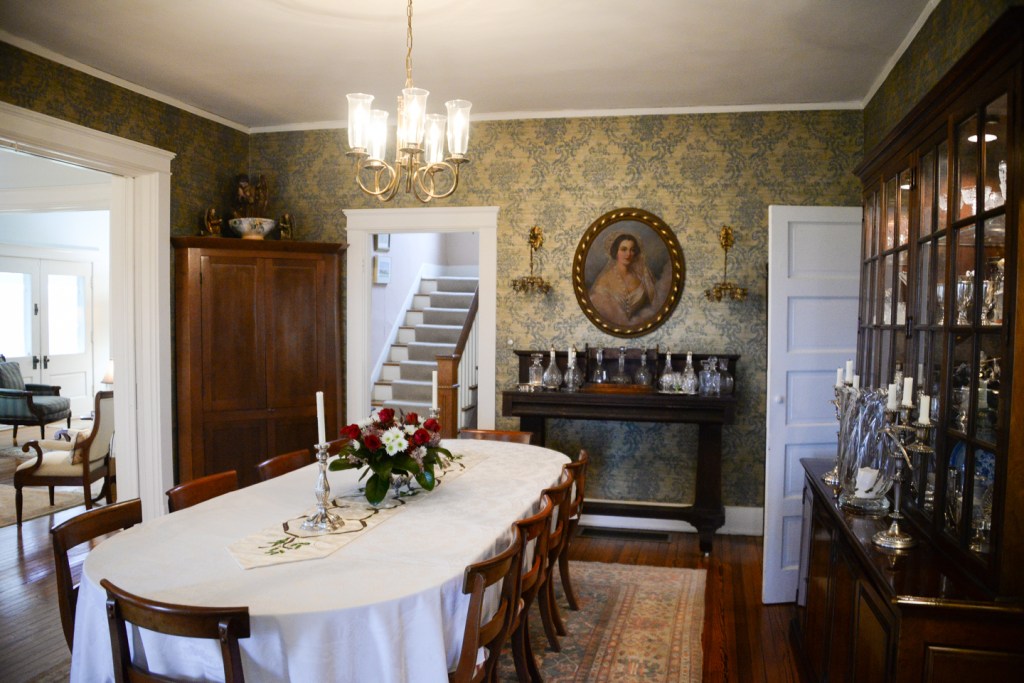 Throughout the house, there are original portraits of ancestors, each with a bit of Kentucky history behind it. One such portrait was described by Crit as Francis Johnson "Bossy" Taylor, wife of Col. Taylor. "Apparently, her nickname was a joke because she was said to be very sweet and demure." Both Crit's mother and grandmother were accomplished artists and the house is filled with their paintings.
Flower gardens surrounding the house provide splashes of color throughout the different seasons. "I thought in retirement I was going to sit and paint, but it hasn't turned out that way," Crit said. "I've decided that doing flower arrangements is a sort of reflection of my interest in art because picking the shapes and colors and arranging them is a bit like doing a painting for me."
Seamless changes and additions
As expected in a century-old home, Crit and Lynn have undertaken several renovations and additions. They took out the back kitchen wall, expanding the area; then rebuilt the back porch behind the kitchen. "I don't know how my mother cooked and fed all of us in that little kitchen," Crit remarked.
In 1992, the couple added a light-filled family room on the main floor. "There will come a day when we can't get up all these steps, so we can make this a master bedroom and bath. We had a wonderful builder from Waddy who even found wood flooring from another home that matches the floors in the original part of the house," Crit said.
Upstairs, Lynn and Crit decided to turn one of the four bedrooms into a study because it was very small. Now, shelves and shelves of books fill the room along with memorabilia and a comfortable space to watch TV.
The third floor attic during Crit's childhood was the catch-all. It has now has been repurposed into an office and hangout area complete with an extra long cozy window seat positioned under the eaves.
The additions are seamless, allowing for more space and updated conveniences, but the couple has maintained the classic nature of the home. "I feel like I am a caretaker for the next generation of our family and I hope to instill in them a sense of the legacy that lives on here," Crit said.
"This house is our gathering place; it's where my brothers and I grew up and we hope that our younger family members will know their heritage and continue to love the farm."