By Barbara Hadley Smith, The Garden Club of Frankfort
During a recent meeting of The Garden Club of Frankfort, members learned about the Amaryllis flower, selected as the 2023 Bulb of the Year. Members were able to purchase bulbs and were instructed on how to plant them for maximum results.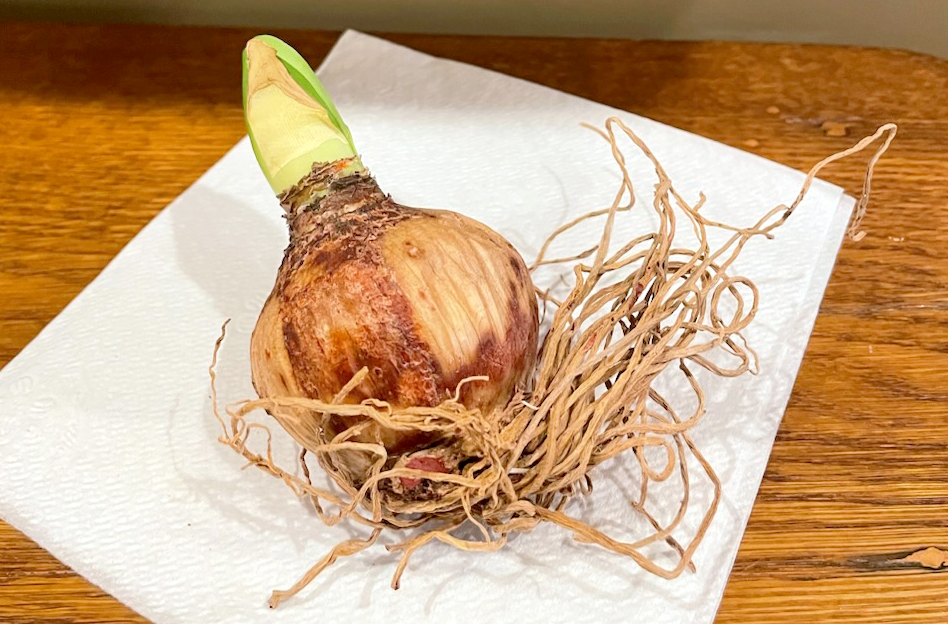 Those members who went home to follow those instructions right away were blessed with a magnificent display for Christmas. The name Amaryllis, whose petals glisten in the sunlight, means "to sparkle" in Greek. As a forced bulb, it will bloom for 3-5 weeks, on stalks of one to several flowers, providing a long bloom season. Individual flowers may be single or double and in a wide choice of colors from solid red through pinks to white, striped, edged and combinations.
Double flowers have additional petals within the outside six petals. All the plant requires is bright light and moist, well-drained potting soil.
Amaryllis may be planted indoors from October through March. Prior to potting, store the bulbs at a consistent dry 50-degree temperature with good ventilation, (never in the freezer). Plant each bulb in a well-draining, cozy pot (about 1-inch larger circumference than the bulbs) with 25% of the bulb above the soil level to prevent water collection in the sprout. Use a well-draining, neutral pH, sterile soil medium. Tamp the soil down firmly.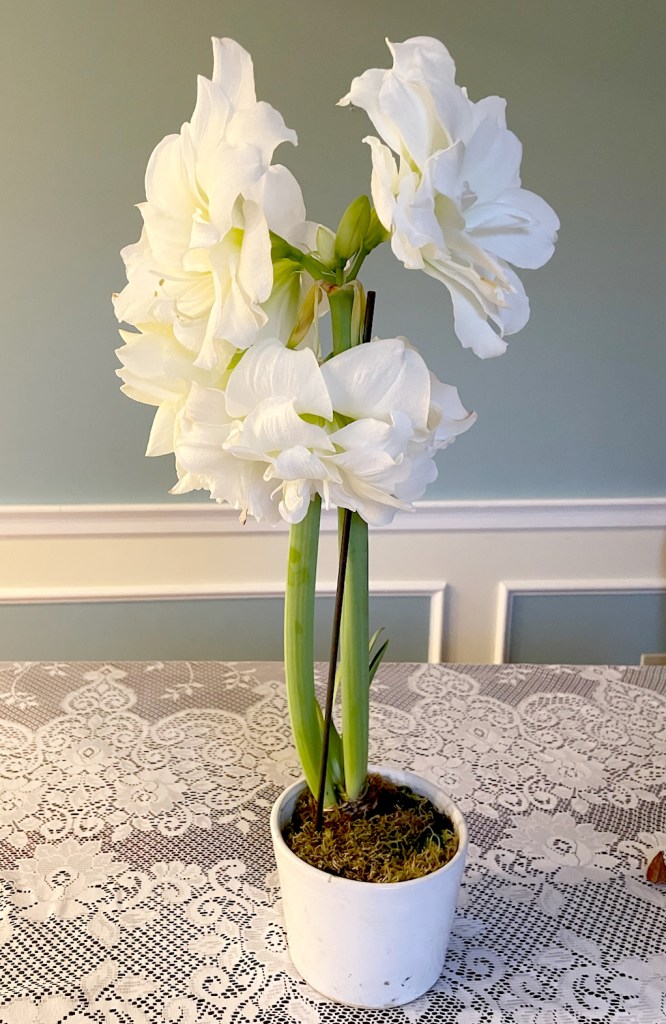 Water the plant lightly with tepid water and place it in direct sunlight at room temperature. To help your Amaryllis pop out of dormancy more quickly, you may give the pots a bit of bottom heat (above a radiator or on a heating pad. But not on the stove). Water sparingly until the stem appears. Most bulbs produce a stem and flower first, followed by sword-like foliage. Wax coated bulbs do not require water.
To hold the plants over for subsequent years of bloom, deadhead the flowers, fertilize with a house plant fertilizer and water through mid-July. Then, store the pot on its side indoors in a dark spot and do not water it again.
In late October, bring the plant pot out, cut off the dead foliage, refresh the soil and give the plant a drink of water to start its growing cycle all over again.
Amaryllis bulbs can be brought back into bloom each fall and can live up to 75 years. The flowers are terrific cut flowers, too.
Christmas flowering varieties from South Africa should bloom in four to six weeks. Royal Dutch Hybrids should bloom in eight to 12 weeks.
For information on how to become a member of The Garden Club of Frankfort, email bhsmith2010@gmail.com.