By Barbara Hadley Smith, The Garden Club of Frankfort
The Garden Club of Frankfort's annual Christmas Tea was enhanced this year by lovely French accents. The event took place at the historic Vest-Lindsey House, the perfect setting for traditional French Christmas decorations that evoke nature and the past.
Jocelyne Waddle. a recent club member, headed the committee tasked with decorating the venue. She is originally from Southern France, specifically the City of Agde in the region of Languedoc.
Jocelyne explained that French decorating for Joyeux Noel uses elements of nature such as greenery, fruits and flowers. A wide variety of color, mostly pastels and soft colors, like those of the setting sun, are popular in the South of France, as opposed to the bright red and green Christmas colors preferred in the United States.
Another difference is Papa Noel (Father Christmas). Instead of a fat, jolly Santa Claus in a bright red suit, Father Christmas is a tall, thin, person in subdued clothes who lives in the woodland surrounded by nature's creatures. Fireplaces are not common in the warm climate of Southern France, so Father Christmas transforms into the wind and comes into the house through keyholes and slightly open windows. Instead of stockings hung on the chimney, children set out their shoes to receive the presents!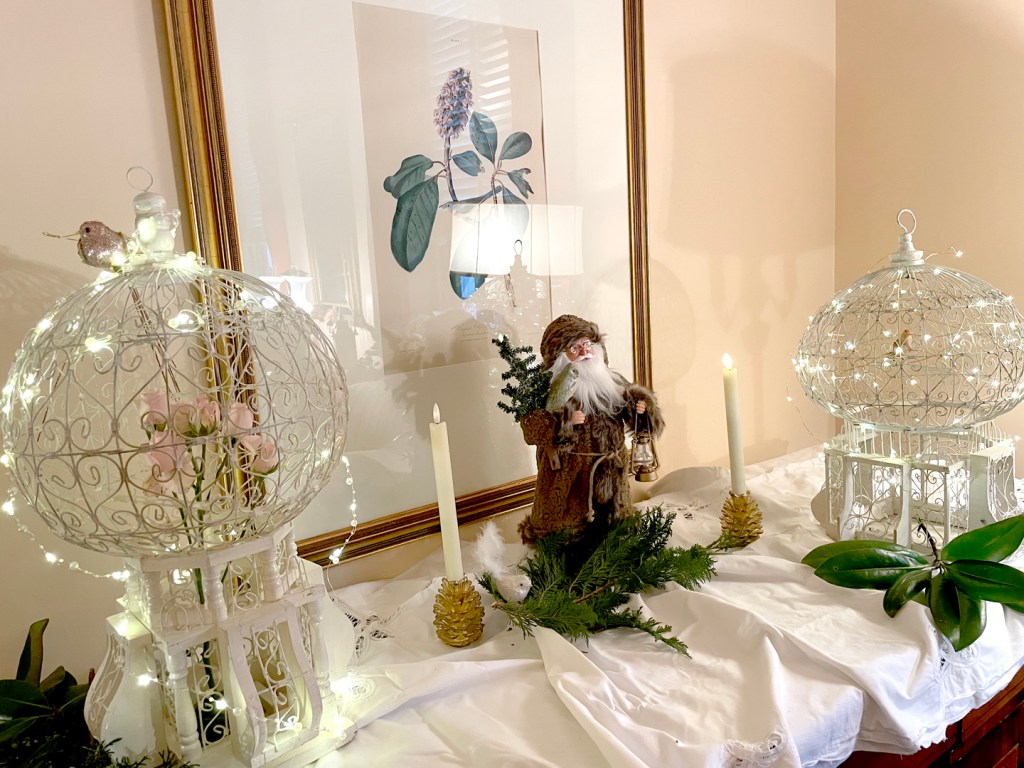 People in France concentrate their decorating on the inside of their houses as opposed to the outside. Fruit and flowers paired with greenery brighten the interiors. The responsibility of decorating the outside falls to the community and its leaders. Lots of lights and festivities attract people to the community celebrations.
Guests who attended the Christmas tea, entered through the front door displaying a generous wreath of greenery with large, light pink roses. The entry hall featured a woodland décor with deer and trees formed in soft gold mesh surrounded by greenery.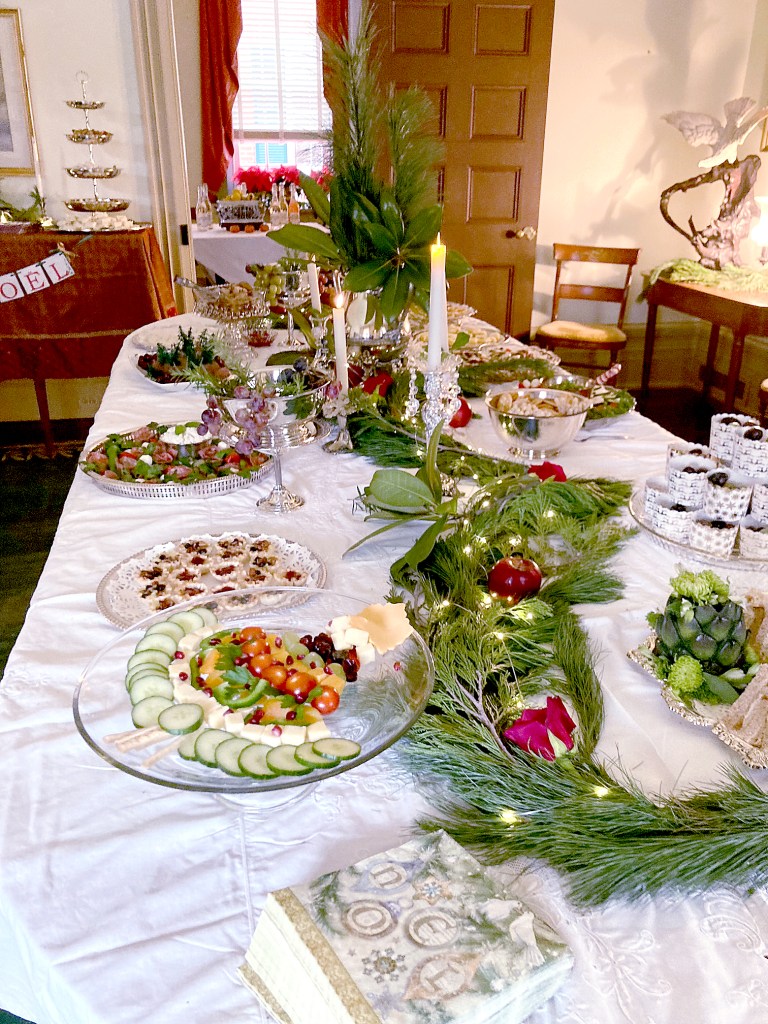 The drawing room in peach, rose and cream colors displayed beautiful white bird cages, bird houses and candles. Roses, ribbon, ceramic birds and vases of contrasting greenery evoked old world charm.
The dining room with accents of red, a color that stimulates the appetite, offered a wide range of delicacies to eat, both American and French, such as eclairs and figs pastries, as well as a selection of teas. The mantle decorations include pomegranates among the greenery.
The breakfast room featured blue toile and lemons, oranges and lavender among the greenery. Since no champagne could be served on state property, Jocelyne located sodas flavored with fruits and herbs, but no sugar, sold in Lexington but made in France. She pointed out that the company started making the soda in 1865 and could very well have been served to the original residents of the Vest-Lindsey House.
For more information about Jocelyne Waddle, follow her on Instagram @elegantfrenchliving.