In 1967, the popular vocal duo Sonny and Cher had a Top 10 hit with "The Beat Goes On," a phrase that might well apply to Frankfort DJ and musical and entertainment visionary Broderick "Rick" Redden, a.k.a DJ Double. Rick is following in his father's DJ footsteps as he emphasized during our interview. Rick's father "Junie" Redden was one of the very first dance-party DJs to rise to the top of the "event" charts in the Bluegrass, and, from a very early age, Rick was determined to "be a DJ like my dad."
Listening to music forged a major element in Rick's life from elementary school (Second Street School) on. When he turned 13, Rick began to write his own music, and eventually talked his dad into creating a makeshift studio for him at home. There, he spun out his musical event fantasies and began to develop the persona he carries with him today.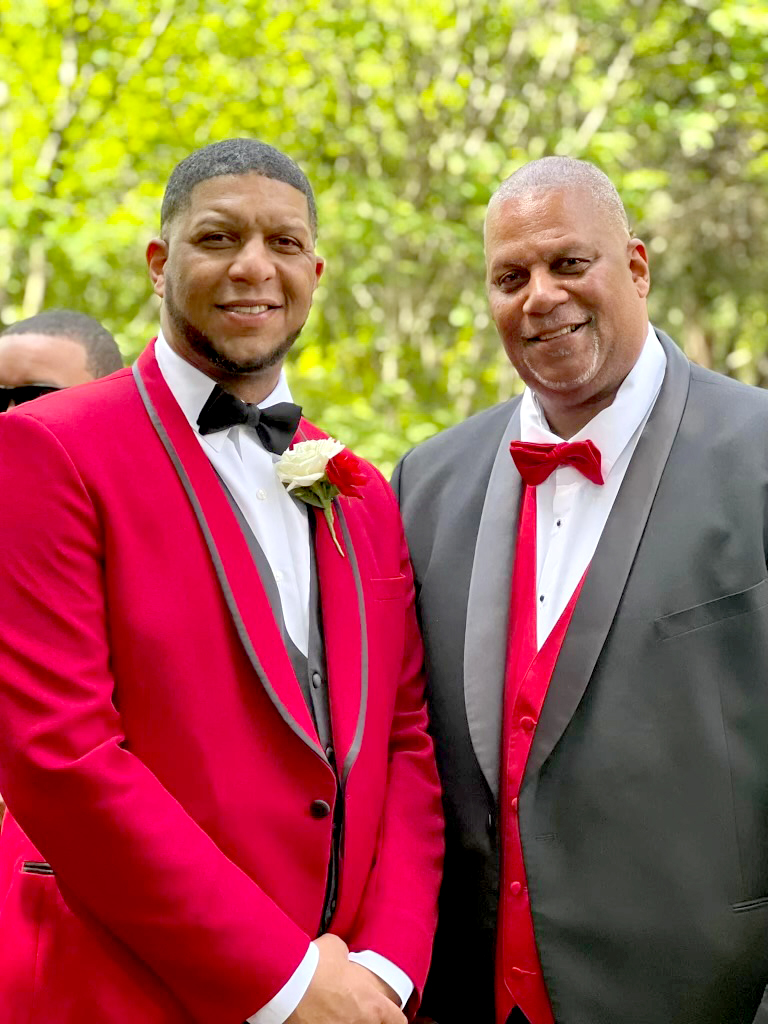 From the makeshift home studio, his next step was to become part of a musical group. Utilizing some of the entrepreneurial spirit that has long been a key element of his essential self, Rick joined forces with his brothers and some cousins to form the Rap group, Dogs for Life. Later, he became a member of the group, Waiting on Gabe.
Asked about his slightly unusual first name, Rick replied that his mother, Aundrea Owens Redden, chose it after hearing, and liking, the name of movie star Broderick (Crawford) during a movie preview. Maybe, Rick notes with a laugh, entertainment was always destined to be a force in his life.
After graduation from Frankfort High in 2003, Rick found his interests becoming steadily more focused on creating, engineering, and DJing dances for groups, organizations and the public. During 2012, he began the transition, steadily shifting more and more of his attention onto strictly performing as a DJ at dances and parties, and taking his highly popular shows across Kentucky. Later, he expanded his horizons, taking his shows into Ohio and Pennsylvania. Rick's shows always presented a variety of music to his various audiences, but Rick freely acknowledges that the largest segment of his sounds was Rap, featuring such stars as Jay-Z and LaRussell.
Soon, Rick found himself doing at least one show most Saturdays and Sundays. In fact, shortly before the deadly COVID virus struck, he had taken his music on the road for 37 consecutive weekends.
However, as much as Rick loves music and performing DJ duties, those have never been close to comprising his entire life. Family and friends have always been vitally important to him. Exactly how important might be illustrated by noting that he and his wife Leah have six children — four of their own and two they have lovingly brought into their family. All of their children attend local schools, with his eldest son, Daylyn, (who is 6'4' like his dad) playing basketball this season for Rick's alma mater, Frankfort High.
Giving back to the Frankfort community also occupies a special place in Rick's heart. One of his favorite projects is the HeartBEATS program at The Kings Center. HeartBEATS is the very popular musical happening/venture/learning program where Rick works with a group of about 15 children, teaching them the basics of musical production — how to use various pieces of musical equipment (synthesizers, electronic turntables, media disks, disk players, etc.), how to setup and stage a live performance, even how to write music. With a little help from DJ Rick Redden, Frankfort's HeartBEATS kids even wrote and performed their own HeartBEATS anthem.
One of Rick's goals for HeartBEATS is to provide all new and upgraded music-making equipment for the kids. He strongly believes that the HeartBEATS program and The Kings Center both play important roles in the lives of a number of Frankfort children, and he wants to expand and enhance the experience for these, and other young people. Rick notes that "kids need a comfort zone, and they need to know they are appreciated."
Rick said that donations from individuals in Frankfort and Franklin County made the HeartBEATS program, and many other activities at The Kings Center possible. He sees these contributions from the community as a testimony to his belief that Kentuckians can accomplish so much more if each of us will "do what we can, while we can." By the way, you can help keep HeartBEATS and other Kings Center programs going by donating — simply go to www.kingscenter.org and click on the big blue "donate" button.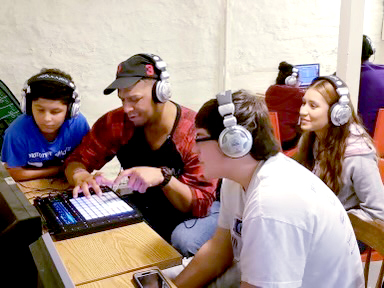 For many seasons, Rick has served as a volunteer coach in Frankfort's Youth Development Basketball League. Rick said he loves coaching basketball and working with the kids, regardless of their athletic ability, and strives to serve as a positive role model to all participating youngsters.
Before COVID, Rick also volunteered his DJ services each summer at Family Day, a daylong event held annually at Dolly Graham Park in South Frankfort. Located on the south bank of the Kentucky River (225 River St. — just off Murray Street), this recently renovated six-acre park is the site where hundreds gather on Family Day to meet up with friends and family and enjoy a tasty picnic and relive old memories while creating new ones. While the grownups socialize during Family Day, the children enjoy the playground equipment and other amenities. Throughout this good-times event, all enjoy Rick's unique musical production. He is hopeful Family Day will resume in 2023.
Rick notes that, as with all elements in our lives, the music world is changing. Today, he said, young people are especially fond of "Drill," a subgenre of hip hop, similar in many ways to gangsta rap, that originated in the streets of Chicago and soon spread into the American musical mainstream. Rick's personal musical tastes run more to performers like Usher and Bruno Mars, and he expresses serious concerns about Drill lyrics, as they tend to be violent and nihilistic, often reflecting the gritty realism of urban streets everywhere.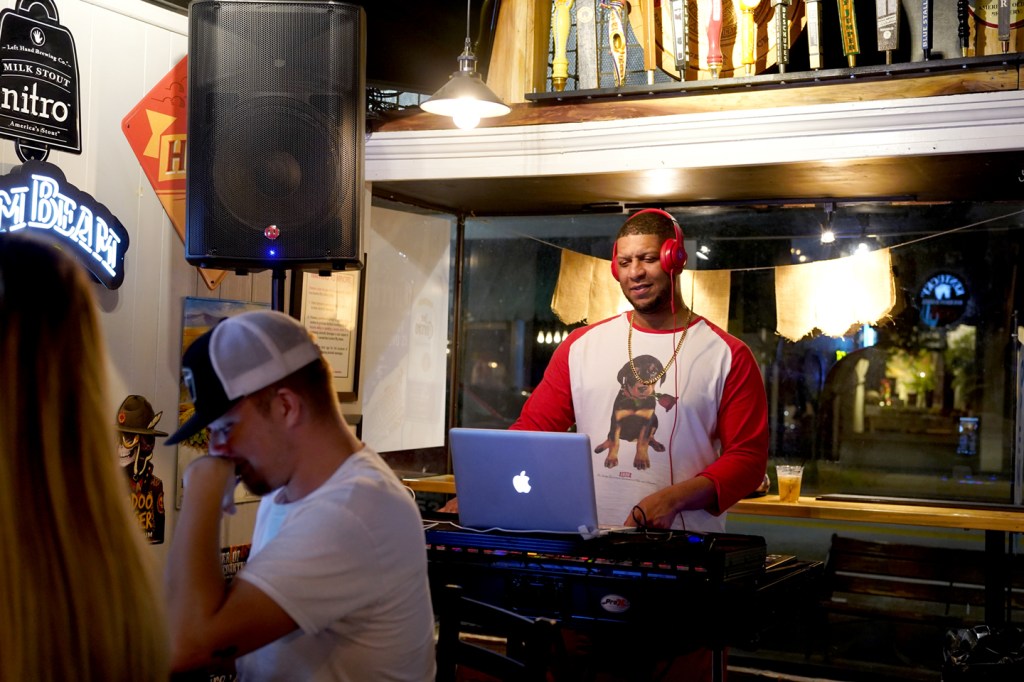 During all of his DJ years, Rick has always believed that, in addition to enjoying the beat of a song, listeners of all ages need to pay attention to the messages woven into the lyrics of the song. Before every show, he carefully listens to each song he plans to play, always focusing on the words in an effort to determine, at least in his own mind, if "they are saying anything of importance."
In addition to his DJ duties for Frankfort's own A To Z Productions LLC, Central Kentucky's premier DJ service provider, Rick hopes to also set up a 501(c)(3) non-profit to provide an additional avenue for music and entertainment in Frankfort and Franklin County to grow. Rick said that he would love to see musical entertainment becoming a more substantive element in the community.
During 2023, Rick plans to work more closely with the city of Frankfort to help promote entertainment for both children and adults in the years to come. Always trying to shed a positive light on the community, he strongly believes that Frankfort is a beautiful city and that "when we work as a team, we can do beautiful things."
One of Rick's visions incorporates using the vacant lot where the Civic Center formerly stood as an open-air entertainment spot for all citizens of Frankfort and central Kentucky. One of Rick's core beliefs is that what matters is "not so much the facilities a community can offer, but a coming-together of the citizens, and that all work to make very sure that the beat, the very heartbeat of our community, goes on."