One of the earliest surviving stone houses in Frankfort has recently been beautifully restored and will soon house visitors in the capital city just as it did 200 years ago. The John Hampton House, named the Early Stone House by its owner, Castle & Key Distillery, has been lovingly brought back to life by interior designer, Julie Williams. The house is a direct extension of the distillery and will be available to Castle & Key wedding parties as an enhancement to their special day. It will also be used as a venue to host private dinners and events, and as a short-term Airbnb rental.
As with many centuries-old structures, there is debate as to when the age-bleached river limestone building was constructed. Some experts point to it being built as early as 1815 by real estate entrepreneur and tavern keeper, John Hampton. By 1850, the house, which sits in the shadow of the War Mothers Memorial Bridge (Capital Avenue Bridge) at the intersection of West Main and High streets, operated as a boarding house. It was, most likely in those early days, a welcome beacon of light for trappers and loggers rounding the bend of the Kentucky River into Frankfort.
Designing with a sense of history
Julie, who took on the job to restore the structure, says she knew it was important to respect the history of the house. "It was a given that we would add elements that were nuanced with the trademark Castle & Key style, as well as effectively including modern and antique pieces," she said. "I loved combining old with the new mixed with history, creating an eclectic feel to the space. I wanted to tell the story behind Castle & Key so that the people who come through this house would be enthralled with the history — of Castle & Key and this incredible old house."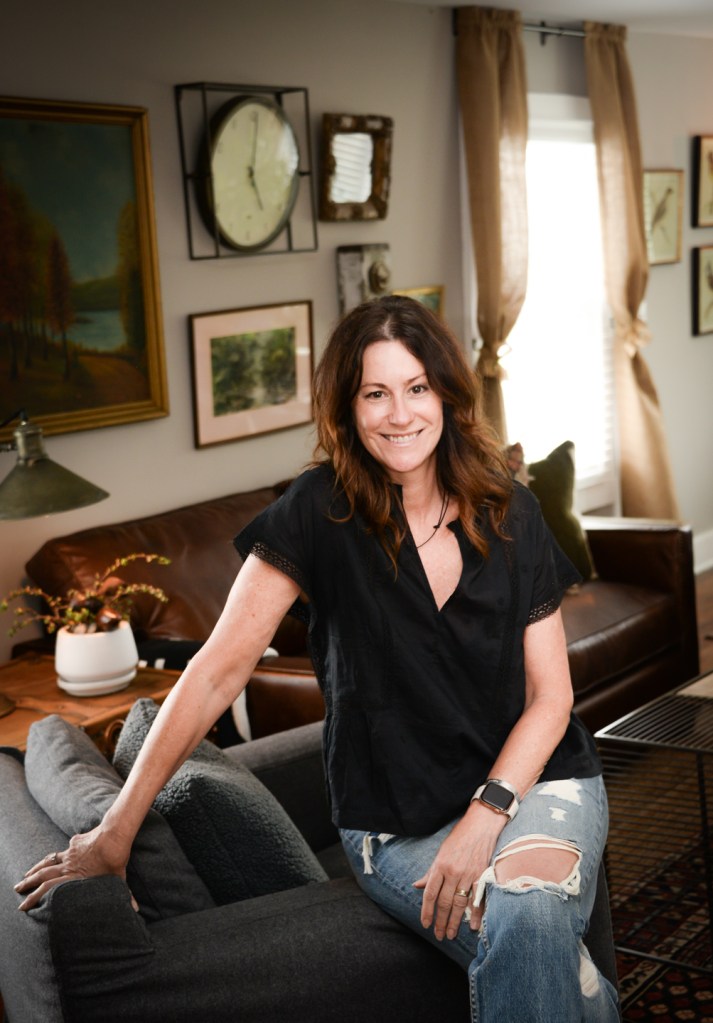 Will Arvin, co-founder and owner of Castle & Key, and Julie have known each other since high school. "I saw Will several years ago and he told me he was going to buy the Old Taylor Distillery and was going to make bourbon — and he has made that happen," Julie said. "When he was looking for options for Castle & Key guests and saw this stone house, he had the vision to know it had the same feel as the distillery. Will loves historic restoration and wants it done right." Will ended up buying the riverfront property and Julie's quest to create an inviting guest space began.
Mixing old and new
Julie readily admits that there's nothing easy about restoring a 200-year-old structure. Nothing is level, floors and windows have settled, and there's always some unexpected surprise around the corner. "When you're working with an old house you just never know what's next," she said.
Julie is no stranger to working with old homes. She explained that it all started at the age of 13 when her family bought a house in Gratz Park — an old home with old home issues. Currently, she and her husband live in a "grand old dame of a home" sitting on Elkhorn Creek where it seems to be in a constant state of some renovation or restoration. "I don't just do older homes. My business is a mix of old and new residential and commercial construction counseling, renovation and furnishing," Julie remarked. "This project has definitely been a lot of work. But, it has also been extremely satisfying to see it to the end — to choose the artwork, the lamps, the bedding, the accessories — the pieces that tie everything together. I had great help from my daughter, Dorsey, who's working to get into design school, and from a whole crew of friends including Ann Grider and Josh Lampkin. Working with restoration preservationists like Steve Cohlmeyer gave me peace of mind knowing the job was going to be done right."
In this restoration, Julie used the charm of the house, choosing not to refinish or replace the well-worn wood floors, leaving visitors to imagine those who had tread on them long before. In some places, she had to get creative and hang drapes from boards attached to the ceiling so they hung correctly. She searched consignment stores and peddler malls to find treasures, as well as ordering new pieces that matched her design for each room.
Julie enlisted the help of experts like Poet Laureate Richard Taylor to create a list of Kentucky and bourbon-related books to purchase for the library. She reached out to the descendants of the Williams family, who owned the house for a century. She also worked with Hay family members who provided a copy of a family tree which is framed in the library and other interesting memorabilia related to E.H. Taylor Hay and the Old Taylor Distillery. "I have to say that I'm proud of the library just because I think it's probably the most important component to send the message of the house. I think people are going to want to spend time in there. It's not a typical space for a rental," Julie explained.
The finished product gives you a comfortable, lived-in feeling. The stories that make up the history of this house have not been lost. Julie has brought them to life through the intentional design and decor. "… there are so many stories to tell — from the people who have frequented this abode as a boarding house, later owned by a sheriff, to his descendants who had their hands in law, bourbon and even assassinations," Julie wrote on her Instagram account @jpwcreativedesign.
Comfortable lodging
The exceptional nature of the house is immediately apparent from the front of the Early American-style two-story house adorned with stone jack arches over the windows and blue-painted double doors. "One of the biggest milestone accomplishments in the restoration of the house has been what Steve Cohlmeyer and his crew have done outside," Julie said.
Steve added, "You could basically stick your finger through the windowsills outside. We had to take them down to bare wood, then basically remake oak sills. Some were held together by just the paint. We completely restored the windows and were able to keep the original glass, too."
In the front entry, framed Castle & Key bourbon bottle labels hang in a grouping as a nod to its owner. The front room is inviting with a mix of styles and textures. Paul Sawyier prints provide just the right ambiance in the dining room. A pass-through area from the dining room to the kitchen has been fashioned into a bar with a live edge walnut counter and exposed copper piping. "I love the bar!" Julie said. "I physically did a lot of the work on it and think it turned out really well."
Visitors will gravitate to the spacious River Room at the back of the house overlooking the Kentucky River. Comfortable seating makes it a great place to take in breathtaking views of the river from the back windows. Upstairs are three luxurious bedrooms and a full bath with a stained glass window.
Built long before the "new" Capitol during a time when Frankfort had little more than a thousand residents, the Early Stone House is once again ready to welcome visitors through its doors thanks to Castle & Key Distillery and Julie Williams.