Upon entering Dr. Gashaw Lake's home, just by a quick look around it's easy to determine the things he values most in life — his family, heritage and education.
At the front entryway of his home sit two wooden carvings from Ethiopia. One is of a warrior, the other is a monk. As you head up the stairs of the split level home, you are greeted at the top by a saluting U.S. soldier.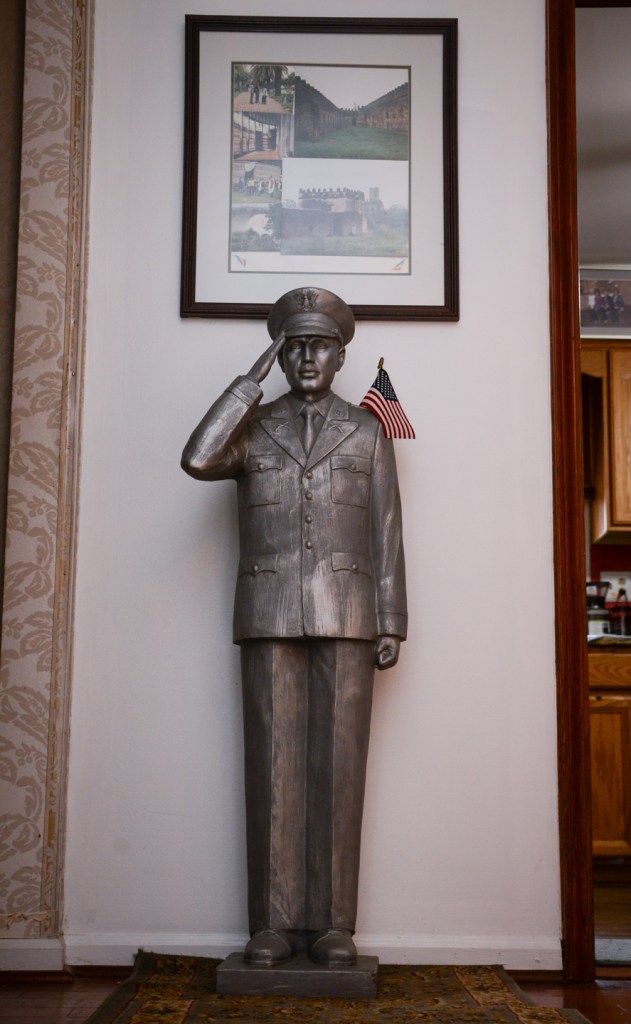 "My dad was a colonel in the Ethiopian government," Lake said, while explaining his admiration for those in the military.
"Serve your nation, your country, regardless," he said. "Do whatever to defend your country."
At the top of the stairs, you enter the main living space of the home — an open concept living room and dining room. The living room is decorated with more Ethiopian memorabilia, along with several photos of his family. A photo of his late mother, WeyeNeshet, sits on the corner of his mantel. A photo of his late father, Workalemahu Teklehaymanote, in his military best, sits on an end table next to a spacious white leather couch.
Above the fireplace is a family photo of Lake, his wife, Leyuwork Makonnen — also from Ethiopia — and their three American-born daughters, AeuMuro, WeyeNeshet and MeNore — adults now.
Books written in both English and his native Amharic language sit on the coffee table. One of the large books is the Emperor of Ethiopia's law book. There is also a Bible written in Amharic on a stand in front of the fireplace.
Off to the side of the room is Lake's favorite chair, where he sits every evening reading books under a reading light. Across from him is a pole with the Cross of Christianity at the top.
Also, in Lake's living room are medals he received in September from the King of Ethiopia for civil rights and human rights work he did in his native country.
Lake is Dean of Professor Emeritus for the College of Professional Studies at Kentucky State University. He retired in 2018 after serving the school for more than 30 years. His wife, Leyuwork, is a Kentucky State University graduate who majored in psychology and is currently working as a clerk and administrative assistant for the state Transportation Cabinet.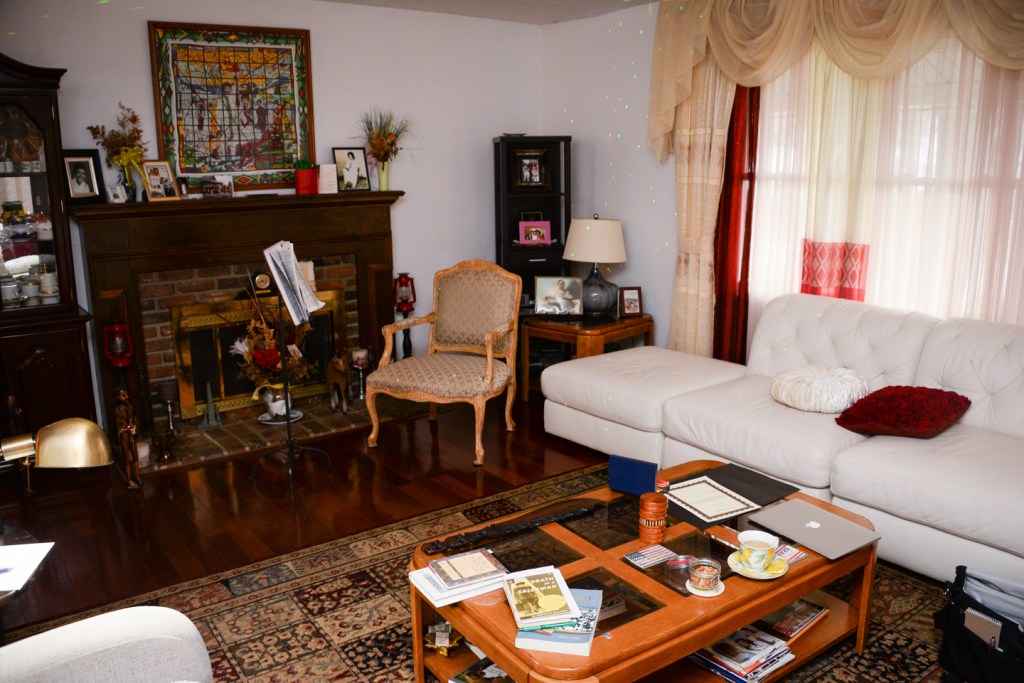 Lake started his college undergraduate work at Addis Abeba University in the Ethiopian capital of Addis Abeba — his hometown. He came to the U.S. in 1971 and started school at Saginaw Valley State College. He received his bachelor's degree in 1974, majoring in political science and minoring in philosophy.
Then, he earned his master's in public administration in 1975 and his doctorate in philosophy of education in 1981, both from the University of Oklahoma in Norman. In 1978, his then wife-to-be, Leyuwork, came to America.
After getting his Ph.D. and before moving to Frankfort, Lake was an adjunct professor at Langston University in Oklahoma.
Lake came to KSU in 1986 as an assistant professor in the school of public administration, and served as dean of the college of professional studies from 1998 to 2015.
Lake's daughters are also highly accomplished. AeuMuro is a uro-gynecologist and pelvic surgeon in Seattle. WeyeNeshet has a master's in art administration and teaches underprivileged students in Delaware. And, MeNore, is finishing up her fellowship for muscular and skeletal radiology in San Diego.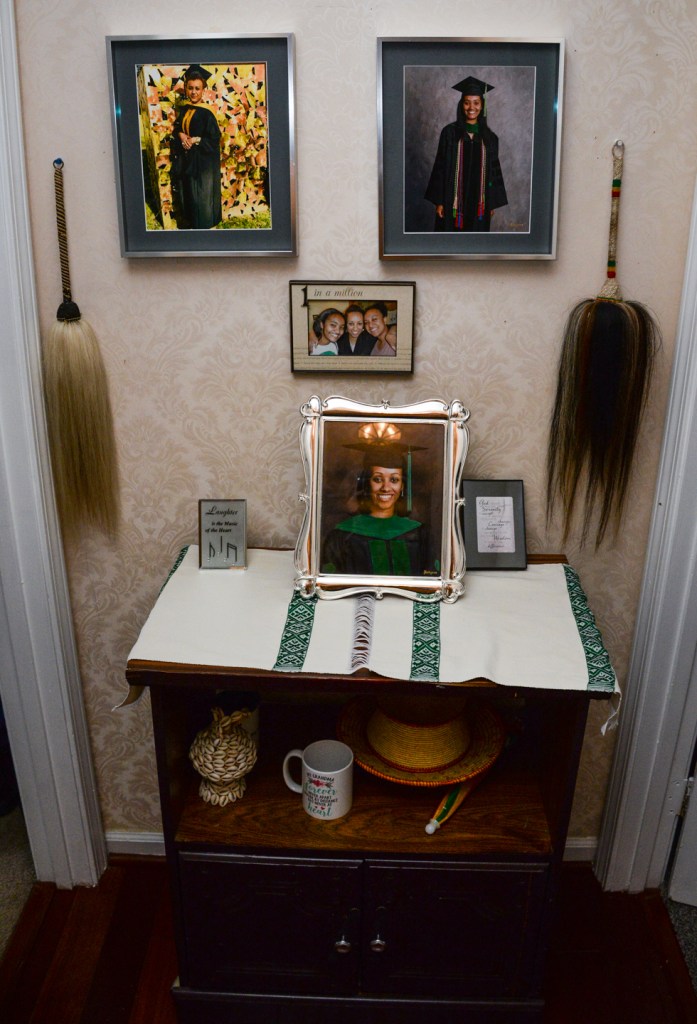 "I am proud," Lake said. "We see learning as a profession for us."
When Lake moved to Frankfort, he and his wife first lived at Raven Crest Apartments. In 1990, they bought their home on Colonial Trace.
"I love it," Lake said. "It's a hidden secret here. It's beautiful. Open space. It's a very quiet place."
In Lake's dining room is a China cabinet filled with Ethiopian coffee serving sets.
"Coffee is a big deal in Ethiopia," Lake said while explaining that many traditions are centered around drinking coffee.
In the corner of the dining room is a basket used for serving meals. The meal is placed on the top of the basket and everyone sits around the basket to eat. A picture showing Ethiopians sharing a meal hangs on the wall in the dining room.
In the kitchen, hang more family photos on the bulkhead above the cabinets. Off the kitchen, is a door that leads to the upper level of a deck that offers a beautiful view of Frankfort and Lake's in-ground backyard pool. Lake and his wife love to have meals on the deck in warmer months and his favorite view is at night — seeing the capital city aglow against the dark sky.
The colonial-style two story home offers five bedrooms and three bathrooms — which served as plenty of room for his three girls to grow in.
"​​It's a very distinguished set up here," he said. "It's the largest house in the area."
Downstairs is another living room filled with photos from his past. There are photos of his mother and pictures of his wife's family.
There's a picture of his host parents from when he lived in Michigan — Daniel and Patsy Bourdow Sr.
The back room in the lower level serves as Lake's office. Shelves filled with books line the walls as well as more pictures from his past, including a large photo of him and the President of Tanzania when he visited KSU. Lake has started sorting through his books and plans to send some books to Ethiopia and others will be donated to the library.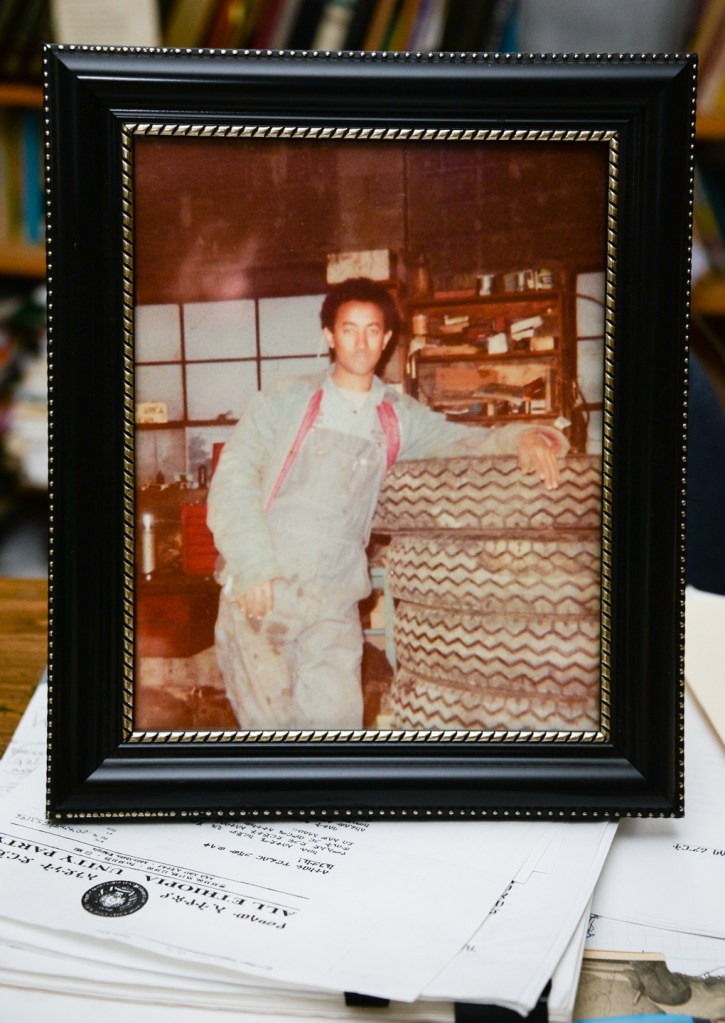 On his desk sits a picture of when he worked on tires in Saginaw to earn money to pay for college.
"From fixing tires to deanship," Lake said. "This country allows for opportunities. With hard work, you can do it."
The walkout from the lower level leads to the lower part of the deck, which steps out to the pool where he spends his summer days swimming laps.
Lake is proud to call Frankfort his home and grateful for the opportunities the capital city has granted him and his family.
"Frankfort has been perfect," he said. "There are nice, kind and generous people. We have everything we need here."