Brad and Bri Peters are the new innkeepers of the grand old dame of a house that sits at the corner of Mero and Ann streets. The house, most recently operated as a bed and breakfast, was bought and reopened by the Peters as BnB's Bnb at The Meeting House about a year ago.
"We were absolutely looking for a bed and breakfast to own and run," Brad said. The couple, who spent decades in the restaurant and alcohol beverage industry in central Illinois before moving to Frankfort, knew that this was where they wanted to settle.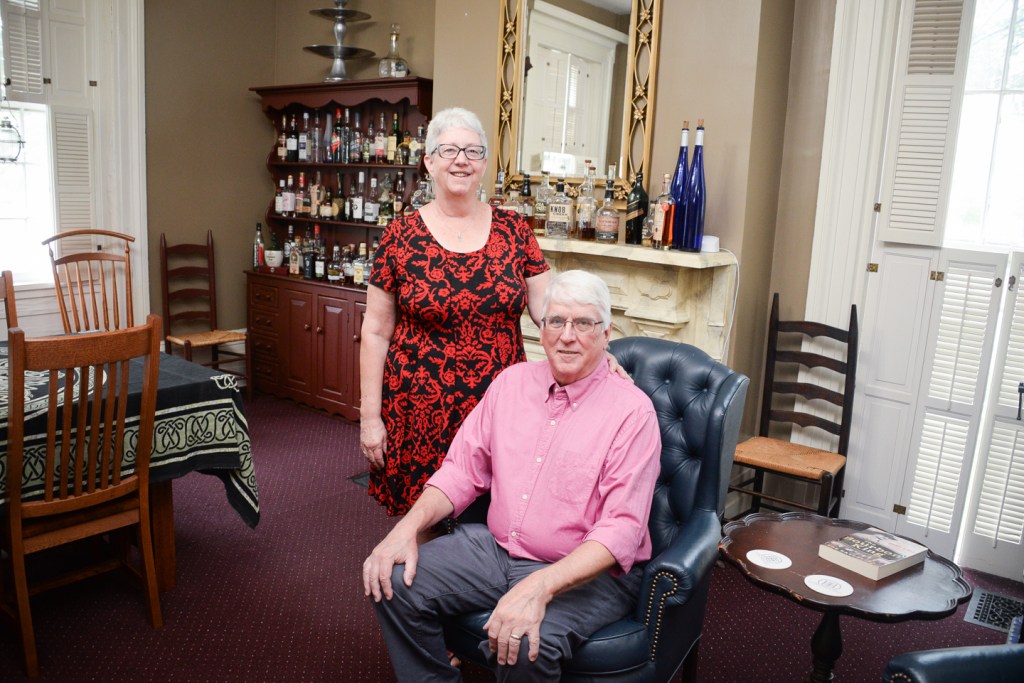 "We've been Bourbon Trailers since 2005 before it was even a big thing. There were only six distilleries on the Bourbon Trail when we started," Brad recalled. "We always loved Frankfort when we visited. It's such a welcoming town," Bri said.
"In our retirement, we thought this [operating a B&B] would be a nice step down from the full-service restaurants that we owned," Bri explained. "Brad can still get in the kitchen and cook, and meet people from all over the world." Brad operates the bed and breakfast while Bri works with Lynn Imaging in Lexington. "She told me I didn't get to sit around and do nothing in retirement so this is a great option," Brad remarked. "It's really fun. We meet 60 to 80 people every month and they don't know my stories yet!"
Making it comfortable
Brad greets each guest with a smile and the intention of making their stay at The Meeting House comfortable and their time in Kentucky memorable.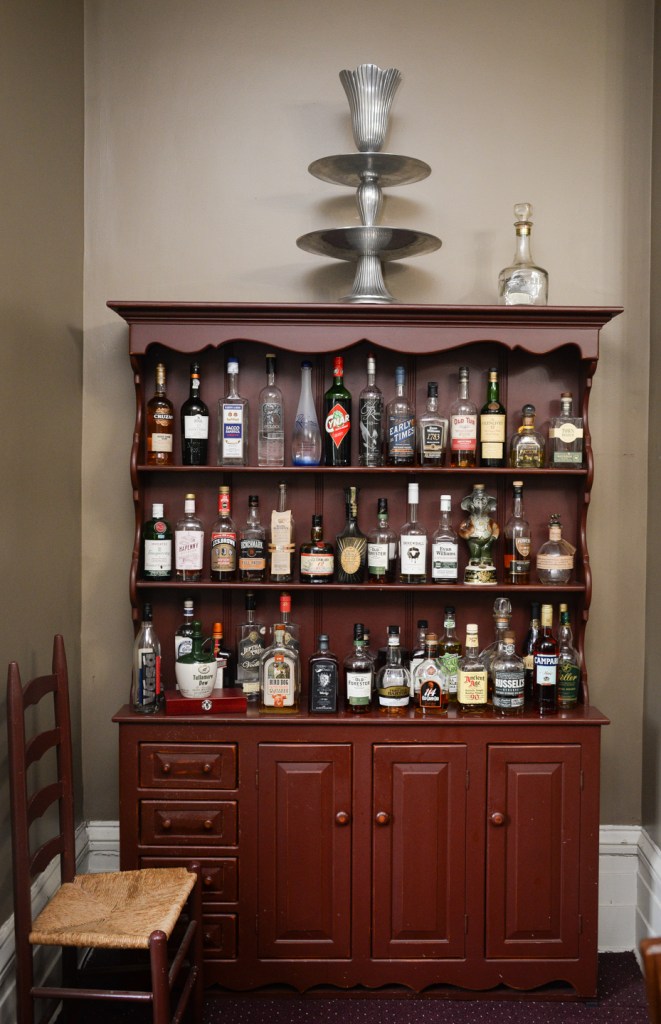 One of the first areas in the house Brad points out is the "Wall of Joy." To the left of the entry foyer is a gathering room with an impressive collection of bourbon bottles (many still filled!) lining the shelves and fireplace mantel, ready for guests to pour a drink. "We also offer complimentary wine if someone would like to pour a cork," Brad commented.
The gathering room opens into the breakfast room outfitted with a beautifully set table of fine china. Brad serves breakfast at the guests' preferred time. A pair of dazzling Czechoslovakian crystal chandeliers light the two rooms. Bri originally wanted to replace the chandeliers because the crystals were so dirty when they bought the house that they were amber in color. She said that Brad convinced her they would be beautiful once cleaned. "So, I spent hours and hours on each of them, up on a ladder, cleaning each crystal," Bri recalled. "It took forever but they are showstoppers now!"
The couple completely remodeled the kitchen, installing a commercial refrigerator and stove, and a high-temperature residential dishwasher. "It sure makes it nice to work in the kitchen," Brad remarked. Brad and Bri live on the premises and keep an ongoing list of projects to continue to "spruce up the old girl." They have to be creative about updates since the walls are a foot thick.
Guests can enjoy an inviting back patio and garden during pleasant weather. There's also an enclosed room across the back of the house with a wall of French doors leading to the patio. "Sig Luscher is only a block away so guests can walk there to enjoy the food and drink, and can also sit out back on the patio at the house and hear the music sometimes," Brad said.
"There are many independent establishments within walking distance from us," Bri remarked. "And, we are centrally located to the bigger cities where visitors can venture out to see other areas and then come back and relax in a smaller city. Many guests come to visit the Bourbon Trail and Buffalo Trace Distillery. Also, people like that Frankfort is a state capital."
Upstairs are four guest bedrooms. There's the Guinness room, Bluegrass room and Coopers Quarters room on one floor and up a flight of stairs under the eaves is the Angel's Share room. A library common room with a mini fridge, games and television gives guests a cozy place to meet and visit with each other just steps from their bedroom.
Stories to tell
The Meeting House has quite a history. Built more than 30 years before the Civil War, the charming painted brick house undoubtedly has centuries of stories it could tell.
One interesting story is that during the Civil War, the owner, Samuel Ire Monger (S.I.M.) Major Jr. had a sister who hid her racehorse in the dining room so that Confederates wouldn't confiscate it.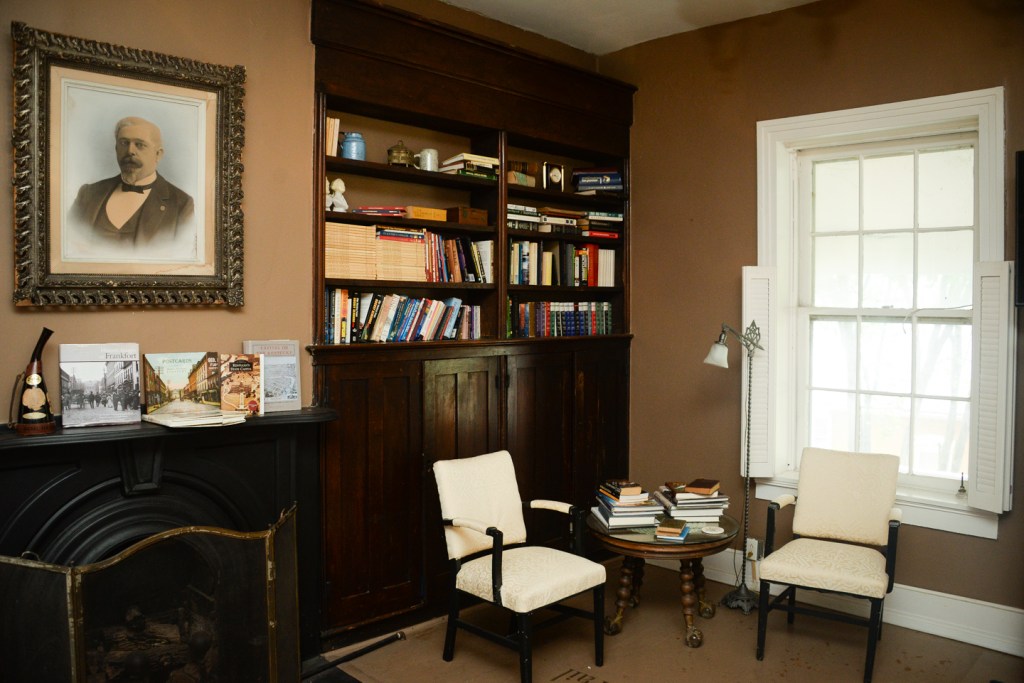 Other stories involve sightings of friendly spirits or ghosts at The Meeting House. Bri and Brad said they leave it up to their guests to determine whether that is true. However, there have definitely been sightings by past owners and guests; and, since owning the bed and breakfast, the Peters have felt the presence of a spirit on more than one occasion.
The original owner, S.I.M. Major, lost two young daughters and his wife who died of illness while they lived in the house. Guest of the previous owners of the bed and breakfast told of seeing the little girls numerous times — once by the housekeeper's daughter, who asked if she could play with the girls she saw.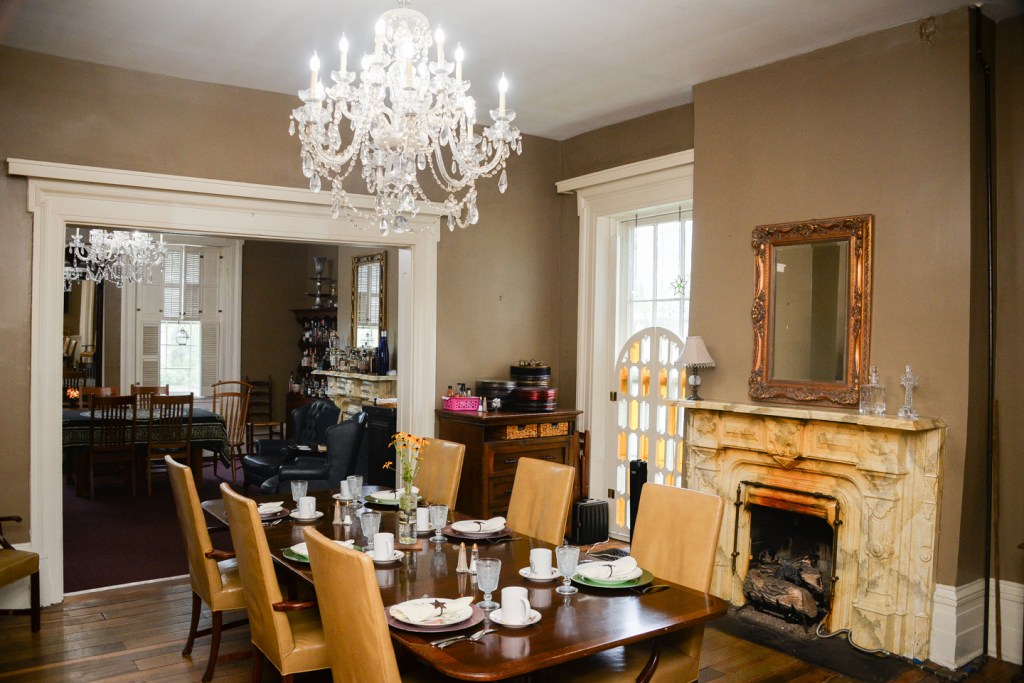 Also, S.I.M. Major's wife appeared to a former guest who was relaxing in the library. The guest recounted, "Last night, I was sitting in the library playing the guitar and a lady appeared outside the door. She just stood there wearing a nightgown and a nightcap. She didn't talk but appeared all three nights."
Whether there are "permanent spirits" who live at the corner of Ann and Mero streets or not, they are harmless and friendly.
It's readily apparent that the Peters enjoy being good stewards of The Meeting House, and promote Frankfort and Kentucky to all that pass through their doors. A sign hanging above a door at the house appropriately says, "Enter as strangers, leave as friends."